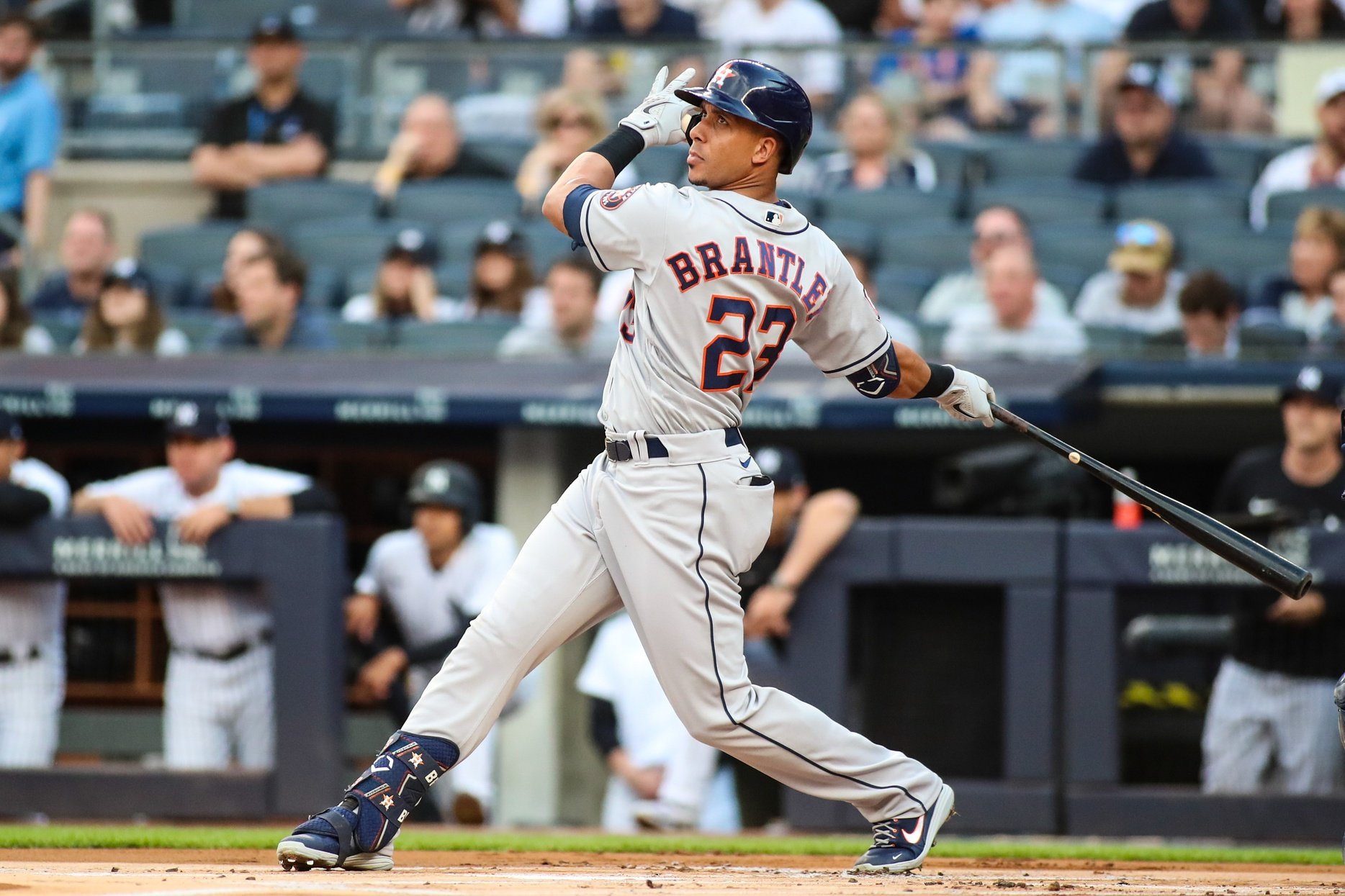 Image courtesy of © Wendell Cruz-USA TODAY Sports
After a tight choice in the previous five rounds, we make it to the top 10 where once again, we see a clear choice, but one who never made it to the majors with Milwaukee. Meanwhile, we have to go to the 60s before we find a player drafted by the Brewers organization 
---
The 17th of July is the beginning of this year's edition of the MLB amateur draft. I've already checked out picks by the Brewers after round 31, those made between rounds 21-30, rounds 16-20, and 11-15. Be sure to check those out before getting started here, and come back tomorrow for round 2 through five!
---
Best Player Who Signed
After a photo-finish the last time out, we return to an obvious choice for those signed. Michael Brantley never appeared with the Brewers in the Majors, but is above and beyond the best drafted and signed in these rounds. The outfielder was drafted by Milwaukee back in 2005 in the 7th round with the 205th overall pick. He reached AA in the Milwaukee Brewers organization before the infamous trade with the Cleveland Indians which brought C.C. Sabathia to Milwaukee in 2008. Brantley was notably the player to be named later in this transaction, joining Rob Bryson, Matt LaPorta , and Zach Jackson in the trade. 
Brantley made his MLB debut on September 1st the following year, in 2009, in Detroit against the Tigers where he started in left field and went 2-4 at the plate, scoring a run in the loss. He went on to reach base safely in his first eight games after his call up when the rosters expanded, and performed well enough to be named the opening day starter in left field for the 2010 season. Brantley struggled a bit that year, but thereafter became a force at the plate, known for a great, patient approach with an easy swing, excelling at contact, earning him the nickname Dr. Smooth by Dennis Manoloff, a Cleveland Indians sports writer. 
2014 was the best year of Brantley's career, being named to his first career All-Star game and ending the season with a 0.327 average and 20 home runs, good for third place in the MVP voting. He was once again an All-Star in 2017 and 2018 while also making the postseason for the first time since his first year in 2013 where the Indians lost the wildcard game. In 2017 and 2018 his squad fell in the ALDS each time.
In part due to lack of postseason success, Brantley left Cleveland. Across 10 seasons with the Indians, he had a batting average of 0.295, hitting 87 home runs and batting in 528 runners. Brantley signed with the Houston Astros, and continued his great play, being named an All-Star in 2019 for the third year in a row and once again in 2021. His choice to leave was fruitful, despite coming at a hot time due to the sign stealing scandal He has not be a World Series winner thus far, losing in the final series in both 2019 and 2021. 
Brantley will come to the end of his second two-year contract with the Astros following the completion of this season, for a total of 4 in Houston and 14 across his entire MLB career. He holds a career batting average of 0.298, and has hit 127 home runs with 346 doubles and 713 RBIs for a total WAR of 34.1. 
Best Unsigned Player
There is not much to offer in terms of unsigned players from these rounds, but there is one notable player drafted by the Brewer organization by the name of Doug Bird , a pitcher who spent his first six MLB seasons with the Kansas City Royals starting in 1973 before spending the next five seasons with four different teams: first with the Philadelphia Phillies in 1979, then New York Yankees in 1980. He split time the following year in 1981 between New York and the Chicago Cubs. He remained in Chicago with the Cubs in 1982 before spending his final, 1983 season in Boston with the Red Sox.
Despite playing as a pitcher in his time in the MLB, he was originally drafted by the Brewer organization when they were the Seattle Pilots back in the 1969 June Amateur Draft in the eighth round with the 189th overall pick as a shortstop. He instead signed with the Kansas City Royals after they selected him in the third round in the secondary phase of the 1969 MLB June Draft. Over his 11-year career, he accumulated 8.9 WAR in his 432 games, 100 of which were starts. He owns a record of 73 wins and 60 loses with a respectable 3.99 ERA. 
Honorable Mentions
Behind the obvious best player drafted in this range, there is another plateau of players a little further back by the name of Mark Loretta and Ronnie Belliard. Their similarities and career paths are striking. Both were drafted in back-to-back years with the exact same pick, the 207th overall;  first Loretta in 1993 in the 7th round, then Belliard in 1994 in the 8th round. Interestingly enough, each of them also made their debut while they were 23 years of age: Loretta in 1995 and Belliard in 1998.
The right-handed throwing and batting players shared an infield in Milwaukee for many seasons. Loretta primarily played second base before the second baseman, Belliard, made his way to the majors, but later spent much of his time at shortstop and less often third while together in Milwaukee. The double play duo left Milwaukee in 2002, with Loretta being traded out midseason, and Belliard leaving in free agency in the offseason following the completion of the season.
Loretta played eight of his 15 seasons with the Crew, later spending time with the San Diego Padres, Houston Astros, Los Angeles Dodgers, and Boston Red Sox, and hit 0.295 and earned 19.3 WAR. Belliard spent five of his 13 seasons with Milwaukee, later spending time with the Washington Nationals, Cleveland Indians, Los Angeles Dodgers, Colorado Rockies, and Saint Louis Cardinals. He had a batting average of 0.273 and earned 20.7 WAR.
There are a couple other players drafted in these rounds who had made some contributions in the bigs with the Brewers. Bill Hall was drafted in the sixth round back in 1998 with the 176th pick and played eight years in Milwaukee. He led the team in home runs in 2006, hitting 35 that year. He played 11 years total, mostly as a shortstop or third basemen, and in the outfield, holding an average of 0.248 while hitting 125 home runs and earning 9.6 WAR.
Another, more recent example, is Khris "Khrush" Davis , who was drafted in 2009 in the seventh round with the 226th overall pick. The corner outfielder and designated hitter made his debut with Milwaukee in 2013, only playing with the Crew until 2015. He played with the Oakland Athletics, where he led all major leaguers in home runs with 48 in the 2018 season, along with briefly appearing with the Texas Rangers. The nine-year veteran last appeared in MLB in 2021 and is currently a free agent. Davis hit 221 home runs with a batting average of 0.242 while earning 10.8 WAR.
Finally, like last time out, we have a career contributor in these rounds, as Bill "Rock" Schroeder was drafted in the eighth round of the 1979 draft. The catcher hit 0.240 and earned 2.7 WAR in his eight year career, with the first six spent with the Brewers, where he was the catcher in Juan Nieves' April 15th, 1987 no-hitter. He has been the Brewers' color commentator on TV since 1995.
So what do you think of my list here? Should I have included anyone else, such as right handed pitcher Lary Sorenson ? Or will some more recent picks like Garret Cooper or Drew Rasmussen end up on this list with some continued success? Is my omission of Mike Matheny just, or should his managerial career earn him a spot? Let me know and keep your eye out for the next one!
Think you could write a story like this? Brewer Fanatic wants you to develop your voice, find an audience, and we'll pay you to do it. Just fill out this form.
MORE FROM BREWER FANATIC
— Latest Brewers coverage from our writers
— Recent Brewers discussion in our forums
— Follow Brewer Fanatic via Twitter, Facebook or email