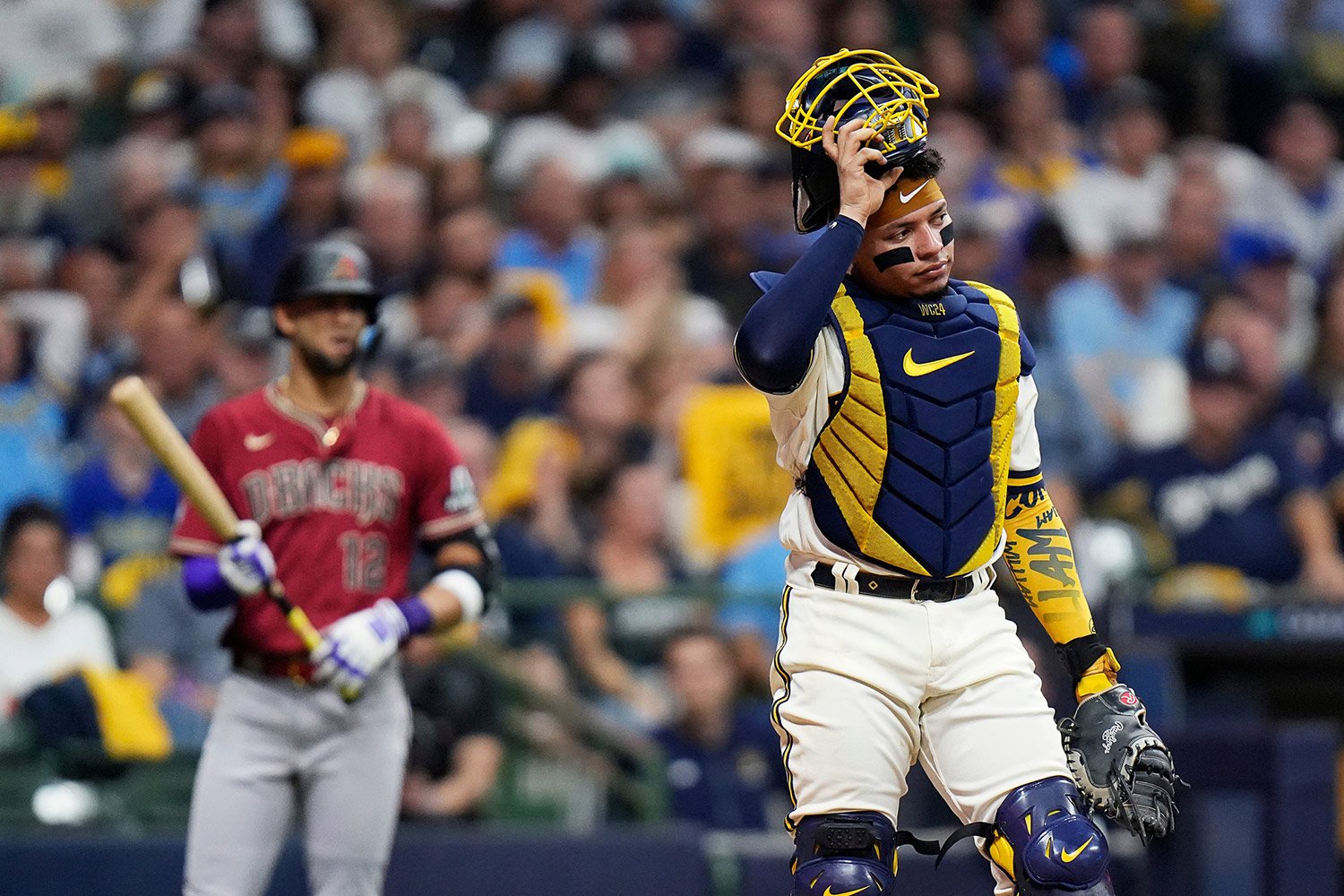 Image courtesy of © Jovanny Hernandez / Milwaukee Journal Sentinel / USA TODAY NETWORK
Starting Pitcher: Freddy Peralta - 5.0 IP, 3 H, 4 ER, 2 BB, 5 K, 85 pitches, 52 strikes (61.2%)
Home Runs: None
Top 3 WPA: Mark Canha (.133), Christian Yelich (.116), Hoby Milner (.082) 
Bottom 3 WPA: Freddy Peralta (-.214), Sal Frelick (-.202), Abner Uribe (-.168) 
Win Probability Chart (via FanGraphs)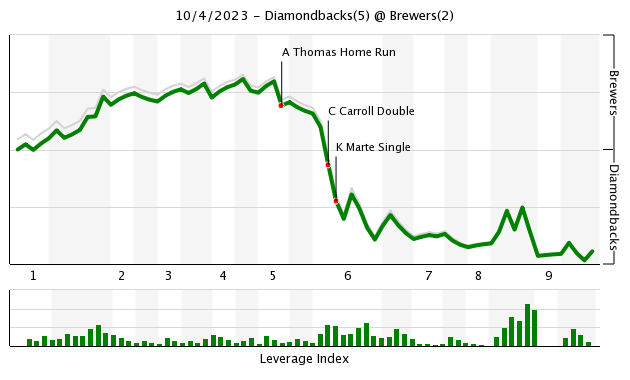 Freddy Falls Short In Five
Like Corbin Burnes before him, Freddy Peralta had a great beginning to his start. In the first four innings, he allowed just one baserunner, Ketel Marte, on a walk. He also recorded five strikeouts. 
After two outs in the fifth inning, Alek Thomas broke up the no-hitter in a big way, knocking in a solo home run to put the Diamondbacks on the board.
Peralta's performance hit a brick wall in the sixth inning. Following a walk by Geraldo Perdomo, a double by Corbin Carroll, and a single by Ketel Marte, Arizona scored two more runs and took the lead. Subsequently, Peralta was replaced by Abner Uribe before recording a single out in the inning.
It was absolutely not the performance Milwaukee needed out of their starting pitcher and was reminiscent of how the team lost the first game of the series. If the Brewers had been able to save more bullpen arms from the prior game, perhaps he would've been pulled earlier before the going got rough. 
News Flash: The Brewers Offense Is Not Good
Like the first game of the series, Milwaukee got to work early. They loaded the bases off of two singles by Christian Yelich and Mark Canha as well as a walk by Carlos Santana. A sacrifice fly by Sal Frelick plated the Brewers' first run and a single by Willy Adames plated the second.
Unfortunately, that was all they could really muster. Diamondbacks pitchers faced the minimum in four innings. Milwaukee had an excellent opportunity in the eighth inning, loading the bases on singles from Christian Yelich, William Contreras, and Mark Canha. With just one out, Arizona called in reliever Andrew Saalfrank who got two forceouts from Sal Frelick and Willy Adames, closing the window on a Brewers' comeback.
Hoby the Hero
After inheriting runners on first and second, Abner Uribe conceded a single to Tommy Pham and a walk to Jose Herrera. With runners on second and third, a wild pitch by Abner Uribe allowed Tommy Pham to score Arizona's fourth run. Lourdes Gurriel Jr. kept up the Diamondback onslaught by hitting a one-run single, leading Uribe to be replaced by Hoby Milner. A double play by Alek Thomas ended the four-run rally.
Milner extended his relief appearance into the seventh inning, getting a flyout and two strikeouts. He would've retired the Diamondbacks in order if Corbin Carroll had been a smidge slower, his speed barely allowing him to beat out an infield throw from Josh Donaldson.
Milner has been incredible thus far, conceding just two hits, no walks, and no earned runs in his first postseason run. 
Megill Steps Up in the Ninth
With a seemingly endless barrage of triple-digit fastballs, Trevor Megill stepped up in the final inning to give the team its best chance to comeback and walk things off. He struck out Lourdes Gurriel Jr., Alek Thomas, and Evan Longoria, leaving things purely in the hands of the lineup. 
The Last Stand
Facing Paul Sewald for the second day in a row, Josh Donaldson was the first hitter at the plate. Putting his body on the line, he took an inside pitch to get a free base. Andruw Monasterio struck out looking and Tyrone Taylor hit a liner that just bounced off the glove of Geraldo Perdomo. Unfortunately for Donaldson, he hesitated a second too long attempting to tag up and was still caught out at second on a forceout.
Christian Yelich kept things alive with a double to bring Contreras to the plate as the tying runner. Sadly, he would strike out on three pitches, ending the Brewers season in the most disappointing way.
Bullpen Usage Spreadsheet
| | | | | | | |
| --- | --- | --- | --- | --- | --- | --- |
|   | SAT | SUN | MON | TUE | WED | TOT |
| Uribe | 27 | 0 | 0 | 15 | 19 | 61 |
| Milner | 17 | 0 | 0 | 6 | 21 | 44 |
| Williams | 12 | 0 | 0 | 31 | 0 | 43 |
| Megill | 16 | 0 | 0 | 0 | 15 | 31 |
| Payamps | 11 | 0 | 0 | 18 | 0 | 29 |
| Peguero | 0 | 0 | 0 | 13 | 11 | 24 |
| B. Wilson | 0 | 0 | 0 | 6 | 0 | 6 |
| Chafin | 0 | 0 | 0 | 0 | 0 | 0 |
Think you could write a story like this? Brewer Fanatic wants you to develop your voice, find an audience, and we'll pay you to do it. Just fill out this form.
MORE FROM BREWER FANATIC
— Latest Brewers coverage from our writers
— Recent Brewers discussion in our forums
— Follow Brewer Fanatic via Twitter, Facebook or email