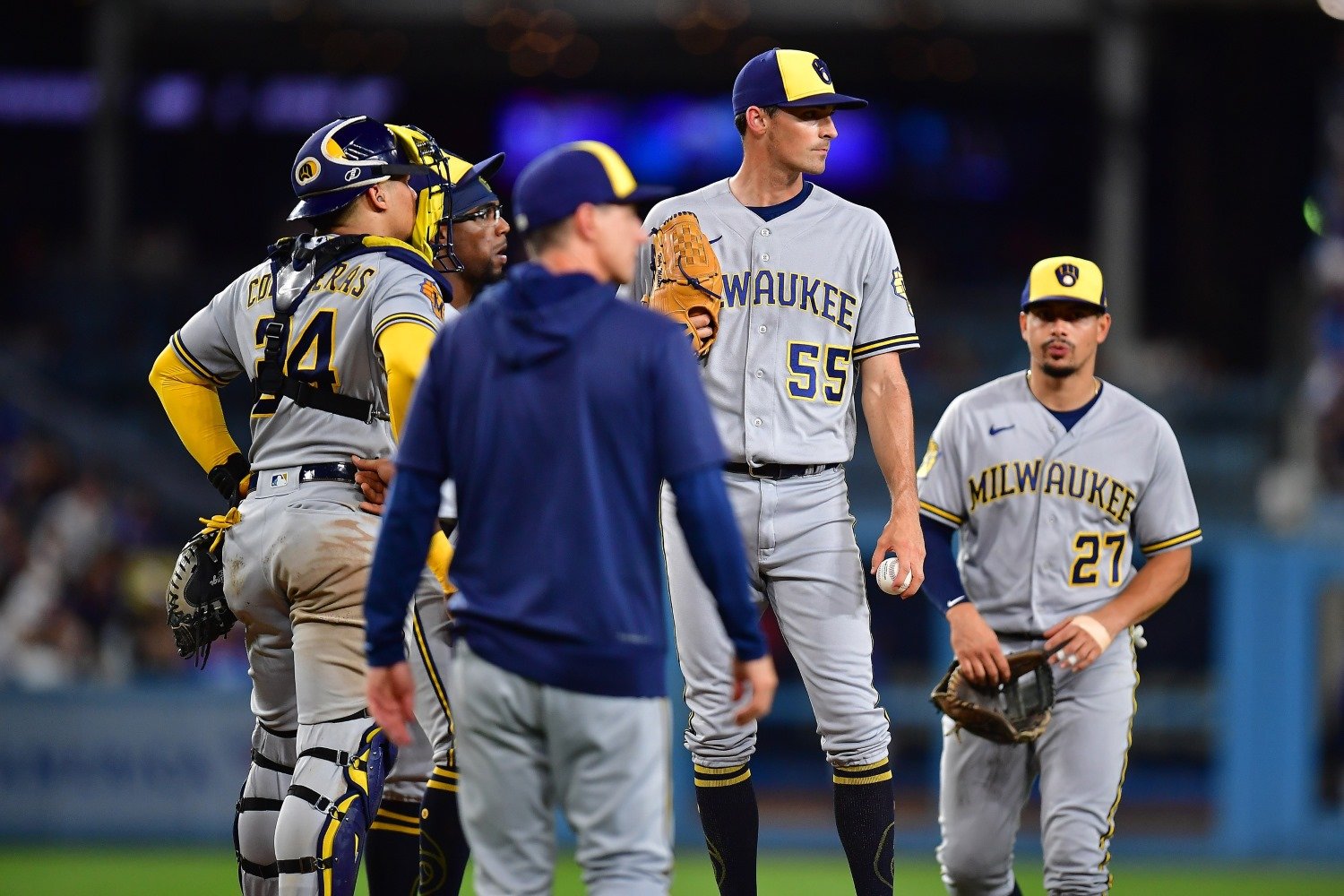 Image courtesy of © Gary A. Vasquez-USA TODAY Sports
Starting Pitcher: Adrian Houser - 5.1 IP, 5 H, 3 ER, 0 BB, 6 K, 75 pitches, 57 strikes (76.0%)
Home Runs: Carlos Santana (16)
Top 3 WPA: William Contreras (.024), Brian Anderson (-.007), Bryse Wilson (-.009) 
Bottom 3 WPA: Hoby Milner (-.128), Adrian Houser (-.117), Tyrone Taylor (-.058) 
Win Probability Chart (via FanGraphs)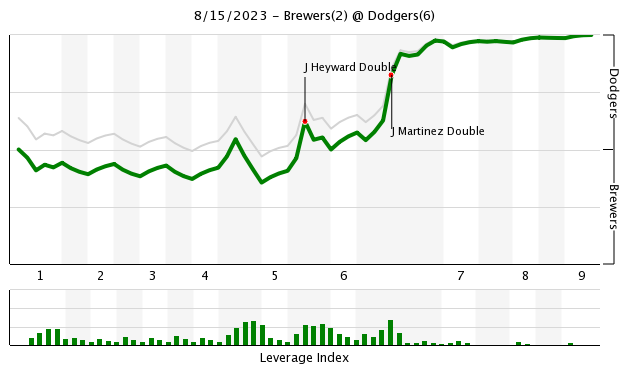 Houser Just Can't Get Through Six
One Thing Adrian Houser has struggled to do this season is make quality starts. It hasn't been an issue of giving up too many runs in his outings but rather one of not pitching enough to be eligible for the accolade. Of his 15 starts this season, only five have lasted six or more innings.
Tuesday was no different. After retiring the Dodgers lineup in order the first time through, he finally allowed his first two baserunners in the fourth inning before sitting down the heart of the order in Will Smith, Max Muncy, and J.D. Martinez. 
He gave up a single and a double in the fifth inning, with a weak groundout finally plating the first Dodger, but heading into the sixth inning, his pitch count was reasonable. Unfortunately, he just couldn't keep it up.
With Houser facing the heart of the order for the third time, Smith reached on an error, Muncy hit a single, and Martinez hit a run-scoring double. With the game still close, Craig Counsell pulled Houser and replaced him with Hoby Milner.
O Bullpen, Where Art Thou?
Following Houser's departure, the Brewers needed two more outs, and Milner was tasked with facing the bottom of the order. Alas, an Enrique Hernandez single scored another two runs, and two more singles by James Outman and Miguel Rojas scored Hernandez. 
Having given up three hits and three runs while recording just a single out, Milner was replaced by Bryse Wilson who inherited runners on first and second. He gave up a single to Mookie Betts, but kept the Dodgers from scoring in the seventh and eighth innings, taking on a lengthier relief appearance to spare the rest of the bullpen.
Bobby Outduels The Brew Crew
Milwaukee got off to a strong start, with a Christian Yelich single and a William Contreras walk putting the leadoff man in scoring position. A flyout by Carlos Santana and a groundout by Sal Frelick allowed Yelich to score the team's first run, but it was all downhill after that.
In a monumental performance, Dodgers starter Bobby Miller retired the next 18 batters in a row. While he only struck out four, the Brewers lineup couldn't manage more than weak grounders and shallow flyouts. 
In the final three innings, Ryan Yarbrough was brought in to close out the game after the Dodgers had taken a commanding 6-1 lead. Carlos Santana did his best to close the gap by hitting a leadoff home run in the seventh, but even this 442-foot solo shot wasn't nearly enough to make up for lost time. It would be the second and final Brewers' hit.
What's Next? 
Trusty lefty Wade Miley will toe the slab opposite familiar foe Clayton Kershaw. When it comes to facing lefties, the Dodgers and the Brewers are worlds apart. While LA has posted an .807 OPS against left-handed pitching this season (third in MLB), the Brewers have a .694 OPS (23rd in MLB). While this is an improvement from earlier in the season (when they were even closer to the bottom), it's still a ways away from being enough to beat one of the best lefties of this generation.
Despite the loss, the Brewers are still 3.5 games ahead of the Chicago Cubs and the Cincinnati Reds for the lead in the NL Central. FanGraphs reports the team as having a 69.5% chance to win the division and an 83.5% chance to make the playoffs.
Postgame Interviews
Bullpen Usage Spreadsheet
| | | | | | | |
| --- | --- | --- | --- | --- | --- | --- |
|   | FRI | SAT | SUN | MON | TUE | TOT |
| Milner | 0 | 17 | 0 | 0 | 22 | 39 |
| Mejia | 0 | 0 | 30 | 0 | 0 | 30 |
| Williams | 14 | 15 | 0 | 0 | 0 | 29 |
| B Wilson | 0 | 0 | 0 | 0 | 29 | 29 |
| Peguero | 21 | 4 | 0 | 0 | 0 | 25 |
| Uribe | 10 | 0 | 10 | 0 | 0 | 20 |
| Payamps | 18 | 0 | 0 | 0 | 0 | 18 |
| Chafin | 0 | 0 | 15 | 0 | 0 | 15 |
Tweet Highlight
Think you could write a story like this? Brewer Fanatic wants you to develop your voice, find an audience, and we'll pay you to do it. Just fill out this form.
MORE FROM BREWER FANATIC
— Latest Brewers coverage from our writers
— Recent Brewers discussion in our forums
— Follow Brewer Fanatic via Twitter, Facebook or email