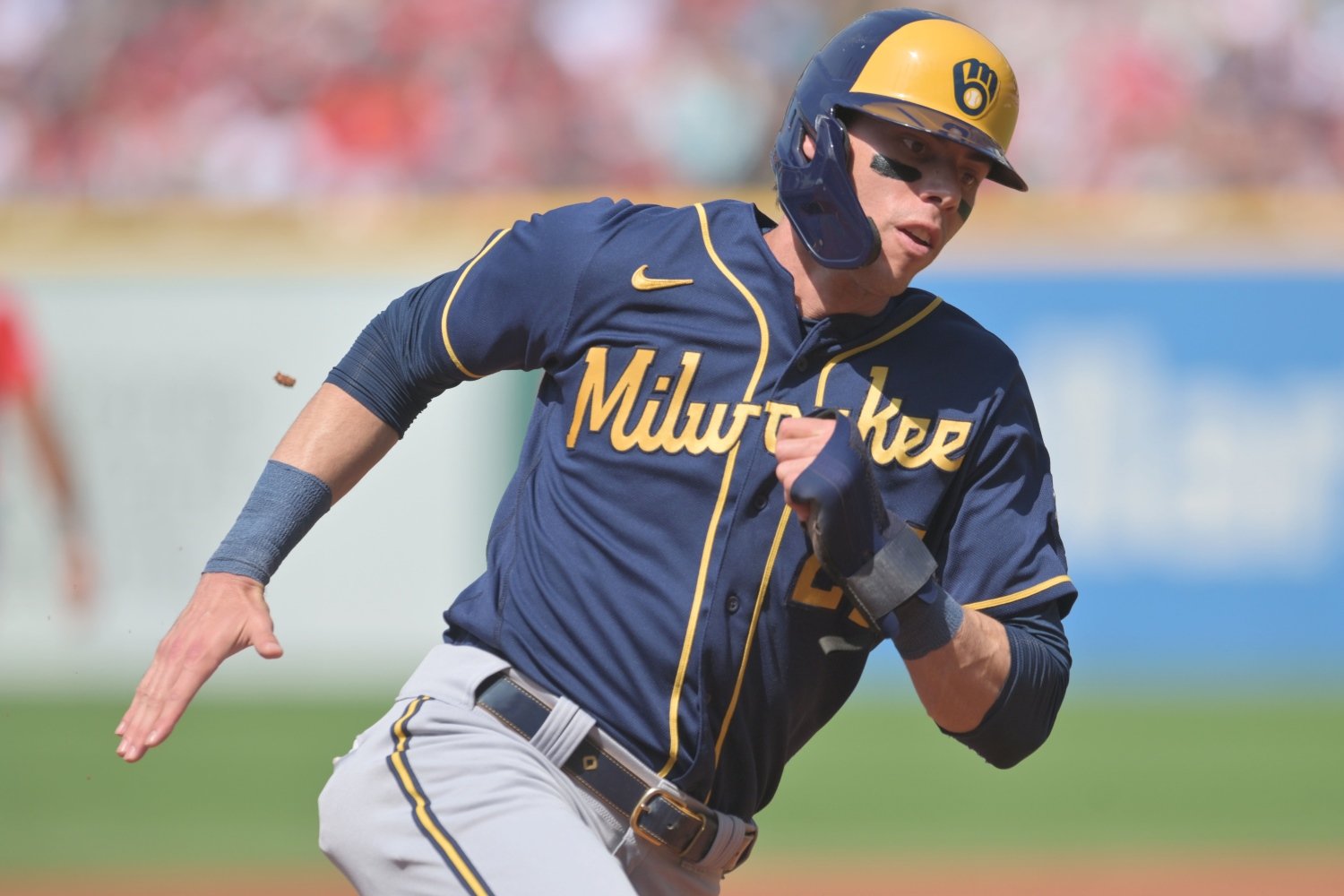 Image courtesy of © Ken Blaze-USA TODAY Sports
Starting Pitcher: Freddy Peralta - 5.0 IP, 4 H, 3 ER, 3 BB, 5 K, 98 pitches, 58 strikes (59.2%)
Home Runs: None
Top 3 WPA: Christian Yelich (.085), Peter Strzelecki (.035), Freddy Peralta (.019) 
Bottom 3 WPA: Elvis Peguero (-.135), Raimel Tapia (-.118), Luis Urias (-.111) 
Win Probability Chart (via FanGraphs)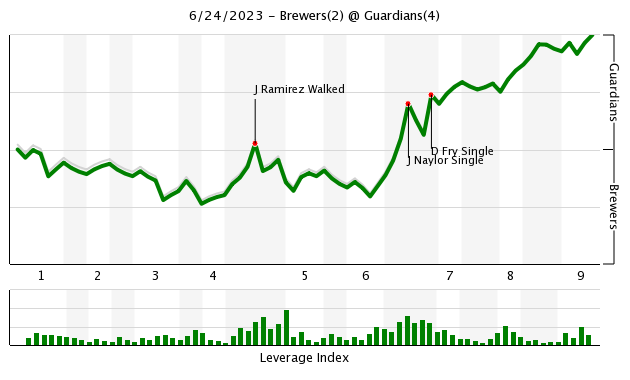 Peralta's Pitching Continues To Be Satisfactory
Today was another typical day for Freddy, giving up a few earned runs but avoiding any irreparable damage. His first earned run came in the fourth inning after a single and two walks loaded the bases before a single out was recorded. Josh Naylor would save him some trouble by grounding into a double play but Steven Kwan would score. The bases would stay loaded after Peralta would walk Josh Bell and hit Andres Gimenez with a pitch, but a strikeout of David Fry allowed him to escape the jam.
In the sixth inning, Peralta would give up back-to-back singles before being replaced by Hoby Milner. Unfortunately, these baserunners would both score off of more singles by Josh Naylor and David Fry.
Peralta's pitching is far from extraordinary but he's somewhat able to get the job done these days. He's still got electric stuff, boasting an 80th percentile Whiff%, but boy does he give up some hard contact. He currently has a 26th percentile Barrel% at 9.9%, the highest clip that he's had in his career thus far.
He also has a 24th percentile Chase Rate and a 38th percentile walk rate, meaning if he's not blowing past batters with his fastball, they're not really biting on his pitches outside of the zone, culminating in too many free trips to first base.
It Takes Four
A combined effort from Hoby Milner, Elvis Peguero, Peter Strzelecki, and Matt Bush would finish the final three innings of the game. After Milner gave up the RBI single to Josh Naylor to tie the game at 2-2, he would record two more outs before being replaced by Peguero. Peguero gave up an RBI single to David Fry to give the Guardians the lead at 3-2 before getting Bo Naylor to ground out to end the inning.
While Strzelecki had a pretty straightforward inning in which he gave up zero earned runs, Matt Bush would give up a double to Josh Bell and an RBI single to Andres Gimenez to bring the score to 4-2.
Guardians Score Half the Brewers Runs
After a leadoff single by Christian Yelich in the first inning, a wild-pitch strikeout of William Contreras allowed Yelich to advance to second. Rowdy Tellez hit what seemed to be a routine fly ball to right field until David Fry completely missed the catch, allowing Yelich to round third and head home, giving the Brewers a first inning lead.
Unfortunately, Milwaukee didn't do much of anything else. Yelich hit another single in the third before stealing second base and reaching home off of a Contreras single to give the Brewers their second run, but that was really it for the team. In total, the team put up just four hits and four walks, not nearly enough to win.
What's Next? 
Corbin Burnes will make the start in the final game of the series against Aaron Civale. Burnes is trying to bounce back from a horrid last start against the Arizona Diamondbacks that saw him give up seven earned runs in just five innings of work while the team hopes to clinch the series.
The Cincinnati Reds finally snapped their winning streak at 12 games, meaning they are still just 1.5 games ahead of the Brewers, who are also 1.5 games ahead of the Chicago Cubs.
Postgame Interviews
Bullpen Usage Spreadsheet
| | | | | | | |
| --- | --- | --- | --- | --- | --- | --- |
|   | TUE | WED | THU | FRI | SAT | TOT |
| Strzelecki | 0 | 29 | 0 | 20 | 22 | 71 |
| Milner | 17 | 3 | 0 | 0 | 14 | 34 |
| Bush | 0 | 0 | 0 | 9 | 19 | 28 |
| Peguero | 0 | 24 | 0 | 0 | 3 | 27 |
| Houser | 0 | 0 | 0 | 19 | 0 | 19 |
| Payamps | 16 | 0 | 0 | 0 | 0 | 16 |
| Williams | 14 | 0 | 0 | 0 | 0 | 14 |
| B Wilson | 3 | 10 | 0 | 0 | 0 | 13 |
Tweet Highlight