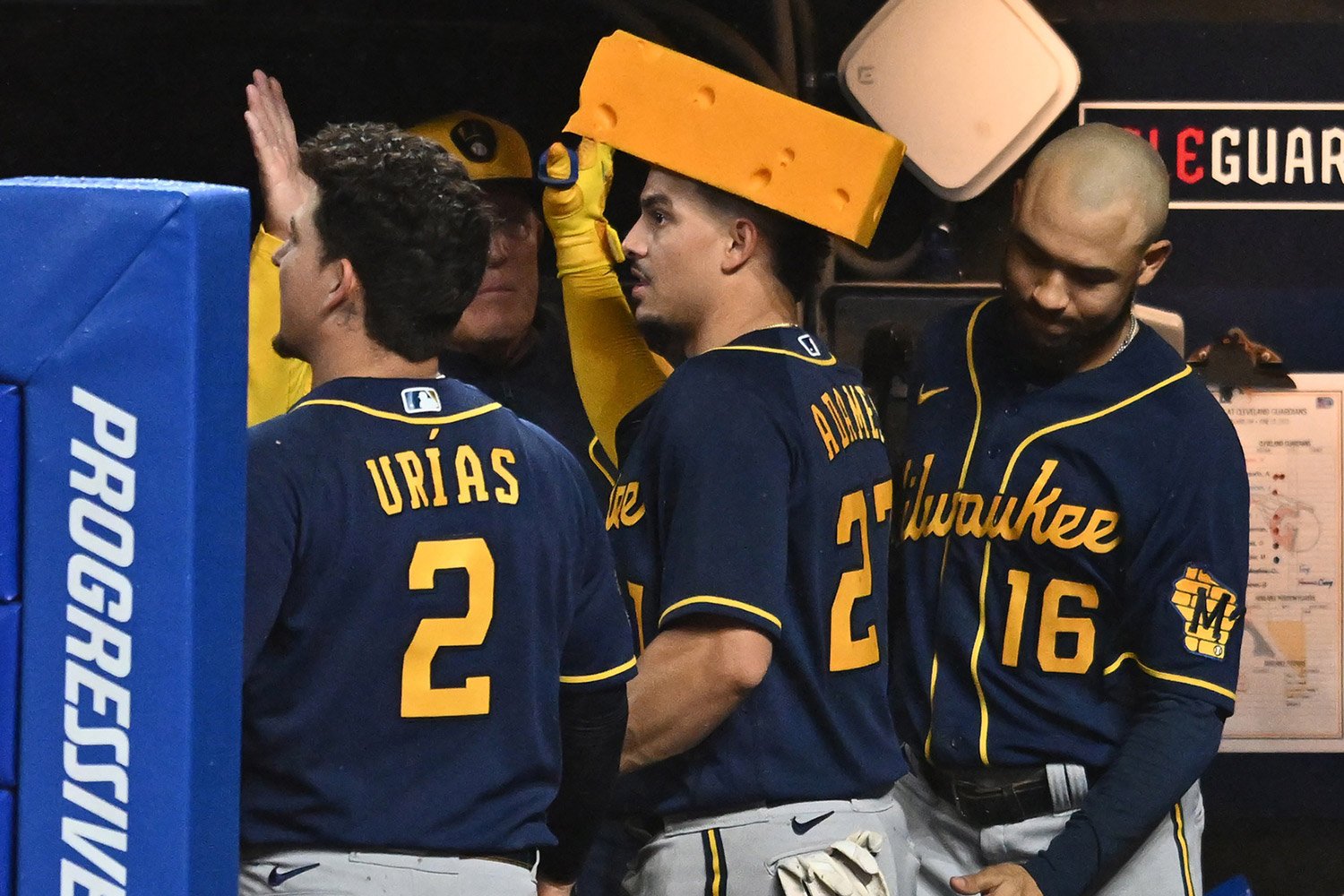 Image courtesy of © Ken Blaze-USA TODAY Sports
Starting Pitcher: Wade Miley - 6.0 IP, 3 H, 0 ER, 0 BB, 3 K, 67 pitches, 49 strikes (73.1%)
Home Runs: Willy Adames 2 (12)
Top 3 WPA: Wade Miley (.315), Willy Adames (.189), William Contreras (.084) 
Bottom 3 WPA: Raimel Tapia (-.038), Jesse Winker (-.036), Christian Yelich (-.030) 
Win Probability Chart (via FanGraphs)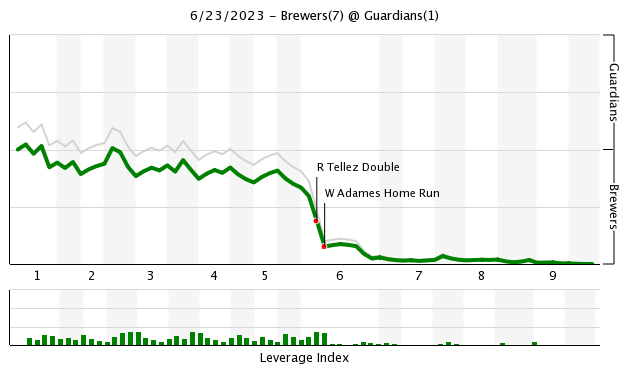 Miley Pitches With Lethal Efficiency
Of pitchers with at least 150 plate appearances, Wade Miley has the 13th lowest strikeout rate. Wade Miley also has an ERA of 2.91 and a WHIP of 1.03, proving his elite ability to draw weak contact and save himself the effort of trying to get three strikes on the young whippersnappers of today's game.
Today was an excellent example, as he used just 67 pitches to record his 18 outs while giving up three hits and no earned runs. While he did sometimes bring out his blazing 91 mph velocity to get a few strikeouts, he got seven lineouts, three groundouts, two pop outs, a flyout, and a double play to retire most of his batters faced.
He likely would've extended his start if not for some cramping that he felt towards the end of his start, choosing to complete his quality start while preventing a potential future IL stint.
Strzelecki Slips, Houser Holds, Bush is Back
The sole run earned by Cleveland occurred in the seventh inning when Jose Ramirez hammered a long ball to right center field off of Peter Strzelecki. While it wasn't the greatest way to lead off his relief appearance, Strzelecki promptly retired the next three batters in order.
Adrian Houser and Matt Bush would pitch two scoreless innings. Houser gave up two hits but was able to keep them as infield singles and recorded the third out without too much issue. Matt Bush was perfect in the ninth inning, giving up no base runners and striking out Josh Bell to end the game.
Boy Oh Boy, What A Sixth!
The Brewers took a one-run lead in the first inning after a double by William Contreras was followed by an RBI single by Willy Adames. After that mistake, Shane Bieber would cruise through the remainder of the first half before hitting a wall in the sixth inning.
It started off with a single by William Contreras. A double by Rowdy Tellez put two runners in scoring position, both being sent home by a dinger to left field by Willy Adames, bringing the score to 4-0 in favor of Milwaukee. A no-doubter that left the bat at 109.2 mph, it sure was a pretty sight to behold. Oh, it also traveled 423 feet and casually sailed out of Progressive Field.
After what had already been a pretty long night for Bieber, he was replaced by Tim Herrin. Unfortunately, the Brewers were not finished. After recording two outs, Herrin gave up a single to Blake Perkins and hit Luis Urias with a pitch. Joey Wiemer would send Perkins home with a single, making the score 5-0. Christian Yelich piled on the pain with a single to score Urias and bring the score to 6-0 before Contreras would finally ground out to end the inning.
Just for the sake of insurance, Willy Adames also hit another home run in the ninth inning, a solo shot to center field that traveled 397 feet. A beneficiary of ballpark conditions, Progressive Field was one of just eight fields where the ball would've ended up in the stands.
What's Next? 
Freddy Peralta will toe the slab against Tanner Bibee in the second game of this series. He's looking to iron himself out after a recent trend of rough outings, posting a 6.06 ERA over his last seven games.
Unfortunately for the Brewers, the Cincinnati Reds won their barnburner of a game against the Atlanta Braves to maintain their lead in the NL Central, 1.5 games ahead of Milwaukee. The Brewers are also 2.5 games ahead of the third-place Chicago Cubs.
Postgame Interviews
Bullpen Usage Spreadsheet
| | | | | | | |
| --- | --- | --- | --- | --- | --- | --- |
|   | MON | TUE | WED | THU | FRI | TOT |
| Houser | 77 | 0 | 0 | 0 | 19 | 96 |
| Strzelecki | 0 | 0 | 29 | 0 | 20 | 49 |
| Megill | 0 | 0 | 34 | 0 | 0 | 34 |
| Peguero | 0 | 0 | 24 | 0 | 0 | 24 |
| Milner | 0 | 17 | 3 | 0 | 0 | 20 |
| Payamps | 0 | 16 | 0 | 0 | 0 | 16 |
| Williams | 0 | 14 | 0 | 0 | 0 | 14 |
| B Wilson | 0 | 3 | 10 | 0 | 0 | 13 |
| Bush | 0 | 0 | 0 | 0 | 9 | 9 |
Tweet Highlight