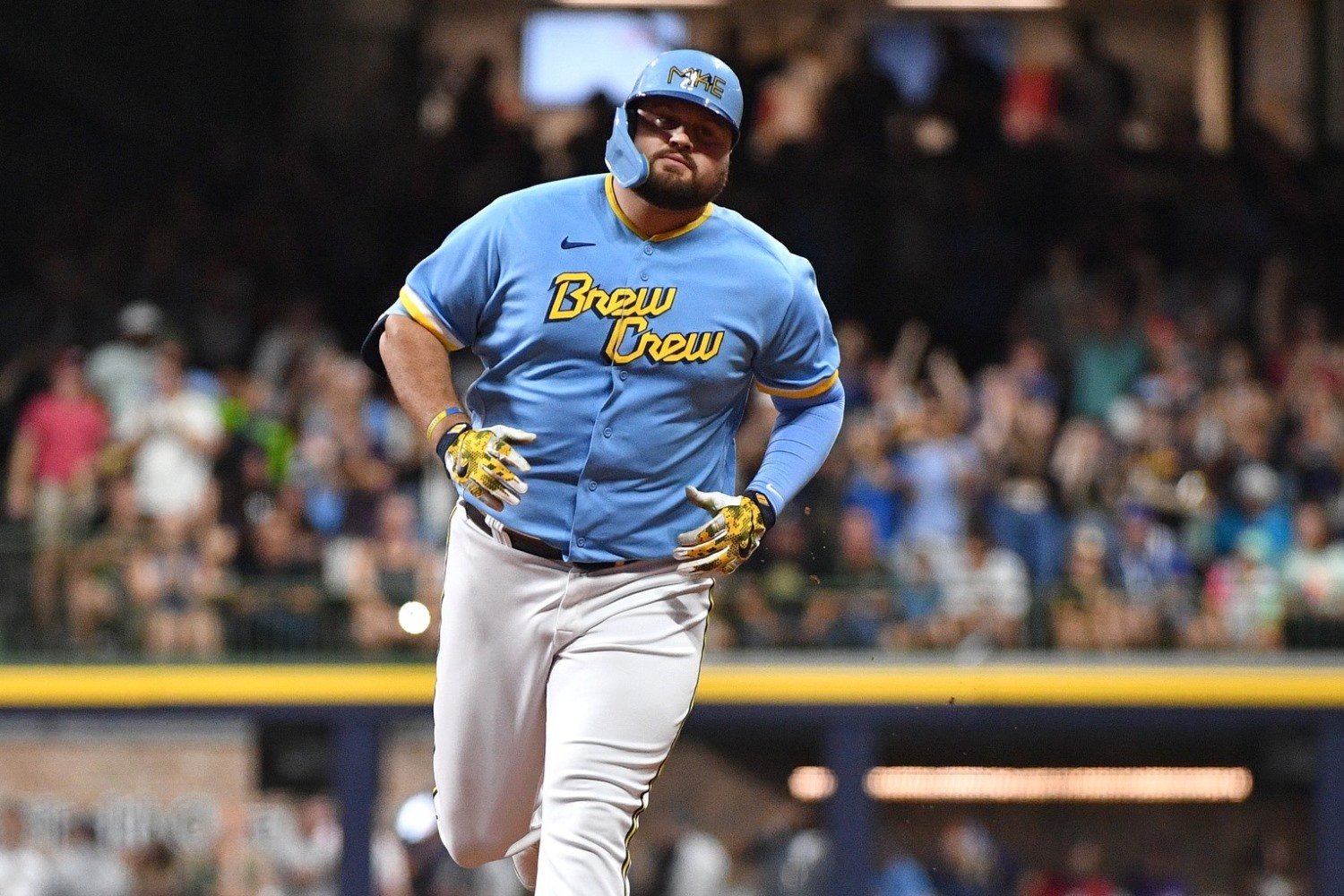 Image courtesy of © Michael McLoone-USA TODAY Sports
Starting Pitcher: Brandon Woodruff - 6.0 IP, 3 H, 1 ER, 3 BB, 11 K, 101 pitches, 71 strikes (70.3%)
Home Runs: Rowdy Tellez (13)
Top 3 WPA: Brandon Woodruff (.212), Rowdy Tellez (.120), Willy Adames (.087) 
Bottom 3 WPA: Carlos Santana (-.057), Andruw Monasterio (-.025), Andrew Chafin (.003) 
Win Probability Chart (via FanGraphs)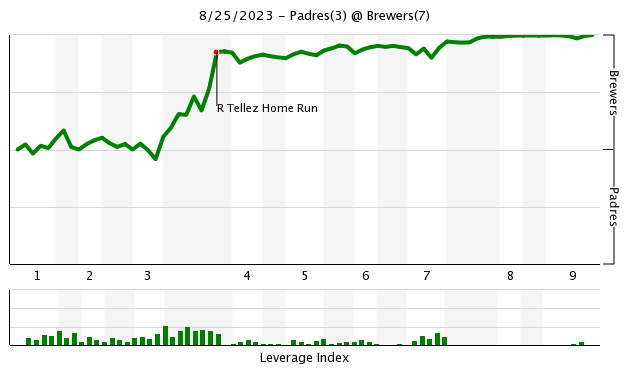 Woodruff Wilds Out
Like a diligent employee at your local casino, Brandon Woodruff absolutely dealt against the Padres, striking out 11 batters and giving up just one earned run. Topping out at 98.0 mph on his four-seam fastball, Woodruff simply left the Padres in the dust.
His slider was also especially effective, garnering eight called strikes, one swinging strike, and five fouls.
Other than a home run to Manny Machado, Woodruff was untouchable. This was his best performance since returning from the IL, and after a hefty 107-pitch workload, I think it's safe to say that he's reacclimated to the burdens of a big-league starter.
Brewers Get Rowdy In The Third
Milwaukee got the scoring started in a big way in the third inning. With two on, William Contreras singled, scoring Brice Turang and chasing Tyrone Taylor around to third base.
Willy Adames followed up with a single of his own to score Taylor, continuing his hot hitting streak.
To cap things off, Rowdy Tellez hit his first home run since returning from his IL stint, almost gifting a lucky fan with a new Toyota Sequoia. With this three-run homer, the Brewers pulled ahead to 5-0.
In the seventh inning, Adames and Tellez would again hit back-to-back RBI singles to score the Brewers' sixth and seventh runs, respectively.
Uribe Continues To Dazzle - Chafin, Not So Much
Despite giving up two singles to Jake Cronenworth and Garrett Cooper, Abner Uribe earned three strikeouts, flashing his incredible talent. With a sinker topping out at 100.9 mph and a slider with up to 37 inches of vertical break, is anyone really surprised?
While he and Trevor Megill combined for five strikeouts and two scoreless relief innings, Andrew Chafin struggled in the ninth inning, hitting Jake Cronenworth with a pitch and promptly giving up a two-run home run to Gary Sanchez.
Luckily he gave up just two earned runs which weren't nearly enough to make up for the existing deficit, but his ERA and WHIP since joining the Brewers are 12.79 and 1.89 respectively. While pitching just 6 1/3 innings thus far, it's not the rosiest picture, and he'll likely be used in lower-leverage situations moving forward.
What's Next? 
Freddy Peralta will face Pedro Avila in the second game of the series. While Avila has an impressive ERA of just 1.17, he's also made just one start and pitched a total of 23.0 innings. Peralta, on the other hand, is riding a hot streak of his own, posting a 2.38 ERA and 0.91 WHIP over his last seven games.
The Milwaukee Brewers now have a 4.0 game lead over the Chicago Cubs and a 5.0 game lead over the Cincinnati Reds.
Postgame Interviews
Bullpen Usage Spreadsheet
| | | | | | | |
| --- | --- | --- | --- | --- | --- | --- |
|   | MON | TUE | WED | THU | FRI | TOT |
| Uribe | 0 | 0 | 10 | 0 | 19 | 29 |
| Chafin | 0 | 0 | 0 | 0 | 26 | 26 |
| B Wilson | 0 | 25 | 0 | 0 | 0 | 25 |
| Megill | 0 | 9 | 0 | 0 | 14 | 23 |
| Payamps | 0 | 0 | 15 | 0 | 0 | 15 |
| Milner | 0 | 12 | 0 | 0 | 0 | 12 |
| Peguero | 0 | 0 | 0 | 0 | 0 | 0 |
| Williams | 0 | 0 | 0 | 0 | 0 | 0 |
Tweet Highlight