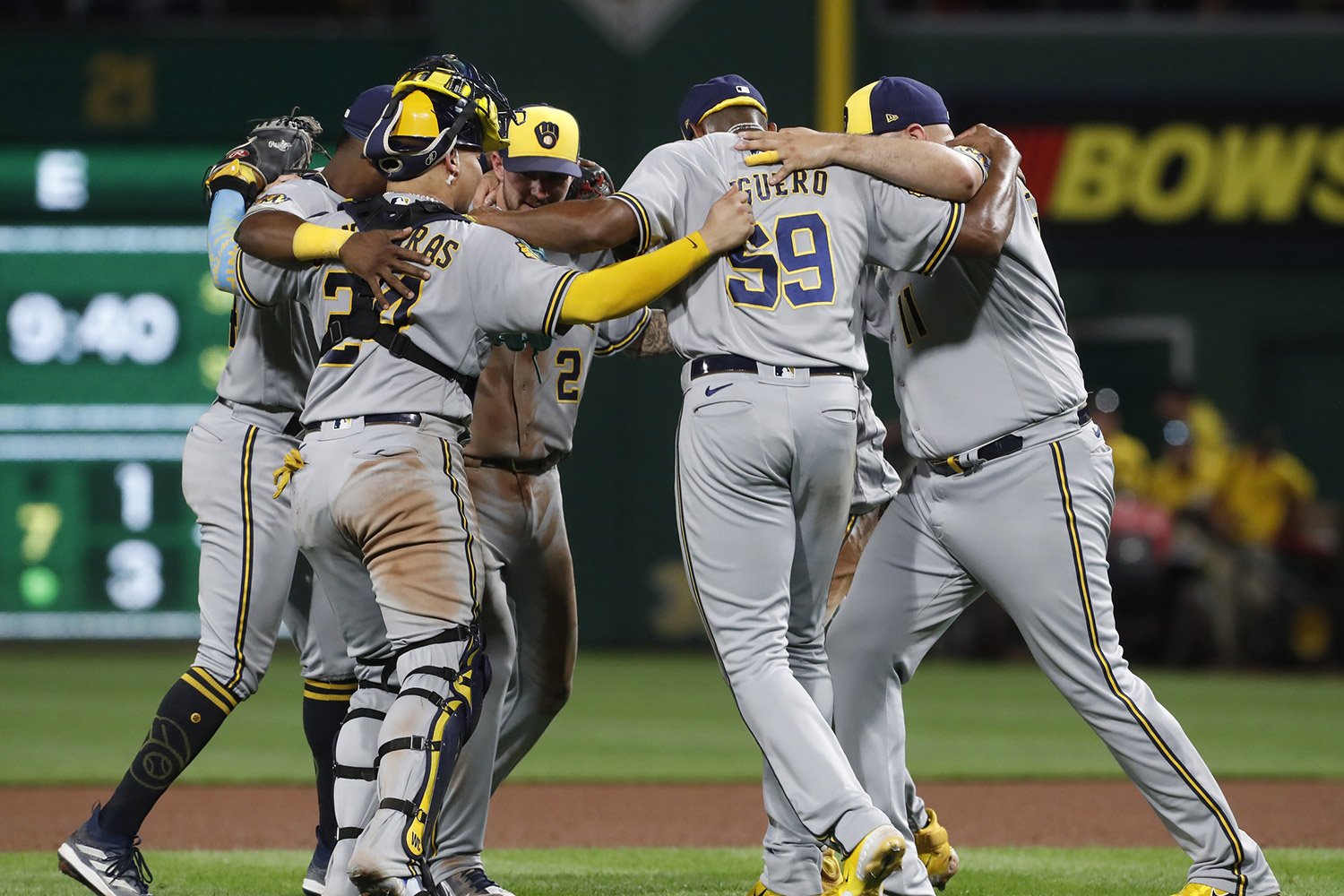 Image courtesy of © Charles LeClaire-USA TODAY Sports
Starting Pitcher: Brandon Woodruff - 7.0 IP, 2 H, 0 ER, 2 BB, 6 K, 97 pitches, 63 strikes (64.9%)
Home Runs: None
Top 3 WPA: Brandon Woodruff (.253), Andruw Monasterio (.122), Carlos Santana (.119) 
Bottom 3 WPA: Mark Canha (-.087), Willy Adames (-.058), Clayton Andrews (-.018) 
Win Probability Chart (via FanGraphs)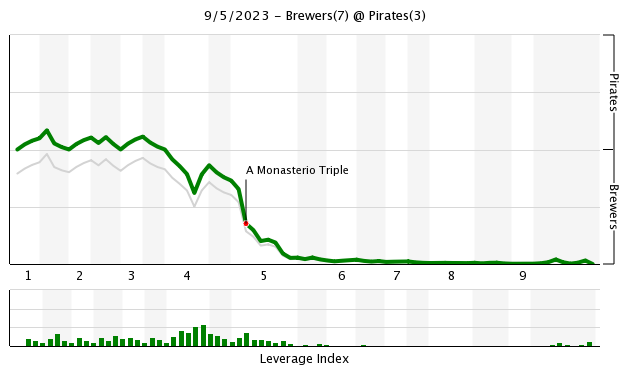 There Might Be A New Ace In Town
Following Corbin Burnes' less-than-stellar performance in the first game of the series and somewhat disappointing 2023 campaign overall, Brandon Woodruff continues to make a great case for himself taking the top spot in the rotation.
He was nearly untouchable in this game, giving up just four baserunners over seven innings while striking out six. His velocity topped out at 97.8 mph on his sinker and 97.4  mph on his four-seam fastball. 
40 innings is still quite a small sample size for this season and it may not be enough by itself for him to seize the mantle of top dog in the Brewers rotation. However, his 2.70 ERA and 0.97 WHIP over his last 253 innings pitched for the team put the idea firmly in the realm of possibility.
Brewers Finally Start Hitting Again
After a weak showing in the previous game against the Pirates, Milwaukee made the necessary adjustments to prove why they deserve to lead the NL Central. After three consecutive walks and a ground ball scored the Brewers' first run in the fourth inning, they broke out in a big way in the fifth inning.
With Sal Frelick able to draw a leadoff walk, an Andruw Monasterio triple and a subsequent Brice Turang single gave the Brewers a quick 3-0 lead. 
The Brewers piled it on, powered by a single by Tyrone Taylor, a sacrifice fly by Christian Yelich, and a walk by William Contreras to finally call for a Pittsburgh pitching change. Despite a fresh arm replacing Andre Jackson, a one-run double by Carlos Santana and a two-run single by Mark Canha would give Milwaukee a 7-0 lead by the time the dust cleared.
It was an efficient offensive performance. The Brewers scored just two runs on six hits the previous day but scored seven runs with seven hits in this game.
Clayton Andrews Still Not Ready
With a seven-run lead heading into the eighth inning, it was a chance for some lesser-used bullpen arms to get some pitches in. After a scoreless eighth inning, Clayton Andrews was brought in to wrap things up. 
In his first major league game in two months, Andrews gave up three earned runs by way of a Connor Joe home run and failed to record a single out, lifting his ERA to an impressive 43.20. 
He's pitched well in AAA all season, posting a 2.57 ERA over 49 innings but just can't seem to put things together in the big leagues. While he does have value as one of the few lefties in the bullpen, the Brewers have a wealth of relief pitching talent so it remains to be seen whether they think his potential is worth the necessary development.
What's Next? 
In the final game of the series, Freddy Peralta will toe the slab against a starter to be determined before an off-day. The Brewers will then head to New York to face the Yankees in a three-game series.
The Brewers are maintaining a 2.5 game lead over the Chicago Cubs and a 5.5 game lead over the Cincinnati Reds.
Postgame Interviews
Bullpen Usage Spreadsheet
| | | | | | | |
| --- | --- | --- | --- | --- | --- | --- |
|   | FRI | SAT | SUN | MON | TUE | TOT |
| Williams | 20 | 24 | 0 | 0 | 0 | 44 |
| Milner | 14 | 16 | 0 | 14 | 0 | 44 |
| Chafin | 0 | 11 | 16 | 0 | 15 | 42 |
| Megill | 0 | 31 | 0 | 0 | 0 | 31 |
| Wilson | 0 | 0 | 18 | 13 | 0 | 31 |
| Peguero | 0 | 8 | 0 | 0 | 16 | 24 |
| Payamps | 17 | 0 | 0 | 0 | 0 | 17 |
| Uribe | 0 | 0 | 17 | 0 | 0 | 17 |
| Andrews | 0 | 0 | 0 | 0 | 5 | 5 |

Tweet Highlight