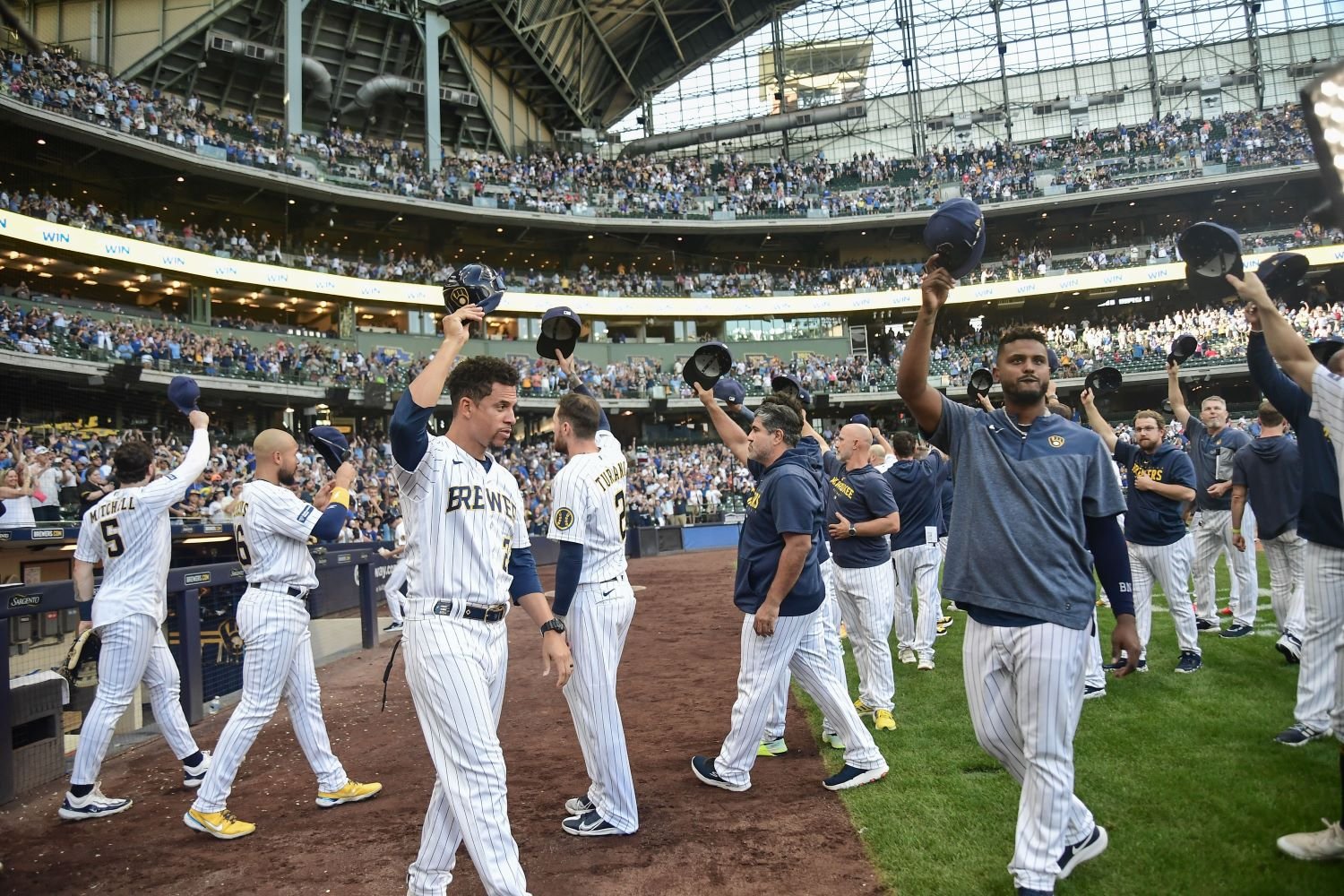 Image courtesy of © Benny Sieu-USA TODAY Sports
In the first half, Arizona was the superior team between these two clubs, but the script has flipped. That bodes well for the Brewers, who rode consistent, high-quality play and good vibes to an NL Central championship. It's not a fluke or a random 10-week run that came out of nowhere. The updated version of the 2023 Brewers is a well-rounded group, with elite pitching that has proven its value in the second half. The trade deadline brought in lineup enhancements with Carlos Santana and Mark Canha. Stud starter Brandon Woodruff returned to the rotation on Aug. 6, and relievers like Abner Uribe and Trevor Megill started locking down the middle innings as the dog days of summer settled in. 

Put together all that fresh talent for the Crew, improvements by the Brewers on the roster all season and the Diamondbacks' falloff since mid-July, and Brewers' fans should feel great about advancing to the NLDS.

Bottom Line: Wins and Losses
We'll get into some specific statistics in the second half, but in the end, getting victories is all that matters. These two teams were relatively even overall in the first half. Arizona held a three-game edge over the Brewers. But the second-half records (meaning, here, after the All-Star break) are a whole different story.
Brewers 

First half: 49-42 (.538)

Second half: 43-28 (.606)

Diamondbacks 

First half: 52-39 (.571)

Second half: 32-39 (.451)
If you combine the Brewers' improvement in winning percentage with the Diamondbacks' decline, that's a .188 swing between the clubs. That's an enormous reversal of fortune, and a trend in the right direction for Milwaukee. If you look at their most recent play, the Brewers finished 13-7 in their final 20 games (4-1 in the last five), while the Diamondbacks went 10-10 over the last 20 contests and 1-4 in their final five.

Things get even better when you break down the home/road splits in the second half. Arizona went 15-25 (.375) on the road after the break, while Milwaukee was 24-11 at home (.686). All three games (if necessary) will be at American Family Field.

Diamondbacks' (Somewhat) Disappearing Offense 
Arizona's lineup looked ridiculously formidable at the start of the season, with on-base skill, speed and power from top to bottom. They still have dangerous hitters, dynamic athletes and a few guys to avoid in big spots, but the Diamondbacks have had no bite in the second half. Their second-half rankings in several offensive stats, out of 30 MLB teams:
61 home runs (30th)

.384 SLG (27th)

90 wRC+ (25th)

.241 average (23rd)

.308 wOBA (23rd)
Considering home runs and power hitting are the most significant run-scoring factors in the postseason, it should warm the hearts of Milwaukee's hurlers to see the fewest second-half dingers in baseball. If the Diamondbacks' bats continue to "hit" like this, they'll be nigh helpless against the Brewers' pitching staff (even without Woodruff). Of course, this doesn't mean the Diamondbacks' lineup is a cake walk, nor is it to say they are "slumping" as we speak. There is always nuance.

Similarly to the Brewers, Arizona features a top-heavy lineup that has gotten plenty of recent production from a handful of hitters. Since September 1, four players own an OPS better than .800: Ketel Marte (.926), Lourdes Gurriel Jr. (.826), Corbin Carroll (.815) and Gabriel Moreno (.807). If you take the starting point back to August 1, Moreno boasts a .311/.382/.496 slash, while Christian Walker pops up on the leaderboard with a .781 OPS with 11 home runs.

Also like the Brewers have gotten contributions from Canha and Santana, a trade deadline acquisition has made his impact felt in Arizona, too. Tommy Pham hasn't lit the world on fire (.720 OPS for the Diamondbacks), but he has come up with a several big hits and brought energy to the dugout. Pham has helped lengthen the lineup as the bottom third has often faltered as the year progressed.

The individual successes of their hitters hasn't necessarily translated into better production. Arizona scored 4.2 runs per game in September, which would place them 22nd in MLB compared to the full season stats. One could argue the Diamondbacks hit rock bottom to close out the regular season. Over their final five games, with a postseason berth on the line, their game-by-game run totals were three, one, one, zero and one. One caveat (in fairness) is that Arizona played the final week-plus on a cramped, arduous travel schedule, exacerbated by a rainout and a couple of other contests that could have been rained out under different circumstances.

Brewers' Pitching Unhittable at Home
Everyone knows Milwaukee runs on elite pitching. The Brewers' 3.73 ERA in 2023 was tops in MLB, led by Corbin Burnes, Freddy Peralta, Wade Miley and Woodruff in the rotation, and several lockdown guys in the bullpen, anchored by Devin Williams. But dig a little deeper into the Crew's pitching at home in the second half, and it's eye-popping.

Again, these numbers mean even more with the Wild Card series played exclusively in Milwaukee.
1.02 WHIP (1st)

28.2 strikeout percentage (1st)

.196 opponents average (1st)

.267 opponents OBP (1st)

20.2 strikeout-to-walk percentage (2nd)

.362 opponents SLG (2nd)

.274 opponents wOBA (2nd)
You can also add into the equation a .235 BABIP (batting average of balls in play) that is less about luck and more about the Brewers' fantastic defense. Milwaukee ranked first in MLB by FanGraphs' defensive stat and second in defensive runs saved (DRS). Run prevention at its finest.

Improved Crew Bats
There's no need for a deep dive here, but just the simple recognition that the Brewers' offense in the second half has been leaps and bounds better than the first part of 2023. It took a little time for the newcomers to make an impact, so if you look at the lineup's output since August 7, the offense is a different beast.

From August 7 to the end of the season, the Brewers averaged 5.2 runs per game. If you slide that into the season-long MLB leaderboard, that would rank fifth in baseball. If they can keep that up for another month or so, the party is on in Milwaukee.
Do these second-half and home/road stats make you more confident in the Brewers' chances to win their opening playoff series? Yes, the Woodruff news is a gut punch, but Milwaukee needs just two wins to advance. They still have Burnes, Peralta and their door-slamming bullpen to put up zeroes each night, and that's more than Arizona can offer, especially with their Game One starter, Brandon Pfaadt. If we believe in the numbers and recent trends, the Diamondbacks need far more than Woodruff's injury to push them past the Brewers.
Think you could write a story like this? Brewer Fanatic wants you to develop your voice, find an audience, and we'll pay you to do it. Just fill out this form.
MORE FROM BREWER FANATIC
— Latest Brewers coverage from our writers
— Recent Brewers discussion in our forums
— Follow Brewer Fanatic via Twitter, Facebook or email