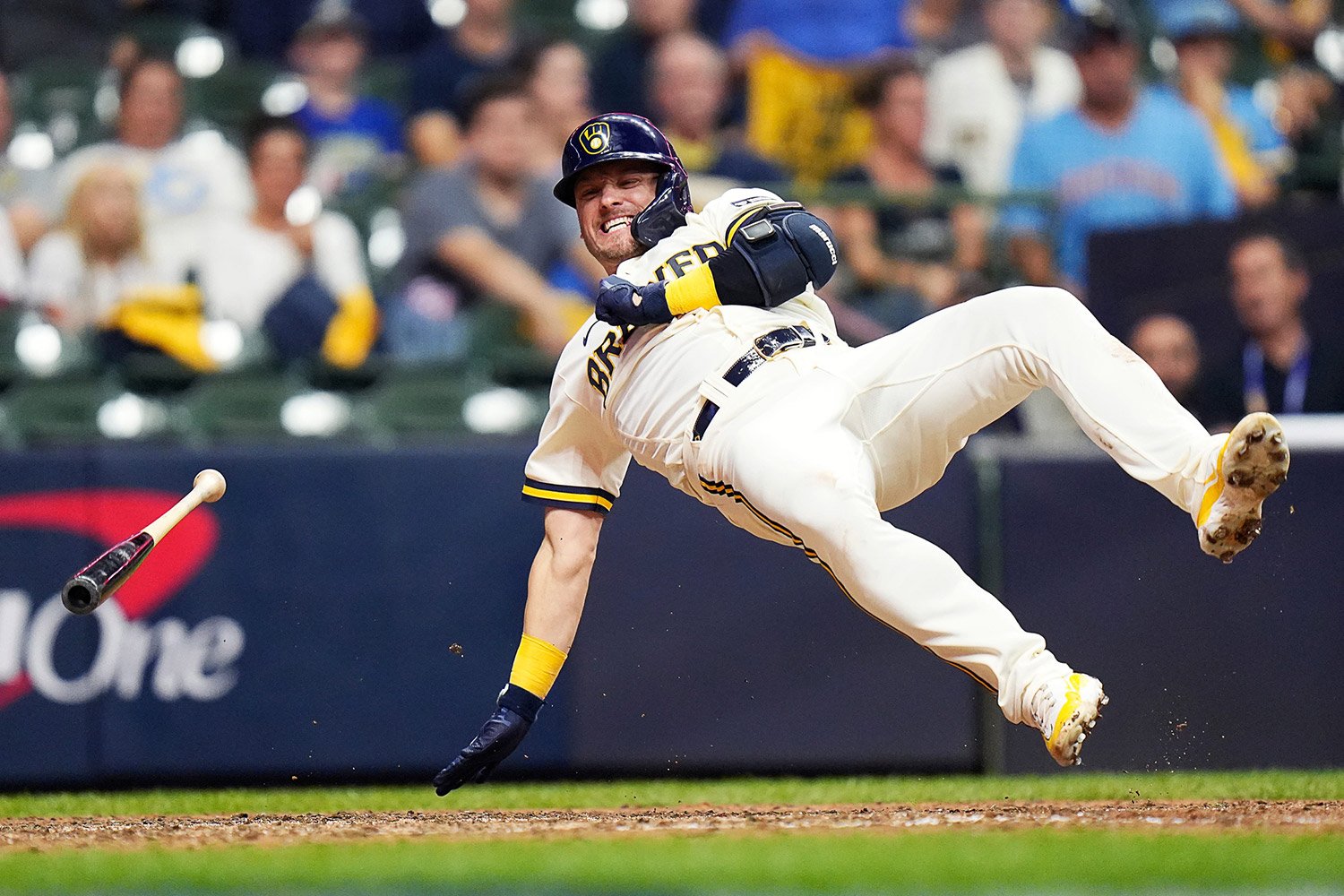 Image courtesy of © Jovanny Hernandez / Milwaukee Journal Sentinel / USA TODAY NETWORK
We touched on "the good" that happened in the Wild Card series for the Brewers. That wasn't to sugarcoat anything or ignore the results. Positives existed, but unfortunately, they couldn't outweigh the negative side of the ledger. Some areas were simply bad, and others descended to "ugly." You might not have been aware of some of it, or you'd like to forget it.
THE BAD
Corbin Burnes and Devin Williams falter
Ultimately, teams need their top players to perform well to advance in the postseason. The Brewers' offense staked "ace" Corbin Burnes to a 3-0 lead after two frames in the opening game. He promptly gave up four runs an inning and one batter later before failing to record an out in the fifth frame—a complete failure in that spot. Closer Devin Williams entered the ninth with the Brewers still down a run.
Hold Arizona there and give your offense a chance. Williams walked the first two batters he faced (later walked a third) and eventually gave up two runs that sucked the air out of the ballpark and put the nail in Milwaukee's coffin. With Brandon Woodruff out, the two next-best pitchers came up small.
Nobody ready in the bullpen in game two
After Peralta started to lose command and get hit harder in the fifth inning, it should have signaled the possible need for a reliever in the sixth. In a win-or-go-home game, an arm should be ready at a moment's notice, particularly as you get to the middle innings. Peralta walked the leadoff man in the sixth and still faced two more hitters before Counsell felt Abner Uribe should enter the game. Arizona had the lead by then, and Uribe entered with chaos around him. It was a lack of foresight and preparation with the season on the brink. 
If you look at the chart below, you can see the enormous swing in win probability. It jumped from 61 percent Brewers after one batter in the sixth to 57 percent Diamondbacks after Corbin Carroll's double (the second hitter of the inning). Then Peralta faced a third hitter, Ketel Marte, who drove in the eventual winning runs.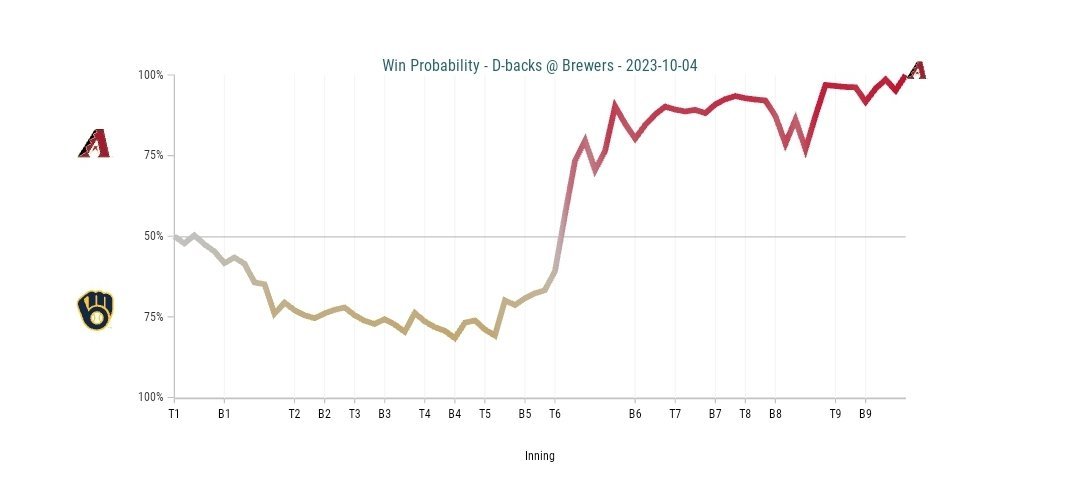 Jesse Winker placed on the Wild Card roster
This had the markings of a "we're the smartest people in the room" type of decision. It backfired. With options like speedy, athletic Garret Mitchell and power bat Rowdy Tellez, the Brewers instead recalled Winker, who hadn't seen MLB pitching since July 24. Fighting injuries all season, including on his rehab assignment, Winker owned a .199 average and .320 OBP with the Brewers. Yet, management thought he was the best option to work a count and get on base in the series.
His bat was extremely slow in his game one appearance as he struck out on three pitches. Instead of claiming injury and bringing someone else on for game two, Winker got another at-bat and weakly grounded out to first on three pitches. The boobirds were in full force.
THE UGLY
Counsell choosing not to pinch-hit for Sal Frelick
With the Brewers down 5-2 in the eighth, Arizona went to Andrew Saalfrank, a left-handed hurler, to face the lefty, Frelick, with the bases loaded and one out. Lefties were 1-for-13 with one walk against Saalfrank in 2023, with right-handed batters owning an OPS 363 points better than lefties. Milwaukee, who values platoon matchups as much as any club, had four guys on the bench who could hit right-handed. Instead, Counsell decided to stick with Frelick. He meekly bounced into a fielder's choice, pitcher to home plate.
So what if Joey Wiemer and Owen Miller haven't seen MLB action in a while? They were still better options. Blake Perkins, a switch-hitter, is better against righties, but his stats against left-handed pitching are better than Frelick's. Catcher Victor Caratini was also a better option, though the risk of a double play was much greater. To have all those options and choose none is managing malpractice, especially when Counsell explained that Saalfrank has trouble throwing strikes to lefties. So you were hoping for a walk? How inspiring. And by the way, he had one walk in his small 14-batter MLB sample size against lefties.
The actual best option, because he hits lefties exceptionally well (.780 OPS this season), would have been Andruw Monasterio. Unfortunately, because Counsell used Winker (ugh) to hit for Brice Turang earlier, Monasterio had already entered the game defensively. If you aren't going to use Miller to pinch-hit against a lefty, then you should put him at second base and keep Monasterio on the bench to pinch-hit in a lefty-lefty situation. It was an ugly sequence created and exacerbated by the manager's decisions.
Base runners galore
The Brewers saw 30 men reach base in the two games, bringing only five to the plate. One in every six men made a round trip as the club failed to adjust and "do their jobs" in critical situations. Yes, Tyrone Taylor was robbed of a massive hit in game one, and Milwaukee had some bad luck, but many of the problems were self-inflicted. Double plays, base running mistakes, and the inability to bring in runners from third with less than two outs all added to the frustration.
While the hitters did great to score early, they scored zero runs from the third through ninth innings in both games (that's 14 total frames). Did they need more homers and doubles? Of course. But they left runs on the bases that an average performance takes care of on a typical night.
Blowing leads like no other team
Eight Wild Card games were played across baseball, and in six of those contests, the team that took the lead first kept their opponent from tying the game up or going in front. The other two scenarios belonged to the Brewers, the only club to relinquish a lead - and they did it twice. For a group that relies on elite pitching (MLB-best 3.73 ERA), had two of its top three starters on the hill, and had everyone available in the bullpen, it's stunning to watch it happen to only them. Can you "expect" to hold teams to one or two runs? Not necessarily. But especially in the case of game one, it's defeating to watch your ace give the lead right back by the fourth frame.
The Texas Rangers, with an average starting rotation and terrible bullpen, gave up one total run (on the road) to sweep their two games. The Minnesota Twins scored the same amount of runs in their series as Milwaukee (five) and swept two contests with the Toronto Blue Jays. Yes, the offense needs to be better, but that was an ugly overall performance by the pitching staff.
Getting used to losing in the playoffs
Milwaukee is now 1-9 in its last ten postseason games. It's terrific to reach the playoffs in five of six seasons and win the division three times, but early exits with only one victory to enjoy are almost more painful. Is there something with the mentality of the players? It's tough to say, as many have changed over the past six seasons. Is there an issue with in-game management, such as the "trying to be the smartest person in the room" idea? There might be something to it. Regardless, it's difficult to argue it's the "golden era" of Brewers baseball when the club has a single postseason win in the last ten attempts.
Adding to the "ugly," the Brewers had the better regular season record three times and were eliminated in their home park on two of those occasions. Little hurts more than a gut-punch, season-ending loss live and in person.
This was the reality the Brewers and their fans had to endure this week and for the past few seasons to some extent. The beauty of baseball is how difficult and unrelenting it is each day and every year. All you can do is accept what happened, learn from the mistakes, and come back new and improved, ready to take it to the next level.
Think you could write a story like this? Brewer Fanatic wants you to develop your voice, find an audience, and we'll pay you to do it. Just fill out this form.
MORE FROM BREWER FANATIC
— Latest Brewers coverage from our writers
— Recent Brewers discussion in our forums
— Follow Brewer Fanatic via Twitter, Facebook or email
1