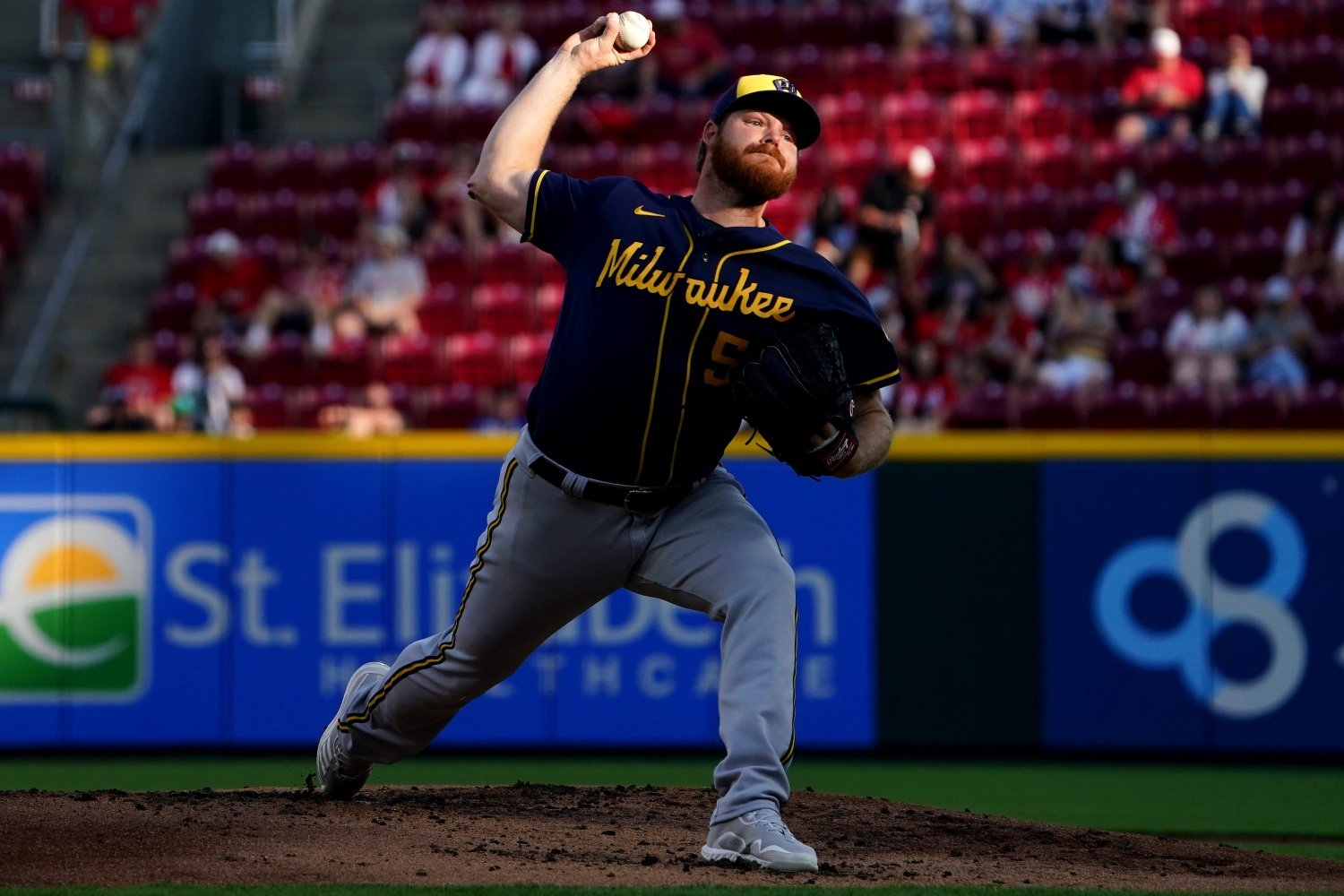 Image courtesy of © Michael McLoone-USA TODAY Sports
There was no chance that Brandon Woodruff, who will miss all of the 2024 season, would be tendered a contract and brought back at a salary on the high side of $10 million. Jeff Passan of ESPN delivered the news that the Crew released him, rather than finding common ground with him on a multiyear deal that would have circumvented the arbitration system.
Milwaukee Brewers right-hander Brandon Woodruff has been nontendered, sources tell ESPN. The two-time All-Star, who underwent shoulder surgery and is expected to miss the 2024 season, was scheduled to make around $11 million in arbitration. He will be a free agent.

— Jeff Passan (@JeffPassan) November 18, 2023
Obviously, we've known this was possible for a while. It's still a sad end, or at least interruption, to the tenure of one of the anchors of the team's rotation during the highly successful Craig Counsell era. The Brewers did elect to keep Adrian Houser, Tyrone Taylor, and most of the rest of their arbitration-eligible players.
We have tendered contracts to Willy Adames, Jake Bauers, Tyrone Taylor, Corbin Burnes, Adrian Houser, Hoby Milner, Joel Payamps, Devin Williams & Bryse Wilson.

We have non-tendered Rowdy Tellez, J.C. Mejía & Brandon Woodruff, making them free agents.

— Milwaukee Brewers (@Brewers) November 18, 2023
Notably but extremely unsurprisingly, the team also cut loose Rowdy Tellez (coming off his disastrous, injury-marred campaign and due almost $6 million if they had tendered him a deal) and J.C. Mejia (suspended and unlikely to figure into their bullpen mix anytime soon). 
Woodruff is the biggest headline here. His was the most interesting case entering today, although there was virtually no chance we would feel happy about the outcome. Ever since he had to be left off the roster for the Wild Card Series last month (and since the raw, emotional press conference that ensued), it's been clear that both the player and the front office are somewhat heartbroken that things are ending this way. Ultimately, though, the needle that a multi-year deal between them would have had to thread had too small an eye to navigate.
— Milwaukee Brewers (@Brewers) November 18, 2023
Don't glaze over Matt Arnold's statement that the team is still interested in bringing Woodruff back, if that turns out to be possible. That sentiment is earnest, even if the odds of its being brought to fruition are remote. Woodruff is now a free agent, though, and has a chance to shop around for a backloaded two-year deal that will let him set a new platform for a full foray into free agency after 2025. It's unlikely that he'll ever get the payday to which he seemed so close just a couple of months ago, so he might elect to pursue a true, market-level deal, and if so, it's unlikely that the Brewers will win the bidding.
We can now write the names of Joel Payamps, Hoby Milner, and Bryse Wilson into the 2024 bullpen depth chart in pen, but they should all have been in heavy pencil, anyway. That Jake Bauers would be tendered a deal was obvious, since the team just traded two fringe prospects for him earlier today. Bauers now becomes the team's bid to find the next Tellez, or Jesus Aguilar, or Eric Thames. He's a longshot, but a fine dart to throw in the direction of stabilizing their corner infield and DH picture with some left-handed power.
This is far from the end of the story for Corbin Burnes, Willy Adames, or even Devin Williams. Hopefully, it's also not the end of the line for the Brewers and Woodruff. Today, though, we have to consider it as such, and to study the depth chart for the team without Woodruff even as a future consideration.