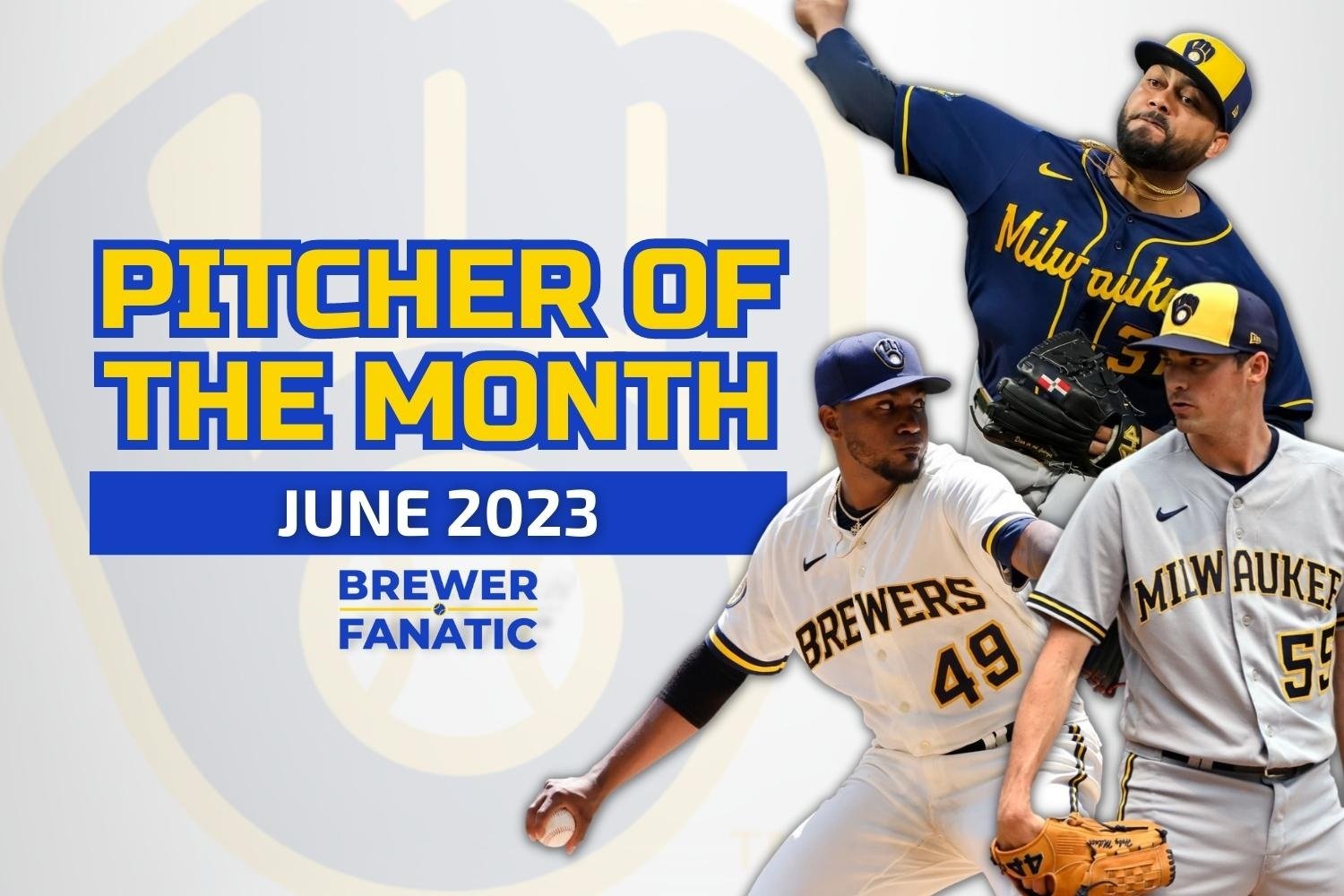 Pitching has been key to the Brewers success so far this season due to a serious lack of offensive output. Some of this has come from unusual places, with Colin Rea, Adrian Houser, Bryce Wilson, Elvis Peguero and Joel Payamps. In the month of June however, there is one standout.
But first, let's highlight a couple other pitchers that did great work during the month in June. 
Honorable Mentions
Hoby Milner
If it wasn't for the fantastic pitching this month from our winner, the award would have gone to Hoby Milner. The lefty shook off a rough May (1.043 OPS Against) to allow just one extra-base hit across 11 innings of work over 14 games. Not a single run was charged to his name. With 10 strikeouts, he was used to getting out tough lefties, and was utilized more and more as the month went on, including five games in six days at one point.
His four-seam fastball has been almost unhittable at its 88.6 mph average speed, with an xBA of .108 and xSlg of .183, truly incredible numbers. He got a lot of swing-and-miss with a 41.5% whiff rate. His curveball has been almost as effective, with xBA of .163 and xSlg of .202. These two pitches have allowed him to come into a variety of situations and just get outs. There is some concern for how his changeup and sinker have been getting hit, but for now, hats off to Hoby.
Joel Payamps
This month, Payamps has been moved into the eighth-inning role after Strzelecki's struggles, and has been almost immaculate. A 1.80 ERA in June, with a 2.17 ERA overall and a 1.07 WHIP on the season, Payamps has been invaluable despite almost being a throw-away player in the William Contreras deal.
He is in the top 10% of pitchers in the league for both his walk rate and average exit velocity, a strong combination for a contact-oriented pitcher. He's used his four-seam fastball to good effect against left-handers, but has increased his slider usage to right-handers, making it his main offering, and has averaged a -2 degree launch angle, with .184 BA and .261 slugging numbers.
Payamps has been consistent day in, day out for the Brewers and deserves every credit that comes his way. For something that was a real worry for the Brewers coming into the season, the bullpen has been one of their biggest strengths so far this year, and Payamps is a big reason for that.
Pitcher of the Month – Julio Teheran
He's received minimal run support so far, but save for his last blow up outing against the Mets, Teheran has been an absolute godsend for the Brewers. As Matthew Trueblood found, his new blend of a deeper sinker and a cutter into his pitch mix have worked wonders, and the way in which he has used them to great effect in tight to right handers has produced a lot of weak contact and thus a lot of success. In his five starts this month, he has three straight quality starts, then went five innings with no earned runs before his more recent explosion, and is pounding the strike zone. 
The fact the Brewers lost three of his four outstanding starts has nothing to do with him, and several stats really jump off the page. He is hitting the strike zone a lot, and the lack of walks have really helped him out when he does leave mistakes over the heart of the plate, with only one occasion this season where he has walked more than one hitter, putting him in the 91st percentile for walks per nine innings.
A lot of his results this season have been fueled by a good BABIP, and that can't be overlooked. However he has shown what a veteran pitcher can bring, by adapting his pitch usage and tunneling to great effect. As mentioned, he's worked his sinker and cutter around the inside part of the plate to right handers, and has occasionally been hit hard, but has importantly kept it on the ground, a real benefit to this premium Brewers infield.
 This has been key to his success, and if he can adapt with the league, and stay confident in his stuff and his defense to do the job behind him, this success can continue into July.
So there you have it. Signed to an MLB contract by the Brewers just days after the San Diego Padres released him from his minor-league contract, Julio Teheran responded with a very strong first month in Milwaukee. What are your thoughts on the choice, and the runners-up? Feel free to discuss in the COMMENTS below. 
Think you could write a story like this? Brewer Fanatic wants you to develop your voice, find an audience, and we'll pay you to do it. Just fill out this form.
MORE FROM BREWER FANATIC
— Latest Brewers coverage from our writers
— Recent Brewers discussion in our forums
— Follow Brewer Fanatic via Twitter, Facebook or email