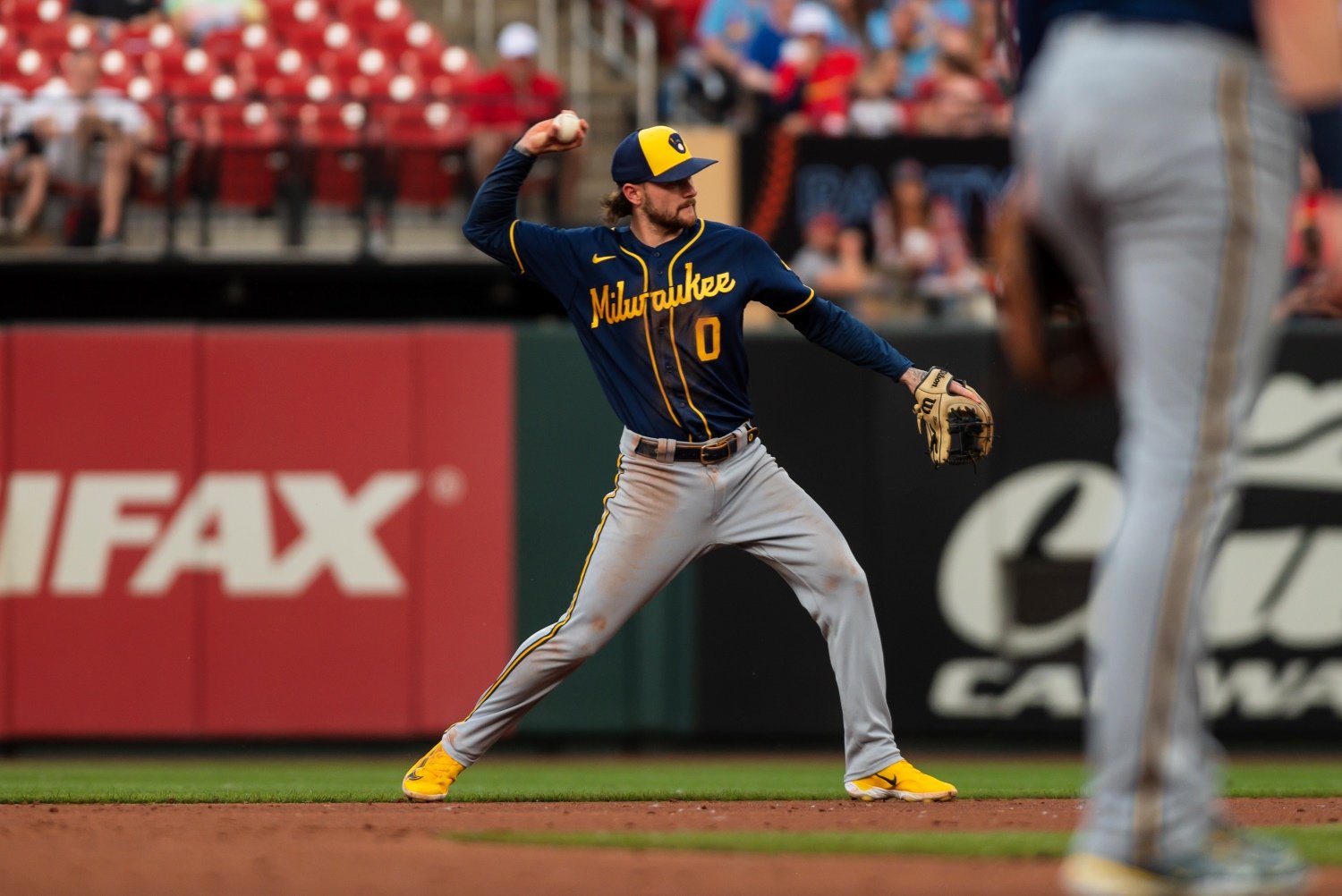 Image courtesy of © Paul Halfacre-USA TODAY Sports
Major League Roster
At catcher, both William Contreras and Victor Caratini have provided solid offense and defense on the major-league side, and the improvement behind the plate by Contreras has been very helpful for the team, which is in a dogfight for first place with the surprising Pirates.

First baseman Rowdy Tellez is making the case for an extension with his bat, posting an .833 OPS through May 20. Luke Voit has disappointed, despite a promising spring training, though.
Brice Turang has been providing Gold Glove-level defense, and has delivered some surprising power a quarter of the way through the season, but hasn't brought along the OBP skills he showed in the minors, resulting in Owen Miller seeing time at second.
Brian Anderson has spent a lot of time at third with Luis Urias stashed on the 60-day injured list with a hamstring injury suffered on Opening Day. Anderson has been one of the team's most quietly but consistently competent hitters, and is now on his second hot streak in the power department in as many months. Mike Brousseau hasn't done too badly, either, showing some pop from the right side. The glovework has been shaky, though–especially from Brosseau.
With Willy Adames at shortstop, the good news has been that his walk rate is up to about what he did in 2021, but his offense has been below par in a couple of other aspects. The Crew may still want to talk extension, though, given what doesn't show up in the box score.
Jesse Winker has drawn a lot of walks and posted a solid OBP, but the power he was supposed to provide has been absent, with only three doubles in almost a third of the season. Darin Ruf was signed to provide some punch against lefties, diminishing the roles of Winker and Voit in a single stroke. 
Other 40-Man Options
The Brewers are in a precarious spot at catcher, having outrighted Payton Henry to Nashville. There is nobody on the 40-man besides Contreras and Caratini at catcher.
Abraham Toro is the other infield option on the 40-man, and he has been a doubles machine in Nashville, splitting time at third and second while also showing superb OBP skills. Another rough week or two might compel the Brewers to reach down for Toro, at the expense of Brosseau.
In The Minors
Henry, Brian Navarretto, and Alex Jackson have been solid at Nashville, while Jeferson Quero has posted good offensive numbers at Biloxi. Darrien Miller is rebounding some from a slump, while Matthew Wood already forced a promotion to Wisconsin with superb offensive numbers.
Jon Singleton has performed well at Nashville, while Wes Clarke and Zavier Warren have split first base at Biloxi. In the lower minors, Ernesto Martinez, Jesus Chirinos, Jesus Parra and Tayden Hall have all struggled.
Eddy Alvarez has broken out a bit at Nashville, while at Biloxi, Ethan Murray and Felix Valerio have both been so-so offensively. Robert Moore is flashing some power at Wisconsin, while Carolina has struggled to find a regular second baseman.
Patrick Dorian is emerging to an extent at third base for Nashville, while Tyler Black is making a case for a promotion at Biloxi. Eduardo Garcia has moved to the hot corner in Wisconsin, and has made some OBP strides, while Ben Metzinger is also doing well at third there. Luke Adams has posted a .391 OBP at Carolina.
Andruw Monasterio is putting up solid numbers at Nashville as Cam Devanney is struggling, but Freddy Zamora is breathing down his neck with a legitimate breakout season in Biloxi. Eric Brown Jr. has rebounded after a slow start in Wisconsin, while Daniel Guilarte is breaking out in Carolina.
Overview
At this point, the Brewers have a huge offensive hole at designated hitter, one that needs to be filled quickly. It may be time to think about cutting Winker loose, and calling up a hot hand in the minors. First base post-Tellez could be an issue, with just about everyone but the 31-year-old Singleton struggling. Second base looks to be in solid hands with Turang, if he can eventually achieve consistency at the plate. On the other hand, third base and shortstop could have plenty of options.
Think you could write a story like this? Brewer Fanatic wants you to develop your voice, find an audience, and we'll pay you to do it. Just fill out this form.
MORE FROM BREWER FANATIC
— Latest Brewers coverage from our writers
— Recent Brewers discussion in our forums
— Follow Brewer Fanatic via Twitter, Facebook or email