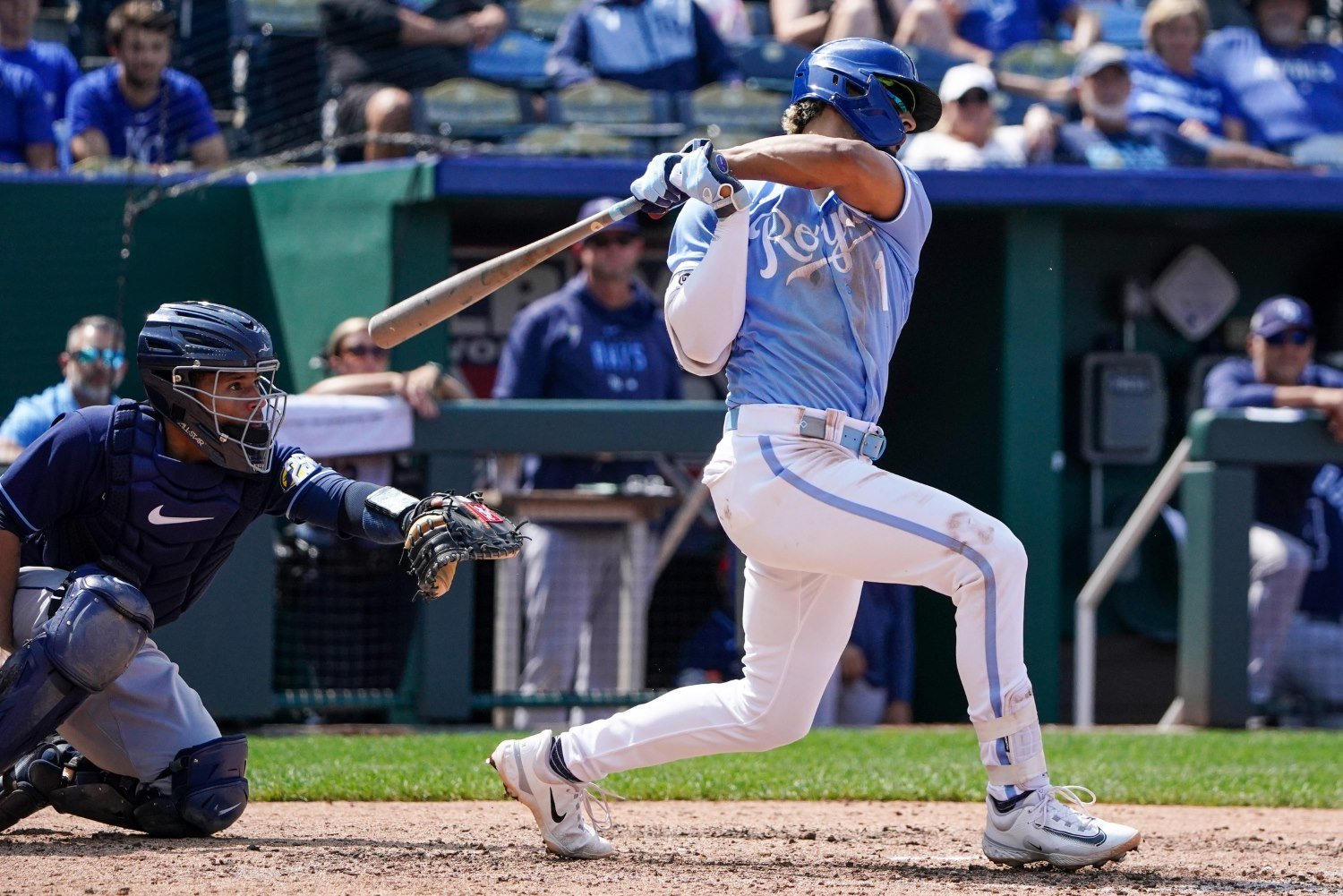 Image courtesy of © Denny Medley-USA TODAY Sports
As the clock ticks down to the deadline, teams often go slightly into a shell, opting to focus on players who will be free agents at season's end. Those are the simplest and most time-sensitive moves, so both buyers and sellers (an easier sorting process to perform when discussing players close to free agency) prioritize them. For executives with grander vision, though, the deadline is a bigger opportunity. The Brewers operate on a limited budget, and in the winter, they can be hemmed in a bit by higher-spending rivals. Now is the time to see whether a valuable player under longer-term team control will shake loose at a good price.
MJ Melendez, C/LF, Royals
Trying to develop Melendez as the successor to Salvador Perez in Kansas City went so poorly that the team recently abandoned the project. He's been almost exclusively a corner outfielder this season, and on the surface, his bat looks light for that role. He's only hitting .217/.292/.352 on the season.
Here's why he's still very attractive, in a nutshell:
The Brewers aren't the Royals. The Brewers are the Brewers. If they got ahold of Melendez, they might be able to turn him into a catcher, after all. He's a left-handed batter, so he could be a devastatingly good complement to William Contreras in a hybrid catcher-DH role.

Melendez has considerable swing-and-miss in his game, but he also has a solid approach, and he makes high-quality contact. Partially because he plays his home games in Kansas City, that contact has gone unrewarded, but his raw production doesn't accurately reflect his skill set at the plate.

He's only 24 years old, and has five years of club control ahead after 2023. 
The Royals would surely try to set a high price on Melendez, but their front office is one of the two or three worst in baseball right now. Calling them about a player with lousy numbers in a corner outfield spot is worth a shot. They might not know what they have, or at least what the Brewers could make out of him.
Paul Blackburn, RHP, Athletics
His ERA is worse than last year's, but in reality, Blackburn has taken a meaningful step forward in 2023. He's inducing more chases and weaker contact. He has a six-pitch arsenal and has figured out how best to deploy his good slider, and he's under team control through 2025. The A's are so far from contention that he has virtually no utility to them, so although there would be a substantial price to pay, it might not be exorbitant.
David Bednar, RHP, Pirates
One of the hottest names on the trade market, Bednar is a hulking bullpen monster whom the Brewers already know all too well. His fastball, curveball, and splitter form as good a three-pitch mix as any closer in baseball can boast right now, and the heater sits around 97 miles per hour, with good ride and spin. It's always complicated to assemble an intradivisional trade for a player on more than the shortest-term deal, but Bednar would level up the Brewers' relief corps for quite a while. He's under team control through 2026.
Dylan Cease, RHP, White Sox
Control is always the question with Cease. He's maddeningly unable, and sometimes even seems unwilling, to attack the strike zone with what is easily above-average stuff. On the other hand, he's capable of dominating hitters like few other starters in the league. Last year, despite those occasional bouts of walks, he was a Cy Young Award vote-getter. He has two and a half years of team control remaining, so bringing him in (while expensive, in terms of talent) would keep the Brewers' pitching machine running smoothly even when Corbin Burnes and Brandon Woodruff reach free agency.
Tarik Skubal, LHP, Tigers
Often, it's a checkered injury history that makes a talented player available at a reasonable price well before they attain free agency. That's surprisingly inapplicable to the quartet above, but it's certainly the case with Skubal, who missed much of the second half last year and didn't get back until July this season due to elbow trouble.
It's possible that the rebuilding Tigers will roll their dice and hope for better health for Skubal, but the likely reward for them in that is just the right to trade him this winter or next summer, instead. If they're willing to listen on him now, instead, he's worth pursuing, because he's a big lefty with good stuff and has demonstrated front-of-the-rotation potential. Skubal is under team control through 2026.
The Brewers don't have any more desperate needs to fill on their 2023 roster. There's still room to upgrade, though, and if they're going to pay the premium that comes with climbing above-average at any position at this time of year, they might as well do so in a way that addresses those positions for the long term. Arnold and company landing any of these five players today is improbable, but one of the five will probably be dealt. It might as well be here.
Think you could write a story like this? Brewer Fanatic wants you to develop your voice, find an audience, and we'll pay you to do it. Just fill out this form.
MORE FROM BREWER FANATIC
— Latest Brewers coverage from our writers
— Recent Brewers discussion in our forums
— Follow Brewer Fanatic via Twitter, Facebook or email