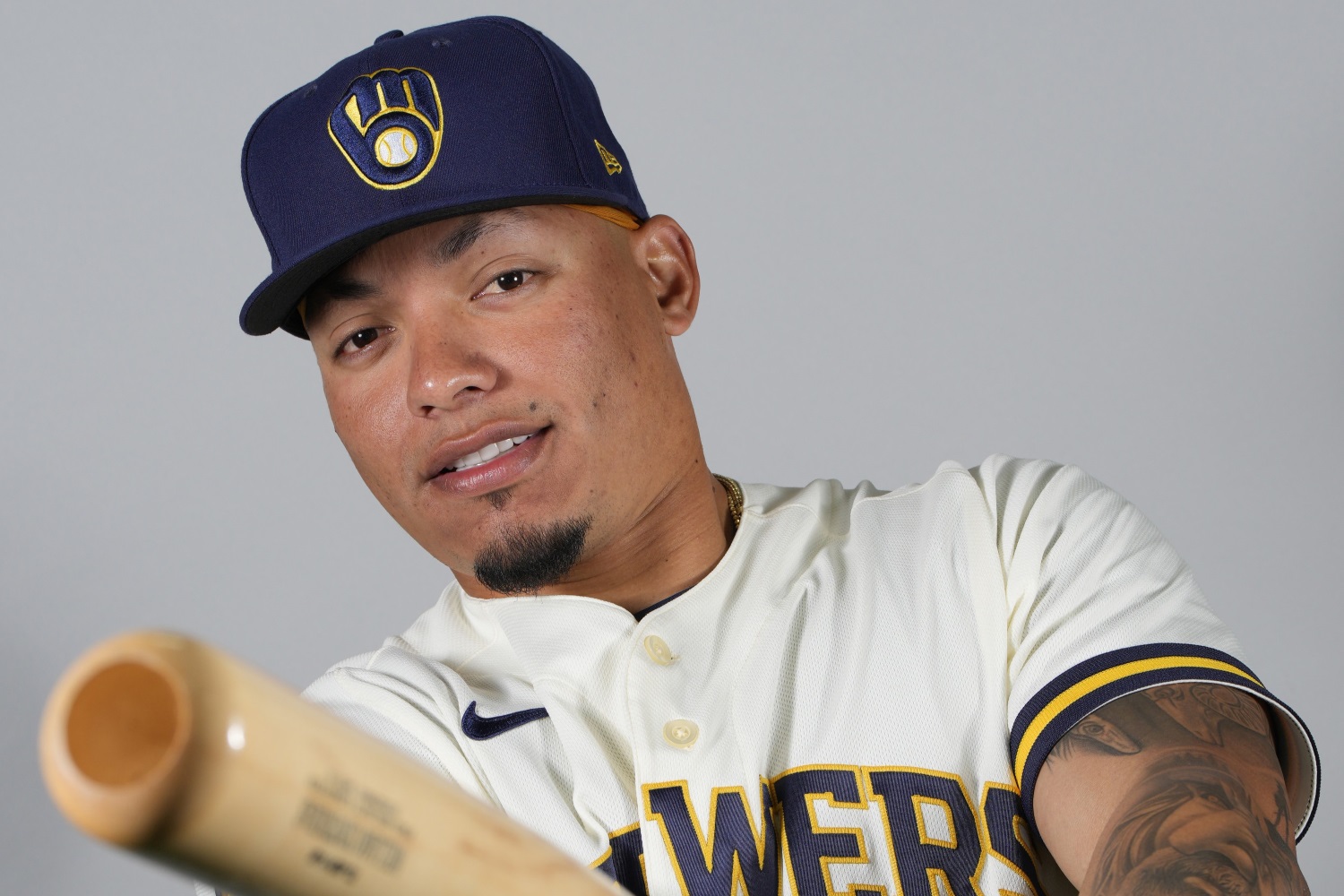 Image courtesy of © Rick Scuteri-USA TODAY Sports
All of the predictions below are about things that can happen in the 2023 season. It could be an MVP winner or a breakout rookie. As long as it pertains to the Brewers, it's fair game. Will all of them come true? Almost certainly not. Will some of them come true? Only time will tell.
23. Hedbert Perez Takes Off
It may be a make or break year for Hedbert Perez, who was an international signee in 2019. Perez spent the entirety of last year in Low-A, where his strikeouts skyrocketed, and his production flatlined. Still, Perez is only 19, and possesses five-tool talent. Perez will likely feature a new approach, and with some experience under his belt, he has the ability to shoot through the system in 2023.
22. Garrett Mitchell Wins a Gold Glove
Mitchell will have every opportunity to capture a starting spot in the Brewers outfield. His glove won't be the problem. If Mitchell is able to find success with his bat, he'll be able to showcase the caliber of his glove. If that's the case, Mitchell can earn the first piece of hardware in his MLB career.
A real life superhero #ThisIsMyCrew pic.twitter.com/G7Xq4EkdxG

— Milwaukee Brewers (@Brewers) September 11, 2022
21. Both Wiemer and Frelick Debut
Both Sal Frelick and Joey Wiemer had impressive seasons in the minor leagues last year, and both are primed for an MLB debut in the coming year. The problem is, Milwaukee is rich with outfield talent. Between Christian Yelich, Jesse Winker, Mitchell, Tyrone Taylor, and Tyler Naquin, there doesn't appear to be a spot for either at the moment. Still, I expect that both players' production will force them into a major-league roster spot at some point in 2023.
20. Freddy Peralta Throws 180 Innings
Freddy Peralta has always had problems staying on the mound. He's never logged more than 150 innings in a single season, and he's only pitched over 100 once. Peralta is certainly talented enough to pitch deep into games, so as long as he's healthy, reaching 180 innings shouldn't be too much of a challenge. Still, staying healthy is a pretty big "if."
19. ...And Eric Lauer too
With Aaron Ashby currently slated to miss the start of the season, Eric Lauer faces no threat to his rotation spot, other than himself. He may be unimpressive compared to his rotation mates, but the Brewers can (and probably will) rely on him to eat innings every fifth day.
18. Luke Voit Hits 25 Home Runs
Luke Voit has never hit more than 22 homers in a single season. He has, however, led the major leagues in homers. Voit's path to playing time will be as a complement to both Winker at designated hitter and Rowdy Tellez at first base. His power is already proven, and with a full season of at-bats, Voit could easily eclipse 25 home runs. He likely won't get that in Milwaukee, so he'd need a bit of a power surge to surpass 25.
17. William Contreras is an All-Star Again
Making back-to-back midsummer classics is no small feat. Doing it with a new team, and getting voted in at a different position is a different challenge completely. Contreras slashed .274/.354/.506 as a member of the Braves last year, and if he can maintain that production as the Brewers' primary catcher, there's a good chance he'll be suiting up for his second consecutive All-Star Game come July.
16. Christian Yelich Bounces Back
The story of Christian Yelich's struggles has been well documented. There's really no new reasons to believe Yelich will revert back to his MVP form, but there's a chance that Yelich can post his best season since his knee injury in 2019.
15. The Brewers Steal More than 125 Bases 
Only one team stole more than 125 bags last year, and it wasn't the Brewers. With Mitchell and other prospects slated to make debuts in 2023, the Brewers will feature enough speed to run wild on the bases. The new rules limiting pickoff throws and increasing the sizes of the bases might also help this one come true.
14. Brice Turang Ends the Season as the Everyday Second Basemen
Milwaukee has plenty of options for both second and third base. Turang figures to find himself in the mix early  spring training, but with proven big leaguers like Luis Urías, Mike Brosseau, and Abraham Toro also vying for a starting spot, the would-be rookie will have to have a standout showing to break camp with the team. Over the course of the long season, though, he'll find his opportunity, and he''ll seize it.
13. Jackson Chourio Enters 2024 as Baseball's Top Prospect
Jackson Chourio was the biggest story within the Brewers farm system last year. In 2022, Chourio shot up prospect rankings, going from unranked to the top ten in just one year. Currently, he sits as the eighth-best prospect, according to MLB.com. Chourio will start the season with Double-A Biloxi, where he'll need to continue his meteoric rise if he's going to be able to surpass baseball's best talent.
Can I interest you in a video of all of Jackson Chourio's home runs from last season? pic.twitter.com/AhSvShp41u

— Curt Hogg (@CyrtHogg) February 7, 2023
12. Corbin Burnes Throws a No-Hitter
Corbin Burnes has already etched himself into the Brewers' history books with a combined no-hitter with Josh Hader in 2021. There's really no method to predicting no-hitters, so this is nothing more than a hunch. But if there's anyone who can replicate the type of performance needed for a no-hitter, Burnes is it.
11. Urías is Traded
It isn't the case that Urías has done anything to warrant the Brewers moving on; this is a bold prediction after all. Yet, there's a feeling that Urías hasn't seized an infield spot with authority. Now, the Brewers are swimming in options, and it feels like there isn't room for all of them. Urias has the best combination of trade value and ability, and the Brewers just might move on.
That's a hefty dose of boldness already, but we're far from finished. Let me know what you think of some of these in the comments, and check back tomorrow for the last 10 of my bold predictions for the year.
Think you could write a story like this? Brewer Fanatic wants you to develop your voice, find an audience, and we'll pay you to do it. Just fill out this form.
MORE FROM BREWER FANATIC
— Latest Brewers coverage from our writers
— Recent Brewers discussion in our forums
— Follow Brewer Fanatic via Twitter, Facebook or email