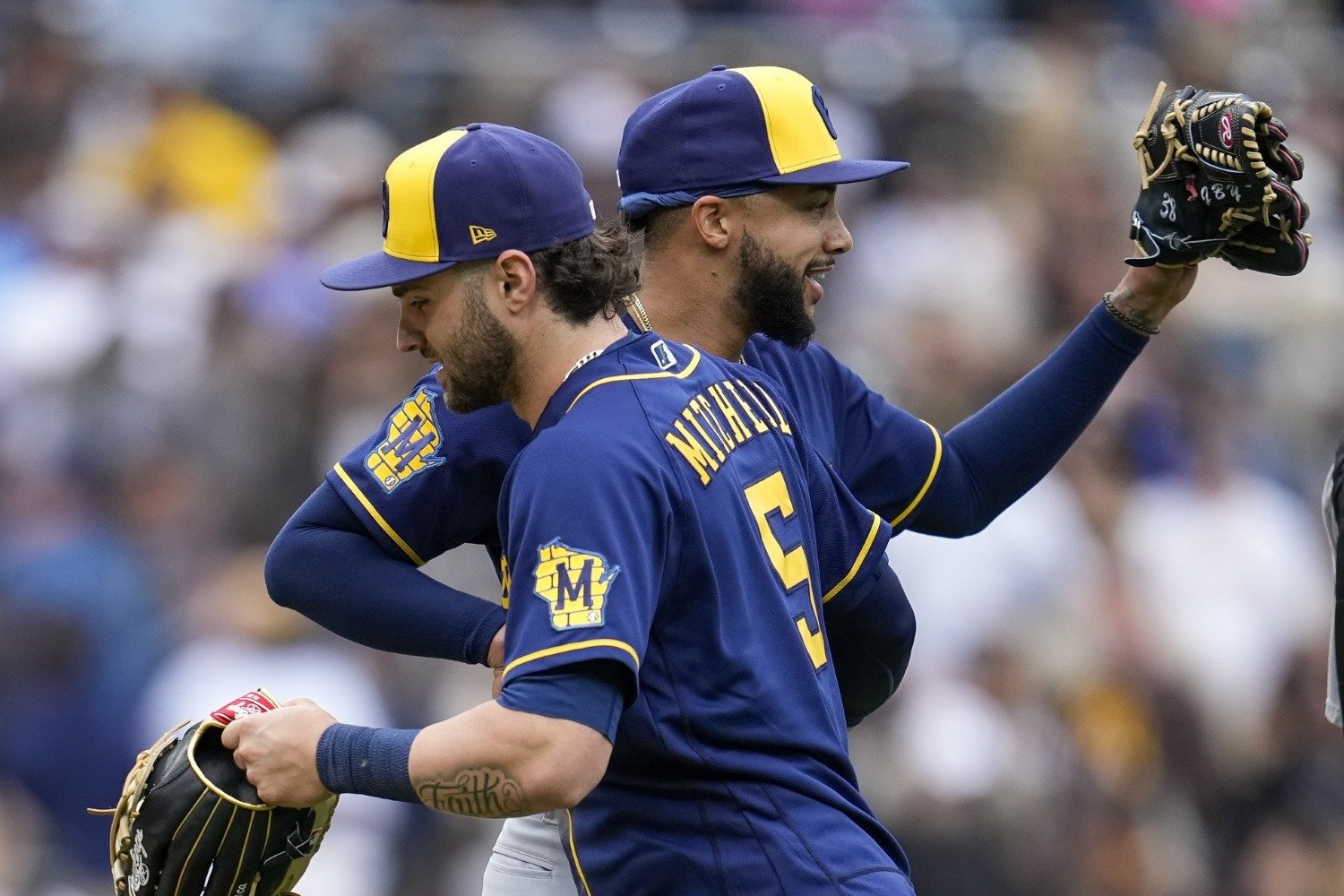 Image courtesy of © Ray Acevedo-USA TODAY Sports
Entering 2023, it would have been hard to imagine a world in which trading Corbin Burnes could make any significant bloc of Brewers fans happy. The 2021 NL Cy Young Award winner was only a half-step worse than that in 2022, and he's put up some of the most dazzling pitching performances in team history. When he and the team were at odds in the window around his arbitration hearing in the spring, fans (rightly) sided with Burnes.
One more disappointing playoff exit and one more not-quite-ace-level season later, though, it's now possible to imagine life after Burnes without gritting one's teeth in anger. Had Craig Counsell still been the manager of this team, it would have been awfully difficult to envision the team trading Burnes, because Counsell is not only a great manager, but an experienced and established one. He's disliked previous moves in that same vein. It might have happened anyway, but it would have had to be done delicately. It might have, however slightly, even shaped the return the team accepted.
Those considerations are out the window now. Whoever becomes the new manager of the Brewers in the next week, they will have far less capital with the fans and with the organization than Counsell had. The only bounds on Matt Arnold and his deep supporting cast, now, are the ones handed down by Mark Attanasio.
In the first full week of the offseason, with the GM Meetings yielding their usual explosion of half-sourced, vague-but-interesting rumors, all we heard about was the Brewers being in sell mode. That might turn out to be true, or true-adjacent. The team did decline an affordable option on Mark Canha, effectively, by trading him even before the Counsell news broke. When Ken Rosenthal reports the team is open to trading any player on the roster, it's clear that the team is (at least) not poised to make a huge splash in free agency and chase a World Series title at big future cost.
Let's hit pause, though. Arnold is not David Stearns, but even in his very short time at the top of the baseball operations hierarchy, he's shown a Stearns-like nose for the football, metaphorically speaking. No one expected the Milwaukee Brewers to jump into the Sean Murphy trade last winter and come out with both a long-term answer at catcher and a valuable set-up reliever, but that's just what they did. That was, in all likelihood, a once-in-a-decade confluence of stupidity by other teams and having the right resources ready to capitalize, but lesser cousins of the Contreras trade could show up this winter.
Trading Burnes, for example, does not have to be a pure selloff. The Brewers could make a deal with their neighbors to the west, sending Burnes to the Minnesota Twins in exchange for Jorge Polanco, who would help shore up the weak lineup and who has the versatility to play some second base and some third base, according to the team's needs. A swap that sent Burnes to the Bronx in exchange for Gleyber Torres (another, even better potential solution to the team's holes on the infield) might sound like a pipedream, but the Yankees are looking to give some of their younger talent a try around the horn, and Burnes would fill an obvious need for them.
Those aren't even especially creative possibilities. Arnold could, instead, trade a talented young outfielder (Garrett Mitchell best hits the sweet spot of having real trade value but not looking like a long-term fixture for this team) and a starting pitching prospect for a player whom the Brewers could then turn into a star via their strong player development--someone like Tigers righthander Matt Manning, or the Royals' Brady Singer, or a hitter like the Rockies' Brendan Rodgers.
Remember, it was only two years ago that the Brewers acquired an inconsistent shortstop and turned him into a star. Over the last several years, they've been very good at grabbing fringy first basemen and designated hitters and turning them into legitimate sluggers. This could be a winter in which they find another diamond in the rough, and Counsell being gone almost makes that easier--it allows the team to gamble on an unproven player to an extent that would be harder to pull off with the higher, more rigid expectations that Counsell's success created.
I could see a Devin Williams trade this winter, infusing the upper levels of the farm system with an exciting piece or two and handing over the relief corps to the perfectly capable quartet of Joel Payamps, Abner Uribe, Trevor Megill, and Hoby Milner. I could see a deal in which Willy Adames brings back a controllable starting pitcher with some upside. I could see the team further speculating in the catching market, because in addition to having a short-term need for a backup to William Contreras, they have that instruction and development infrastructure around the catching position that could allow them to brew up another surprise star and create numerous options for the future.
All of that neglects the reality that, in Tyler Black, Jackson Chourio, and Robert Gasser, the Brewers also have three players who figure to emerge as major, positive contributors in 2024, whether that be filling the holes that became apparent as 2023 wore on or stepping into new voids created by trades. This farm system isn't quite elite, but it offers a lot of potential impact as soon as next year. Chourio, in particular, could have a transformative impact on this lineup, even if it won't happen until June or so.
There's no question that Counsell's departure changes the matrix of possibilities for the Brewers this winter. It forecloses some, but it also opens others. The Brewers might be more likely to unload some veteran talent this winter than they were a fortnight ago, but count me among those who still expect them to compete (perhaps with a much different style of team) in 2024. In the meantime, we could see another couple of moves that put the same charge in this community that happened when the Contreras trade happened last December.
Am I telling myself a fairytale? Can the Brewers use some newfound flexibility to change lanes without losing time on their road to the World Series? Let's talk about options, old and new, and whether this managerial change could create new avenues to succeeding in the small market that is Milwaukee.
Think you could write a story like this? Brewer Fanatic wants you to develop your voice, find an audience, and we'll pay you to do it. Just fill out this form.
MORE FROM BREWER FANATIC
— Latest Brewers coverage from our writers
— Recent Brewers discussion in our forums
— Follow Brewer Fanatic via Twitter, Facebook or email