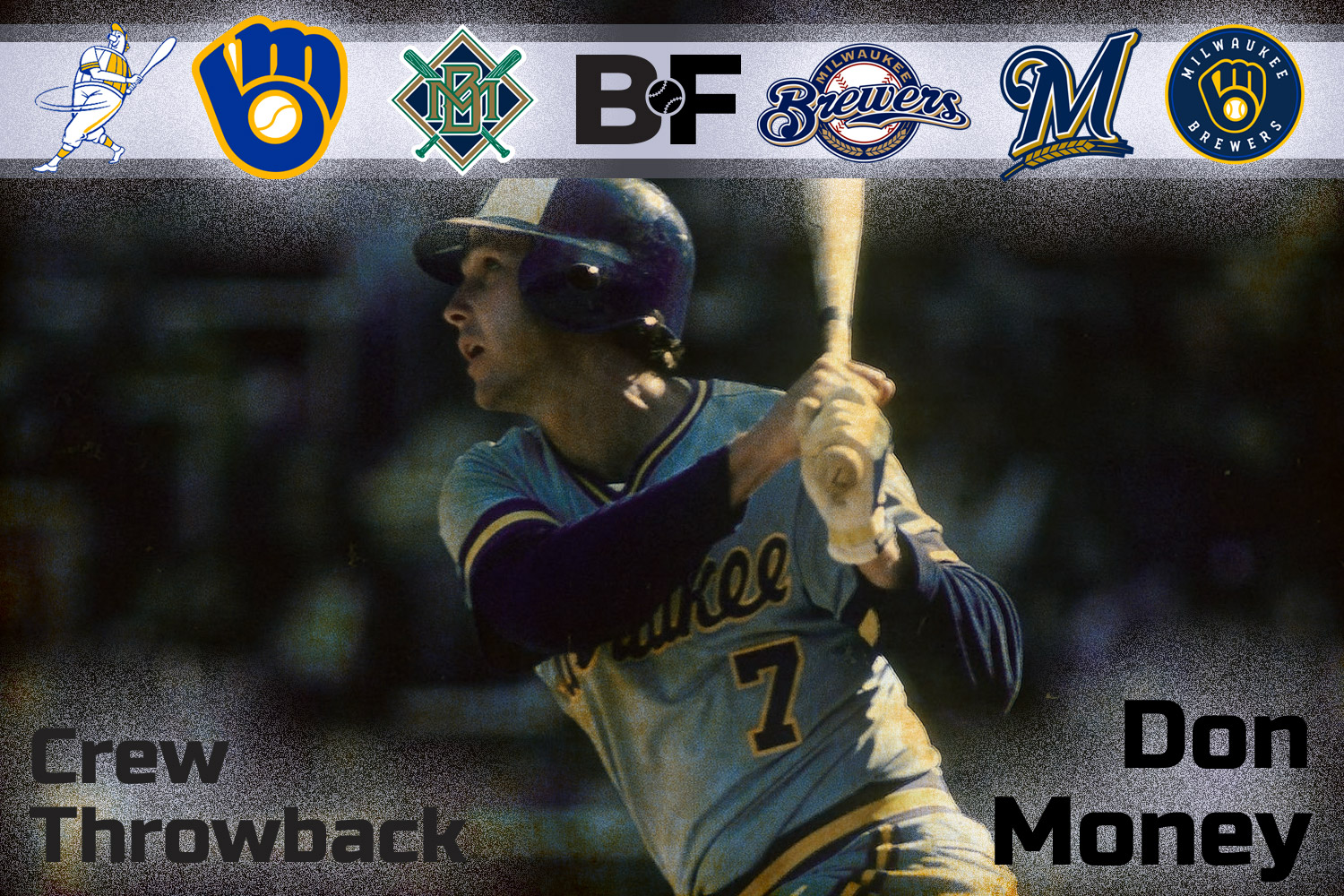 Donald Wayne Money was born in Washington, DC, on June 7, 1947, and signed with Pittsburgh as an amateur free agent in 1965. He primarily played SS in the minors, but also found himself at third base and second base. Money had an excellent 1967 campaign at A ball, but was dealt to Philadelphia in the off season. Bumped up to AAA, the 21-year-old got a cup of coffee the next season, then settled in as a big leaguer in 1969.
After spending his rookie season at shortstop, Money was shifted to third base the following season, but played just about anywhere, including OF. After a strong sophomore campaign (.295 BA and 14 HR), he struggled the next two years, hitting just .223 and .222, respectively. With future all-star Mike Schmidt ready to take over 3B, the Phillies packaged Money with Bill Champion and John Vukovich, and sent him to Milwaukee in exchange for Ken Brett, Jim Lonborg, Ken Sanders and Earl Stephenson. The move signaled an 11-year run with the Crew for Money, including four all-star game appearances between 1974 and 1978.
Money held down the third base spot in Milwaukee for the next four years before he shifted into a super sub role. For example, in 1978 he played 61 games at 1B, 36 at 2B, 22 at 3B, 13 at DH and 2 at SS. 
He produced solid numbers at the plate with Milwaukee; his OPS generally ranged from the mid-.750 to the low .800s. In addition, he was known for his excellent defense (and eventually, his versatility). In fact, he was nicknamed 'Brooks' because of his glovework. Another nickname was 'Easy'. He slugged double digit HRs in 8 of his 11 seasons, including a career high 25 in 1977. His best batting average was a .293 mark, which he slashed in 1978.
Injuries, age and the emergence of other players, including free agent Sal Bando and rookie Paul Molitor, began to eat into Money's playing time by 1979. But he remained a key part of the club through 1982, producing a career high .891 OPS in 1982 on 275 ABs that year. In 1983, Money struggled with injuries and reduced playing time, resulting in only 114 at-bats. The Brewers released him in the off season. He spent part of 1984 in Japan, and despite playing well, decided to retire when he didn't enjoy the experience. 
Within a couple of years of retiring, Money moved into coaching in the Yankees organization. In 1998, he became manager of the Beloit Snappers in the Milwaukee organization. From there he moved up the chain, going to AA-Huntsville in 2005 and Nashville in 2009. Following the 2011 campaign, Money became Milwaukee's special instructor of player development, a position he holds to this day.
 Don Money spent parts of 16 seasons in the majors, 11 in Milwaukee. He hit .270 with 134 HRs during his time with the Crew, and produced a solid .760 OPS. In 1978, he became the first Brewer voted as a starter in the all-star game (at 2B). He was a key member of the powerful up-and-coming Brewer clubs in the late 70s, then a valuable reserve during their World Series team in 1982. In 1974, he set a major league record for errorless games at third base (86). For his Brewer career, he produced 27.4 bWAR - 5th best of any hitter in franchise history.  
His coaching career highlight was being named Southern League manager of the year in 2007.
Don Money was an excellent baseball player. Probably his greatest sin was that he did everything good, not great. Nothing really stood out for Money, thus he never really got the love other players enjoyed. He was the kind of guy who would hit .280 with 15 HRs, and move around the diamond as needed, sort of the Tony Phillips or Ben Zobrist of his time. It allowed Milwaukee to plug Money into just about any position that they needed. 
In 2005, Money was inducted into the Brewers Walk of Fame.
In 2022, Money's grandson, Buddy Kennedy, an infielder in the Arizona Diamondbacks organization, made his major league debut. 
Please share your remembrances of former Milwaukee Brewer Don Money.
Think you could write a story like this? Brewer Fanatic wants you to develop your voice, find an audience, and we'll pay you to do it. Just fill out this form.
MORE FROM BREWER FANATIC
— Latest Brewers coverage from our writers
— Recent Brewers discussion in our forums
— Follow Brewer Fanatic via Twitter, Facebook or email