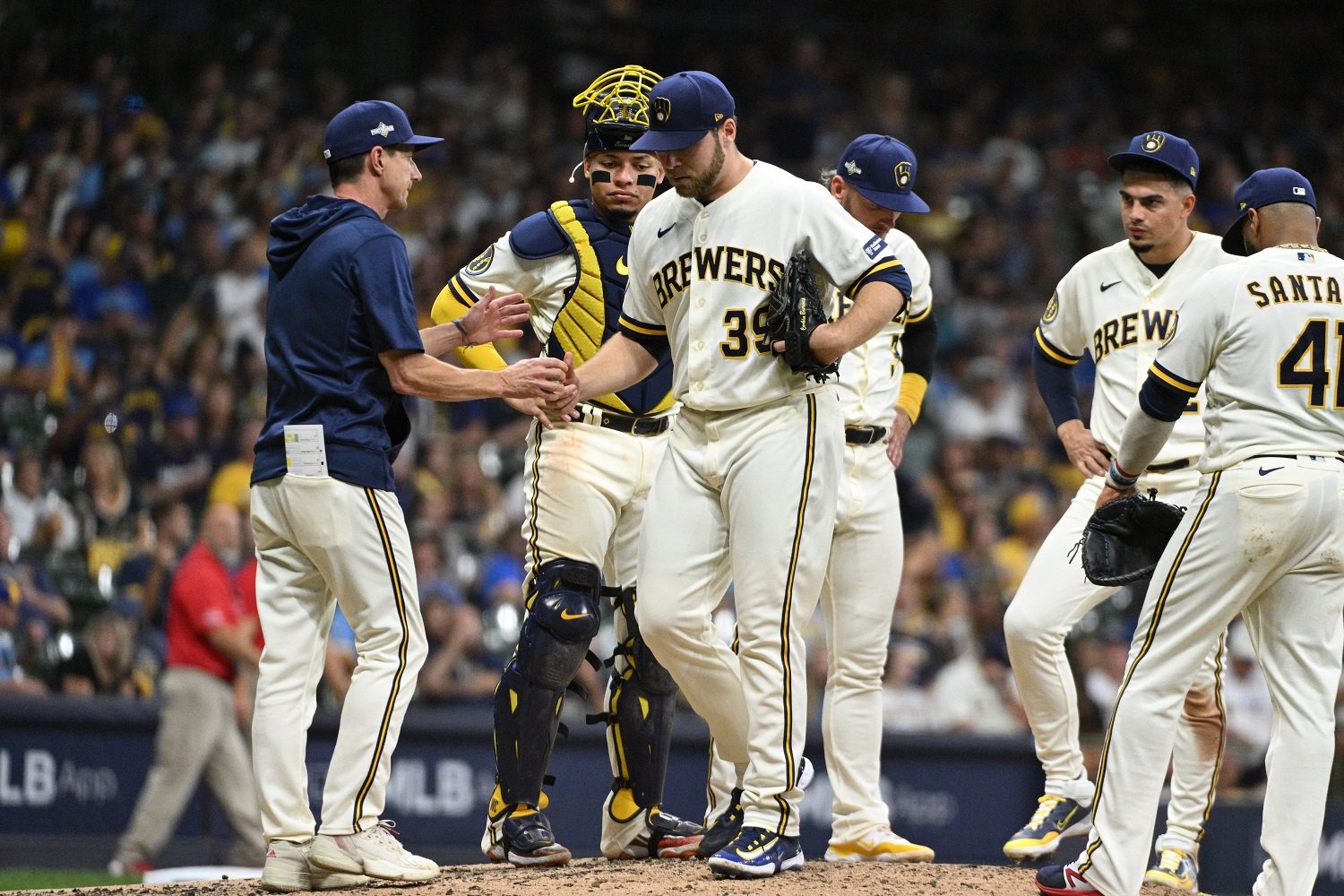 Image courtesy of Michael McLoone-USA TODAY Sports
Box Score
Starting Pitcher: Corbin Burnes - 4.0 IP, 5 H, 4 ER, 2 BB, 5 K, 92 pitches, 59 strikes (64.1%)
Home Runs: Tyrone Taylor (1)
Top 3 WPA: Willy Adames (.190), Abner Uribe (.147), Joel Payamps (.115) 
Bottom 3 WPA: Corbin Burnes (-.295), Tyrone Taylor (-.211), Devin Williams (-.130) 

Win Probability Chart (via FanGraphs)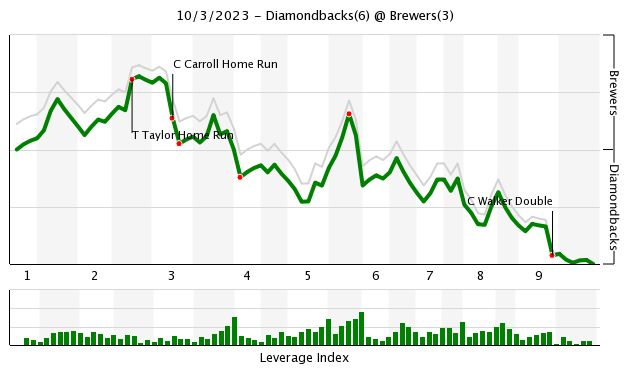 Burnes Loves The Long Ball
Corbin Burnes had a strong start to his outing, utilizing his top-tier infield defense and earning three groundouts in the first inning. After a lead-off single to Christian Walker in the second, Burnes recorded a pop out and two strikeouts to keep things scoreless. 
Things took a dark turn in the third inning. After striking out Evan Longoria, Burnes gave up a single to Geraldo Perdomo and consecutive home runs to Corbin Carroll and Ketel Marte, giving the Diamondbacks a 3-0 lead. 
After escaping the third inning, Gabriel Moreno led off the fourth with yet another home run, signaling that it was time for Burnes to be pulled. After walking the first two batters in the fifth inning, Craig Counsell made the first call to the bullpen. 
Despite performing well early, it ended up being a relatively lukewarm performance by the team ace. 
Never Fear, The Bullpen Is Here
Entering the game with men already on first and second with no outs, Abner Uribe quickly got to work. He got a weak grounder from Ketel Marte and struck out Tommy Pham but walked Walker to load the bases. In the highest-leverage situation thus far in his young career, Uribe induced weak contact and got Moreno to ground out, escaping the jam.
Over the next four innings, Elvis Peguero, Hoby Milner, and Joel Payamps combined to keep the Diamondbacks from scoring any additional runs. Payamps and William Contreras also pulled off a flashy strike 'em out/throw 'em out double play in the seventh inning.
Brewers Hitting Falters Late
Milwaukee's hitting has been a concern all season, but in the first two innings, it seemed like they had figured things out. In the first inning, a walk by Christian Yelich became the team's first run after back-to-back singles by William Contreras and Carlos Santana.
Josh Donaldson hit a leadoff single in the second inning and came around on Tyrone Taylor's two-run home run, a monstrous 403-foot no-doubter to left field. He's continuing his red-hot performance at the plate, posting an .881 OPS in August and .912 in September.
The Brewers had other scoring opportunities but failed to capitalize. They loaded the bases in the third but weren't able to plate any runners. They loaded the bases again after three consecutive singles by Sal Frelick, Willy Adames, and Josh Donaldson, but a strikeout by Brice Turang and Tyrone Taylor lineout double play put an end to that story.
Milwaukee left a total of 11 runners on base and went 3-for-11 with runners in scoring position.
Devin Dooms The Team
Down by just one run, the appearance of Devin Williams in the top of the ninth inning was initially a welcomed sight. After all, his regular season ERA and WHIP of 1.53 and 0.92 made him one of the best closers in baseball. Unfortunately for Brewers' fans, it wasn't Devin's day.
He started off by walking Perdomo and Carroll. After striking out Marte on a foul tip and yet another great defensive play by Contreras to catch Perdomo stealing third, Williams needed just one more out. 
A wild pitch allowed Carroll to advance to third base before Williams gave up a walk to Tommy Pham, his third of the inning. After a stolen base, Christian Walker crushed a two-run double to the gap. It was the nail in the coffin, lifting the score to 6-3 in favor of the Diamondbacks.
Bryse Wilson was called in for the final out, a groundout by Gabriel Moreno.
What's Next? 
The Crew will face off against the top of the Diamondbacks rotation, starting with Zac Gallen in Game 2. Freddy Peralta will take the mound for Milwaukee and hopefully have a better start than Burnes, especially given that six relievers were used in Game 1. 
The team will have to resolve its pitching issues especially given that aspect of the team is supposed to be its greatest strength. Being one game from elimination, it's as stressful a time as any.
Postgame Interviews
Bullpen Usage Spreadsheet
| | | | | | | |
| --- | --- | --- | --- | --- | --- | --- |
|   | FRI | SAT | SUN | MON | TUE | TOT |
|   |   |   |   |   |   |   |
| Williams | 0 | 12 | 0 | 0 | 31 | 43 |
| Uribe | 0 | 27 | 0 | 0 | 15 | 42 |
| Payamps | 0 | 11 | 0 | 0 | 18 | 29 |
| B. Wilson | 21 | 0 | 0 | 0 | 6 | 27 |
| Milner | 0 | 17 | 0 | 0 | 6 | 23 |
| Megill | 0 | 16 | 0 | 0 | 0 | 16 |
| Peguero | 0 | 0 | 0 | 0 | 13 | 13 |
Tweet Highlights