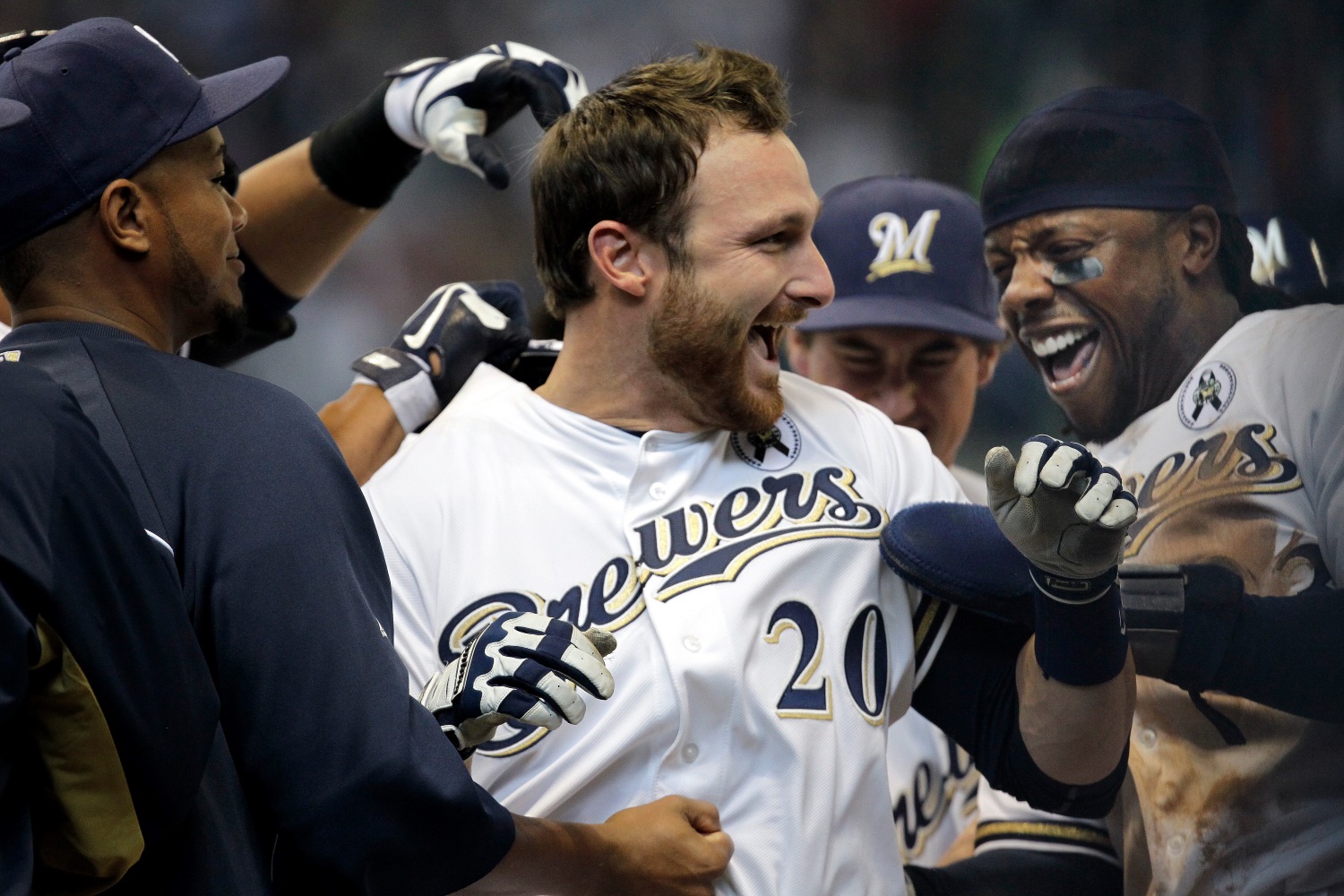 Image courtesy of © Mark Hoffman / Milwaukee Journal Sentinel / USA TODAY NETWORK
With only eight Milwaukee Brewers remaining, fans will likely vote for one of their favorites to defeat another. All four top seeds made it this far, but can an underdog or two steal their ticket to the Final Four? We don't have the analytics on factors influencing tough calls for voters, as loyalties will be tested in the Elite Eight. Here's the preview of the matchups with a Final Four berth on the line.
YOUNT REGION
#1 Ryan Braun vs. #2 Carlos Gómez
Gómez had to duke it out with third-seeded Rickie Weeks, a venerable opponent with a strong backing. Ultimately, Gómez pulled away 58-42 percent, perhaps due to a combo of a high level of talent and excitement, plus some slight recency bias. Exit polls are inconclusive. Meanwhile, Braun had his best round of voting, with 88 percent of the votes in a beatdown of fourth-seeded John Axford. It shows the popularity of closers only goes so far. Some believe Gómez has what it takes to be considered more of a favorite than Braun. The voting results will tell us the story.
COOPER REGION
#1 Prince Fielder vs. #2 Josh Hader
Hader and Corey Hart went down to the wire, with the lefty fireballer getting a few more votes in a 51-49 percent final. The voting went back and forth, with Hart looking good early, but Hader had enough to slam the door and pick up the save. It was a disappointing end for Hart's sleeper status. On the other hand, Fielder ran roughshod over his fellow left-handed mashing first baseman, Eric Thames. Prince took home 88 percent, though it was his first time below 92. Some think Hart would have been the tougher matchup for him in the Elite Eight, but Hader will throw the kitchen sink at Fielder with the Final Four in his sight.
MOLITOR REGION
#1 Christian Yelich vs. #3 Jonathan Lucroy
Lucroy pulled off the Sweet 16 upset with a nail-biting, come-from-behind 52-48 percent victory over second-seeded Yovani Gallardo. Some watched in shock as Gallardo's contributions to the Brewers weren't enough to advance to the Elite Eight. Instead, Lucroy's popularity puts him on the cusp of the Final Four. Does he have enough juice to knock off Yelich, the top seed? Yelich is coming off his third straight win with more than 90 percent. Despite some fans who soured on Yelich over the past few seasons, he clearly still has the support of most of the Brewers backers. He is one step away from cementing his place in the Final Four.
SHEETS REGION
#1 Corbin Burnes vs. #2 Brandon Woodruff
It's a battle of two aces, head-to-head from the mound, to find out who Brewers fans like better. This is one of those dream matchups the committee hopes to see--our version of Shohei Ohtani vs. Mike Trout. Does Burnes's reaction to his arbitration case hurt or help him? What if Woodruff signs an extension before voting is complete? Or maybe most fans lean toward the more accomplished arm with a Cy Young on his mantle. Not to say Woodruff is far behind. Burnes beat another starting pitcher last round in Freddy Peralta, with a somewhat surprising 68-32 win. Woodruff had to get past third-seeded Lorenzo Cain. After tight voting to open the competition, Woodruff's popularity was too much as he took home a 63-37 percent victory. So which top hurler are you riding to the next round?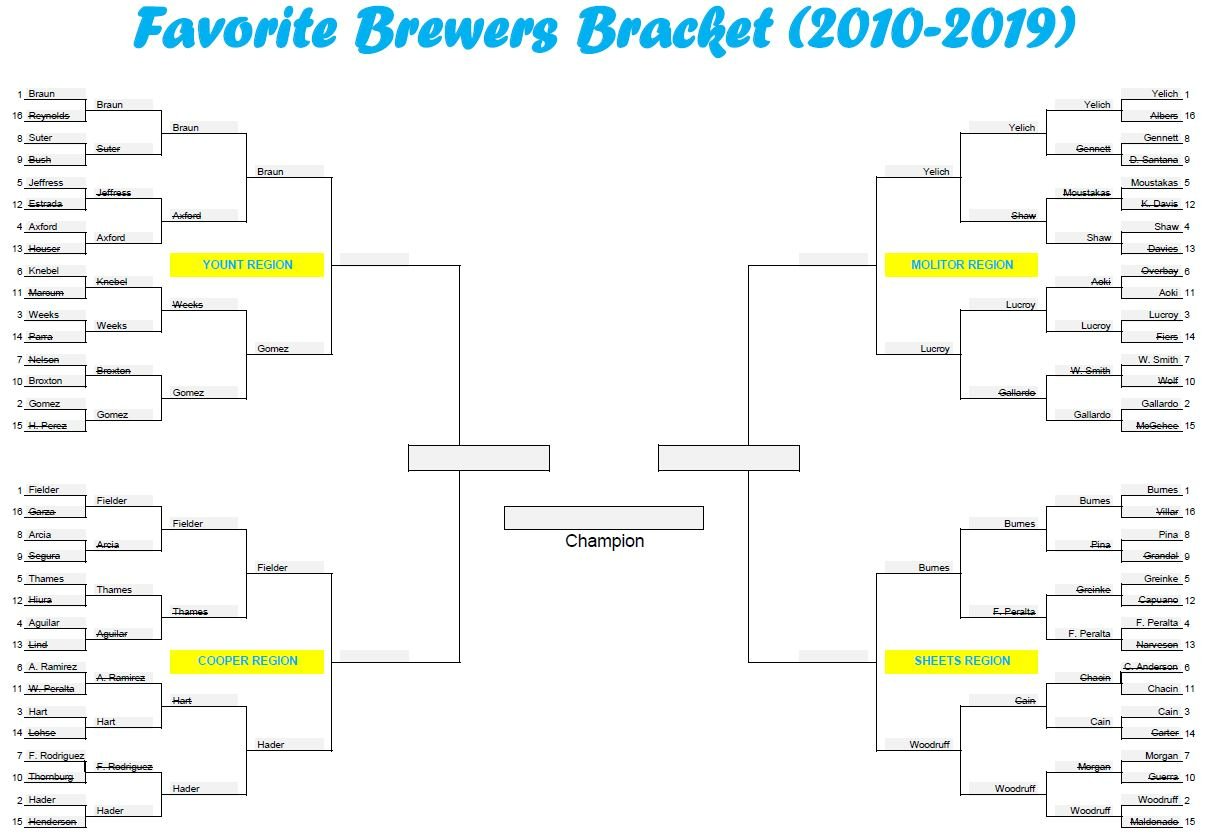 The brackets are now in your hands, as your votes will send the winners into the Final Four of the Favorite Brewers tournament. Click below to find where to vote on Twitter, plead your case in the comments, and let your neighbor know you want to see "insert player name here" reach the Final Four. Or maybe vote against a particular guy. Either way, you get a say in this bracket.
Think you could write a story like this? Brewer Fanatic wants you to develop your voice, find an audience, and we'll pay you to do it. Just fill out this form.
MORE FROM BREWER FANATIC
— Latest Brewers coverage from our writers
— Recent Brewers discussion in our forums
— Follow Brewer Fanatic via Twitter, Facebook or email