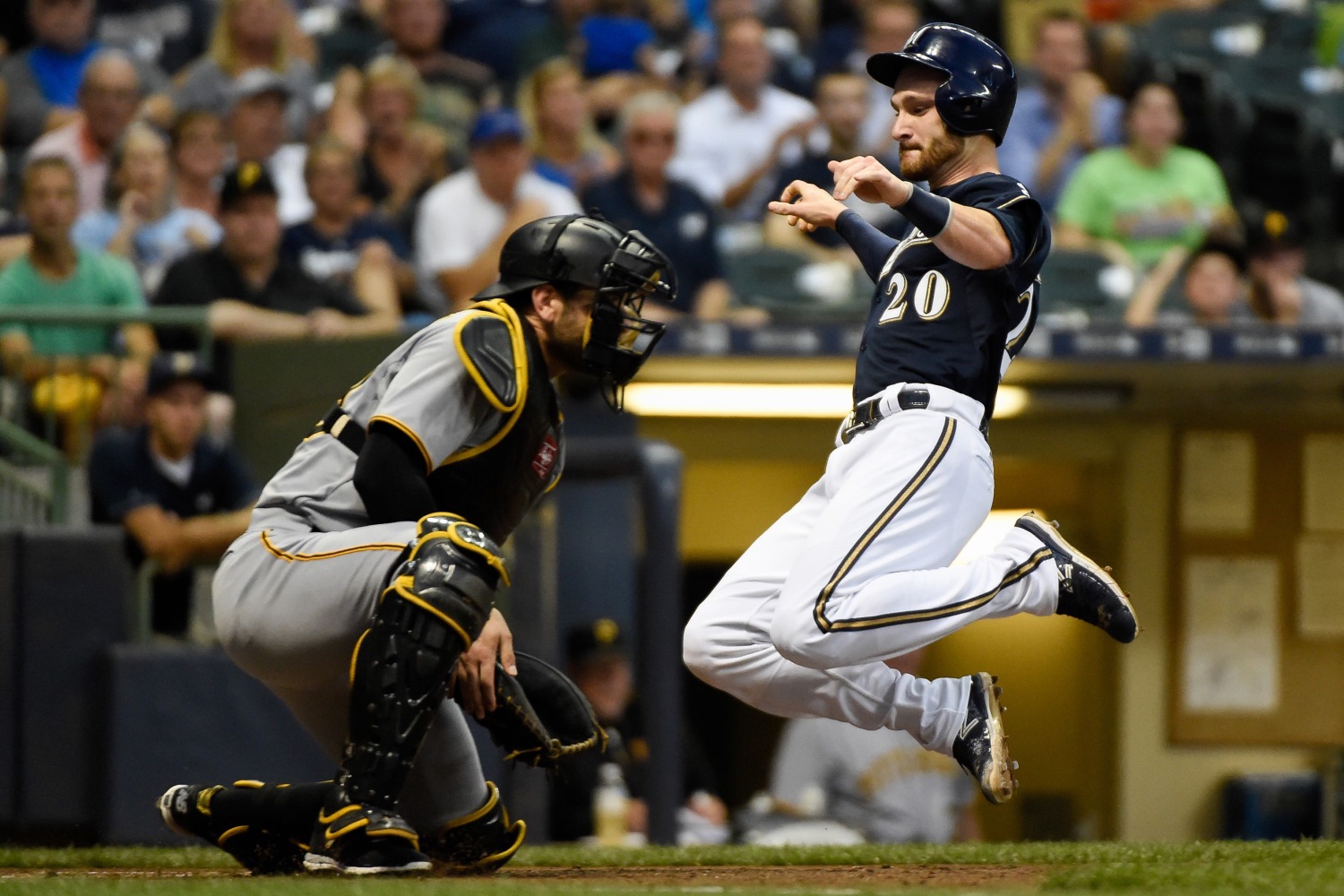 Image courtesy of © Benny Sieu-USA TODAY Sports
The Molitor Region features one current player on the Brewers, though it's a big name. Ten position players fill this portion of the bracket, with a few potential second-round matchups that would draw a lot of interest. Of course, you have some control over who advances. After you scroll through the contests, choose your favorite Brewers to advance.
#1 Christian Yelich vs. #16 Matt Albers
There was some debate about Yelich's top-seed designation, as many fans have expressed their distaste for his production-to-salary ratio. But his 2018 and 2019 seasons were epic, he continues to be a significant part of the club, and countless fans remain ardent supporters of him personally and professionally. Albers often gets the "big boy" vote as he makes it seem possible that any body type can work in MLB. After getting fired up to get out of a jam, he prompted Dan Plesac to remark that Albers "Just stepped in a big ol' bucket of sassy!"
#8 Scooter Gennett vs. #9 Domingo Santana
On the opposite end of the size spectrum, Gennett gained fans because of his below-average size. The same fans also championed the former 16th-round draft pick as an underdog, and indeed, he had an improbably strong four-year Brewers tenure. Santana burst onto the scene in 2017 with 30 bombs and an .857 OPS. A part of the Carlos Gomez trade, Santana had the look of an All-Star hitter with discipline (.371 OBP in '17), but he never found the same level.
#5 Mike Moustakas vs. #12 Khris Davis
Davis displayed effortless power in his stick, with 37 doubles and 22 home runs in 2014, then 27 homers with a .505 slugging percentage in 2015. But his weak arm, health concerns, and the Brewers' outfield depth made him expendable in a trade to an AL team with a DH slot. Moustakas came to Milwaukee near the 2018 trade deadline to add veteran leadership and another power bat for a playoff run. He came through big-time in the NLDS, with a walk-off single in Game 1 and a .916 OPS for the series. He also blasted 35 homers with 30 doubles the following season ,as fans loved yelling "Moose" and applauding his hard-nosed style of play.
#4 Travis Shaw vs. #13 Zach Davies
Shaw played an integral part in the Brewers' recent postseason success, averaging 32 home runs, 28 doubles, and an .844 OPS in 2017-18. He was somewhat unassuming and undervalued at times, though he felt the love from fans when his newborn daughter had medical issues. Like many, Shaw fell from the peak quickly, left, and returned to the team before retiring after last season. Davies drew praise for pitching effectively with below-average velocity and the appearance of a teenager. He won 17 games in 2017 and finished with a 3.55 ERA in 2019, but the fans never genuinely connected with Davies.
#6 Lyle Overbay vs. #11 Nori Aoki
Overbay sneaks into the bracket on a technicality. He finished his career with the Brewers in 2014, but his "real" years with Milwaukee came 10 years earlier. It's easier to be a fan favorite when the crowd can chant "O" and hold their hands above their heads in a circle. He was a doubles machine with an MLB-best 53 in 2004 (a franchise record) and an .841 OPS in his first two seasons with the Brewers. Aoki landed in Milwaukee as a 30-year-old rookie from Japan and did what was asked of him: get on base. In his two years with the Brewers, Aoki had a .355 OBP and averaged 80 runs, 28 doubles, and 25 stolen bases. 
#3 Jonathan Lucroy vs. #14 Mike Fiers
Fiers owned a 3.66 ERA in Milwaukee, starting 56 games across five seasons (15 relief appearances). He was a solid contributor when healthy but is more remembered for two other things: hitting Giancarlo Stanton in the face and throwing a no-hitter 22 days after being traded to the Houston Astros. Lucroy, like Overbay, had fans calling his name ("Luuuc"), especially as one of the best-hitting catchers in club history. A consistent performer, Lucroy shares the team's doubles record with Overbay and also set the MLB record for two-baggers as a catcher in 2014. The two-time All-Star was a reliable backstop and slashed .284/.342/.436 as a Brewer.
#7 Will Smith vs. #10 Randy Wolf
Wolf became vital to the Brewers' 2011 NL Central championship as the 34-year-old, soft-tossing southpaw spun a 3.69 ERA in 212.1 innings (most on the team). He was also solid the previous season, proving to the fanbase that an old guy with no arm can compete. Smith also threw with his left arm but had plenty of velocity and the "slider of death." Smith appeared in 154 games between 2014-2015, shutting down the opposition in many high-leverage situations, posting a 147 ERA+ in 2015. He also won fans over with his comedic-gold interviews of buddy Brett Phillips, who sadly didn't meet the requirements to make the field.
#2 Yovani Gallardo vs. # 15 Casey McGehee
A consistent, high-quality workhorse, Gallardo won the hearts and minds of Brewers fans. The franchise leader in strikeouts (1,226), Gallardo had four straight seasons with 200 punchouts, and he posted an ERA+ of 108 or better in seven of his eight seasons with the Brewers. Though he made only one All-Star team, he remains one of the best pitchers the Brewers have drafted and a fan favorite. McGehee was a solid contributor with an .823 OPS between his first two seasons in Milwaukee with 104 RBI in 2010, but he fell off the table in 2011 (.626 OPS). With questions about his defense and work ethic, the Brewers shipped him to Pittsburgh, and with many on the committee having an "oh yeah, him" reaction, McGehee fell to the 15-seed.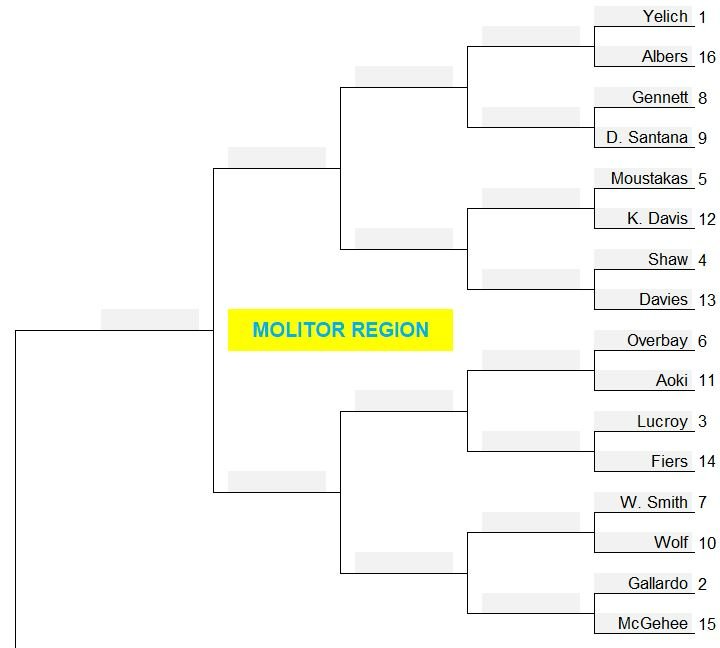 There you have it! You now have three-quarters of the first round in play. Click below and vote for your favorite Brewers in the Molitor Region. Or, you know, vote against guys that you don't like. Either way, vote! Polls close 24 hours after they open on Twitter.
Think you could write a story like this? Brewer Fanatic wants you to develop your voice, find an audience, and we'll pay you to do it. Just fill out this form.
MORE FROM BREWER FANATIC
— Latest Brewers coverage from our writers
— Recent Brewers discussion in our forums
— Follow Brewer Fanatic via Twitter, Facebook or email