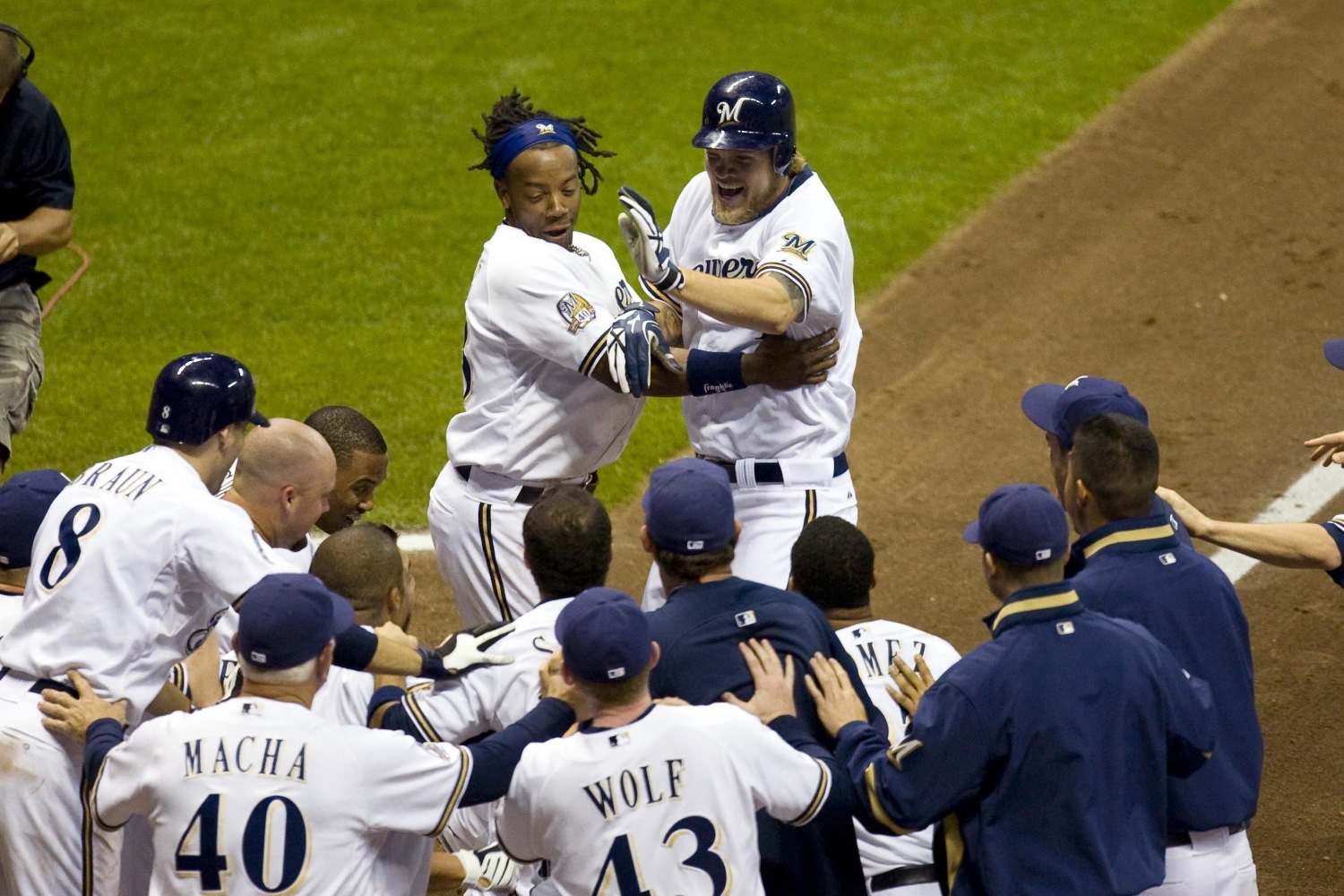 Image courtesy of © Jeff Hanisch-USA TODAY Sports
Only 16 Milwaukee Brewers remain in the running for the title of fan favorite during the most recent decade. Your vote will count for even more as the contests tighten and arguments escalate. Two players from each region will reach the Elite Eight and sit one step away from the Final Four.
YOUNT REGION
#1 Ryan Braun vs. #4 John Axford
Axford knocked out a starting pitcher in round one (Marco Estrada), then fellow reliever Jeremy Jeffress 61-39 percent in round two. The Ax Man has strong support, but now he runs into a position player, and it's not just any guy. Top-seeded Braun rolled past Brent Suter with 85 percent of the votes. Braun's tenure, individual excellence, and team success continues to far outweigh any criticism he might face from fans.
#2 Carlos Gómez vs. #3 Rickie Weeks
Both players had loud detractors, especially early in their time with Milwaukee. Ultimately, their skills and production won over the fanbase, and now they sit two wins away from the Final Four of favorite Brewers. Gómez destroyed 10-seed Keon Broxton (89-11 percent), while Weeks comfortably took 80 percent of the vote over Corey Knebel. Weeks had the longer stretch of success, while Gómez reached elite levels for a shorter time, seemingly connecting better with the fans.
COOPER REGION
#1 Prince Fielder vs. #5 Eric Thames
In a minor upset, Thames took down Jesús Aguilar. It wasn't even as close as you'd think (58-42 percent), considering Aguilar appeared to woo the fans with his smile and goofiness. In the end, Thames' power, beard, and near-mythical arrival with the Brewers won the vote. He now faces his lefty, power-hitting first baseman counterpart in top-seeded Fielder. Prince took 92 percent of the votes over Orlando Arcia, continuing to show why many predicted him to reach the Final Four. Can Thames at least keep this contest close?
#2 Josh Hader vs. #3 Corey Hart
It's the end of the decade against the start of the decade. Power pitcher versus power hitter. Left-handed arm facing right-handed stick. This one could come down to the age of the voters and a preference for hitters or pitchers. Hart handled Aramis Ramírez with 83 percent of the vote, while Hader crushed Francisco Rodríguez with 88 percent. You can debate the merits of each player on the field, but "favorite" can come down to many other factors, too.
MOLITOR REGION
#1 Christian Yelich vs. #4 Travis Shaw
Shaw used a late push to overtake Mike Moustakas 52-48 percent. Early voting had Moose in front, but the Shaw stans ultimately took over. It sets up a matchup with his MVP teammate from the Brewers' most successful run. Yelich's top-seed status looks strong with another 90 percent-plus vote. He still comes in as a heavy favorite to reach the Elite Eight.
#2 Yovani Gallardo vs. #3 Jonathan Lucroy
Battery mates for five seasons, Gallardo and Lucroy square off in the Sweet 16 in what figures to be a tight battle. They both had long runs with Milwaukee, consistently produced, and sold plenty of jerseys for the club. Did you know that Gallardo finished seventh in Cy Young voting in 2011, while Lucroy had the fourth-most MVP votes in 2014?
SHEETS REGION
#1 Corbin Burnes vs. #4 Freddy Peralta
Quite the fascinating scrap in the Sheets Region, with current starting rotation pals dueling for a spot in the Elite Eight. Peralta was in a nip-and-tuck skirmish with Zack Greinke before pulling away with 58 percent of the vote. Now he gets a more recent Cy Young award-winner, the ace of the Brewers staff, and one of the top hurlers in baseball. Can Peralta's charm and smile elevate his "favorite status" over Burnes' on-field dominance? That's your call.
#2 Brandon Woodruff vs. #3 Lorenzo Cain
Another ex-teammate competition looks extremely close, especially after the previous round's results. Cain roughed up Jhoulys Chacín with 94 percent of the votes. Meanwhile, Woodruff had trouble putting away seven-seeded Nyjer Morgan, taking him down 66-34 percent. It just goes to show that matchups often matter more than seeding. Now Woodruff has to regroup, as he takes on a tougher center fielder and one who saw even greater success with the Brewers. It's also another battle involving a recent Cy Young candidate (Woodruff fifth in 2021) and MVP candidate (Cain seventh in 2018).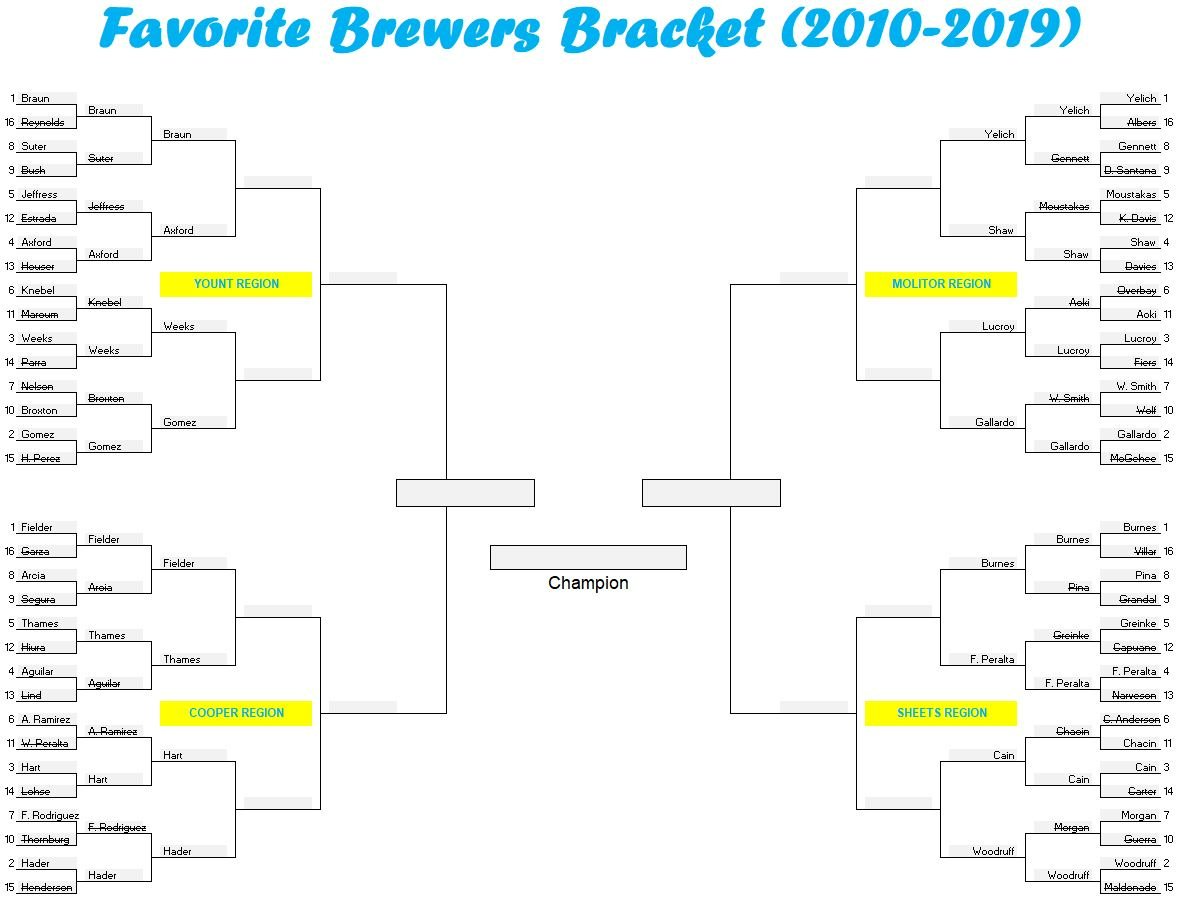 There are just 16 Milwaukee Brewers to choose from, and your vote will determine the outcomes. Will all the top seeds advance to the Elite Eight? Which upset victories are most likely to happen? Who has the longest odds to win a contest in the Sweet 16? Be a part of all these answers. Click below to select your winners, comment on why, and share the links to push your guys through to the Elite Eight en route to the Final Four and the championship.
FAVORITE BREWERS BRACKET🔥

We've reached the Sweet 16!

Vote for your favorite #Brewers of the last decade in the polls below!

⤵️ pic.twitter.com/gGZjhtDX5J

— Brewer Fanatic (@brewer_fanatic) March 24, 2023
Think you could write a story like this? Brewer Fanatic wants you to develop your voice, find an audience, and we'll pay you to do it. Just fill out this form.
MORE FROM BREWER FANATIC
— Latest Brewers coverage from our writers
— Recent Brewers discussion in our forums
— Follow Brewer Fanatic via Twitter, Facebook or email