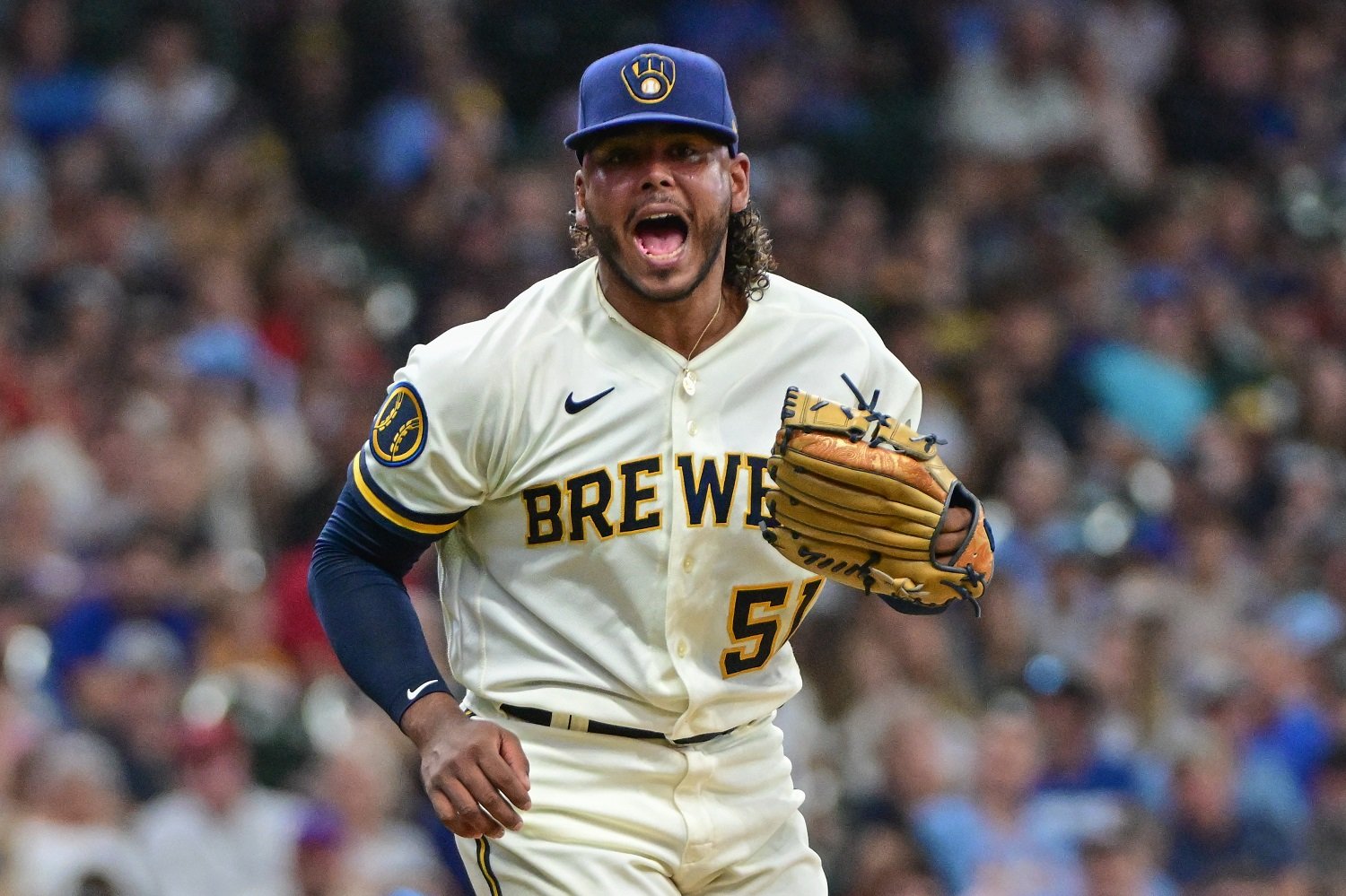 Image courtesy of Benny Sieu-USA TODAY Sports
Peralta has always had the raw stuff to be a top of the rotation starter, generating a huge amount of swing and miss even when inside the strike zone, but his command of his off speed stuff, and in particular when he gets ahead of hitters, has lead to sub-par results this season. The Brewers pitching staff have discussed working on a mental approach to bring out his personality more on the mound, and perhaps creating a deeper level of comfort since the Atlanta Braves game. On top of that, his ability to execute when he gets ahead has markedly improved, even before that game, so let's take a closer look at the results.
Less Waste When He Gets Ahead
With the way his fastball allows him to attack hitters, he has all the stuff to be an elite top of the rotation arm. Looking at some of the issues from April and May, he seems to have taken sizable strides forwards which have brought about the recent run of form.
Early in the year, a big issue Peralta faced was his waste pitches. When ahead in the count, many pitchers throw a waste pitch in the hope of a chase, but more to set up the next sequence of pitches. Peralta however did so in such a wild manner as to allow hitters to get back into counts, leading to him being forced back into the zone, or walking hitters in two strike counts, which invariably came back to bite him. The added downside was it was taking him a lot of pitches to get through innings, preventing him getting deep into games.
In 0-2 counts, you almost never expect a pitch in the zone, but it's the 1-2 and 2-2 counts where Peralta has really let the hitter get back into the at bat. Let's have a look alterations in how he's used his pitch mix, particularly the fastball:
| | | | |
| --- | --- | --- | --- |
|   | June | July | August |
|   |   |   |   |
| In Zone % 1-2 Counts (FB) | 22.6% | 33.3% | 40% |
| In Zone % 2-2 Counts (FB) | 40% | 50% | 75% |
| In Zone % 2-2 Counts (CU/SL) | 27.6% | 41.2% | 71.4% |
Due to how often hitters struggle to square up his fastball at the top of the zone, because of a combination of the velocity, extensions off the mound, and incredible spin rate resulting in extreme induced vertical break, he gets ahead quite regularly. Putting away hitters however was a troublesome task, with the array of uncompetitive pitches. As you can see above, he's increased significantly the number of fastballs thrown in the zone when he's ahead in the count, but the key for me is the use of breaking pitches in 2-2 counts.
Prior to July, he was throwing about 30% of breaking balls in the strike zone in 2-2 counts. Now he's challenging hitters to not just sit on the fastball, but to stay on it long enough to foul off or time up the breaking pitch. If you take it, there's a solid chance of a called strike three.
As a result of this he's been able to put hitters away must more adeptly, usually with the fastball in 1-2 counts (where his in zone swing and miss increased to 50% from 25% in June) but the breaking pitches in two strike counts have a 75% swing and miss in the strike zone in July. In June that figure was down at 11.8%.
It can't be stressed enough how the improved command of his breaking pitches has changed the effectiveness of his fastball. In April and May, the whiff rates were down at 22.2% and 23.8% respectively, because hitters were just sitting on it and doing damage. By June, that figure was up to 32.3%, and in August's small sample size so far, is up to 47.3%. On top of that, hitters are struggling so much that even when they do make contact, it's a lot of weak fly balls with an average 25 degree launch angle, and an xWOBA so far this month of just .108.
The great thing about this approach is he hasn't changed much in the pitch usage, he's simply making hitters respect his entire arsenal a whole lot more, and as a result if he can't beat you with one weapon, he'll beat you with the other.
Mental Approach
In July, Chris Hook mentioned a discussion with Peralta where they sat down and showed him clips of him when not pitching compared to when he is, noting the lack of enjoyment and personality he showed on the mound, almost replaced with a nervier version of himself. They worked on trying to bring that energy with him when he pitches, and it seems to have paid dividends.
One thing Peralta was doing early in the season was giving up an inordinate number of big hits of the extra base variety with ducks on the pond, being bitten regularly by a big inning when exposed to powerful hitters. However, since the Atlanta Braves game when they had this discussion, he's gone 25 innings in four starts, with 22 men getting on base, but only allowing the one solo home run over that span. Being able to find a mindset, in much the same way as Corbin Burnes did before his outstanding Cy Young season in 2021, is of the utmost importance to being able to pitch your way out of trouble. Confidence is paramount, and if Peralta has developed a mindset that allows him to execute in these situations, that ERA is going to continue dropping.
Peralta's best season for the Brewers came in 2021, recording a 2.81 ERA with a .174 xBA and xSLG of just .289. He did have a tendency to walk hitters, but his confidence in his swing and miss stuff meant that he could get out of trouble, and he never seemed panicked. At times this season, with men on base especially. In 2021 he had a .646 OPS with men on base, in 2023 that figure is up to an .805 OPS, compared to a .627 OPS with the bases empty. Finding a way to reduce his stress in these moments is key to getting the best out of Peralta.
Fastball Freddy still relies upon his fastball enormously, but the support he's giving it from the rest of the arsenal is making it a pitch as elite as Corbin Burnes' cutter. If he can maintain this improved control for a stretch longer than one month, and remain comfortable when the inevitable baserunners do come around, Peralta will be deserving of recognition as a true ace of the Brewers staff.
Think you could write a story like this? Brewer Fanatic wants you to develop your voice, find an audience, and we'll pay you to do it. Just fill out this form.
MORE FROM BREWER FANATIC
— Latest Brewers coverage from our writers
— Recent Brewers discussion in our forums
— Follow Brewer Fanatic via Twitter, Facebook or email
2