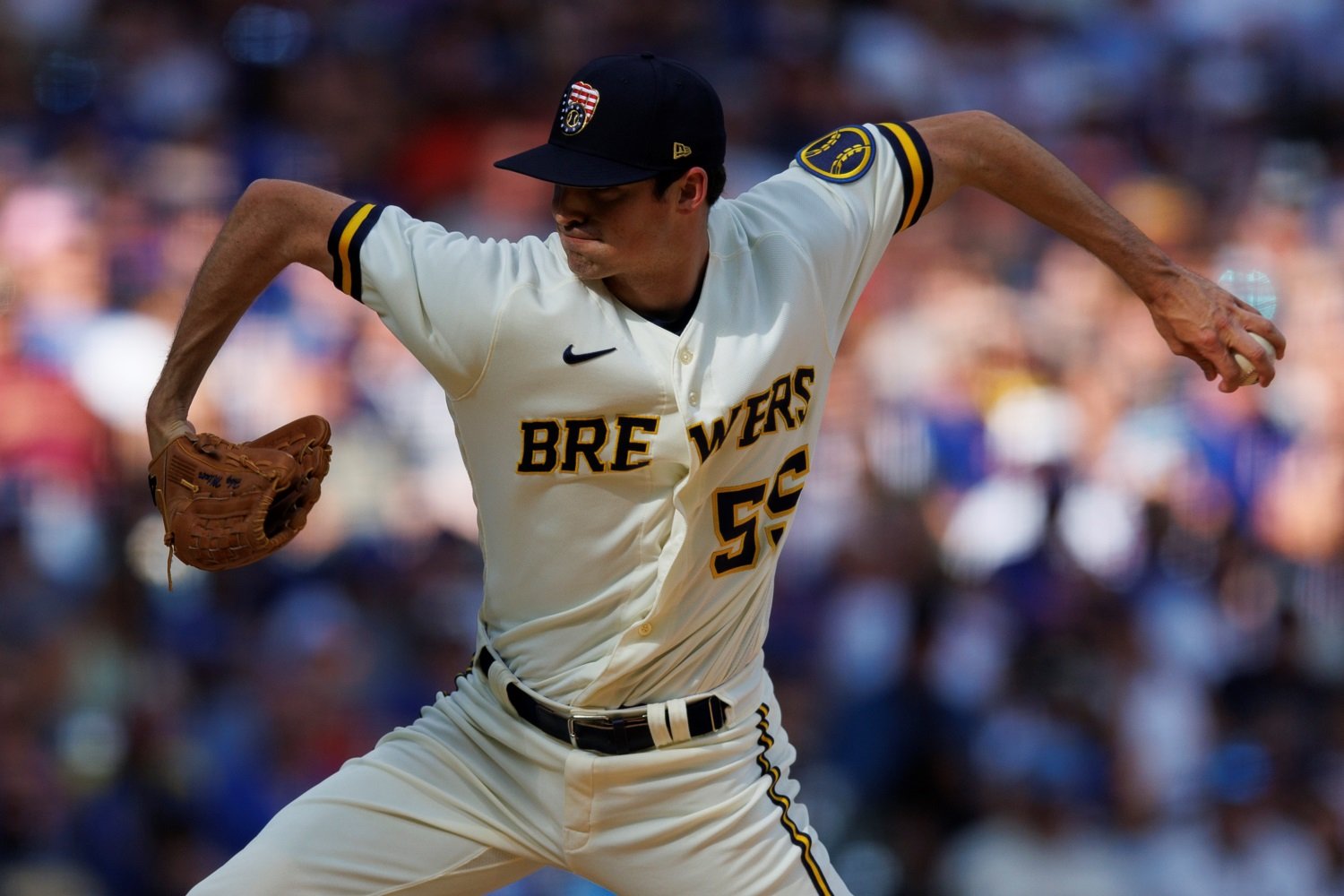 Image courtesy of © Jeff Hanisch-USA TODAY Sports
Since May 7, Hoby Milner has rebounded incredibly strongly, giving up 20 hits, four walks, and just three earned runs across 23 2/3 innings pitched, with 26 strikeouts to boot. This isn't success due to batted-ball luck (a BABIP of .311 is more than reasonable), and his xFIP of 3.07 is brilliant for a pitcher who doesn't strike out large numbers of hitters.
Craig Counsell has used him in a mop-up role, helping when starters can't get through the sixth inning or when the 'A' relievers are struggling on a particular day. As a result, he gets a lot of innings with men on base, but has left a whopping 93.2% of these base runners stranded. Primarily put into favorable situations for his handedness and stuff, he actually has a better wOBA against right-handers, due to his curveball being effective against both kinds of hitters, but especially righties with an xBA of .108. That's absurd.
So how does a player with the lowest curveball spin rate in the league and who is in the 3rd percentile for fastball velocity and 2nd percentile for fastball spin rate manage to be so successful?
For starters, as shown below, hitters have become pull-happy against him this season (rising from 32% of batted balls last year to 41.5%), and after the early troubles, he's changed his approach and is pitching a lot more on the outer stripe of the plate, resulting in more weak contact.

I mentioned earlier his facility with right-handed hitters, and this is partly down to his usage and effectiveness of his changeup in the last two months, culminating in a 42.9% whiff rate in July so far, to go along with a 44.4% whiff rate on his curveball. These are less down to the movement profiles and more to do with the incredibly accurate usage of them, with the changeup darting just down or off the outer edge of the zone, with late movement out of the zone. His curveball has worked well in the zone too, and he has shown a lot of command keeping it in the shadow zone around the plate, sequencing very well with the high fastball.
The fastball itself has been effective against all hitters, and again has been kept up in the shadow area around the top of the strike zone, creating a 47.1% whiff rate in June, and a 50% fly -ball rate, leading to an xwOBA of just .048 in the month. Since April, he has steadily started using the four-seamer more, instead of his sinker, and it's a massive reason for the increased effectiveness.
When he comes in with men on base, or with a double play opportunity, he has several places he can go to for a ground ball. He had an 80% ground ball rate on the changeup in May, and a 100% ground ball rate in June with it. It was hit very hard earlier in the season, but its emergence as a plus pitch has really boosted his arsenal.
He also has a curveball recording a 75% ground ball rate in May, and 66.7% ground ball rate in June, as well as a sinker with a 50%+ ground ball rate in both months. He has been a ground ball machine, in part because hitters are trying to pull him when they really shouldn't, but also because of the change in his pitch mix, and how the changeup and curveball seem to play better behind the four-seam fastball.
At his velocity, Milner is a control-based pitcher, trying to miss barrels, but his arm slot can make him tough to hit, and create some swing-and-miss when he does locate. Below is a chart showing how often he's pitched to the edges of the strike zone this season, demonstrating an improvement most noticeably with his two most improved pitches, the changeup and the four-seamer. He's been able to attack the zone efficiently and effectively as a result, which is why he walks so few hitters.

His ability to defuse high-stress situations has been invaluable to the Brewers over the last two months, and has played a big role in what seems to be squeaking through tight game after tight game, resulting in more high-leverage situations and more usage against right-handed hitters.
With the additions to come in the bullpen (more to come later this week), the Brewers could quite possibly have the best relief corps in the majors over the second half of the season.
Think you could write a story like this? Brewer Fanatic wants you to develop your voice, find an audience, and we'll pay you to do it. Just fill out this form.
MORE FROM BREWER FANATIC
— Latest Brewers coverage from our writers
— Recent Brewers discussion in our forums
— Follow Brewer Fanatic via Twitter, Facebook or email