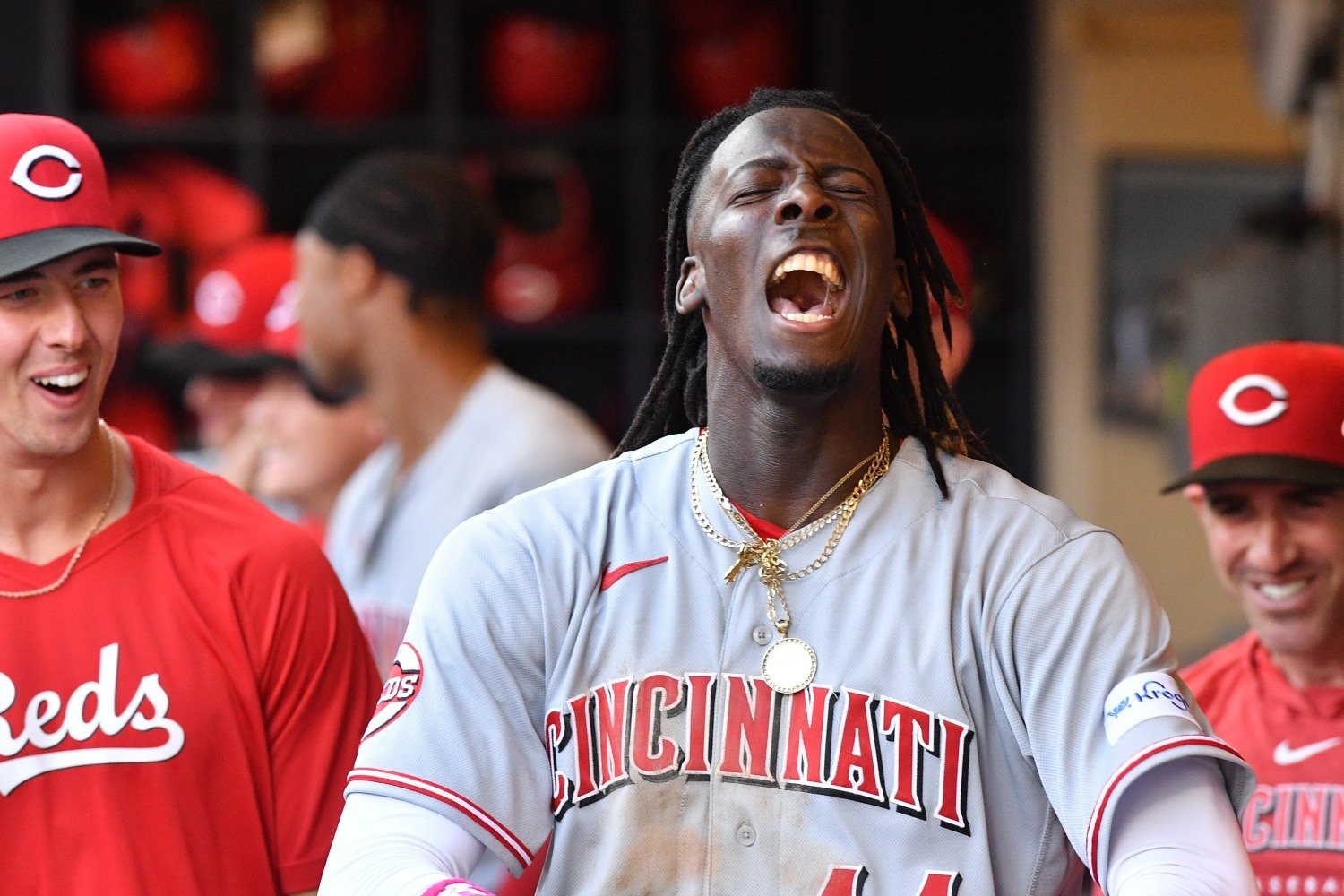 Image courtesy of © Michael McLoone-USA TODAY Sports
It was breathtaking to watch Elly De La Cruz break open a taut, seesawing game Saturday afternoon--even if, for Brewers fans, that lost breath was by way of a gut punch. It all began when, with a runner on third and an 0-2 count against him, De La Cruz flared the go-ahead single into left field. The ball wasn't hit hard, but De La Cruz managed to get enough of it to dump it in front of Christian Yelich.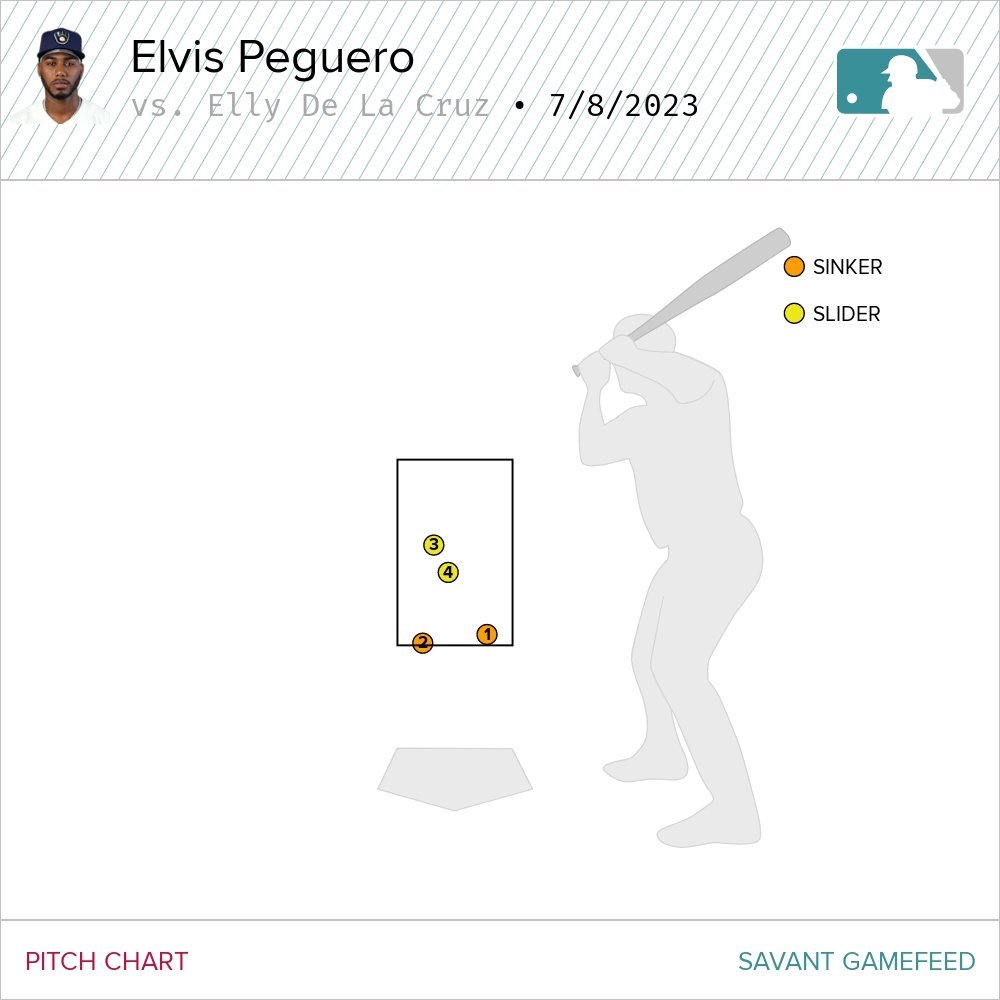 It's notable, though, that the ball De La Cruz guided the other way was a hanging slider from Elvis Peguero--and a second one in a row, at that. We'll get back to the significance of that fact in a moment, but we have to talk about what happened next. De La Cruz stole second base with relative ease, but then, despite there already being two outs, he also stole third. It was the kind of rookie exuberance that borders on counterproductivity, because it gains the team relatively little, but risks ending the inning.
In this case, though, Brian Anderson didn't even break to cover the bag, so William Contreras didn't even throw it down there. De La Cruz had his high-risk, low-reward steal at no real cost. Then, he showed what the real reward potential of that steal was, by taking off for the plate with a walking lead when Peguero turned his back. He stole home, electrifying his bench and the scattered Reds fans in attendance, and the game was virtually over at that moment.
Stealing second was a perfectly ordinary play, made impressive only by his speed and length. It had the flavor of Lou Brock, who always saw stealing bases as an act belonging as much to the category of power as to small ball. Taking off for third was more of a Rickey Henderson move; it was brash and unapologetic. Seizing the momentum and the frustration of the moment for the Brewers and swiping home, though, was a page right out of Javier Baez's book. Several times over the last half-decade, Baez had come to Milwaukee with the Cubs and performed one of his infuriating baserunning magic tricks, with the Brewers permitting that by making bad mistakes or having momentary lapses of concentration. The most important lesson of Saturday's sequence is one the Crew had learned with regard to Baez, by the time he departed the division: you can't even let De La Cruz reach base, because if you do, problems ensue.
Including Sunday's rubber game for the weekend series, the Brewers play the Reds seven more times before the end of this month. They open play after the All-Star break with a series at Great American Ballpark in Cincinnati, and then the Reds come back to Miller Park the week of July 24. The Brewers can't let De La Cruz break them down and beat them in those games, and that means getting him out at the plate. Happily, on that front, there's some good news.
No one said it would be easy, of course. In his young big-league career, De La Cruz is hitting .328/.366/.533. The Brewers' task is to be the team against whom he endures a sustained slump, and based on his swings and his approach, here's how they can do it.
The first challenge with De La Cruz is that he's a switch-hitter, so you have to know him as both a right-handed batter and a left-handed one to make much headway. What works for lefties against him will not necessarily work for righties. It's a challenge for switch-hitters themselves to keep two sets of swings and visual cues together, but to whatever extent they can do so, they get an advantage on their first couple of turns through the league, because pitchers will find their holes and weaknesses more slowly due to the slower exposure from each side.
Let's talk about De La Cruz as a lefty batter, facing righty pitching, first. As you'd expect, he's taken more of his plate appearances from that side so far, so the samples of both numbers and video are a bit bigger. We have a fuller picture of what works and what doesn't.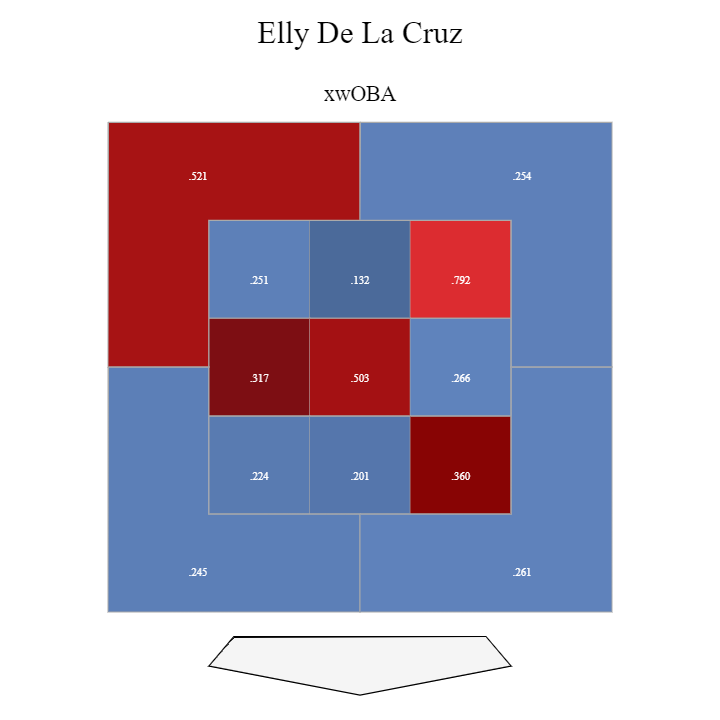 One thing to do with him from this side, to be sure, is to elevate the ball, but get it out away from him. That's counterintuitive. Most hitters prefer the ball up and away, or down and in. De La Cruz is so quick (and his swing, as we'll see soon, is so unusual) that those rules just don't apply. Within the zone, the only place to reliably get whiffs against him is on the outer edge, and at or above the belt.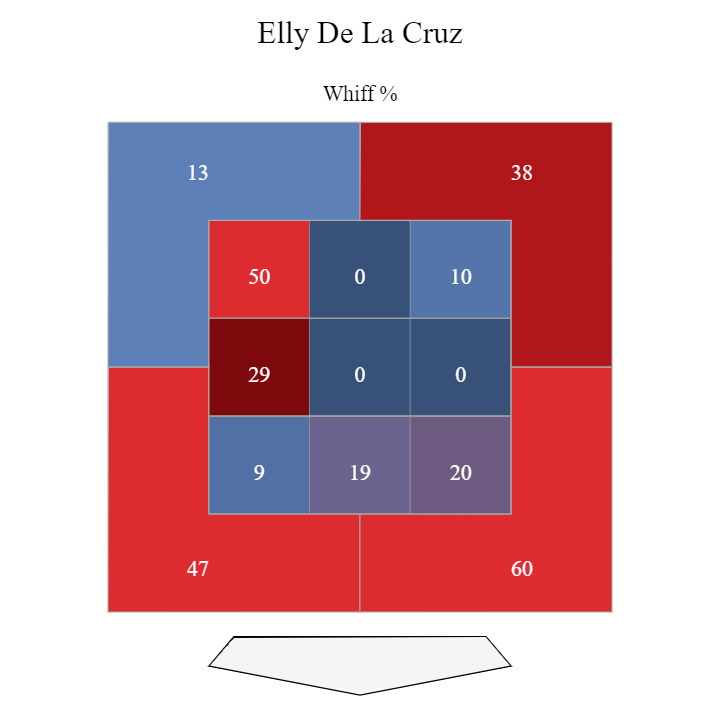 Why is that the case? It's thanks to a swing full of violence and danger, but also of movement, and one geared entirely toward pulling the ball. Here's an illustrative swing. On a high pitch that doesn't even touch 90 miles per hour, De La Cruz gets beaten. Watch his whole body throughout the swing.
Note the length of his stride. That's always one sign that a hitter wants to get a low pitch to drive. Because his hands (like the rest of his body) are so fast, he's able to use big, exaggerated movements that generate a lot of power, but if a pitcher can locate at the top of the zone, he's in trouble. His swing path and plane just don't align well with that pitch.
Notice, too, the angles he creates. With such a slender frame, he's nonetheless generated some frightening power already. He does it by stretching the rubber band of his musculature exceptionally far, but in so doing, he does also leave himself lunging and lining up only to pull the ball with authority. Watch his back foot move away from home plate as he transfers his weight to the front foot. It's not an unheard-of move. Fernando Tatis, Jr. has sometimes done the same thing. It's about staying on the ball a bit longer, while still getting the bat head out and hitting the ball well in front of home plate. As a result of all that, though, De La Cruz can also be gotten out with well-located stuff low and away. In short: force him to use the opposite field, and he'll rarely hurt you.
Defensively, it's tough to set up for De La Cruz. His speed is an active and lethal element of his game, even before he safely reaches base. Routine ground balls can become infield hits if teams aren't sufficiently careful, or if an infielder just doesn't field the ball cleanly. However, there's a correct way to defend him, especially from the left side, coming into focus.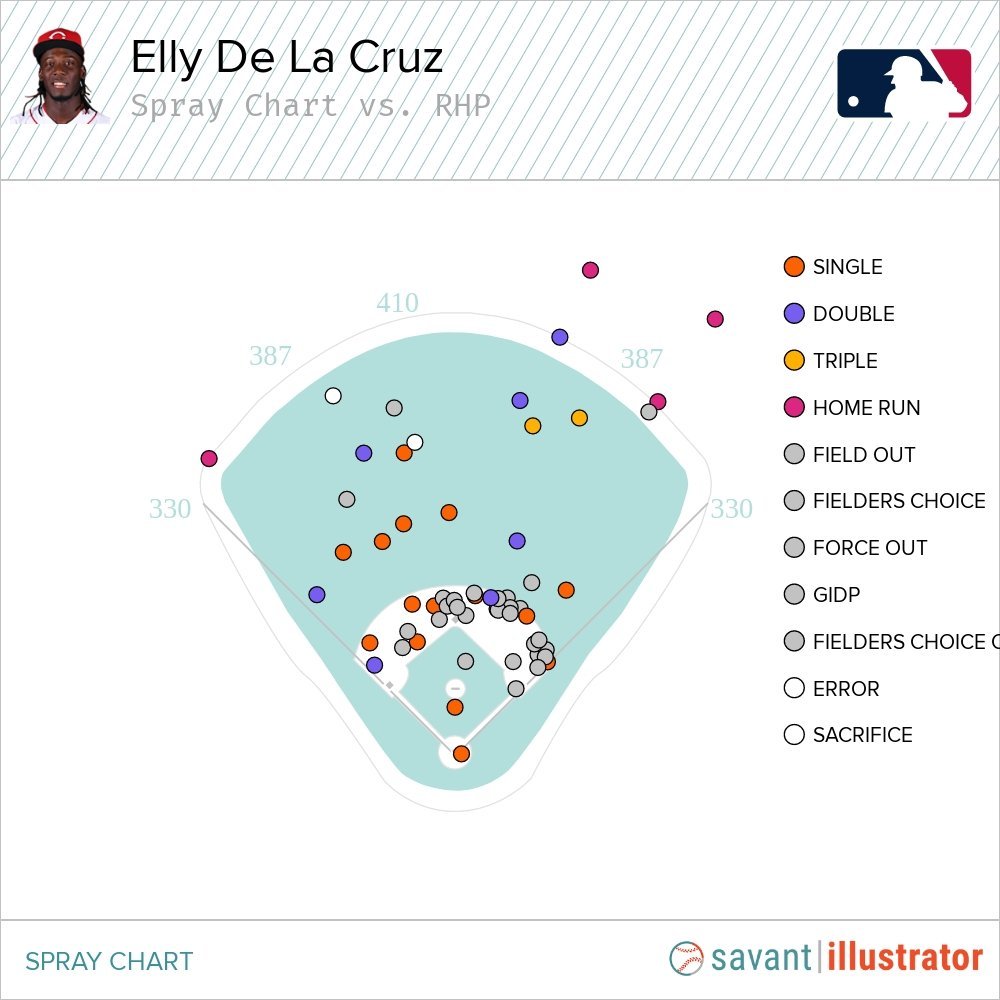 Firstly, you have to fearlessly shade him to pull on the infield. He'll occasionally mishit and poke the ball down toward third base, but that's the price of doing business. The first baseman needs to be right on the line, because De La Cruz hits a lot of sharp grounders there, and if the ball gets into the corner, it's a triple every time. Besides, you want the first baseman to be sure of beating De La Cruz to the base every time, at the very least. 
The second baseman needs to shade toward the hole, too, just to cover the extra step's worth of range the first baseman gives up. De La Cruz often hits the ball right up the middle, too, so the shortstop needs to be pulled close to the bag there. The third baseman slides over and plays shallow, cutting off the ball hit toward the traditional shortstop spot as best he can, and the rest is up to God.
In the outfield, a bold stratagem is in order: the right field should play pretty shallow. That, like the right way to attack De La Cruz pitching-wise, is wildly counterintuitive, given all the power he's shown, but that very power is the reason for it. If he pulls the ball in the air, it has a great chance to be a home run, anyway. The right fielder might as well come in and try to cut off ground balls that get through as soon as possible, so that De La Cruz can't stretch routine singles into doubles. The center fielder can shade toward right-center, because the left fielder will also shade toward center, so the ball hit deep to the gap in right-center will belong to the center fielder, anyway. 
The good news is that De La Cruz is, so far, a pretty extreme ground ball hitter. That means that his speed is often in play, but if the Brewers use what we can see in terms of how to tick up his strikeout rate (just under 30 percent, so far) and align their defense correctly, they can minimize damage against him reasonably well.
From the right side, against southpaws like Sunday starter Wade Miley, De La Cruz is a slightly different hitter, but with many of the same vulnerabilities. He's still trying to pull everything, so the plan needs to be to frustrate that approach. The big thing from that side is that De La Cruz is not only looking for particular pitches, but guessing on them. His swing is ever-so-slightly stiffer from the right side, which means that he has to sit on something and hope the timing is right. When he guesses wrong, he can be easily tied up or wrong-footed.
 As many hitters with that type of approach do, De La Cruz hits a lot of grounders from the right side, too. Because of his signature footwork in the box, he also doesn't get an especially fast start out of the box from that side, so his speed can be neutralized a bit, as long as the infield is ready and sure-handed. It'll be important to play Brice Turang as close to second base as the rules permit against De La Cruz, because he'll need to be able to field the ball going away from first base and still get enough on a throw to beat the speedy runner.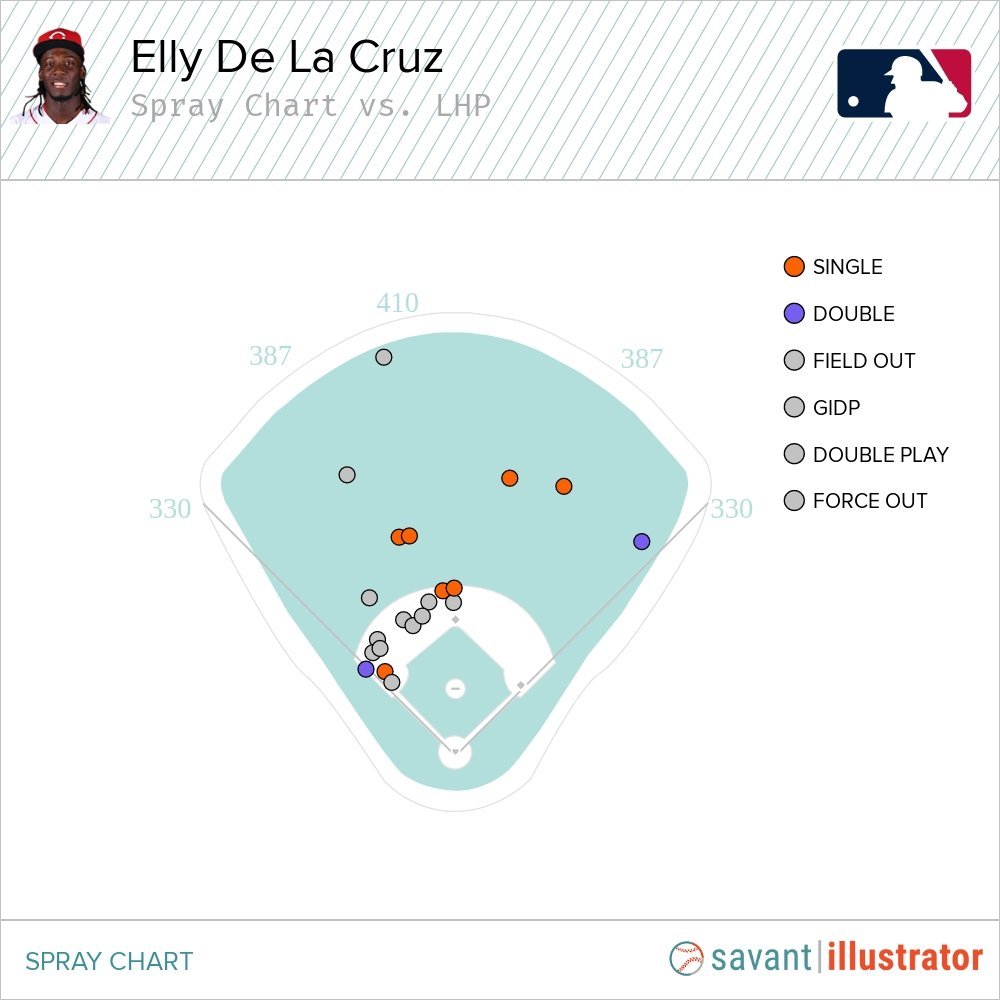 The other thing to do against De La Cruz, from either side, is to expand the zone often. He's not Baez, in that he's up there with an idea of the zone and will take walks when they're given to him, but he's far from being truly patient up there. On the contrary, he's chased pitches outside the zone more than 35 percent of the time this year. As most athletic freaks can, he can still hurt a pitcher on a pitch outside the zone, but well-executed stuff that looks like a strike but ends up as a ball will work most of the time.
This might seem like an overlong post about a Reds hitter on a Brewers site. Worse, the advice offered here ultimately boils down to execution. After all, the hit that touched off De La Cruz's mad dash around the bases Saturday came on a really bad slider, left in the heart of the zone on 0-2. That he only fought it off the other way is a reminder that he's not, in a traditional way, a deadly force at the plate. Still, there's no hitter in baseball against whom back-to-back hangers in pitcher-friendly counts are going to be very successful.
Nonetheless, there's value in this study, because it's so imperative that the Brewers stop De La Cruz from wreaking havoc in these seven remaining games. Yesterday's loss pushed the Brewers back to two games behind Cincinnati. These head-to-head games are huge. Yesterday, De La Cruz's plate appearances had an average Championship Leverage Index (an estimate of the relative importance of a plate appearance to a team's chances of winning the World Series, scaled such that 1.0 is average and 2.0 is twice as important) of 2.13, That figure could well rise even further in the next several contests. The Brewers need to execute well to get him out and win these games, but they also need a thoughtful and sound plan to execute well.
Think you could write a story like this? Brewer Fanatic wants you to develop your voice, find an audience, and we'll pay you to do it. Just fill out this form.
MORE FROM BREWER FANATIC
— Latest Brewers coverage from our writers
— Recent Brewers discussion in our forums
— Follow Brewer Fanatic via Twitter, Facebook or email