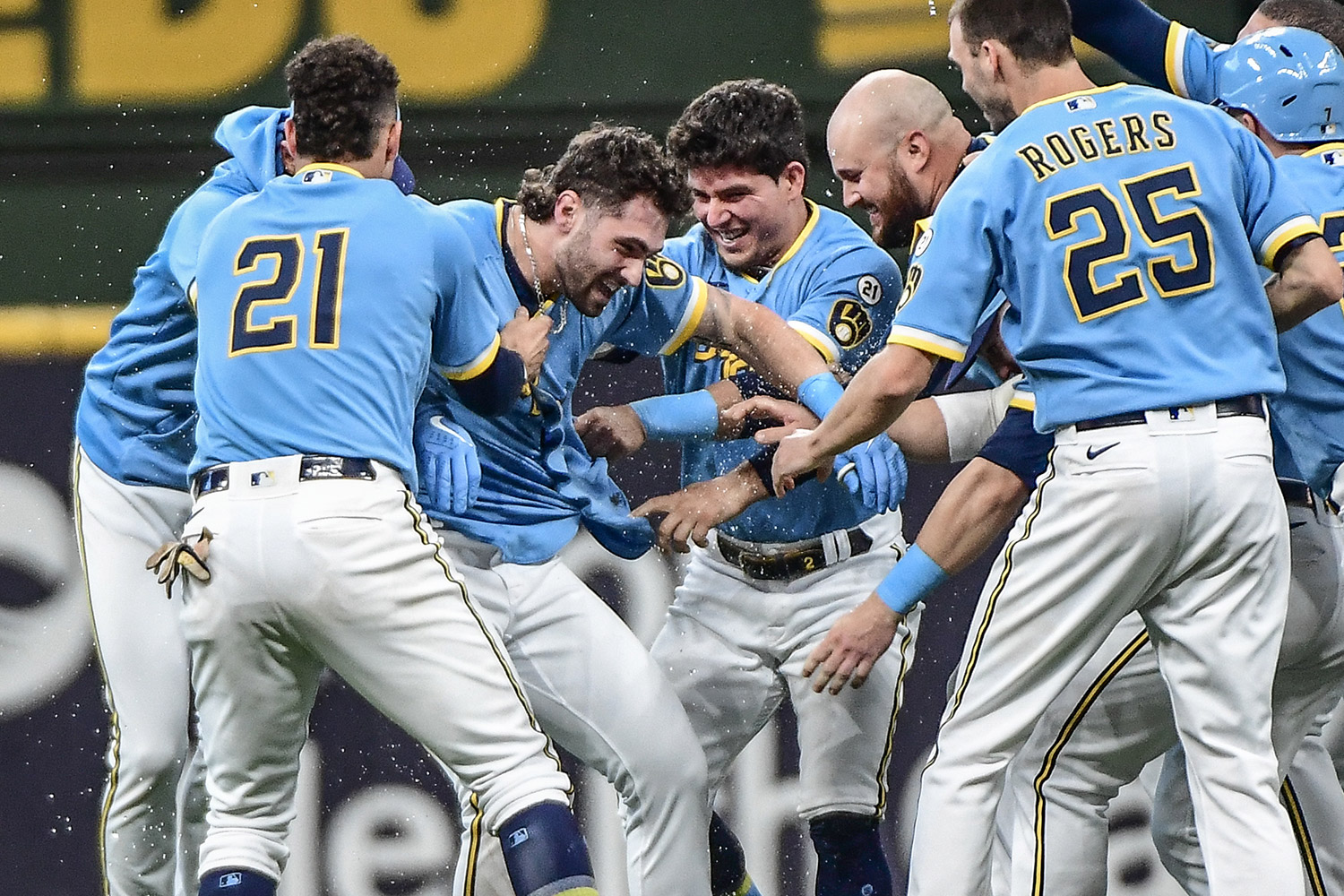 Image courtesy of © Benny Sieu-USA TODAY Sports
How is this the case? Just look at the run from 2017 to the present, which saw four playoff appearances in six seasons and one game out of the playoffs in the other two. These runs help a small-market team like the Brewers keep a fanbase excited. The real question, of course, is, how do you make such a run last?
1. Good Drafting
Seeds for the success of the 2017-2022 Brewers came as early as 2011 when the team drafted Jorge Lopez in the second round of the June draft. The 2012 draft saw Brent Suter and Tyrone Taylor picked, along with Mitch Haniger and Anthony Banda, who was dealt for Gerardo Parra. Parra was flipped for Zach Davies, who later was part of a deal that secured Luis Urias and Eric Lauer. Suter, a 31st-round pick, wasn't the only draft steal. Brandon Woodruff was an 11th-round draft pick in 2014. Jordan Yamamoto, a key piece in the Yelich trade, was a 12th-round pick that year. Cooper Hummel, who the Brewers traded to rent Eduardo Escobar for the 2021 season, was an 18th-round pick in 2016.
The Brewers will need to make excellent use of their farm system to have long-term success – taking advantage of cost-controlled players for bench and bullpen roles.
2. Smart Acquisitions 
As with the drafting and development, the Brewers will need to find hidden gems from other teams. Manny Pina, for instance, was a throw-in on the K-Rod trade, and he gave the Brewers a lot of help behind the plate and on offense. The Brewers made out like bandits in some trades – see the Adam Lind deal that brought Freddy Peralta to Milwaukee.
But trades are not the only way the Brewers could land talented players. Jesus Aguilar was a waiver-wire pickup – and provided two perfect seasons in Milwaukee. The free agent market is also an excellent place to find gems. Not the big-money deals, but it's amazing who can be found among the non-tendered, minor-league free agents and those not offered arbitration. Outside-the-box signings can be excellent bargains.
Long looks at independent league teams, the Korean Baseball Organization, and Nippon Professional Baseball will be essential for the Brewers. Rather than spend big bucks on a veteran free agent, hiring a couple dozen more scouts may be a better approach, especially if the Brewers can pick up bargains.
3. Crucial Extensions
Locking up Freddy Peralta and Aaron Ashby was an intelligent move. The former would be an ace on a third of major league teams, and the latter could be a solid presence in the rotation. Extending Christian Yelich was a similarly smart call, given his MVP-caliber seasons in 2018 and 2019. While his back issues affected his 2021 production, he improved in 2022 somewhat. Not every move is going to work perfectly for the organization but smart risks must still be taken from time to time. 
Similar decisions will come soon for Garrett Mitchell, Sal Frelick, Jackson Chourio, William Contreras, Joey Wiemer, and Brice Turang. If these rookies and young players are willing to extend, the Brewers have a real shot. The real question now centers on whether the Brewers can extend one or more of Willy Adames, Corbin Burnes, and Brandon Woodruff. If at least one, or better yet, two, get done, the Brewers could be in business.
4. Finding Extra Revenue
The Brewers are hosting some concerts at American Family Field – notably Pink this coming this August. The more of these, the better for the Brewers. But the Brewers could also try to market a bit more worldwide and build up some name recognition. Australia and Europe could be places for the Brewers to make their mark, particularly given ties to the former (Dave Nilsson) and the many German immigrants who helped start the city in the 19th century, not to mention the city's large Polish community.
Milwaukee County Stadium used to host football games, and doing the same at American Family Field could be an option to generate some additional revenue as well. We could even offer to host more basketball and hockey games, along with soccer matches.
Expanding the Arctic Tailgate concept is another possibility – maybe even include tailgating in the lot for various away games (particularly the playoffs) so Brewers fans can gather.
The Brewers face a harsh economic reality. That being said, they have adapted and overcome so far, and there are ways to maximize what money they already bring in and possibly even bring more money in.
Think you could write a story like this? Brewer Fanatic wants you to develop your voice, find an audience, and we'll pay you to do it. Just fill out this form.
MORE FROM BREWER FANATIC
— Latest Brewers coverage from our writers
— Recent Brewers discussion in our forums
— Follow Brewer Fanatic via Twitter, Facebook or email