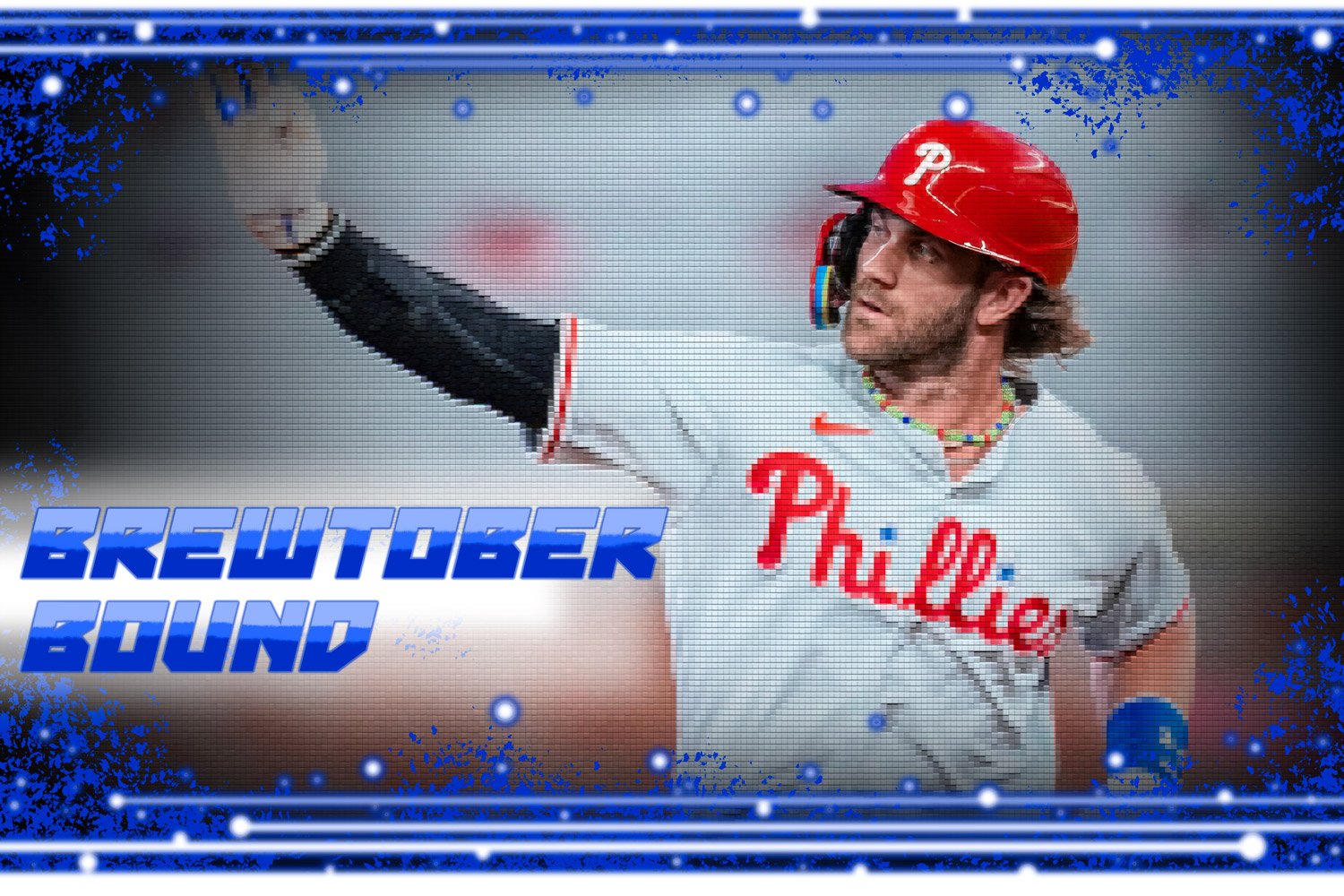 Image courtesy of Brock Beauchamp & Brewer Fanatic
The Phillies have a slight but consistent lead over the remainder of the NL Wild Card pack, so they'll likely start on the other side of the NL bracket. However, if they lose enough games to slide to the sixth seed (currently held by the Cubs) or make it to the NLCS along with the Brewers, we'll see these two teams face off in a heated contest.
Starting Pitching
Last year, Philadelphia had a 1-2 punch that rivaled the Brewers' own. Aaron Nola and Zack Wheeler were two of the most formidable pitchers in the National League in 2022, but this year has been a step back for both of them--especially for Nola. Going from a 3.25 ERA and Cy Young votes to a 4.62 ERA and strikeout-to-walk ratio that's half of what it was in 2022, he's seen a significant decline in performance.
The rest of the rotation is slightly better than average, with Cristopher Sanchez leading the squad with a 3.40 ERA and 1.05 WHIP. Despite his no-hitter, trade deadline acquisition Michael Lorenzen has a 5.23 ERA over 43 innings pitched with the team.
The Brewers have a slightly better starter ERA this year (3.97 vs 4.25), but in a playoff series that would either be best-of-three or best-of-seven, the top of the rotation is what matters most. Because of the fluidity of the rotation in a postseason situation, rotations tend to be more compact. The Brewers' 1-2-3 combination of Corbin Burnes (3.56 ERA), Brandon Woodruff (1.89 ERA), and Freddy Peralta (3.71 ERA) is simply more effective than any three-pitcher combination the Phillies can put together.
Relief Pitching
The Phillies have some great names in the bullpen. Matt Strahm (3.24 ERA), Jeff Hoffman (2.20 ERA), and closer Craig Kimbrel (3.29 ERA) are tough matchups for most batters. Unfortunately for the Phils (in this hypothetical showdown), when it comes to relief pitching, only two teams have a better staff than the Brewers. With the third-best reliever ERA in MLB 3.51, there are few names in Milwaukee that aren't considered elite. 
| | | |
| --- | --- | --- |
|   | ERA | WHIP |
| | 1.59 | 0.92 |
| | 2.63 | 1.08 |
| | 2.42 | 1.03 |
| | 3.38 | 1.22 |
| | 1.91 | 0.96 |
| | 3.58 | 1.29 |
| | 1.29 | 1.07 |
The outlier is Andrew Chafin, who's racked up a 7.82 ERA since arriving from Arizona, but with so many other great arms from whom to choose, he'll likely receive few (if any) innings.
Lineup
The Brewers have managed to improve their offense to be right around league-average in the second half of the season (.715 OPS, 17th in MLB) but are handily beaten by what the Phillies have managed in the same timeframe (.806 OPS, 4th in MLB). With every qualified player on their roster posting an OPS+ above 100, the Phillies approach to winning is in stark contrast to that of the Brewers: offense first. After all, it doesn't matter how many runs your opponent scores, so long as you score more. 
The three biggest threats on the Phillies lineup card are undoubtedly Bryce Harper, Kyle Schwarber, and Trea Turner. Despite receiving Tommy John surgery less than a year ago, Harper's slash line of .290/.394/.490 shows he's not to be trifled with. Similarly, Schwarber's constant treading of the Mendoza line has almost obfuscated the fact that he's socked 45 home runs, nearly tying his NL-leading total of 46 in 2022. Turner started off freezing cold but is posting a .934 OPS after the All-Star break (and receiving an outpouring of love and support from a generally negative fanbase).
Milwaukee will need William Contreras to keep up the positive momentum, Mark Canha's constant contributions, and Christian Yelich at full strength if they want to hold a candle to the hitting abilities of Philadelphia. A resurgence from Willy Adames and Josh Donaldson wouldn't hurt either.
Overall Takeaways
There's a reason the Phillies made it to the World Series last year and are the top Wild Card team this year. They've got a rough-and-tumble style, a die-hard fanbase, and their bats pack a wallop. However, their relatively weak pitching may give the Brewers the advantage they need to squeak by with a string of wins, probably by only a few runs. 
Think you could write a story like this? Brewer Fanatic wants you to develop your voice, find an audience, and we'll pay you to do it. Just fill out this form.
MORE FROM BREWER FANATIC
— Latest Brewers coverage from our writers
— Recent Brewers discussion in our forums
— Follow Brewer Fanatic via Twitter, Facebook or email