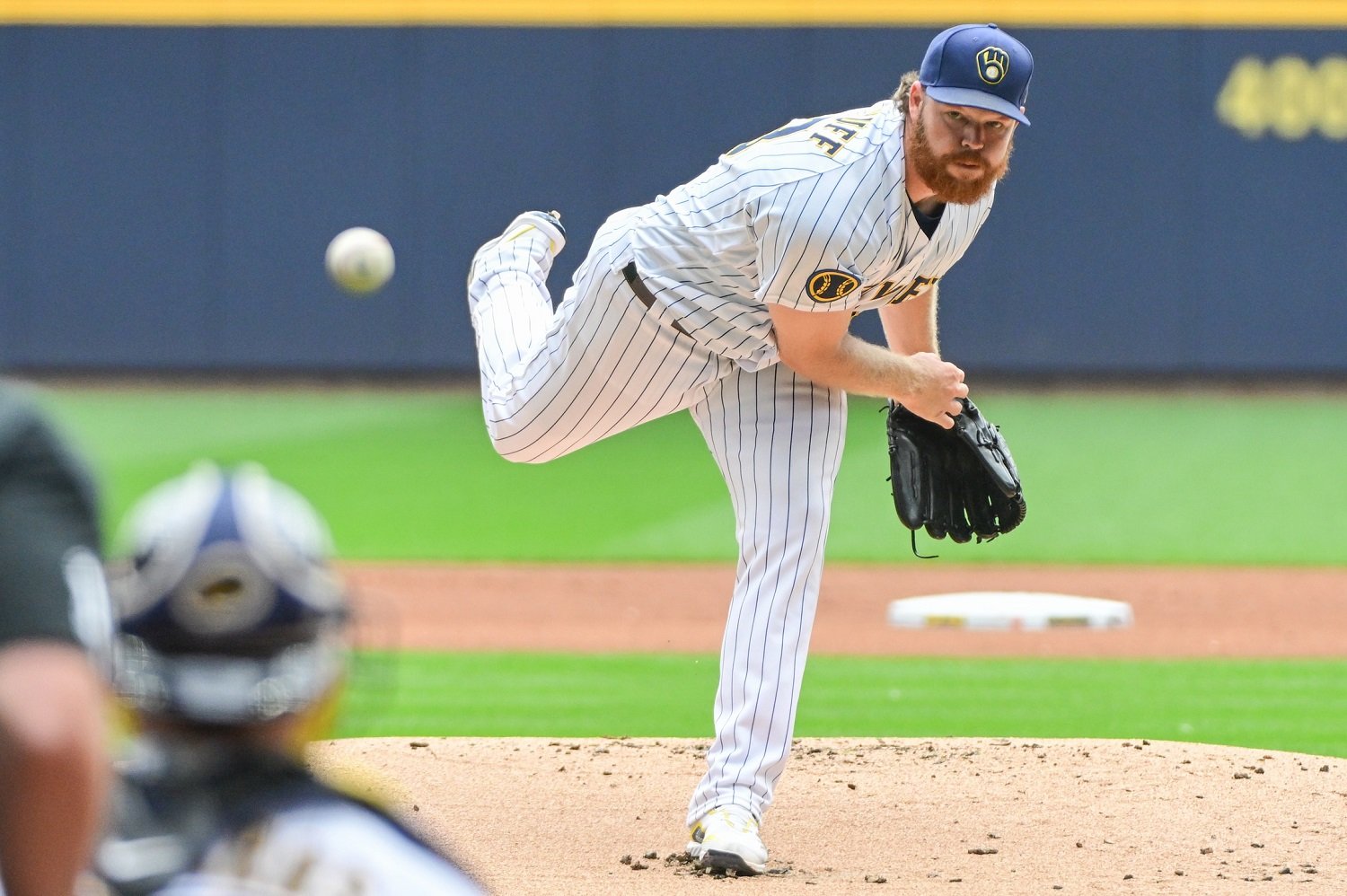 Image courtesy of Benny Sieu-USA TODAY Sports
Brandon Woodruff has been such a key contributor to the Milwaukee Brewers starting staff and team, in general. Yes, Corbin Burnes has been healthy, and so has Freddy Peralta, but for the team to not only make the playoffs but feel confident that they can compete, having Woodruff available will be a huge key. 
On Sunday, he returned to the mound for the first time since early April. How did he do, but more important, how did his stuff look and are there reasons for optimism? 
Velocity And Spin Rate Remain Consistent
Throughout his handful of minor-league rehab starts, Woodruff demonstrated that he had avoided any loss of velocity, an imperative feature for someone who uses the four-seam fastball approximately 40% of the time. 
Since 2019, Woodruff's four-seam fastball has averaged about 96 mph. He has also maintained a spin rate around 2,350 rpm for the past two years. In Sunday's game, he averaged a velocity of 95.7 mph and a spin rate of 2,424 rpm across 42 pitches. These numbers are certainly within his recent norms. He also topped out at 97.2 mph as late as the fifth inning of his start.
Overall his fastball was good. He recorded nine swinging strikes, five called strikes, and thirteen foul balls. The one major slip-up he had came in the third inning when an inside fastball was hit by Endy Rodriguez for a home run to right field.
Here's how his other pitches fared in this game compared to his 2022 averages. Even with relatively small sample sizes, especially for the curveball, the data paints an optimist picture that Woodruff is indeed back.
| | | | | | |
| --- | --- | --- | --- | --- | --- |
|   | # of Pitches | Avg. Velocity (08/06/23) | Avg. Velocity (2022) | Avg. Spin Rate (08/06/23) | Avg. Spin Rate (2022) |
| Sinker | 18 | 94.5 mph | 95.8 mph | 2,358 | 2,286 |
| Slider | 11 | 89.0 mph | 88.0 mph | 2,469 | 2.408 |
| Changeup | 11 | 85.5 mph | 86.1 mph | 2,068 | 2,008 |
| Curveball | 3 | 81.3 mph | 84.0 mph | 2.571 | 2,530 |
Stamina Will Come Back Slowly But Surely
Like getting over a recent breakup, some things just take time. Woodruff's stamina was a key asset to the Brewers as he averaged about 5 2/3 innings pitched per start for 2021 and 2022. Having your #2 pitcher getting quality starts consistently without having to make early calls to the bullpen is a key characteristic, especially with starters like Wade Miley and Colin Rea averaging closer to five innings pitched per start.
In Sunday's game, he completed five innings. He threw 85 pitches, 61 of them strikes (71.8% strikes). Aside from the home run to Rodriguez, he also conceded a home run to Connor Joe in the fourth inning. It came on a hanging slider.
It didn't seem like his pitch quality deteriorated too much, especially since his velocity didn't decrease much in the later innings. He faced just three batters in the fifth inning. The Brewers have been smart with his return, taking a conservative approach to his Injury List stint and rehab assignments. It makes sense that they'll continue working him up to his old workload gradually. Hopefully, all goes to plan and we will continue to see Woodruff make great starts all the way through to the postseason.
Please share your thoughts and observations from Woodruff's return on Sunday. 
Think you could write a story like this? Brewer Fanatic wants you to develop your voice, find an audience, and we'll pay you to do it. Just fill out this form.
MORE FROM BREWER FANATIC
— Latest Brewers coverage from our writers
— Recent Brewers discussion in our forums
— Follow Brewer Fanatic via Twitter, Facebook or email