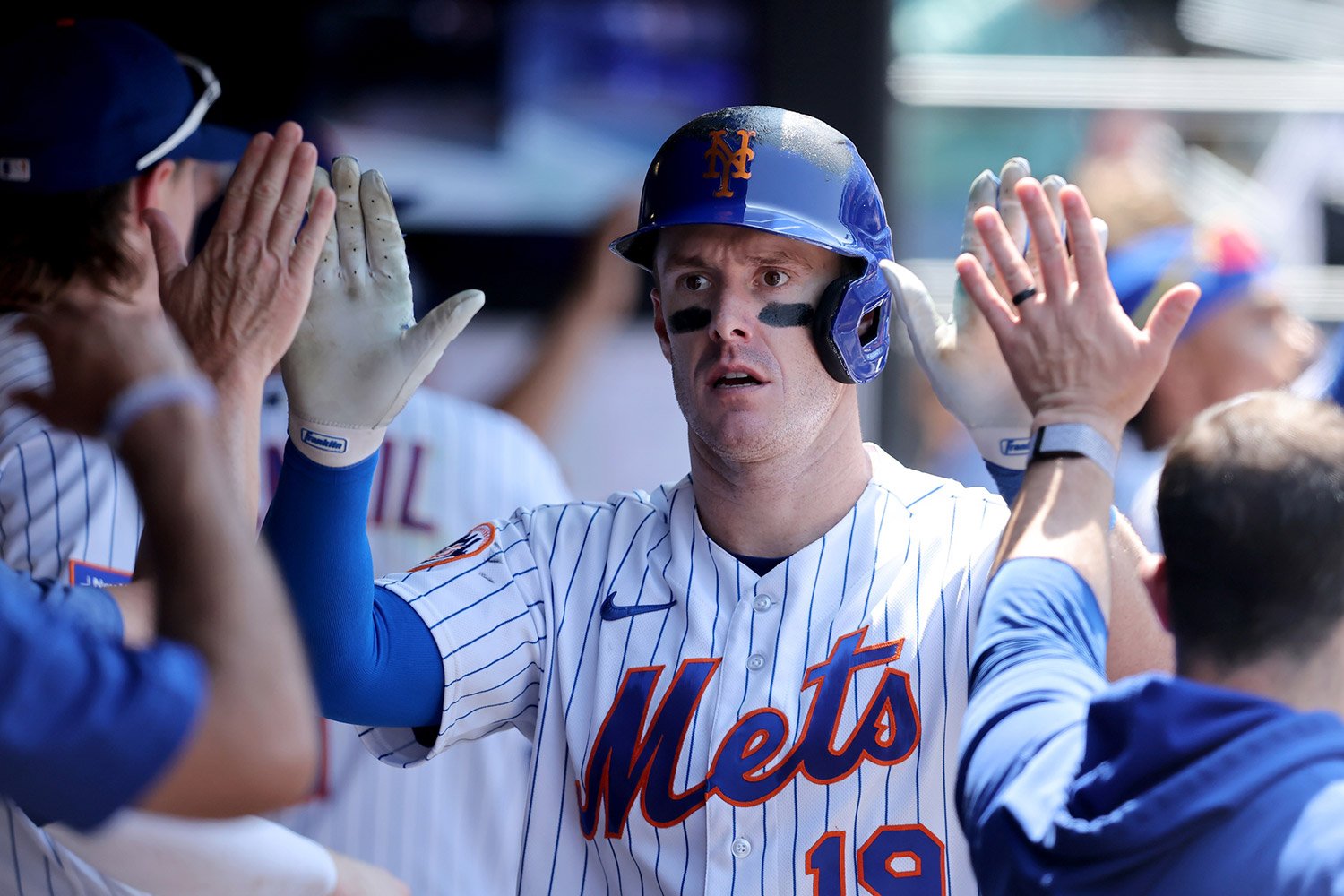 Image courtesy of © Brad Penner-USA TODAY Sports
Canha's Cool Characteristics
Like recent team addition Carlos Santana, Mark Canha is a big-league veteran who made his debut all the way back in 2015. After seven productive years with the Oakland Athletics, he went to the Mets and continued his consistent offensive production. His 2023 slash line of .245/.343/.381 is remarkably similar to his career averages of .248/.348/.422. His peak year of 2019 saw him post a .913 OPS and a 146 OPS+, but in the four years after, he's come back down to a .757 OPS, 115 OPS+.
Mark Canha has a couple of great aspects to his game. He doesn't strike out much (17.2%, 80th percentile), doesn't whiff (20.0%, 78th percentile), doesn't chase (23.2%, 80th percentile), and gets walks (10.6%, 77th percentile). He's also a versatile fielder, serving as both a corner outfielder and a corner infielder for the Mets this season.
Like Carlos Santana, he performs just as well against RHP as he does against LHP, posting a .713 OPS against righties and a .743 against lefties. The latter is a marked improvement over Milwaukee's team OPS against LHP of .681, 28th in MLB. 
Unfortunately, he's not perfect, and for many Brewers fans, he's likely not the bat they were hoping for. He's seen a clear dip in power over the past few years, as his ISO of just .136 for both 2022 and 2023 is the lowest it's ever been in his career. Furthermore, his defense isn't exactly gold-glove quality, posting -2 OAA this year, with -3 OAA at left field. 
He's also 34 and will be a free agent in 2024, meaning that this is a short-term rental in every sense of the word. Even if he decides to resign with the team, his age likely prevents him from adding any long-term value, especially with how rich the Brewers are with outfield talent. With Sal Frelick raking like a landscaper in the autumn months and the Jackson Chourio/Tyler Black combo shucking the competition in AA, I doubt Canha will be remembered as a Brewer for very long.
Who We Sent To New York
In exchange for Canha, the Brewers bid adieu to Justin Jarvis, a right-handed starter who had split time between AA and AAA this season. He posted a 3.33 ERA over 75.2 innings in AA but struggled in his albeit short time at AAA, posting a 10.80 ERA over 11.2 innings. 
Since the strategy of purchasing future hall-of-fame pitchers at the end of their storied careers hasn't quite worked out for the Mets, it seems they are trying the opposite approach, investing in their farm system and hoping to develop talent internally. With Max Scherzer and (allegedly) Justin Verlander headed to the Texas Rangers, the Mets will need more pitching talent to put them back in the playoff picture for future seasons.
Losing Jarvis isn't a huge deal for the Brewers, as he was the #30 prospect, with names like Jacob Misiorowski and Robert Gasser likely having more future value than him. All things considered, it seems that the Brewers got a decent bat for a relatively cheap prospect.