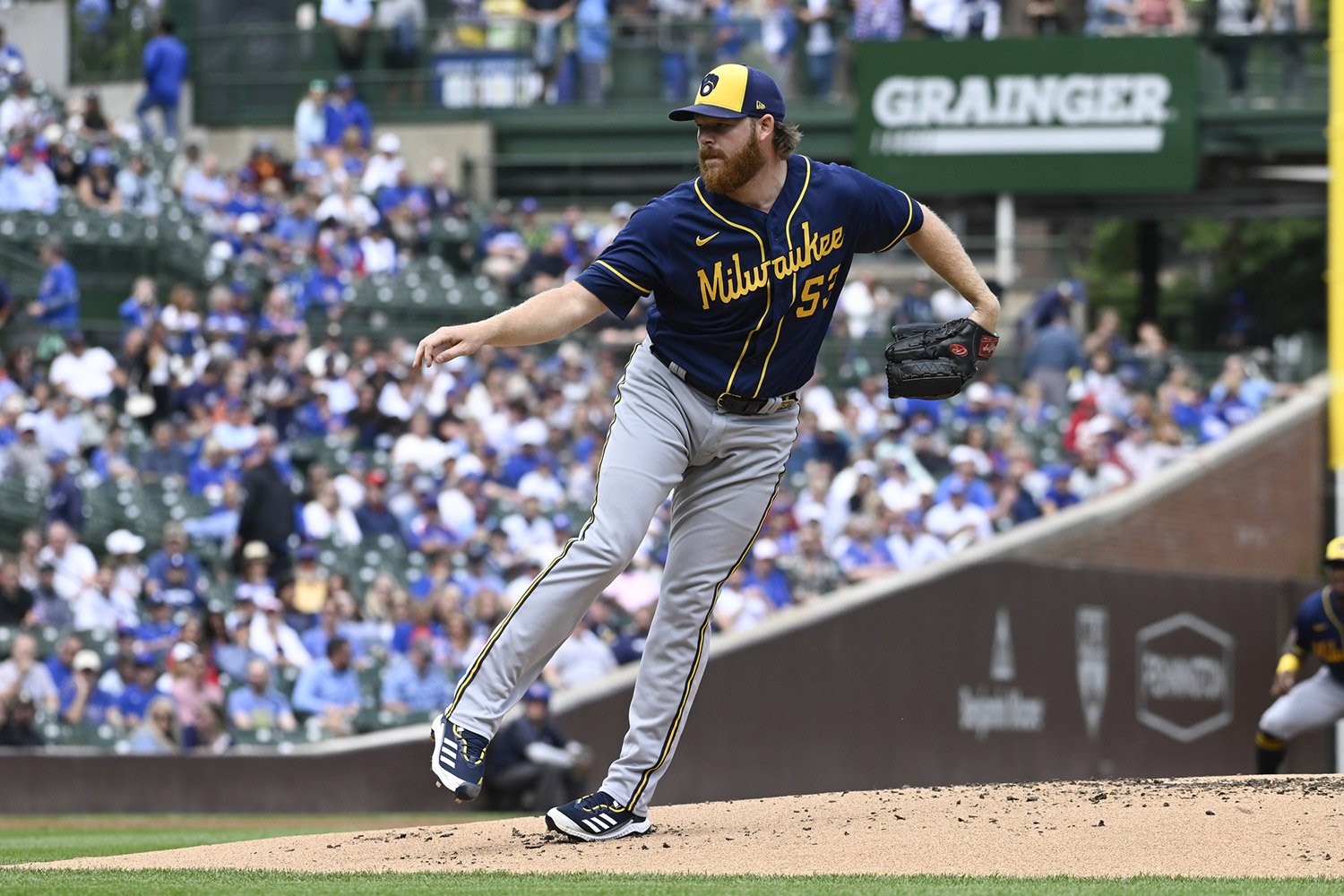 Image courtesy of © Matt Marton-USA TODAY Sports
The fifth starter might be the problem. 
Adrian Houser, who was a 'serviceable' final piece in the puzzle, was placed on the 15-day IL on August 28 with an elbow injury. Manager Craig Counsell said, "The hope is that (Houser) will miss a couple of starts and then be ready to rejoin the rotation."  
Due to the Houser injury, Colin Rea has been recalled from Nashville. Rea made 20 starts for Milwaukee through early August but was sent down to AAA due to a recent propensity to serve up gopher balls - nine in his last six starts, covering 31 1/3 innings. He was called back up and pitched four and one-third innings against the Phillies on Saturday, giving up dingers to Kyle Schwarber and JT Realmuto. Fortunately, they were both solo shots, and the Brewers would go on to win 7-5. 
Rea pitched well in two starts for Nashville, allowing only one home run in 11 innings. Although the Brewers currently have not decided on a starter for Friday night, Rea might get another shot in that opening game of a three-game set at Yankee Stadium.
Other options include Robert Gasser, Bryce Wilson, and maybe even Janson Junk as the wildcard. 
Gasser has been a beast in Nashville, averaging 11.1 K/9 winning nine of ten decisions. He has been stretched out lately, tossing six-plus innings in his last five starts. He is currently ranked as the #6 prospect on Brewer Fanatic, and Brewer Nation is waiting with bated breath for the MLB debut of the left-handed phenom.
Wilson has been a stud in the Milwaukee pen, and Counsell might be hesitant to mess with that chemistry. He has been a multi-inning workhorse, averaging 1.5 innings per outing, and the Brewers might not be able to replace him in that role if he moved into the rotation.
Junk has been toiling in Nashville most of the year but has proved to be a decent pitcher, making 22 starts. He walks a few more than he should (one every three innings), but his WHIP isn't terrible at 1.32. He wouldn't be my first choice, but I could live with him if it came to that.
If Houser can return in mid-month and be the pitcher that the Brewers hope he can be, it's a moot point. But Rea, Gasser, or Wilson would be solid options for that September 8 game against New York.
So, barring any further health issues, Corbin Burnes, Brandon Woodruff, Freddy Peralta, and Wade Miley cast huge shadows as stars in the rotation. The fifth pitcher comes from the group previously mentioned, and while he doesn't have to be a superstar, that would be a nice addition.
We all know how the top three of Burnes, Woodruff, and Peralta will perform, but what of 'Wily' Wade Miley? The 36-year-old lefty has given up seven homers in his last five starts (28 1/3 innings), so he may be tiring in the 'dog days' of his 13th major league season. Counsell will have to keep an eagle eye on the big Cajun, as history shows he has struggled toward the end of the 162-game season. 
In the last five years (not counting the 2020 COVID season), Miley started 44 games in August/September. In 205 innings, he allowed 241 hits and 28 HRs, posting a WHIP of 1.58. If this is the Miley we see in September, we could be in trouble. He is truly the bridge between the top three and the number five question mark. It doesn't bode well for Milwaukee and their long-term playoff run chances if he is bad.
After 136 games, Milwaukee has a 3.5-game lead over Chicago in the NL Central, and ESPN.com has the Brewers playoff probability of 98.7%. Obviously, winning the division is important, as the Brewers would much rather play the #6 playoff team, with all games at American Family Field, than possibly slipping to that #6 spot and playing all games on the road.
But is it more important to pitch your 'studs' to win the NL Central than to line up your rotation for a three-game series?
The Brewers have only two days off the rest of the season (7th and 25th), so most likely, the rotation will be on a five-man schedule. Miley is tentatively penciled in as the starter in the second New York game (Saturday), which lines him up in the #5 spot. Counsell might switch him to the Friday night game and have the 'undecided' spot come up on Saturday, and thus be the fifth starter. 
But after that, the quintet of Burnes-Woodruff-Peralta-Miley-fifth starter' could have clear sailing until the final off day on September 25. At that point, the playoff picture *should* have more clarity, and then Counsell could mix and match his rotation to give his aces some rest and line up the staff for the first-round games on October 3-4-5.
Clinching the division in the next three weeks would make life a lot easier for the Brewers and their loyal fanatics.