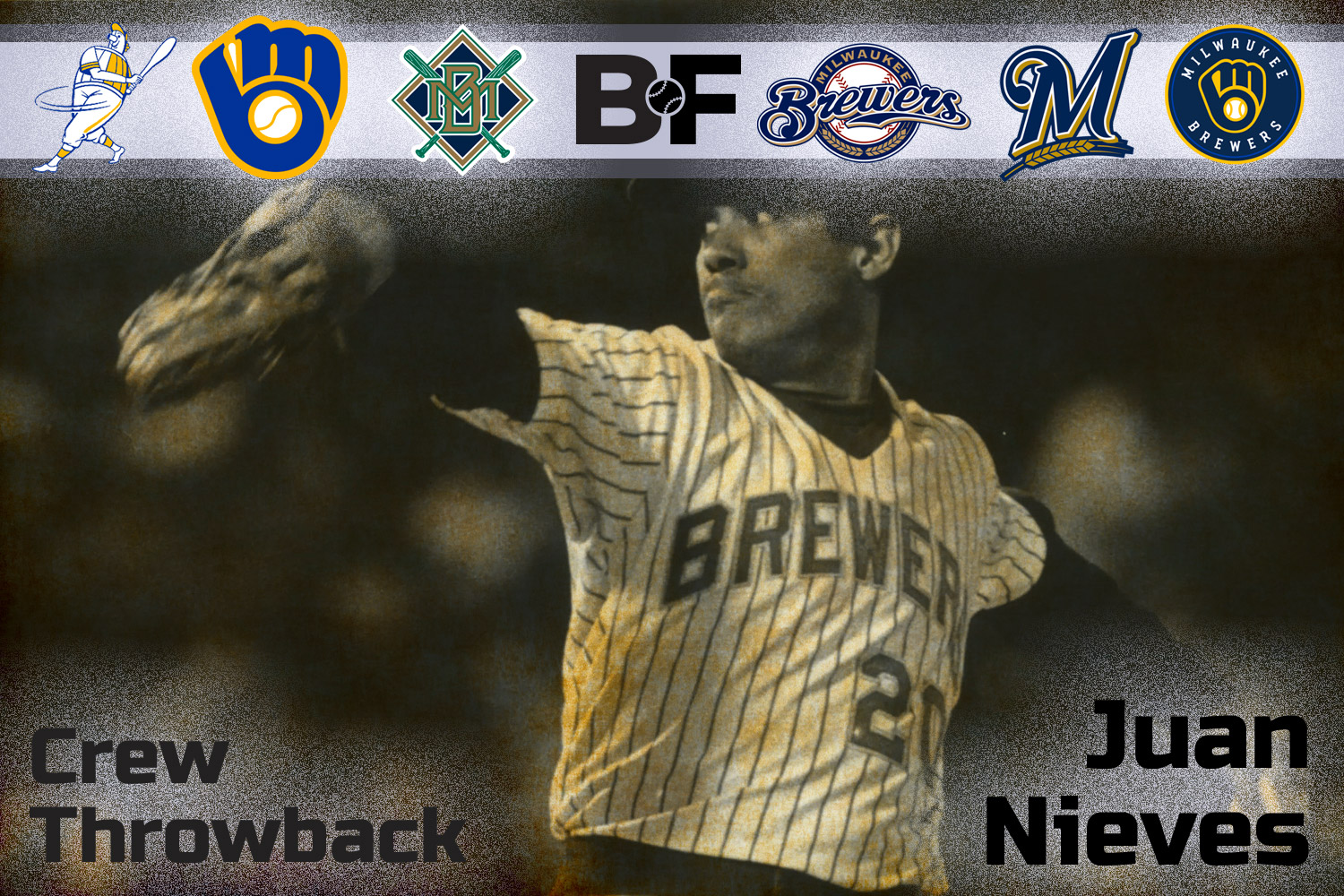 Image courtesy of Brewer Fanatic
Juan Manuel Nieves Cruz was born in Puerto Rico in 1965. He went to school in Connecticut, and the Brewers won a bidding war for him after he posted a 19-1 record as a high school senior, signing him for the then-impressive figure of $115,000. 
Nieves was immediately tabbed as a top prospect when he produced a stellar 1.30 ERA while striking out 89 batters in 69 innings (and only 15 walks) as an 18-year-old in A ball. Despite some control issues, he moved quickly through the Brewer system using a mid-90 mph fastball, a good curve, and superior athleticism.
Nieves made the Brewers rotation in 1986 as a 21-year-old. Not surprisingly, his performance was erratic. He pitched well to start the season but faded down the stretch. Still, he managed to win 11 games and toss 184.2 innings to go with a 4.92 ERA. The talent was evident. People expected big things.
Those big things appeared right out of the gate in 1987. The Brewers began the season with a 13-game winning streak, the ninth game in Baltimore. Nieves threw the first (and only) no-hitter in team history, walking five and striking out seven. Some excellent defense was helped by Paul Molitor, Jim Paciorek (whose fantastic catch is in the video below), and the game-saver by Robin Yount. At the time, Nieves was the second youngest person ever to throw a no-hitter - and the first from Puerto Rico. 
Nieves showed progress that year, winning 14 games, but he was still plagued by inconsistent performances and bouts of wildness (100 walks in 195.2 IP).
In 1988, Nieves struggled with shoulder soreness. He spent some time on the DL and only threw 110.1 innings. But there were signs of growth as a pitcher, as his 4.08 ERA and 1.215 WHIP were the best of his career. Little did anyone realize that Nieves had thrown his last major league game.
In early 1989, a rotator cuff tear was detected in Nieves' throwing arm. He only tossed 14 minor league innings that year, then 29 the following season as he tried to battle back to the majors. But it was not to be. Other than a disastrous five-game comeback in 1998 in independent ball, Juan Nieves's career was over.
After baseball, Nieves worked as a minor league pitching coach with the Yankees from 1992-96. He then tried his hand as an agent before joining the White Sox as a minor league pitching coach from 1999-2007. From 2008-12, he was the Sox bullpen coach, then was named Boston's pitching coach in 2013, winning a World Series with the club that same year. With Boston's collapse in 2015, Nieves lost his job but landed on his feet when the Marlins named him pitching coach in 2016 - a job he held for three seasons. He has been the Tigers' assistant pitching coach since 2021.
On a fun note, Nieves had a small part in the Kevin Costner baseball film "For Love of the Game" in 1999. 
Due to arm issues, Juan Nieves' playing career lasted only three seasons, all with Milwaukee. The promise he showed never came to fruition. He won 32 games and tossed almost 500 innings with the Crew. For Brewer fans, Nieves' achievements would probably fade into history if not for the historic day in April of 1987. The 22-year-old kid made franchise history - cementing himself a place in the record books and the minds of Brewer fans. 
Please share your memories of former Brewer pitcher Juan Nieves.
Think you could write a story like this? Brewer Fanatic wants you to develop your voice, find an audience, and we'll pay you to do it. Just fill out this form.
MORE FROM BREWER FANATIC
— Latest Brewers coverage from our writers
— Recent Brewers discussion in our forums
— Follow Brewer Fanatic via Twitter, Facebook or email