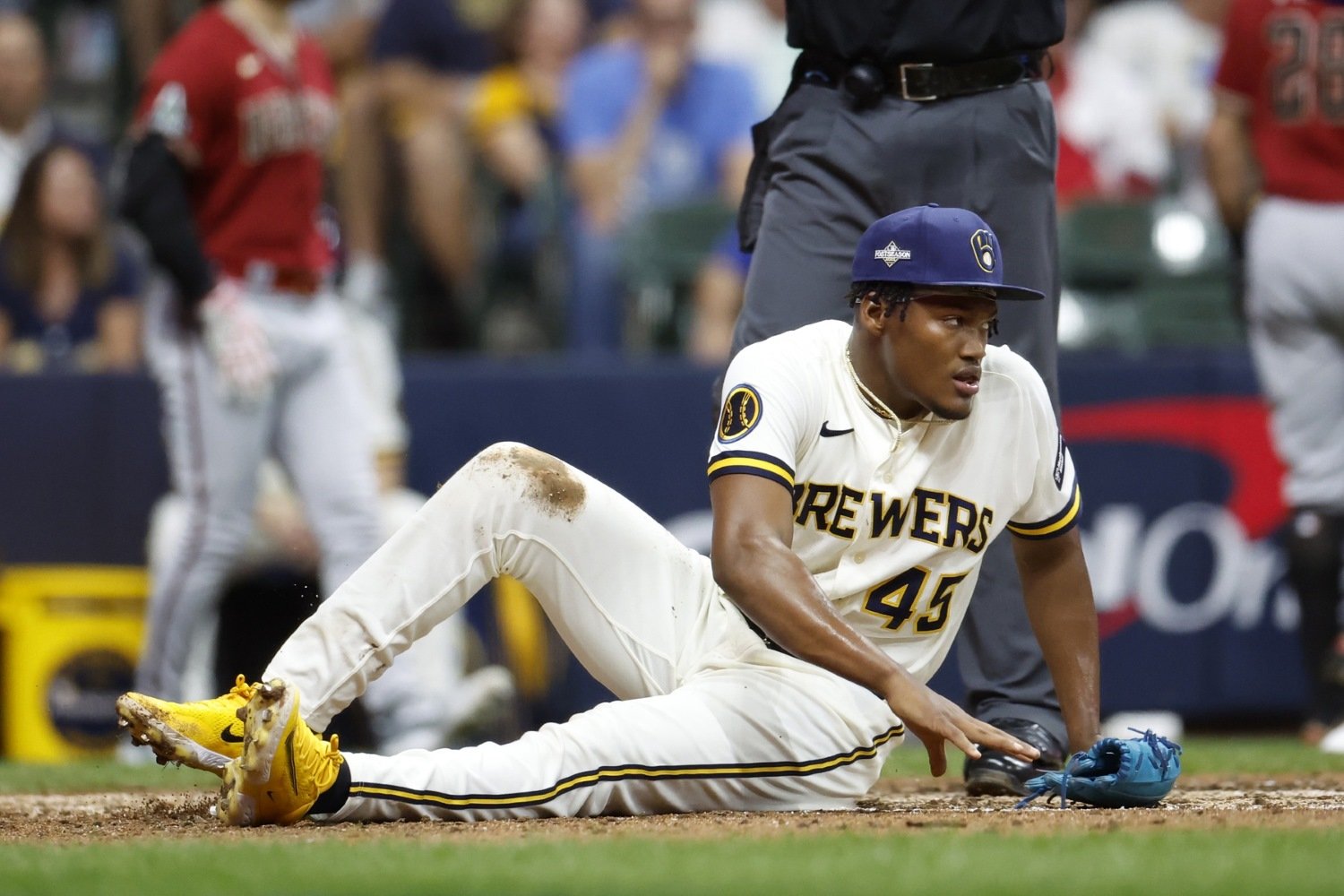 Image courtesy of © Kamil Krzaczynski-USA TODAY Sports
No one thing swung this series. The fact that the Brewers only scored five runs between the two games (really? Is that all? They had traffic on the bases constantly!) makes it hard to dream on a different version of events in which a healthy Brandon Woodruff pushes them right past the Diamondbacks. While the pitching staff ultimately cracked a bit and let the lead widen in each game, the onus for this loss falls where we would have guessed, given the construction of this team: the offense.
Some of it, as was the case in Game One, really was just terrible luck. In the bottom of the third, Sal Frelick scalded a ball back through the box with two runners on--only for Zac Gallen to find it and start an impressive double play to end the inning. Much more of it was a genuine dearth of depth and good execution by Arizona, though. The Crew went down in order three times in Game Two, and that's not counting the inning in which a leadoff walk was erased immediately on a double play or the one in which Carlos Santana drew a leadoff walk and never moved from first base. 
Craig Counsell could have been more aggressive, to be sure. There was a chance to pinch-hit Andruw Monasterio for Brice Turang early in Game One that could have tilted the balance of that contest. There was an opportunity to pinch-hit Blake Perkins for Sal Frelick late in Game Two that could have done the same thing. Santana got on a few times during the series in situations where using a pinch-runner might have given the Crew a chance for a stolen base and better odds to score, but it was never in a situation wherein the need for that particular run seemed urgent enough to justify that substitution--especially given that the Diamondbacks' catchers both throw so well.
It's easy, now, to second-guess the choice to put Jesse Winker on this roster in lieu of Rowdy Tellez. I doubted the wisdom of that move even when it was announced. Tellez had a miserable season, but if the Brewers had had a power hitter anywhere on their bench, there were a few places where Counsell might have been able to deploy them. Instead, he was always choosing between guys with good on-base skills (skills, alas, thwarted by the combination of the Diamondbacks pitchers' good control and their fielders' superb play) but no power whatsoever. When it's a player who scuffled as much as Tellez for whom we're pining, though, the reality of the situation is clear: the Brewers just weren't a deep enough offensive team.
Arizona got some luck, in the production of their runs. Alek Thomas's home run in the fifth Wednesday night was the closest thing to an actual wallscraper I can remember. He poked it just far enough to halve the Arizona deficit, but it could almost as easily have been a flyout. It's harder to dismiss Arizona's sixth-inning rally, though. Geraldo Perdomo drew three walks and added a hit in this series, wreaking havoc from the bottom of the batting order and twice scoring ahead of long hits by the guys at the top of it. His self-awareness--a stubborn refusal to expand his strike zone, given that he's been mired in a funk in terms of actually swinging the bat for the whole second half--allowed him to outfox the Brewers, who never figured out that they could attack the zone more aggressively against him than they were. 
Once Perdomo took that leadoff walk in the sixth, a pit formed in my stomach. In Game One, it had been an ambush by the top two in the Arizona order that erased the Brewers' lead. They did it again in Game Two. A Corbin Carroll double into the corner and a Ketel Marte single flipped the game. Both hits were well-struck balls in deep, two-strike counts. Peralta tried to put them away, but seeing him for the third time, they simply beat him. This is the pesky nature of the Diamondbacks' offense. They had the fourth-lowest swing rate in baseball this season (just behind the Brewers, in that regard), but the third-highest contact rate, too. The top of their order is full of tough outs, and the Brewers couldn't get them when they needed to do so the most.
They could have contained the situation much better than they did, though. Frelick missing the cutoff with a hopeless throw home on Marte's go-ahead single let him move into scoring position. That was a signature of tis series, too: crisp, heads-up play by the Diamondbacks, and shocking physical and mental mistakes by the Brewers. 
It was a series in which all the tendencies and potential adjustments you identify before a matchup like this broke in favor of one team. The Brewers hit into double plays more often than any team except the Marlins this year, and that held. The Diamondbacks tied for the league lead in getting calls overturned on replays, and boy did they get some calls overturned on replays. Only the Twins and Astros had relievers inherit fewer baserunners than did Counsell, and when he tried changing that pattern by making many mid-inning moves during this series, it came up snake-eyes for him at just the wrong time. Meanwhile, the Diamondbacks used relievers for fewer than three outs in an appearance less often than any team except the Orioles this year, but when Torey Lovullo made 10 calls to his bullpen (five of them for two or fewer outs), they worked out flawlessly. The Brewers didn't score a run against the Arizona relief corps, in 9 2/3 innings of trying.
Both teams ran a high ground-ball rate and had a dearth of power production this year, despite guys who can hit the ball a mile when they get a little air under it. Only the Brewers' grounders became a problem for them in this series. Both teams were unable to run out the starting pitchers they'd have preferred for these two games. Only the Brewers' plan seemed to come unglued because of that. There are small failures of roster building and roster management here, to be sure, but the hard facts here are that the Brewers got awfully unlucky. They played slightly less than their best baseball, which will often get you in trouble in October, and their opponents played their very best baseball, which is almost always fatal. This winter, the team needs to create greater margin for error--but the pressure not to use that margin will still exist next fall.