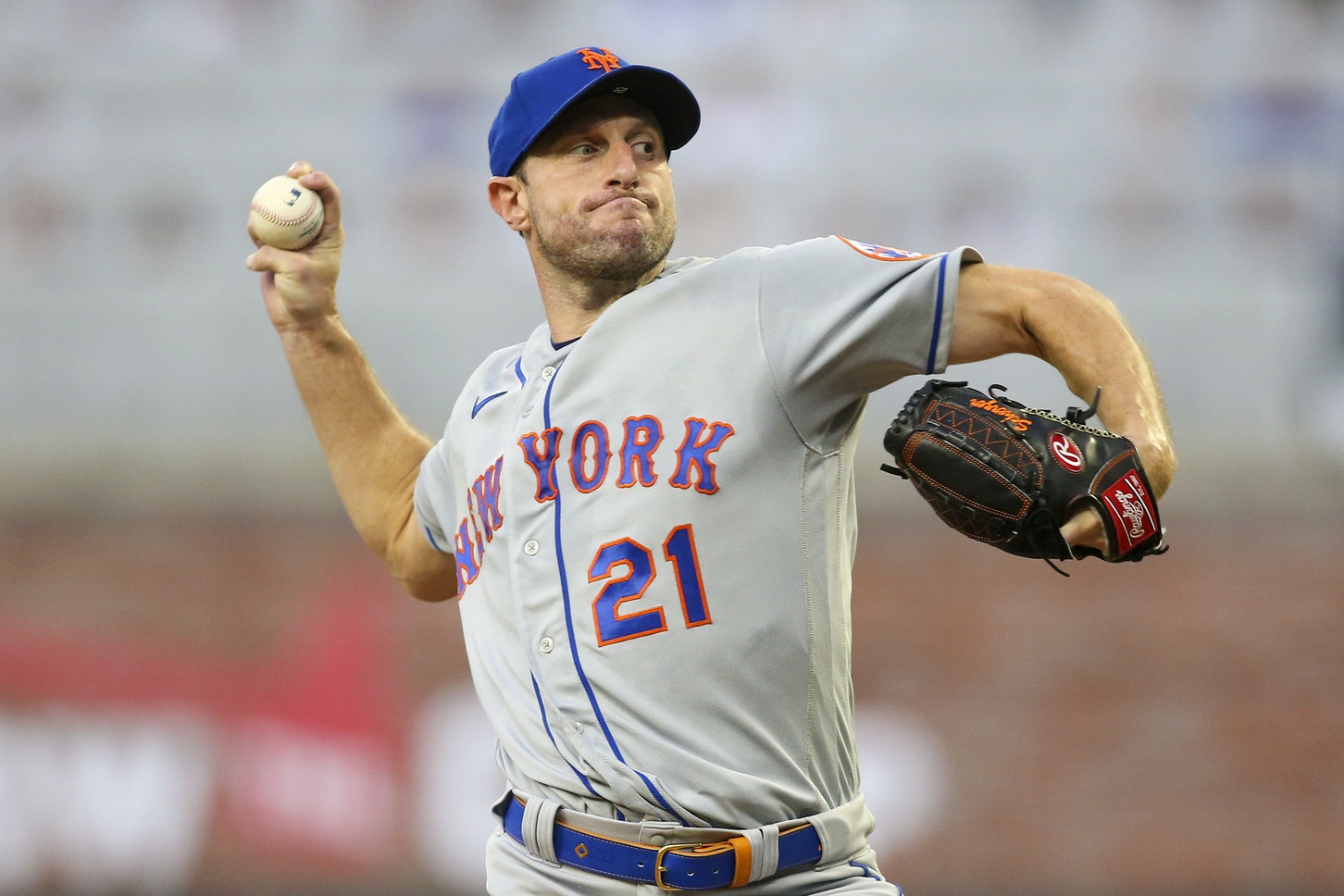 Image courtesy of © Brett Davis-USA TODAY Sports
As the 2022 Major League season wraps up, these two franchises meet with fangs out and much to fight for. Had things gone even slightly differently, it would have been reasonable even a week and a half ago to call this series a mere formality, a banal obligation for ticket holders who want to watch effectively meaningless late summer baseball.
However, things haven't played out in a way to afford a tidy narrative. The Braves are nipping at the heels of the NL East leading Mets, and with a wildcard berth still very viable for the Crew, this match-up feels like an enormously consequential playoff preview. After a confident series victory over the Pirates, the Mets fly from Queens to Milwaukee to take on a team who just felled their interleague rivals from the Bronx. Let's check out the match-ups.
---
Monday September 19th
Max Scherzer (9-4 2.26 ERA)
Corbin Burnes (10-7 2.97 ERA)
A thrilling battle of the aces brewing for the opening game. Few things make for better baseball than a high-stakes pitchers duel and this matchup is set to epitomize such an occasion. Injury issues haven't exactly plagued Max Scherzer, but they have definitely been present  in a season that is still likely to net the future HOFer Cy Young votes even with prolonged absences peppering it. This will be Scherzer's return to the mound after an oblique strain stung him earlier this month. 
Eleven years and two Cy Youngs his junior will be the Mets' opposition in Corbin Burnes. Most of Burnes starts have been of the quality variety, but an uncharacteristically mediocre August set back an otherwise dominant campaign for Burnes. Still, September has seen a bounceback. All the same, a tough luck loss against the Cardinals set a challenging tone for the Brewers, and it will be interesting to see how Burnes conducts himself against an especially formidable foe. 
Tuesday September 20th
Carlos Carrasco (15-6 (3.70 ERA)
TBD
Few stories are more feel-good in the whole world of professional sports than the veteran right handed Carlos Carrasco. Cookie, as he's affectionately called, has bounced back from leukemia in the middle of his career too not only maintain relevant, but at times brilliant on the mound. In his most recent start, Carrasco fanned a season high eleven batters. Granted it was against the anemic Pirates, but an impressive feat nonetheless.
That the Brewers haven't announced their pitcher yet speaks to the dire situation in their rotation, and the glaring inactivity from what has become a fairly infamous trade deadline snooze. Eric Lauer, Aaron Ashby and Freddy Peralta all linger on the IL while Jason Alexander is getting crushed on the mound. We'll see what the Brewers can do to navigate a piecemeal scenario worthy of a fierce Mets offense, but fans are well within their rights to remain skeptical for a positive outcome with this one.
Wednesday September 21st
Taijuan Walker (12-4 (3.42 ERA)
Adrian Houser (6-9 4.85 ERA)
Somehow despite being picked 43rd overall in the 2010 draft, Taijuan Walker has already made it to the majors and bounced around enough that he's in the second year of his contract with his fourth team, and fifth if you consider a second go around with his original team the Mariners. Don't let the anchorless-ness fool you, Walker is a force to be reckoned with when his stuff is working. In his most recent start, Walker kept the Pirates mostly at bay until Oneil Cruz demolished a ball past the center field wall at Citi Field. 
Adrian Houser's star has faded drastically since his first few starts of the season. A confident beginning saw a dwindling followed by an injury stint followed further by an uninspiring return to the mound. What this suggests is hard to grasp, considering there are times where Houser has flat out mowed down the competition. Walks were the big issue for Houser in his last start, giving up four walks in an ugly three inning start. The season K/BB of 1.5 is unsustainable. Houser will have to return to early season form if he's going to stand a chance against a patient and potent Mets offense.
---
Players To Watch
Brandon Nimmo: The heart-and-soul prototype for the Metropolitans has had himself a career year in 2022 and is likely to hit big in free agency this offseason. In his sixth season, The center fielder has accumulated more than a fourth of his career WAR to this point; but beyond the metrics lies a series of intangibles that make Nimmo a particularly watchable character. Great discipline, theatrically masterful baserunning and true hustle. 
Francisco Lindor: While not exactly an "under the radar" player, I'd still say Lindor exists in the "most underrated" category of ball players. With a career OPS of .816 and an accumulated WAR of 36.3 through his age 28 season, it's easy to make an argument that the slick-fielding shortstop is easily on a Hall Of Fame trajectory.
Christian Yelich: The protracted nature of the season compels a perspective that doesn't tell the whole story. While Yelich's stats on the year (or the past several years) aren't much to write home about, a toe-tap tweak to his mechanics have seen him produce an all-star caliber of production over the last several months. Keep an eye on the resurgent Yeli and see if some late season heroics aren't wrenched out of the former MVP's bat.
---
Predictions Given the trajectories and calibers of each team, this is anyone's guess, but the plucky Brewers offense will need to transcend mere pluckiness and demonstrate ferocity the likes of which has been hard to come by for them in order to outweigh the effect of a weathered pitching staff. I have to assume the red hot Mets take the series 2-1.
Think you could write a story like this? Brewer Fanatic wants you to develop your voice, find an audience, and we'll pay you to do it. Just fill out this form.
MORE FROM BREWER FANATIC
— Latest Brewers coverage from our writers
— Recent Brewers discussion in our forums
— Follow Brewer Fanatic via Twitter, Facebook or email