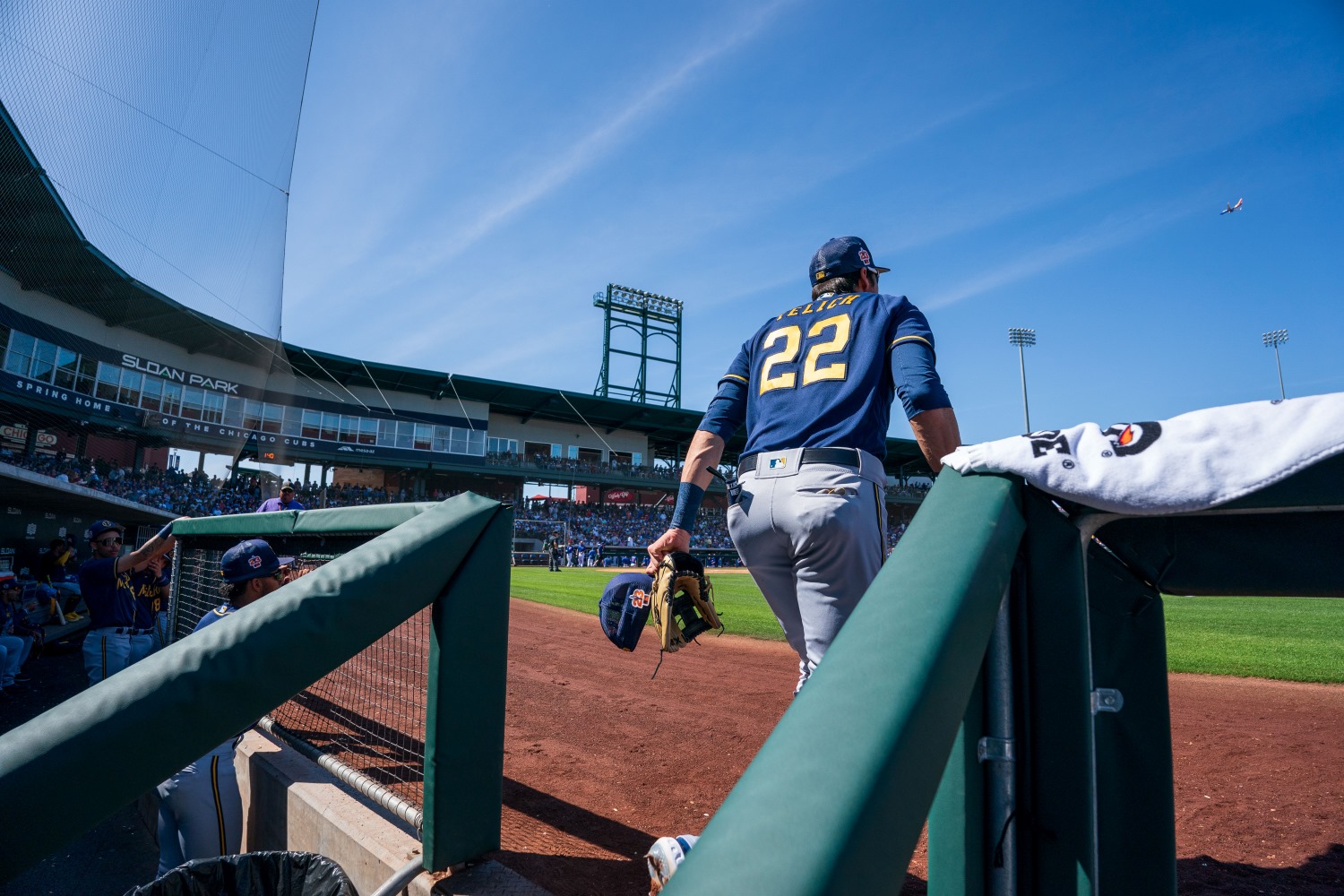 Image courtesy of © Allan Henry-USA TODAY Sports
Only five players in MLB will take up a higher percentage of their team's Opening Day payroll than will Christian Yelich: Cincinnati's Joey Votto; Detroit's Miguel Cabrera; Kansas City's Salvador Perez; and both Stephen Strasburg and Patrick Corbin, for Washington. None of those teams are considered contenders in 2023. The Brewers are. That sets the stakes for left field very high.
The Starter
In early Cactus League action, Yelich has been dominant, with an OPS of 1.404 over his first six games. That's good news, even if it's largely typical of him. Yelich has been an excellent spring training hitter since 2017.
Christian Yelich, Spring Training OPS, 2017-22
| | |
| --- | --- |
| Season | OPS |
| 2017 | 1.084 |
| 2018 | 1.044 |
| 2019 | 1.292 |
| 2020 | 0.637 |
| 2021 | 1.357 |
| 2022 | 0.686 |
He's been even more consistent than that suggests, if one gives him a pass for not hitting the ground running in the four meager games he played in 2020, before COVID-19 shut everything down. His only poor season in Arizona was last spring, and it's good to see him back in rake mode this February and March.
Still, we know better than to assume that that means Yelich will rebound to his MVP form. As many have observed, most of Yelich's power has gone to the opposite field, and while all power is welcome, what everyone is really waiting to see is whether he can consistently turn on the ball, the way he did in 2018 and 2019.
Maybe that's an oversimplification, though. What set those peak years apart from the rest of Yelich's career, in terms of batted-ball direction, was less the frequency with which he pulled the ball than the extent to which he drove it back up the middle of the diamond, using center field, rather than truly going the opposite way.
Christian Yelich, Batted Ball Direction By Season, 2016-22
| | | | |
| --- | --- | --- | --- |
| Season | Pull % | Center % | Oppo % |
| 2016 | 33 | 38.2 | 28.8 |
| 2017 | 27 | 44.2 | 28.9 |
| 2018 | 31.3 | 44.2 | 24.5 |
| 2019 | 35.8 | 40.6 | 23.3 |
| 2020 | 33.9 | 37.1 | 29 |
| 2021 | 33.9 | 36.3 | 29.8 |
| 2022 | 33.4 | 38.9 | 27.6 |
That nuance mirrors the facts of the case when it comes to trajectory off of Yelich's bat. When he became a lethal slugger, it wasn't by morphing into a fly-ball maven. He just hit slightly fewer ground balls. The implications of the two arcs are different, but they do point in a common direction. It's the same problem I highlighted in identifying Yelich as an X-factor for the Brewers' season recently: his power is still there, but he's not getting out and making contact with the ball at a point that allows him to fully actualize it. 
Yelich hit another long drive in Sunday's Cactus League game against the Cubs, though again, it was to left-center field, and this one died at the wall. He's not quite showing, at least in spring ball, that elusive and extraordinary ability to get his bat up to full speed and hit the ball out in front of the plate, with both the physics and the geometry right, and without rolling over and hitting a ground ball instead. Still, his talent peeks through, and it tantalizes.
Defensively, it's much harder to see the upside. Yelich had a ball clank unprettily off his glove for a two-base error Sunday, a microcosm of the trouble that finds him more and more often over the last couple of years. According to Baseball Prospectus's new fielding metrics, Yelich was three runs better than an average left fielder last year based on range alone, but gave two of those runs back with his weak arm. 
Baseball Info Solutions pegged him as one run better than even, based on range and positioning, but two runs worse with his arm, and another run was lost when they calculated the net effect of his good fielding plays and his misplays and errors. If he weren't taking up so much of their payroll, and if the team hadn't loaded up on guys whose only tenable position is the batter's box this winter, he might be better off at designated hitter in the near future.
The Backups
The old maxim of outfield play says that fielders who can both run and throw well play center field, while those who can only throw play right and those who can only run play left. That's far less true now, as the game has evolved to expect more athleticism from corner outfielders and the relative importance of speed and arm have evened out a bit in each corner. As such, almost any outfielder the team carries is a prospective backup or fill-in for Yelich.
Tyrone Taylor was the Swiss Army knife of this outfield mix, as a right-handed batter with all of the tools to be a great defender. While he's hurt, everything is a bit more up in the air, but he was likely slated for right field, anyway. Garrett Mitchell is very unlikely to play left for any significant period, since he's quite likely to play center field every day. That leaves Blake Perkins, Tyler Naquin, Brian Anderson, and Keston Hiura as the men on the 40-man roster who have a chance to spend time in left field early on. Anderson, with his strong arm, will probably play right whenever he's not at third base, but Naquin and Perkins are both solid left fielders who could be credible left-handed hitters, to boot. Neither will replace Yelich's production, but keeping their highest-priced star fresh is a vital task for Craig Counsell and company, and the presence of some quality depth options makes that easier to do.
Summary and Projected Value
The projection systems have no mechanism by which to simply delete Yelich's explosive seasons from their memories, so they're persistently optimistic about him in a way that many Brewers fans (three years into the frustration of his regression, even if the level to which he's regressed is theoretically fine) might find difficult to digest. Still, it's comforting to be reminded how high a floor Yelich sets. 
According to PECOTA, the projection system from Baseball Prospectus, Yelich's 30th-percentile projection–an outcome he should beat 70 percent of the time–would still be above-average offense and average defense, and a total value of roughly 3 wins above replacement. We can all envision scenarios in which he comes in below that, but perhaps in several of those, Jackson Chourio explodes onto the big-league scene by midseason and makes up the difference. Although it feels oddly fragile, the Brewers have every reason to expect left field to be a position of strength and upside for 2023.
Think you could write a story like this? Brewer Fanatic wants you to develop your voice, find an audience, and we'll pay you to do it. Just fill out this form.
MORE FROM BREWER FANATIC
— Latest Brewers coverage from our writers
— Recent Brewers discussion in our forums
— Follow Brewer Fanatic via Twitter, Facebook or email