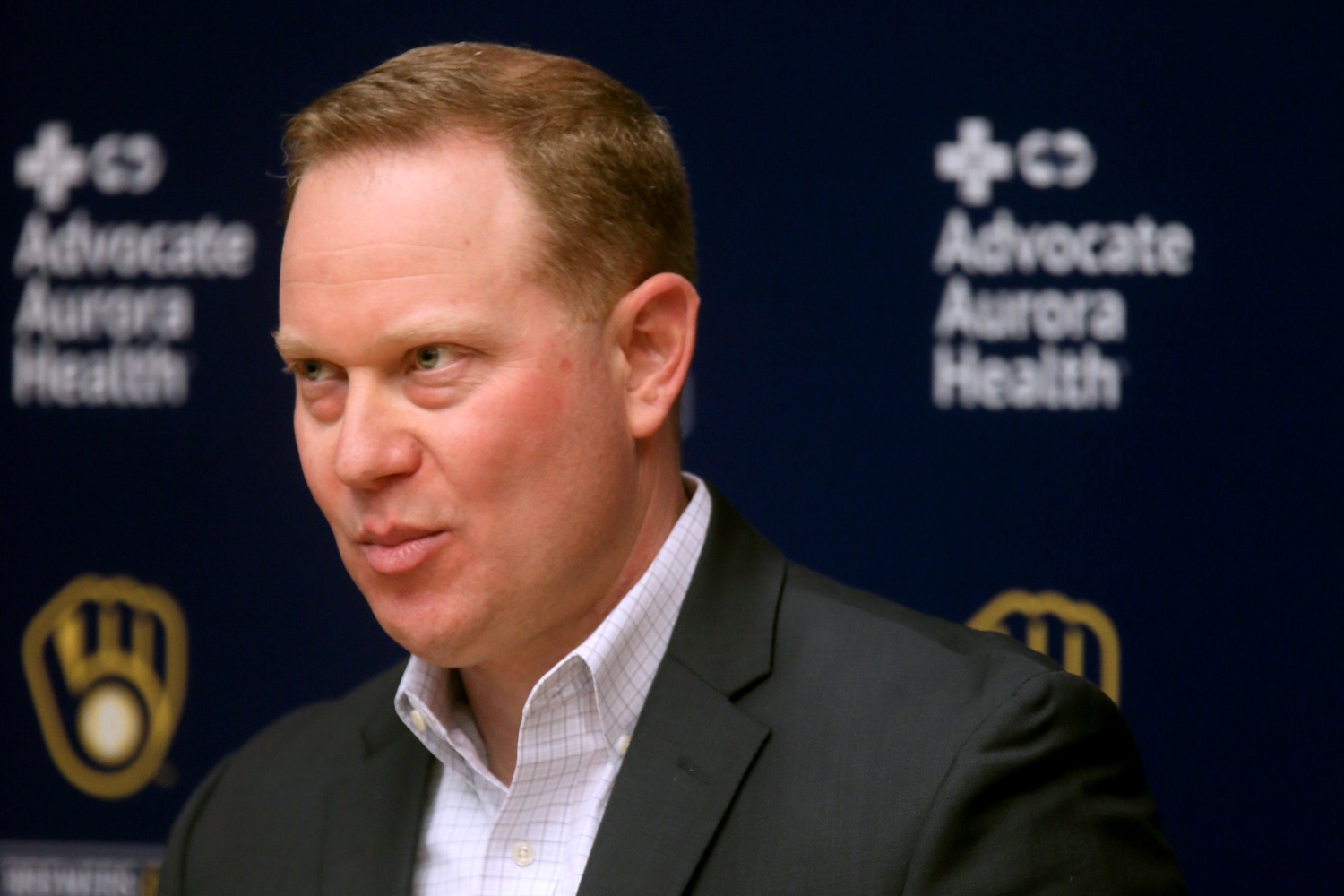 Image courtesy of © Angela Peterson / USA TODAY NETWORK
Obviously, Matt Arnold does not represent a radical departure from David Stearns, in terms of the philosophy he brings to running a big-league team. If anything, we can guess that something close to the opposite is true. A long-time lieutenant of Stearns, Arnold has so far acted much the same way Stearns usually did while he was making the big decisions. He's been proactive, and even aggressive, but that aggressiveness has taken the form of opportunism, not splashy spending. As Stearns nearly always was, Arnold seems to be focused on market value, not on specific players to whom he forms unique attachments.
Perhaps the key thing to keep in mind, though, is that Arnold's accession to Stearns' vacated job at the top of the baseball operations ladder was still a choice by Mark Attanasio. The owner had a chance to use Stearns' step back as an occasion to change directions on a philosophical level, but he didn't take it. Attanasio clearly likes the front office he assembled under Stearns. He likes that they're flexible and responsive to his input, while maintaining an independent and consistent concept of how to build a winning club. 
An owner is something like the President, in this way. They have the power not only to directly intervene and redirect things, but (much more important, though slower and subtler) also to shift things indirectly, by choosing their intermediaries. One way owners like Attanasio, John Angelos, Bob Castellini, and even the Ricketts family can sidestep criticism of their lack of spending on payroll is by truthfully telling reporters that their top executives didn't want to spend any more money, anyway. They talk about their front offices being focused on player development and scouting, and about wanting to win with homegrown talent, and it's all true. It's just that it's a cloaked lie, because the reason that their front office tells them those things is that they purposefully hired people who would think and behave that way.
That's not an indictment of Attanasio. It's just the way a simple, universal human principle–that we choose our own sources and thus the signals we receive–applies to the complex, unique situation that is the operation of a billion-dollar sports franchise. We have to keep it front and center in our minds so that we can properly grasp what Arnold is likely to do. He's managing down, negotiating with Craig Cousnell, his players, and the fan base, but he's also managing up, treating Attanasio as a client.
All of that is why it's so hard to predict the year ahead, under Arnold. How will he try to thread the needle of contending for a title while he has the star power of Corbin Burnes, Brandon Woodruff, and Willy Adames against the mandate to stay competitive in the long run? How will the countdown toward free agency for that trio shift the circumstances of his job, and will the magnitude of that shift be enough to push him in a different direction than Stearns would have taken? 
After the team missed the playoffs for the first time in five years, and with the team's greatest postseason success receding toward the horizon in the rearview, how safe does Arnold feel if this season doesn't go the way Attanasio expects it to? Does the team's surfeit of MLB-ready young outfielders give Arnold a path to a big mid-season acquisition, or will they remain so wedded to their mantra of consistent competitiveness that they might try another buy-and-sell deadline, spinning off a Burnes in a big trade that kicks the can a year down the road?
New leadership always introduces new questions. New leaders under quickly changing parameters make for an especially unpredictable environment. Arnold faces a set of new rules, a newly rebalanced schedule, an increasingly tough NL playoff picture, and that ticking clock on Burnes, Woodruff, and Adames. That makes the way he will handle the coming season an unusually high-stakes and volatile factor in predicting the outcome of the season, overall. It might be the biggest, even on a team with a bevy of such questions.
Think you could write a story like this? Brewer Fanatic wants you to develop your voice, find an audience, and we'll pay you to do it. Just fill out this form.
MORE FROM BREWER FANATIC
— Latest Brewers coverage from our writers
— Recent Brewers discussion in our forums
— Follow Brewer Fanatic via Twitter, Facebook or email