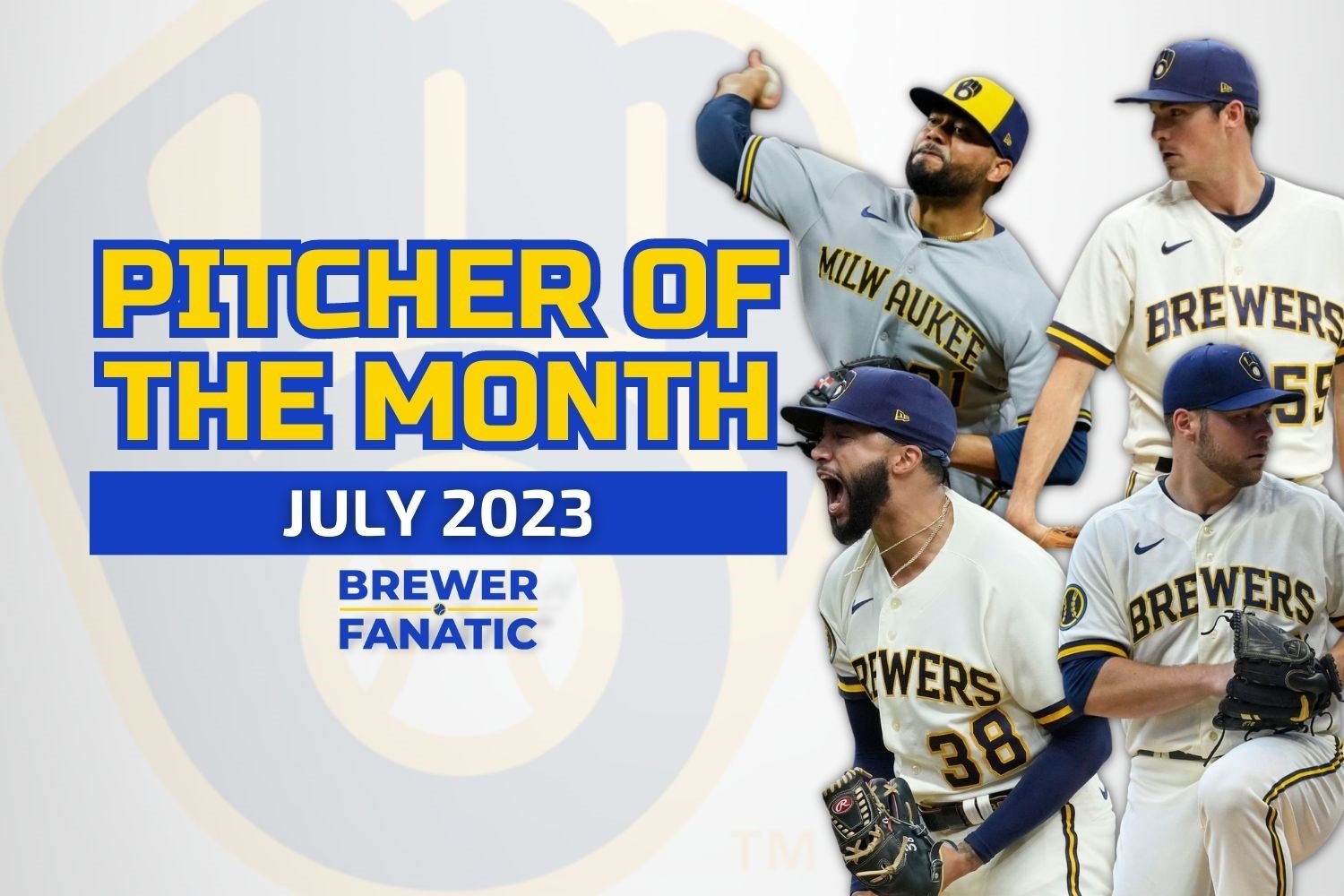 It was a solid month for Brewers started despite the fact that there were still some injured pitchers and others just coming back. The schedule wasn't easy, by any means, but the Brewers put together a nice stretch of good baseball, and that starts on the mound.
Find out which pitchers led the way. Before we get to the pitcher of the month, here are a few honorable mentions that certainly deserve to be recognized. 
Honorable Mentions

Joel Payamps
Payamps has been an undisputed gem since arriving alongside Contreras in the Esteury Ruiz trade, and was truly lights out again in July with a number of close games. In 12 appearances, he conceded just two runs, going scoreless throughout July until running into the home run-happy Atlanta Braves in the third game of the series. He had recorded two saves, and his slider heavy approach has led to a lot of success, but over June and July it's actually his fastball that has been incredible, with over a 50% whiff rate and a 100% chase rate in July, to complement a 71.4% chase rate on his slider.
Devin Williams
The late game innings have been monstrous from the Brewers, with Williams only slip up this month coming as a result of some unfortunate batted balls sneaking through against the Cubs, going 10/11 in save opportunities, with two earned runs across 11 2/3 innings of work. He's got whiff rates of 48.3% on his fastball, and 52.6% on the changeup, nibbling around the edge of the strike zone with almost 50% of his pitches, meaning his electric stuff can be nearly impossible to hit, even after tangling hitters up with the location. He's been perhaps better than Josh Hader ever was for the Brewers, and with Abner Uribe coming through, the Brewers stock of elite late inning relievers looks in good order.
Hoby Milner
Another lights out reliever who was undone only by the quality of the Atlanta Braves offense (and Marcell Ozuna suddenly finding form), Milner retained a 1.64 ERA in July with 11 innings conceding just two earned runs and 13 strikeouts, Milner is pushing to take over the seventh inning role from Elvis Peguero who struggled a little more this month. He doesn't have much spin, he doesn't throw hard, but he's been incredibly effective against both right and left handed hitters this season after a shaky start, and his four seamer has a .121 xBA against it, ridiculous numbers on a pitch averaging 88.9 mph. He had a WHIP of just 0.73 in July, an outstanding effort.
Pitcher of the Month – Corbin Burnes
Corbin Burnes has found a level that he's been searching for all year, with hitters sitting on the cutter and spitting on everything else. He's adjusted what he throws and when, throwing curveballs almost twice as much this month when he gets ahead compared to June, just slightly tweaking his percentages and it's been massive, with a curveball that has conceded just one hit, a single, in the entire month of July with a 56.4% whiff rate, matched by the solo single given up on his changeup which has a 41.7% whiff rate this month, as well as an in zone whiff rate of 42.1%.
He's making a big effort to stay in the strike zone more often and get ahead of hitters early, which has resulted in less cutters (he uses this over 70% of the time when he falls behind in the count). First pitch is often a cutter, which is in the strike zone 55% of the time, up by 8% from his last two months. In 0-0 counts, he's at 60% in zone % with his sinker, 56% with his cutter and 52% with his curveball, as hitters have been very patient to start with against him earlier, in the year, not swinging and trying to get ahead early then sit on the inevitable cutter coming their way. When he gets into an 0-1 count, he has a 75% chase rate on changeups, and 50% chase rate on curveballs this month. He didn't previously use the curveball at all this year in an 0-1 count.
The reason this is so crucial is because of these stats:
Behind the Batter: .250/.453/.429 for an .881 OPS
Ahead of the Batter: .157/.174/.203 for a .377 OPS
He is an incredible pitcher when he gets ahead, but a slight tweak to his 0-1 arsenal, and staying in the zone more often on his first pitch allows him to get ahead and stay ahead where his stuff can really play up to its full potential. As a result, in July he has a WHIP of 0.64, a .102 batting average, 42 strikeouts in 33 innings and a 1.64 ERA, truly elite stuff, and has brought a confidence to the rotation that even with regression to Julio Teheran likely, and Colin Rea too, the big boys are coming around to hold their own and carry the Brewers onwards.
Was there a pitcher you enjoyed watching this month who I've missed? Was Burnes your pitcher of the month?