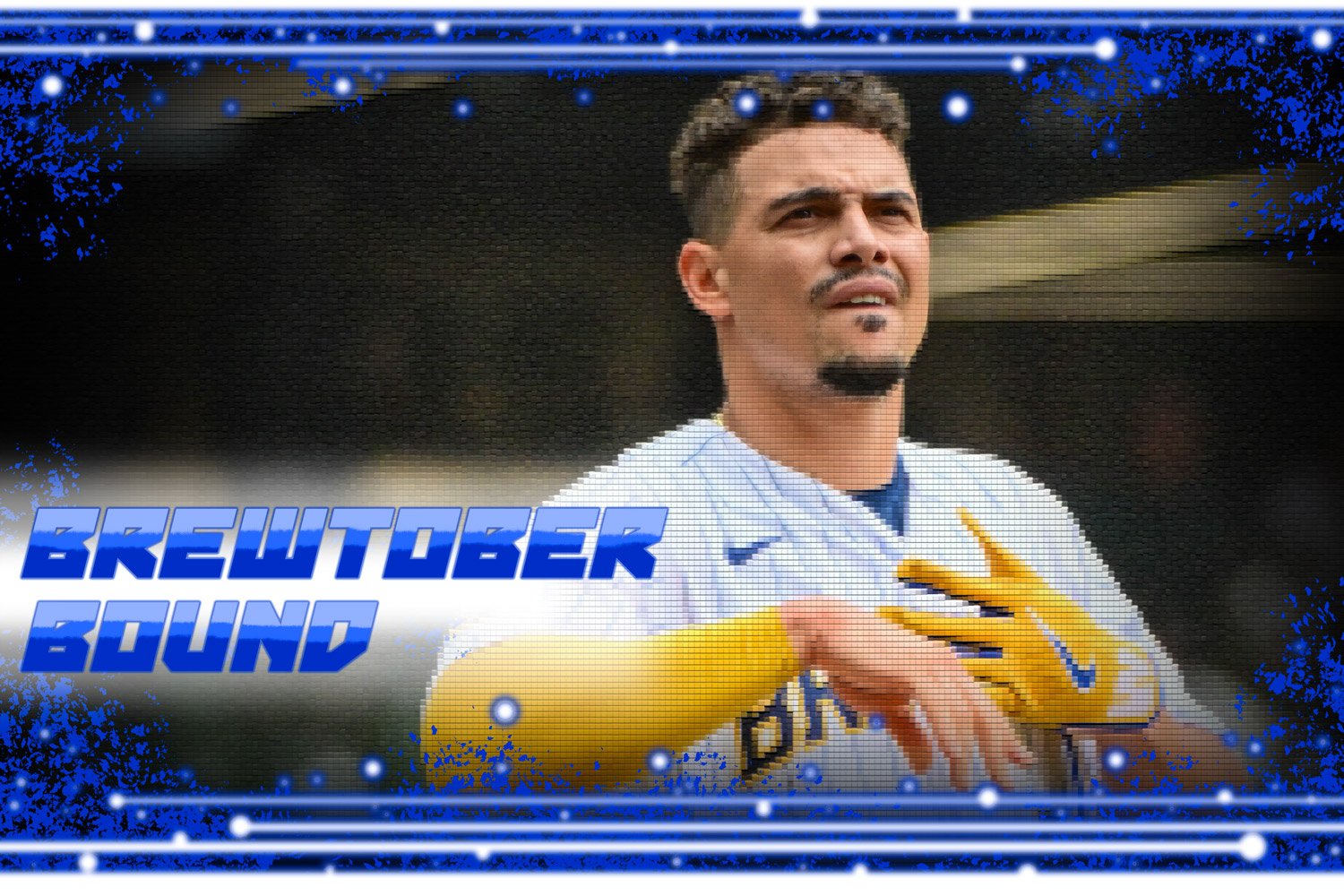 Image courtesy of Brock Beauchamp & Brewer Fanatic
At three of the four around-the-horn infield positions, the Brewers will enter the playoffs with a substantially different situation than we would have projected coming into the season. That they've gotten this far despite some enforced changes of plans is a testament to their organizational depth, and to Craig Counsell's managerial nous.
The Main Starters
1B - Carlos Santana
Carlos Santana is a league-average hitter who has posted an OPS+ of 99, with 11 Defensive Runs Saved (DRS) and an Outs Above Average (OAA) mark of 4. He's no Freddie Freeman, but his improved hitting and stellar defense is a significant upgrade over Rowdy Tellez at this point. He's also a veteran clubhouse presence with considerable playoff experience.
2B - Andruw Monasterio
Similarly, Andruw Monasterio isn't anyone's first choice at second base. He started off in the hot corner this season, but with the arrival of Josh Donaldson and Brice Turang's offensive numbers continuing to decline, his OPS+ of 89 and DRS of 3 as a second baseman will have to suffice. He's been valuable as a rookie thus far, managing a 1.6 rWAR and filling a valuable utility role.
3B - Josh Donaldson
Speaking of Donaldson, he's made big improvements since being released by the New York Yankees. While still struggling to hit for average, his slash line of .205/.300/.477 tells you he's still got some power left. He's also an underrated fielder, posting 7 DRS and 7 OAA last year in New York. With roughly 1/3 of the innings workload this season, he's at about the same pace, posting 2 DRS, and he's looked unexpectedly agile there since joining the Crew.
SS - Willy Adames
Last but not least, we have Adames. He isn't the same guy who posted a 137 OPS+ for the Brewers in 2021. He's been slowly declining in offense since then. However, he's still one of the best infielders on the roster. He's got a slightly above-average expected weighted on-base average (xwOBA) of .339, but the Brewers get the most value out of his glove, which has posted a 98th-percentile 13 OAA and a handsome 7 DRS. His fielding run value is in the 93rd percentile, and he's been a big part of the Brewers' defensive dominance. Counsell gushes about the way Adams has held that unit together throughout the season, and especially down the stretch. That's why, despite just a 91 wRC+, he's posted a 3.0 fWAR for the year--the highest out of any Brewers infielder and the third-highest of any position player.
The Platoon
2B - Brice Turang
Offensively, Turang hasn't figured out exactly what works for him at the major-league level. Posting a measly OPS of .595 and a wRC+ of 63, he's the worst qualified hitter on the team. On one hand, he doesn't strike out too often (21.2%, 56th percentile) and doesn't chase (26.8%, 61st percentile) or whiff (21.9%, 69th percentile) much more than the average big leaguer. On the other, his total lack of power is what has been killing him.
He performs significantly worse than Monasterio against southpaw pitching (.452 OPS vs. .767), but has some wheels and is (more importantly) a capable defender, posting 12 DRS at second base this year. In an event where the Brewers decide to focus on having lockdown defense at the cost of some offensive production, Turang might get some time in the spotlight.
3B - Brian Anderson
Donaldson has performed well against lefties this season (.954 OPS) but looks completely lost against righties (.580). Luckily, Brian Anderson, although seeing little playing time recently, has a slightly better .694 OPS against righties. His role on the team has been in flux all year, but with some versatile pieces and the right matchup, he might be able to add some value to the squad after all--if Counsell will let him out of whatever doghouse he's landed in.
Break In Case of Emergency
Rowdy Tellez
With Santana starting to eat up more time at first base and Donaldson arising as a new competitor at DH, Tellez will get fewer opportunities to salvage what has been quite a disappointing season. Failing to improve upon last year's 110 wRC+, Rowdy has posted a meager .664 OPS and 77 wRC+ over 341 plate appearances this season. 
His percentile rankings are actually quite good, especially when it comes to avoiding whiffs and pitches outside of the zone. Unfortunately, his 18th-percentile xwOBA of .299 holds him back from excelling as an offense-oriented first baseman. 
A lack of other tools has punished him severely as a player this season. Without his ability to create hits, accumulate RBI, and be an effective bat, his fWAR has plummeted to -1.0 for 2023, a tragic deviation from the progress he made in 2022. He might still get some time at DH, but he doesn't offer much improvement over Santana at this point.
Think you could write a story like this? Brewer Fanatic wants you to develop your voice, find an audience, and we'll pay you to do it. Just fill out this form.
MORE FROM BREWER FANATIC
— Latest Brewers coverage from our writers
— Recent Brewers discussion in our forums
— Follow Brewer Fanatic via Twitter, Facebook or email