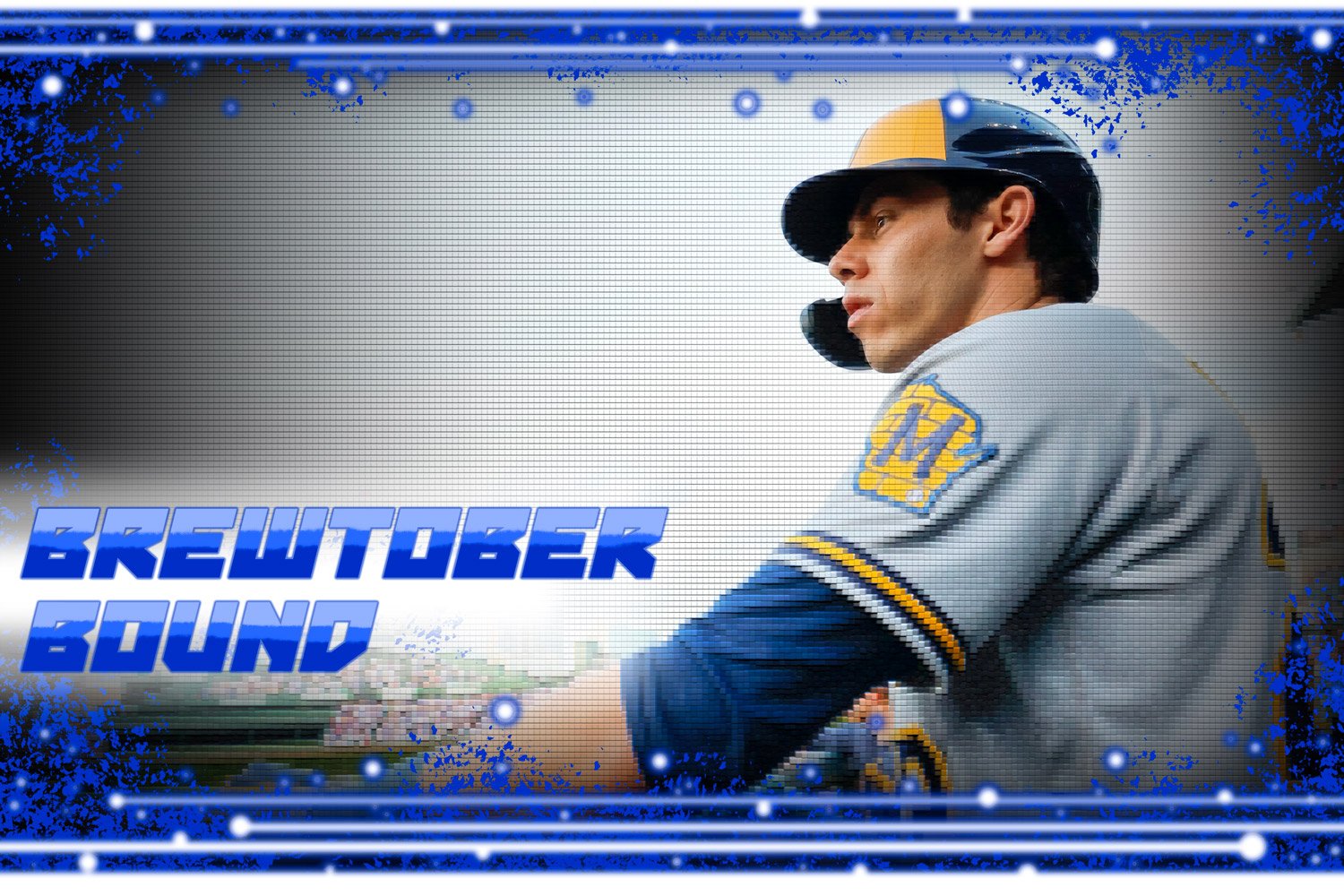 Image courtesy of Brock Beauchamp & Brewer Fanatic
We can put those outfielders who are on the 40-man roster into three groups: Those definitely on the roster, those who will be on the bubble, and those who probably will not be in the dugout. So, who falls into which category? Stats are as of the morning of September 20.
The Locks
Christian Yelich
Yelich has rebounded more from two subpar full seasons, posting a .272/.363/.432 line over the regular season, good enough for a 117 OPS+. He's also provided excellent defense in left field. A recent flare-up of back troubles has had him resting, but if he is healthy, he will be on the roster. He certainly looked good upon his return to the lineup in Miami.
Mark Canha
Canha has provided a solid veteran bat since his acquisition at the trade deadline. He slashed .313/.394/.465 since coming to the Crew, for an OPS+ of 135. He's limited to the corner outfield spots and first base or DH, but he hits well enough to fit at any of those slots.
Sal Frelick
Frelick had a hot start this spring and at the World Baseball Classic, but didn't make the 26-man group out of Spring Training. Then he got injured, after slumping at Triple A. He's rebounded with a 111 OPS+, flashing OBP skills (.374 OBP), speed (seven-for-seven in stolen bases), excellent (if sometimes worryingly reckless) defense, and even some pop.
Tyrone Taylor
Taylor also slumped early, after missing considerable time with multiple injuries. Over the last two weeks, however, he has been scorching hot–posting a .310/.341/.571 line. Taylor is getting untracked just as the Crew is heading for the postseason.
On The Bubble
Joey Wiemer
Wiemer stepped in after injuries to Luis Urias and Taylor, and held down center field defensively for most of the season after Garrett Mitchell's injury. He showed some power and speed, and he drew some walks, but he generally struggled against MLB pitching. He did much of the heavy lifting, and in one sense has earned the spot, but he is an offensive liability, and his defense grew slightly shakier late in the season.
Blake Perkins
The switch-hitting Perkins was on the Nashville-Milwaukee shuttle a lot in 2023, and was solid in the field while adding some occasional pop and good OBP skills. He struck out 41 times in 122 at-bats, though, and his batting average of .213 is a liability. His OPS is actually lower than Wiemer's.
Garrett Mitchell
The Brewers' 2020 first-round pick has hit well when he's been in Milwaukee–between his 2022 callup and his 2023 season, he's posted a .286/.341/.462 line, good for an OPS+ of 121. However, he's had a lengthy layoff due to a shoulder injury, and just now started a rehab assignment in Nashville.
No Chance To Be On The Roster
Jesse Winker
The offseason trade acquisition of Winker did not go well for the Brewers. He posted a .199/.320/.247 line, which left him at a 59 OPS+. If he is on the roster, things have gone very badly on the injury front.
Darin Ruf
Ruf struggled with the Brewers after signing as a free agent, before an injury sent him to the 60-day injured list. He is not likely to be on the postseason roster, given the presence of Mark Canha.
Final Prediction
The Brewers, at least for the first round of the playoffs, will likely go with Canha as the designated hitter (possibly splitting time with Rowdy Tellez), while having Yelich, Frelick, and Taylor as their starters in the outfield. The last outfield spot will probably end up going to Perkins, although Mitchell could make a case for it.