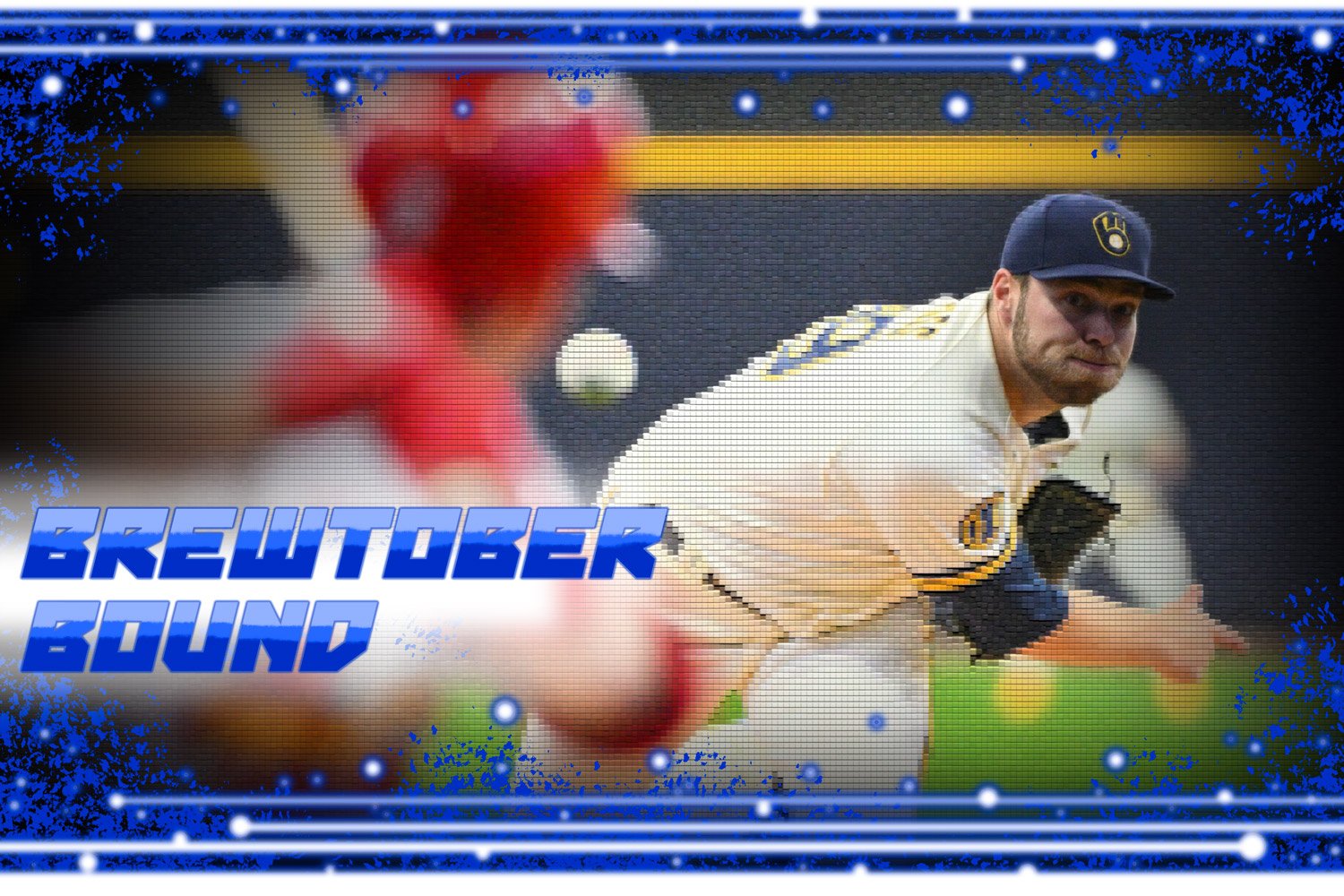 Image courtesy of Brock Beauchamp & Brewer Fanatic
Thanks to a very strange schedule for the NLDS that has three off days in a best-of-five series, there's a way for the Brewers not to need a fourth starter unless and until the NLCS. It's still likely that they need a fourth, but it might be in a limited capacity. Let's dig into the options.
The Essentials
Corbin Burnes
This should be a surprise to no one. Sure, his season isn't quite what many had hoped (himself included), but he's still the team's top starter. Posting a 3.46 ERA and 1.06 WHIP over 189 ⅔ innings this year, he's still very much a threat to any lineup in October. Moreover, he's starting to warm up at just the right time. 
In his four starts thus far this month, he's posted a 2.92 ERA and 0.85 WHIP over 24 ⅔ innings. His rate of strikeouts per nine innings has jumped up to 10.6, and his strikeout-to-walk ratio has reached 4.14, the highest it has been all year. Just three starts ago, he pitched a gem against the New York Yankees, going eight no-hit innings.
He doesn't have a significant amount of postseason experience, but it should be enough to promise some level of consistency when the time comes and the pressure starts to build. 
Brandon Woodruff
Let's face it: Woodruff's 2023 run has been incredible, but without a more significant sample size, we're still not sure if he'd be ready to take over the mantle of ace. Remember, Julio Teheran had Brewers fans thinking he was one of the most underrated pitchers in baseball before falling apart and regressing to his usual self at around the 50-inning mark. Obviously, Woodruff and Teheran aren't the same caliber of pitcher, but Woodruff's injury does still live in the backs of fans' minds. 
Nonetheless, he deserves credit for what he's done so far, which is to post a 2.28 ERA and 0.82 WHIP over 67 innings pitched. He's done nothing but deal since returning from the IL and despite a rough start against the Marlins that saw him concede four earned runs in five innings, he's been nearly untouchable. 
Additionally, his 3.18 ERA over 28 ⅓ postseason innings is a solid indicator of his performance in the playoffs.
Freddy Peralta
Second-half Freddy Peralta is fighting for a spot up there with Hoodie Carmelo Anthony and Untucked Kyrie Irving in terms of mythical sports figures. His mediocre first-half ERA of 4.70 pales in comparison to what he's done after the All-Star Break. A 2.81 ERA and 0.88 WHIP over 73 ⅔ innings seems like the stat line for a completely different player. In a certain way, he's become one.
The one difference between him and his two aforementioned comrades is his comparative lack of playoff experience. He's made just one start, pitching four scoreless innings against the Braves in the 2021 NLDS. Let's hope he keeps up his momentum for another month.
The Alternates
Wade Miley
Wade Miley still might be one of the most underrated starters in the National League. Maybe this is because his pitch-to-contact style synergizes perfectly with one of the best defensive infields in MLB. His strikeouts per nine frames and strikeout-to-walk figures of 6.0 and 2.08 leave much to be desired, but his 3.20 ERA speaks for itself. In fact, in terms of ERA+, his 136 is the third-best season of his lengthy 13-year career.
Miley is not exactly as dominant as you might want. However, he is the only lefty starter the Brewers have, which could add massive value. In fact, he's one of just three lefty pitchers on the active roster, the other two being Hoby Milner and Andrew Chafin. Unfortunately, four of the teams (Braves, Dodgers, Phillies, and Cubs) on the NL side of the postseason bracket are within the top 10 of teams with the highest OPS against lefty pitching. Thus, we may see less of Miley than some might hope. 
Adrian Houser
Houser is a serviceable fifth option in the rotation. He's not the most dominant arm to ever take the ball, but he can give your team four or five quality innings. More importantly, he's a slight upgrade over teammate Colin Rea, who has been bouncing between the Sounds and the Brewers over the last month or so. 
Houser's September has been his best month since June, posting a 3.94 ERA and 1.00 WHIP over 16 innings pitched--an improvement over the two months prior thereto, in which he gave up 26 earned runs over 44 innings. He may also fulfill a relief role, but his last playoff outing in 2021 saw him give up four earned runs in just two innings to the Atlanta Braves. 
He's still very capable, I promise! Just don't expect him to carry the team on his back to a World Series trophy. 
How They'll Fit
Expect Burnes, Woodruff, and Peralta to get as many of the starts as Craig Counsell can give them, provided adequate rest. If the Crew sweeps the Wild Card Series, they could get all the way to NLCS Game 4 before needing a fourth starter, let alone a fifth.
Presumably, though, this team is also thinking about going all the way and winning the World Series. October is longer and more of a grind than it used to be. Counsell could elect to get Miley into the rotation during the NLDS even before absolutely necessary, to continue getting the Big Three an extra day between appearances here and there. That could be the best way for them to remain fresh come Halloween. 
In any case, expect Miley and Houser to be available out of the bullpen in the Wild Card Series, and Houser to be stuck there as an emergency-only long man. Miley is the man whose role will be more fluid and (potentially) interesting.
Think you could write a story like this? Brewer Fanatic wants you to develop your voice, find an audience, and we'll pay you to do it. Just fill out this form.
MORE FROM BREWER FANATIC
— Latest Brewers coverage from our writers
— Recent Brewers discussion in our forums
— Follow Brewer Fanatic via Twitter, Facebook or email