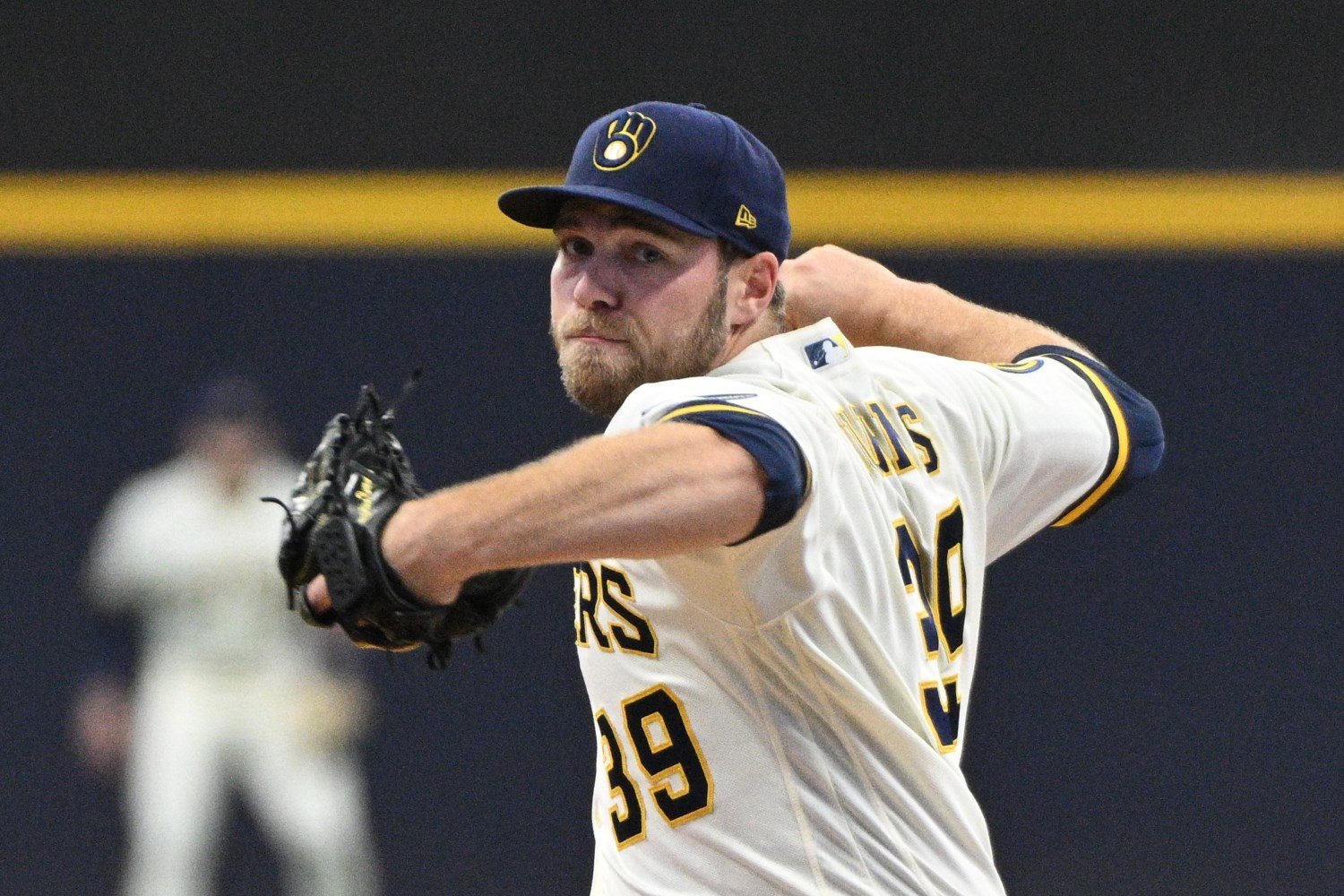 Image courtesy of © Michael McLoone-USA TODAY Sports
The Brewers have finally had their playoff opponents confirmed, facing the young, streaky Arizona Diamondbacks at home starting Tuesday evening. The Diamondbacks have looked, at times, like the best team in baseball this year, in one of the toughest divisions--while also looking like one of the worst over a two-month span in July and August. There's a lot of ways this could go, but here's why the Brewers are in the driver's seat.
 
The Starting Pitchers
Brandon Pfaadt has been a mainstay of the Diamondbacks rotation through much of the year, but has struggled to compete in a lot of his games. Throughout most of the season he battled in vain, to a 6.13 ERA up until August 18th, and through then, he had only one start wherein he held a team scoreless. He has improved since, with two of his last three outings being scoreless (the other giving up five earned runs to the Yankees), but it all comes down to one pitch for him: his sweeper.
He lacks command with this pitch, something that could be exacerbated by the pressure of a playoff series, and can hang it on occasion, but he generally keeps it outside the strike zone. He's comfortable throwing it in any situation, and has held hitters to a .180 batting average and .323 slugging percentage, while generating a 33% whiff rate. On the other hand, his two other main pitches are the fastball and slider, both of which are hit hard over 50 percent of the time, and it's something the Brewers offense may enjoy. They have been incredibly selective in their at-bats with what they swing at, and the key to Pfaadt is whether or not you can leave the sweeper and zero in on the fastball and changeups.
The other thing he struggles with is ground balls, which many Brewers fans will be delighted to hear. For a team leading the league in double plays over the last two months, it will be key for them to avoid easy outs and the momentum-stalling plays. Pfaadt has generated just a 32.6% ground-ball rate on the year, significantly below average, which could play into the Brewers contact skills.
The likely hope for the Diamondbacks is for Pfaadt to cover four-plus innings. If he reaches five with minimal damage before turning it over to the bullpen, they'll be ecstatic.
Corbin Burnes, on the other hand, has been just as sporadic, at times dealing like the Cy Young winner he is, and looking at other times like a washed-up has-been. His diminished strikeout rate this year, caused by less swing-and-miss on his cutter, has led to occasional big innings, with games getting away from him. Nothing encapsulates this more than his previous two starts against the Diamondbacks. His first game, he went eight innings, allowing three hits and zero earned runs to the Snakes. Second time out, he got through five innings, with 10 base runners and seven earned runs.
Now, Burnes has tweaked his delivery since then, accentuating his cutter and curveball with grip changes while converting his slider into more of a sweeper-style pitch in order to differentiate it further from his cutter, and it's shone through in his results. After sporting a 2.51 ERA in September with a 0.94 WHIP and 33 strikeouts in his 28 1/3 innings pitched, Burnes looks dialed-in for postseason dominance.
The Brewers will hope for Burnes to cover hopefully six strong innings, perhaps more if he's firing on all cylinders--but they'll want to stress that he doesn't have to go deeper into games, and nibbling around the zone will be more than ok, if it means keeping away from the cneter of the strike zone, as that's how he's gotten himself into trouble this season. The bullpen is fresh and ready to go if needed, with a ton of options at Craig Counsell's disposal, but also it's important to note that Burnes is a rested workhorse, and is more than capable of throwing 110-120 pitches in a do or die situation. The news about Brandon Woodruff's injury will make length all the more important, if he can save the bullpen for a possible game three, or even better, a game one of the NLDS.
 
The Offense
The Diamondbacks have an advantage here, with some hot bats through the month of September who can change games. Corbin Carroll is huge for the energy of this team, with his ability to get on base and cause havoc on the basepaths. Since the All-Star break, he's stolen 28 bases and been caught on just three occasions, with a .356 on-base rate affording him a lot of opportunities to use his speed. A dynamo at the top of the order, he's the sparkplug for everything the Diamondbacks do offensively, and is almost guaranteed to win Rookie of the Year. Then you have the power bats of Christian Walker (15 home runs in the second half), Ketel Marte (10 home runs, .826 OPS since the break) and Lourdes Gurriel Jr.and Tommy Pham's high-powered bats that can change a game in an instant.
Another wrinkle they've added is the performance of Gabriel Moreno behind the plate, who has shone of late with a cannon of an arm that's been the best in baseball at catching base stealers, but also hitting .313/.383/.511 since the Midsummer Classic, while striking out in just 16 percent of his plate appearances. His pitch framing and blocking skills leave something to be desired, but this is a bat you don't want to face with runners in scoring position.
In total, this isn't a truly fearsome offense, missing a real impact bat, but their youth and speed is critical in their ability to squeeze runs across, which could be vital in a short playoff series. Carroll will be absolutely key, and I have a gut feeling that Marte could play a big part in the outcome of this series. Like the Brewers, they have holes, with Geraldo Perdomo and Jordan Lawlar in particular struggling of late--although Lawlar might not even make their roster, and if he does, he's likely to be used purely as a defensive sub and pinch-runner. The bats are cold, after just two runs in their season-ending series against the Astros, where they got swept. It should be noted that the Diamondbacks were at the end of a gruelling stretch of road games by that point, and should be better rested after most of their lineup have a couple of days off, but they'll not be feeling quite on form when they rock up to Milwaukee. Which version turns up is anyone's guess.
The Brewers, on the whole, are slightly weaker. However, they've become significantly more potent since the trade deadline, with the promotion of Sal Frelick and the external additions of a scalding-hot Mark Canha and the power potential in the bats of Carlos Santana and Josh Donaldson--all to go alongside the hitting machine that is William Contreras (.318/.389/.489 in the second half) and a mostly-healthy Christian Yelich, who is hitting .400/.516/.760 in his last seven games. Tyrone Taylor is an under-the-radar difference maker, but Brice Turang has an OPS of under .500 in his last 15 games, creating a black hole at the bottom of the order. He will start against the righthander, if potentially replaced later in the game for Andruw Monasterio's more consistent hitting ability.
On the Brewers offense, the players I'm expecting to shine are Yelich (with a .327 batting average against four-seam fastballs this season) and Donaldson--a good bet to hit Pfaadt out of the park, given that he averages over 93 miles per hour in exit velocity on fastballs. Both are patient enough to wait on a heater in the zone, and each has the playoff experience to do damage when it comes.

Potential Issues for the Brewers
There are two major concerns going into this game. The first is that, although the Brewers are facing a below-average starter, the lack of long balls hit by the team this year (24th in MLB) mean that even well-hit balls can be hauled in, with BABIP luck playing a big factor in whether this offense has scored well or not. With a tendency to get men on regularly, there will be opportunities to score, but that leaves much to the semi-accidental placement of the batted balls that come with runners in scoring position. If they find gaps, this could be a huge, tone-setting win, if not, it could be the repetitive double plays and lineouts that can stall them.
The other is Burnes. On his day, he could shut down the Diamondbacks deep into the game, but that's if he brings his best stuff. The use of his curveball will be key in generating strikeouts, and it will be interesting to see if Counsell goes with Victor Caratini as his battery mate (given they've played most of this year's games together) or Contreras, to allow more flexibility with the designated hitter spot. The Brewers will feel this is a game they ought to take, with the starting pitching advantage, but playoff baseball is nothing if not unpredictable.
Our game thread will be going haywire on Tuesday night. Feel free to follow along as all the drama unfolds with other fans watching from home!
Think you could write a story like this? Brewer Fanatic wants you to develop your voice, find an audience, and we'll pay you to do it. Just fill out this form.
MORE FROM BREWER FANATIC
— Latest Brewers coverage from our writers
— Recent Brewers discussion in our forums
— Follow Brewer Fanatic via Twitter, Facebook or email