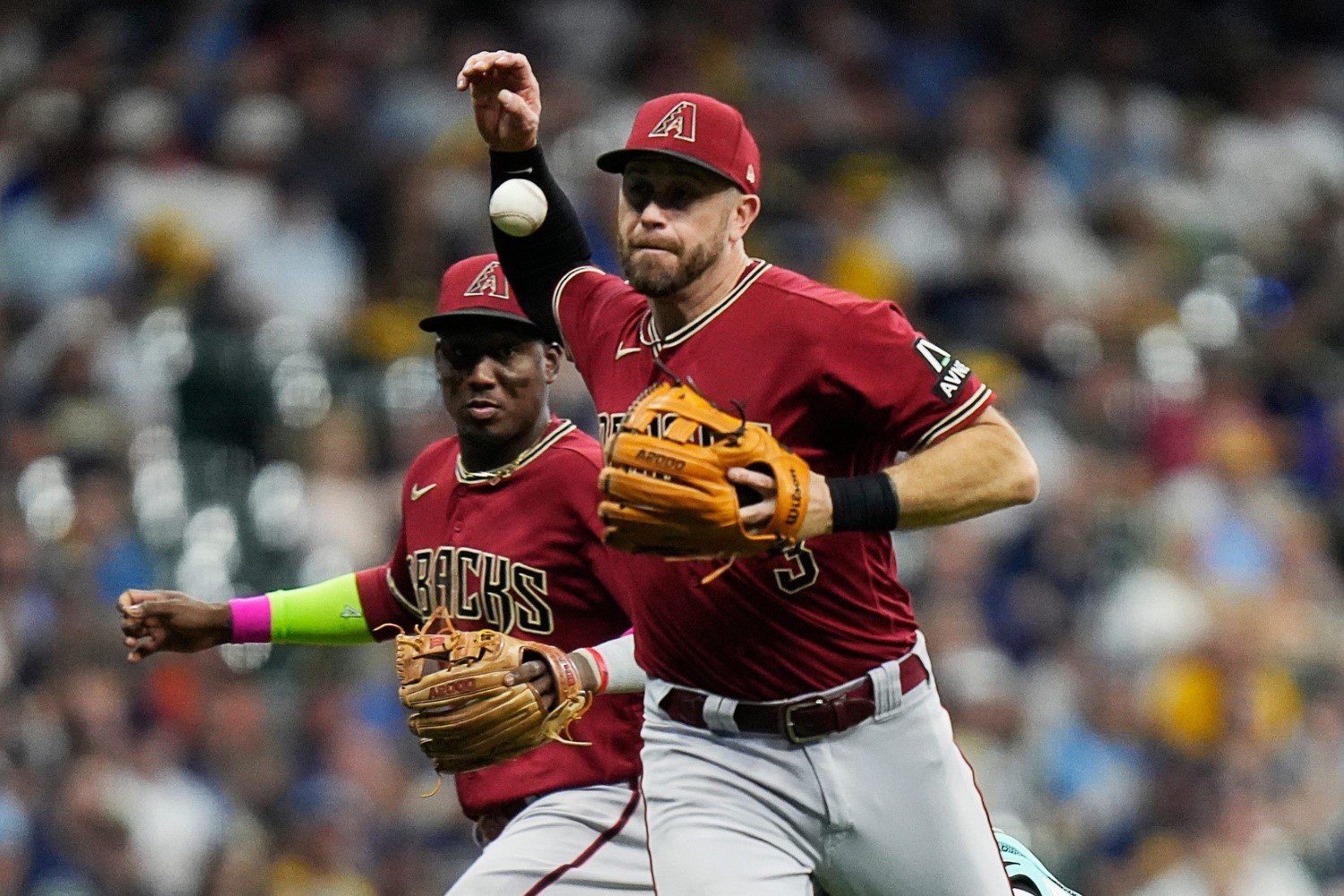 Image courtesy of © Jovanny Hernandez / Milwaukee Journal Sentinel / USA TODAY NETWORK
When Christian Yelich followed Tyrone Taylor's two-run home run with a single of his own, the Brewers led 3-0 very early, and it looked like they might run the Diamondbacks (and rookie starter Brandon Pfaadt) out of the building. Their Win Probability, at that moment, stood at 83 percent. But Win Probability is a framework initially built to analyze decisions, not to tell us stories. To understand the game from the fan's and the purist's perspective, we have to shine a light into some of the framework's dark corners.
Win Probability is blind to all sorts of things. It can spit out the chances that a given team will win, based on the occupancy of the bases, the number of outs in the inning, which inning, the relative score, and which team is home and away, but it doesn't even attempt to adjust for the quality of the players or teams involved. That would introduce a level of complexity that creates genuine paralysis via analysis. The system also pauses and makes all its official adjustments and recalibrations between plays. That, after all, is when decisions can be made and new strategies can be adopted.
As fans watching the game, though, we don't jutter and jump from one interstice to the next, like the second hand on a clock. We live the full breadth of each play. We don't just feel the rise or fall of the chances of winning in snapshots taken between at-bats. We can sense (and sometimes even calculate) the ebb and flow of those chances even as a play unfolds. It's the real stuff of baseball--the joy, and the agony--and Win Probability models often miss it.
For instance, let's jump ahead from the second inning to the fifth. Ohp, the Diamondbacks caught up. In fact, they've taken the lead, because their young, dangerous offense has shown exactly what makes it so much the latter, despite the former. Three home runs have given Arizona a slim one-run edge, although (at least) the Brewers did knock Pfaadt out of the game in the third frame. Now, with the same set of hitters who effected that, they're trying to get to fungible middle relief man Ryne Nelson. 
The Brewers started this half-inning with a 40.7-percent chance of winning the game. That's not great, but it might undersell them, too. They have a better roster than Arizona. They have a better bullpen, and this just became a battle thereof. Win Probability doesn't bake that in. Maybe the Brewers have the momentum, too. After all, when Corbin Burnes departed after two straight walks to open the top of the fifth, the Crew was down to a 26.7-percent chance of winning. Abner Uribe both reminded everyone of the Brewers' superb bullpen, and escaped Burnes's jam without damage.
We could tick that 40.7 percent number upward, then, but let's leave it. It's good enough as it is. Sal Frelick leads off the bottom of the fifth with a single, and Willy Adames backs that up with another one, and there you go: the Crew after favorites again. Even this half-blind Win Probability framework says so. They're up to 54.2 percent.
Now, starting right here, stay close with me. Josh Donaldson comes to bat, with Frelick at second and Adames on first. He hits a laser shot of a single to center field. Right now, as the ball is leaving his bat on a clean line, what are the chances that the Brewers win this game? 
Here's how I would figure them, in the instant before the camera cuts and then zooms in on the outfield, where the ball is being collected. Frelick, with good speed and no reason to hold up to discern whether this ball might be caught, is going to score. That will tie the game, right there. It's probably too firmly hit for Adames to race around to third base, but still, the Brewers have just gone from two on and nobody out down a run to the same base-out state in a tie. If all that comes to fruition, the next Win Probability number I see is going to be 70.1 percent. That's awfully good.
Alas: there are some factors we neglected to consider. Donaldson hits the ball very hard, for one. He didn't just line the ball to center field. He hit it 102 miles per hour. More important than Donaldson, though, is Alek Thomas. The Arizona center fielder plays shallower, on average, than all but one other player who saw even semi-regular time at the position in 2023. He doesn't have a rocket for an arm, but by playing so shallowly and using his speed and sure hands to get the ball and fire it in quickly, he'll easily hold Frelick at third base. Thus, we get an actual Win Probability that reflects the cold reality. The Brewers still have a good chance to at least tie the game this inning (perhaps better than an 85-percent chance of it), but their overall odds of winning the contest have only leavened to 65.2 percent.
Oof. Win Probability also didn't account for Brice Turang. Every time the Brewers need a hit tonight, it seems to be Turang coming to bat, and there are just no big hits in the overmatched rookie's bat right now. His strikeout brings the odds of a Milwaukee win back down to 55.6 percent, and we wonder whether Win Probability math might have told us (if it knew these guys as individuals, rather than theoretically average pawns in the game) that it was worth sending Frelick, anyway. If Thomas had thrown out Frelick, the Win Probability would have sagged to 51.4 percent, so comparing that number to the 70.1 percent if he were safe and comparing it to the 65.2 percent achieved by staying put, we reckon Frelick would have needed about a 74-percent chance of being safe to make going home a worthwhile risk. If that math is right, so was the decision to hold him up. If we adjust and account for Turang, though, maybe the breakeven point is lower. Of course, Thomas's positioning pushed the likely success rate of a send lower, too. See why Win Probability likes to just wait and only analyze the non-moving moments of the game, with everyone treated as interchangeable?
Anyway, Turang is out, and now Tyrone Taylor is at bat. Nelson has given way to Ryan Thompson, but that's not going to change the Win Probability numbers we're working with. All it does do is make Taylor a bit more likely to run into a ball in the specific way he does now. Taylor's power is up at the top of the zone, where we saw him leap on a Pfaadt pitch for the big home run in the early going. When pitchers work him down (including down and in), as the sidearm Thompson does, Taylor doesn't get the ball far off the ground. With one out and the sacks packed, though, he admirably lofts a sinker to the left side. 
This is the one. This ball is hit on the screws, just like Donaldson's was. Taylor has busted things open again, baby. He hits a rising line drive toward left field, and Adames doesn't hesitate much. He's going to score right on Frelick's heels. This won't just be a tie. Even against the strong arm of left fielder Lourdes Gurriel, Jr., the Brewers are going to take the lead. 
Well, except, no they're not. You know that; you're here, with me, in the future. Evan Longoria, although an old man, is going to bend his aching legs and find in them one last young man's bounce, and he's going to pluck Taylor's drive right out of the air, perhaps nine and a half feet off the ground. With Adames overcommitted, it's a double play. The inning is over. Win Probability reports that the Crew have cratered to a 33.3 percent chance of victory.
The plunge from 55.6 to 33.3 is not nearly a rich enough account of that play, though. In the moment just after Taylor makes contact, the Brewers' real chances of winning haven't dropped. They're actually rising sharply, right alongside the ball. They'll only crash back to Earth once Longoria intercepts them on that line and greedily pulls them down with him in his losing battle with gravity. Off the bat, Taylor's ball had a 77.7-percent chance to be a hit, according to Statcast. If it had been one, with Adames so recklessly running, the play would have ended with a 78.6-percent Win Probability for the Brewers. Taylor's shot was worth almost a quarter of a crucial playoff victory. It was just that Longoria, aided by Christopher Lloyd or some other angel of the infield, went up in the air and came down with 45 percent of a win in his glove--or, perhaps, 30 percent of a win there, and 15 percent more strewn across the basepath where Adames was helplessly trying to reclaim second base.
That kind of rollercoaster of a play probably has some hangover effect, and if Win Probability made any effort to adjust for how the players on the field feel or for the specifics of the plays that brought the game to its current state, it might have dinged the Brewers the whole rest of the way. With Markov's own blind optimism, though, it blocks all that stuff out. Thus, when the Brewers stifled Arizona's offense in the sixth and Yelich led off their half with a walk, Win Probability allowed itself to hope. It ticked up to 45.1 percent.
William Contreras batted next, and he hit a dribbler into no-man's land on the left side of the infield. This is one of my favorite areas of the diamond. It seems like an absolute dead zone, a place where nothing good should ever happen for the offense and nothing interesting should ever happen for the defense, but that isn't how it works. With a right-handed pitcher on the mound, the ball often sneaks just past them and into this area just shy of the dirt. The third baseman and the shortstop often have to converge, or to begin to do so and then call one another off like outfielders, to grab the ball and get it over to first base for the out. No ball hit there has ever been a double play, and it's usually not even going to let you get the lead runner, if there is one. Because it's a longer throw from there than from the equivalent spot on the right side of the diamond, and because the fielders have to run just as far as a second baseman trying to get to that mirrored spot, it takes sure hands and a rocket arm to find outs when the ball gets hit to no-man's land. 
Statcast sort of misses this, though. The system captures batted-ball velocity and launch angle very neatly, but it's much less good at accounting for spin or specific directionality, especially on hits like Contreras's. It only gives his squibber a .200 expected batting average. That's a lot better than routine ground ball's, but it stinks. In that moment, there's about a 20-percent chance that both runners reach, and an 80-percent one that Yelich advances but Contreras is thrown out. The resulting Win Probability estimate from that pair of potential outcomes would have been 56.4 percent. You could talk me up from there, because Carlos Santana and Mark Canha are due, and the Brewers front office did such a great job adding those two at the deadline. It would be perfect for them to come through and win this game for the team. 
Since that's not what happened, though, let's be satisfied with the imaginary number of 56.4 percent. That's if Longoria (who won the footrace to the ball) fields cleanly and throws out the slow-afoot Contreras. But he doesn't! He bobbles! Now, in this moment, lost in no-man's land and not having handled cleanly, Longoria is in trouble. He's not going to get an out on this play at all, and with runners on first and second and nobody out ahead of Santana and Canha, the Brewers have a sparkling, shiny Win Probability of 59.4 percent. It's not through the roof, but the number has surged. Then, Longoria catches his bobble cleanly. It's too late to get Contreras, but Yelich had been thinking big thoughts. With Longoria charging across and Thompson falling off toward first base, who's going to beat him to third base? This error could put runners at the corners instead of at first and second! That would steer the Win Probability all the way up to 63.6 percent, and again, we're not baking in the good hitters due or the superiority of the Brewers' bullpen options from here. 
Yelich is thinking right. He's just made to look wrong, because the ball doesn't get away from Longoria the way he expected. The clean catch of the bobble lets Longoria throw behind him, and though the play is excruciatingly close, he's out at second. Win Probability: 39.2 percent. Longoria just got the lead runner on a slow chopper to no-man's land. The catch on that Taylor ball was (jokes aside) dazzling, exhilarating skill, and he earned the fractions of a win he took back to the dugout with him after that play. This one is dumb luck. He tried to make a tough play, couldn't, and ended up profiting from the confusion of his initial flub more than he could have had he done everything perfectly from the beginning of the play to the end.
We know what happens the rest of the way. Once you make the first out in the bottom of the sixth, even if the tying run is on base, the countdown clock starts to tick more loudly. The Brewers will never have an official Win Probability even as high as this 39 percent number the rest of the way. They just get ground into the dust. They experienced a lot of big shifts in Win Probability in those few plays relatively early in the game, and then (even if we interrogate every batted ball and scrutinize its expected value the rest of the way) the suspense died. Sometimes, Win Probability actually does accurately and completely capture the tone of a game. It's just that usually, when that's happening, it's a pretty boring game. Near the end, that's how this one came to feel. 
The Brewers valiantly fought off most of the Diamondbacks' rallies in Game One. They were done in by three home runs and one ball that couldn't have missed being one by much less. As has been the case all season, the pitching staff bore down and got some huge strikeouts when needed, and they didn't issue the backbreaking walk. The defense was as good as it has been throughout the season, which is a high compliment. They only failed to catch what was hit basically on the other side of a wall from them, which is the only way opponents have reliably scored on the Crew all season. It's how good hitting can beat good pitching, even if it can't do so all that often. The Brewers just have to hope they can return the favor in Game Two, because their Win Probability for this series undeniably plunged Tuesday night, no matter what extra factors one elects to bake in (or not).