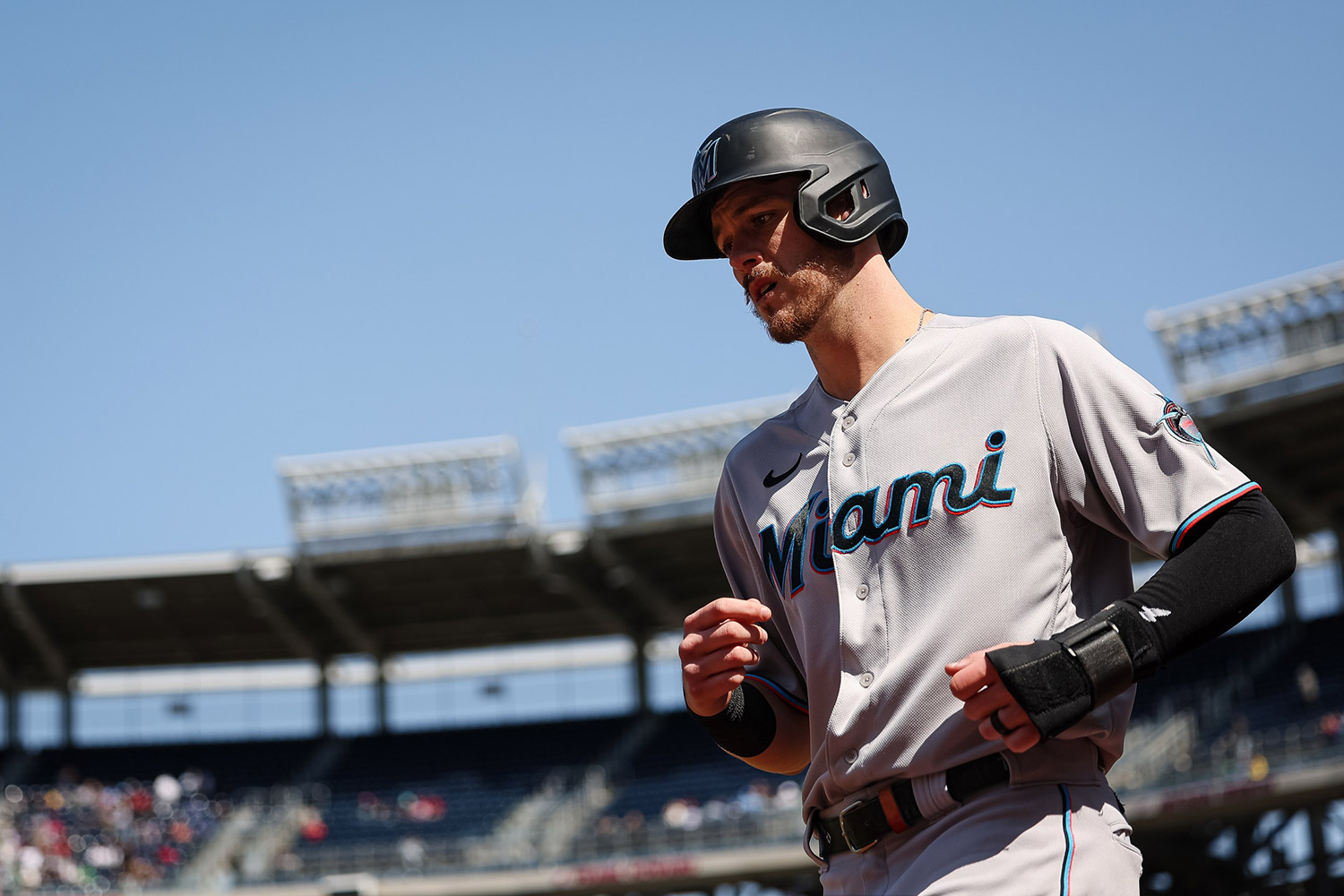 Image courtesy of © Scott Taetsch-USA TODAY Sports
Between 2019-2020, Brian Anderson had a 162-game average slash line of .260/.343/.467/.811 (114 OPS+), including 35 doubles and 27 homers. No one should expect nearly 30 home runs from him in a single season, but it speaks to his potential. In the past two seasons, a left shoulder injury has played a part in sapping his power; however, the Milwaukee Brewers must also believe his previous home ballpark played a more significant role in the dip in pop. The switch in stadiums could have the same effect it had on Travis Shaw when he came to Milwaukee, which was an enormous boon for the player and the club.
LoanDepot Park, home of the Miami Marlins, ranks as the seventh-worst park to hit home runs for right-handed hitters. Statcast's three-year rolling average rates LoanDepot Park at an 86 for right-handed homers, where 100 is "average." Not ideal for a hitter like Anderson. Meanwhile, American Family Field sits at 112 for righties, the seventh-best home run haven in MLB. That's a good way to jumpstart a turnaround.
When the Brewers traded for Travis Shaw (who recently retired), Milwaukee saw a similar potential power tick by changing ballparks. Shaw had 34 doubles and 16 homers in his last season with the Boston Red Sox with a .421 slugging percentage and .726 OPS (90 OPS+). At the time, Fenway Park was the third-worst home run park for left-handed hitters (73), while Miller Park was the best for lefties (143). Milwaukee's power projection paid off as Shaw would hit 31 and 32 homers in the next two seasons with the Brewers, posting an. 862 OPS (121 OPS+) and .825 OPS (119 OPS+) in those years. Yes, the Fenway-to-Miller Park gap was larger than the Miami-to-Milwaukee transition, but the concept remains.
Below is Anderson's 2022 spray chart overlayed on American Family Field. This doesn't mean all the hits translate perfectly, and not all of Anderson's balls in play came in Miami, of course. However, this can offer a visual hope for what could be in 2023.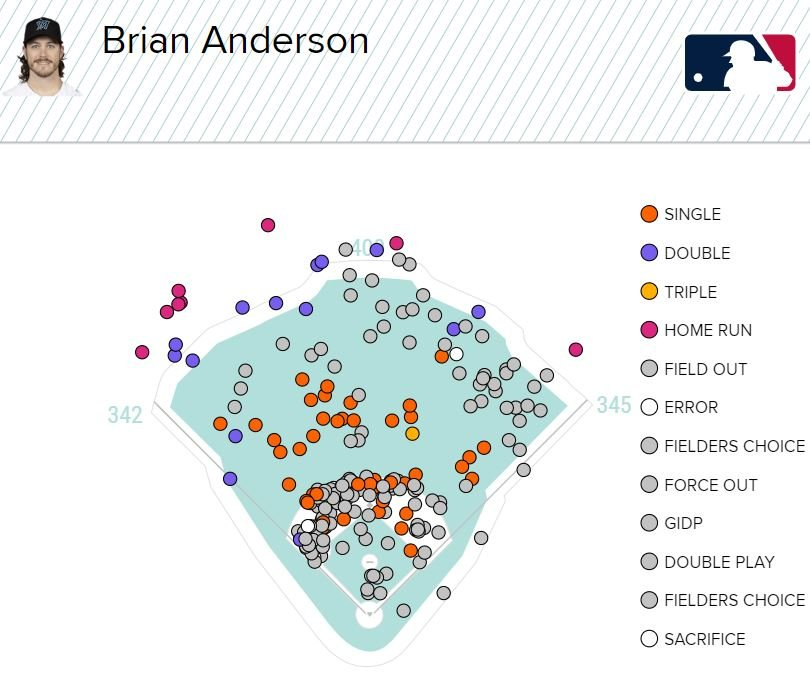 You could potentially count nine additional home runs at American Family Field, three of which were outs in 2022. We also can't know how the outfielders might be positioned differently in Milwaukee versus Miami, meaning some flyouts might otherwise find space to land. Yes, this leans on the optimistic side, but there's no doubt it's a plus move for Anderson.
The other vital component for Anderson's power to return would be improved health. In his introduction to Brewers' media, he acknowledged that his shoulder issues in the past two seasons impacted his offense. With just a few weeks before Spring Training, Anderson is feeling a bounceback in the making.
Several of Anderson's batted ball metrics in 2022 improved toward his 2019 figures, which was his best season. That could indicate the injury and some loss of strength he suffered in 2021 made less of an impact last season, and 2023 could mean even greater things.



As you can see from the chart, Anderson saw a return of barrels and hard-hit balls, but the launch angle sunk. As many Brewers fans know, thanks to Christian Yelich, when a hitter can't get the ball off the ground consistently, his exit velocity means less. But Anderson's launch angle struggles could be attributed to his shoulder issue and the climb to being "normal" again. Anderson alluded to increasing his bat speed this offseason. With slower bat speed last year, he was likely late on more pitches than usual, leading to more ground balls as contact was made deep in the hitting zone. Whether he never adjusted his timing to having a slower bat or needed to catch up to increased velocity, starting a new season with a quicker swing might be enough to rediscover a better launch angle in 2023.
Could the combination of a better home run park and improved health be enough to make Anderson a secret weapon in Milwaukee's lineup? If you go by Steamer's projections of .226/.308/.373/.681 and 13 homers, it won't seem like much of an improvement over last season. But if the park factor and a fresh start are catalysts to boost his numbers 10-20 percent above those projections, now you're onto something. Somewhere in the neighborhood of .254/.341/.442/.783 with 17 home runs would lengthen the Brewers' lineup and generate consistent offensive production.
The more improvement Anderson shows early in the season, the more playing time he will get. Increasing his plate appearances creates more opportunities to hit the ball out of the yard. Of course, that requires good health as well. If those factors come together in 2023, it's a jackpot acquisition for the Brewers. Though signing Anderson didn't garner headlines across the league, it is the move good teams often make to complement the talent already in place.
Think you could write a story like this? Brewer Fanatic wants you to develop your voice, find an audience, and we'll pay you to do it. Just fill out this form.
MORE FROM BREWER FANATIC
— Latest Brewers coverage from our writers
— Recent Brewers discussion in our forums
— Follow Brewer Fanatic via Twitter, Facebook or email
1