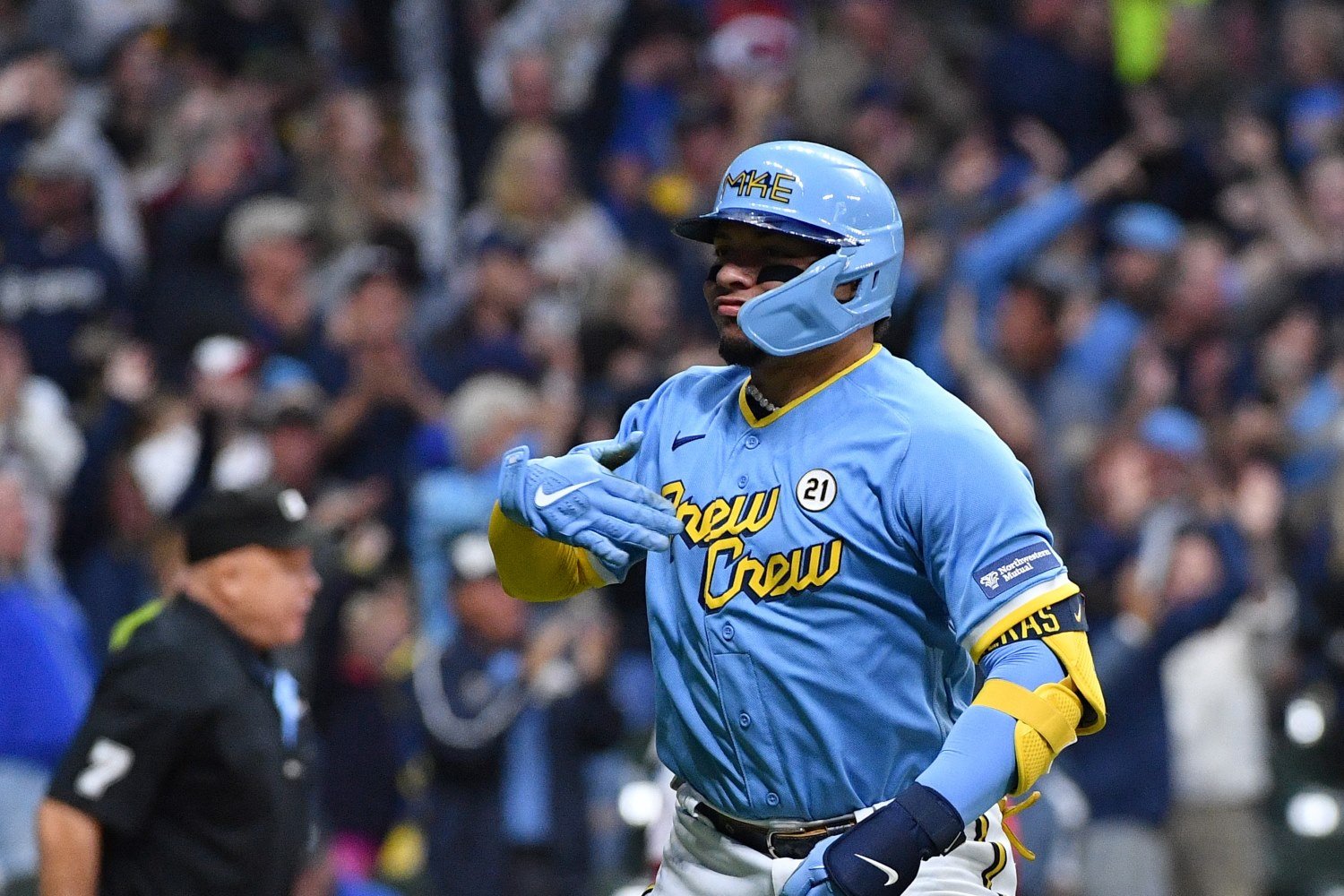 Image courtesy of © Michael McLoone-USA TODAY Sports
Not all of the juxtapositions Friday night at American Family Field were comfortable ones. It was Roberto Clemente Day throughout MLB, which meant that everyone donned a patch high on the left side of the chest of their jerseys with Clemente's number 21 on it. It's a worthy tribute to one of the giants of the game's history, and it's even more poignant to see many players of Caribbean heritage wear 21 (without a name) on the backs of their jerseys. 
On the other hand, fun and well-considered as they are in general, the Crew's City Connect uniforms felt garish underneath that patch. Clemente said, and not in a tossed-off way, "When I put on my uniform, I feel I am the proudest man on Earth." He took every aspect of the game that he played with such fire and grace seriously, and that included the trim cleanness of the uniform. Nike's logo resting level with his commemorative patch across a player's chest, alone, would make Clemente uneasy. Their cash- and attention-grabbing alternate uniforms might have flipped the switch between his simmering glower and the tirades of which he was capable, when he saw indignity anywhere.
It was a lousy night, too, for the first game in which the Brewers donned a sleeve patch advertising Northwestern Mutual. The pileup of bits of flair made it easy for a casual viewer to think of them all as equally important: the slightly goofy grill logo on the City Connect caps, the Nike logo, the Northwestern Mutual insignia, and that understated 21. Forget what Clemente would think of any of that. I, speaking just for myself, didn't like it.
Still, whatever anxieties and even furies Clemente had within him, he masterfully compartmentalized and channeled them when he took the field. His high batting average and (by modern standards) modest power numbers paint a potentially misleading picture of The Great One, to a 21st-century stats ogler. He had speed, and he had extraordinary natural fluidity of movement, but he played with power. He played it hard, and that word--"hard"--doesn't just describe the quantity of exertion he gave each day or night. Clemente wanted a hard game: hard swing, hard contact, hard running, hard slide, hard throw. 
William Contreras came to the plate in the bottom of the fifth inning, with two on and two outs. At a similar juncture of Thursday's game against the Marlins, the visitors lifted starting pitcher Eury Perez. They brought on slider-slinging righthander George Soriano, who struck out Contreras to end the inning and escape further damage. This time, with the Nationals playing more for pride than position and owning a 3-0 lead, Dave Martinez let his young starter face Contreras for a third time. Refer, if you will, to the Clemente quotation that led this article.
¡Bombazo!@WContreras42 | #EsteEsMiCrew pic.twitter.com/qQEG2c5cgB

— Milwaukee Brewers (@Brewers) September 16, 2023
When the lights went down, they might as well not have come up again. The game was technically only tied, but it was over at that moment. Actually, it was over the moment Contreras--the Brewers' new superstar, their protean slugger with the ability to tailor his swing and his approach to the moment, and a trove of defensive skills never in evidence before he arrived here--connected. The ball sailed 466 feet, which is pure trivia. It could have gone 500, without being one iota more impressive. 
Clemente's legacy on the field, notably, has never been treated as equal to those of Willie Mays or Henry Aaron. Even Frank Robinson, another contemporary, is widely considered to have been a better player. The stats say those three were all a cut above Clemente. Talk to those who watched Clemente, though, and you hear a reverence that envies nothing. He played in a style and with a completeness and ferocity that made him somehow more impactful than the numbers. That's how that home run by Contreras was. That it flew so far, on such a perfect arc, and that his swing looked so indelibly lethal, was important. It wasn't a wall-scraper. The game might end in a close score, that home run said, but the Brewers and the Nationals were not in the same league. Not really. Sometimes, style does matter.
The next batter (Carlos Santana) gave the team a lead they would not relinquish, because this team does not relinquish leads. They're falling into a bit of a habit. It's a bit of rope-a-dope: let the opponent take an early lead or two, claim the advantage in the middle innings, and then shut things down with the lights-out bullpen that has been the constant for this team for half a decade. It's only one of multiple formulae they have in production to keep wins rolling off the assembly line right now, but it's an effective and absorbing one.
It's also the best microcosm of what they're now doing with the NL Central. Their lead has stretched to five and a half games, and their magic number has dwindled to 10, They should have the division crown on their heads before they even come home for the final homestand, making their planning much easier in the days ahead. They'll have their aces lined up for the Wild Card Series. They'll have their full stable of relievers ready to back them up. They'll also have Contreras, the man who cut through the nonsense and left an imprint on this game about as deep as the one Clemente left (even if from a huge remove) on the lives of Contreras himself, along with everyone else who has ever loved this hard game.
Think you could write a story like this? Brewer Fanatic wants you to develop your voice, find an audience, and we'll pay you to do it. Just fill out this form.
MORE FROM BREWER FANATIC
— Latest Brewers coverage from our writers
— Recent Brewers discussion in our forums
— Follow Brewer Fanatic via Twitter, Facebook or email
2