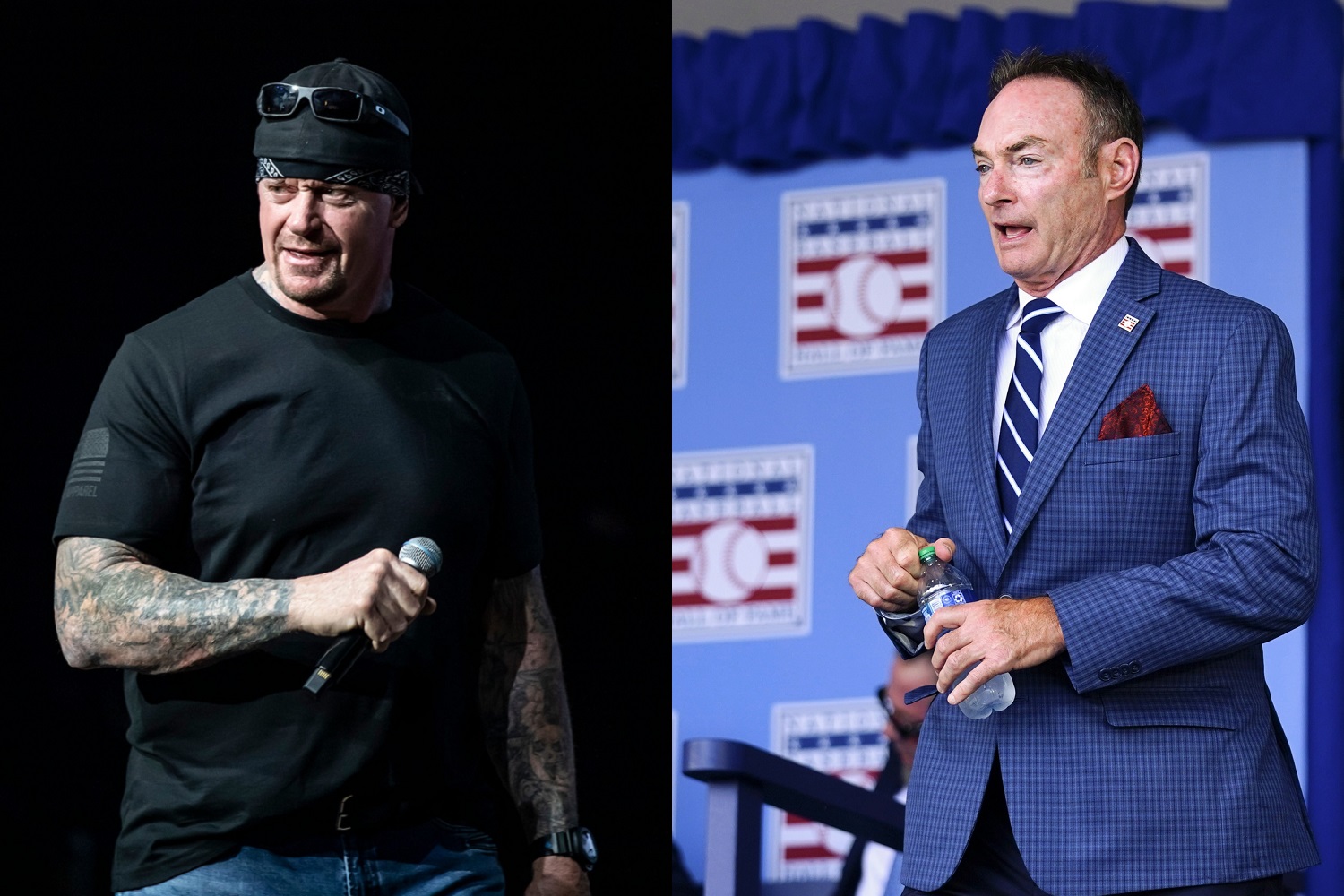 Image courtesy of © Alan Poizner / USA TODAY NETWORK and © Gregory Fisher-USA TODAY Sports
The Undertaker's 21-match winning streak at Wrestlemania is one of the greatest streaks in professional sports history. For those of you unfamiliar with Wrestlemania, it's professional wrestling's Super Bowl, World Series, and Spelling Bee championship all rolled into one. How did this legendary streak measure up to Paul Molitor 's hitting streak? To compare the two we must first compare the individuals involved.
On the surface you'd think there would be few similarities between Molitor and The Undertaker, but if you'd do some digging, some deep deep digging, you'd find, as I did, that similarities exist.
Both men are legends in their respective sports and are in the Hall of Fame.
Both men are champions, with Molitor winning the World Series as a member of the Blue Jays and the Undertaker winning multiple WWE championships.
Paul Molitor was nicknamed "The Ignitor". The Undertaker was once ignited on fire by his brother, Kane.
Paul Molitor took batting practice in a batting cage. The Undertaker once threw Mick Foley off the top of a steel cage.
As you can see these two men are not too different. Now let's take a closer look at their streaks:
The Underaker's streak took place over the course of many years, as Wrestlemania is an annual event. Paul Molitor had to suit up day after day with little rest to accomplish his streak. Point: Molitor 
The majority of the Undertaker's opponents during his streak were high quality, with many being Hall of Famers. He had to face the likes of Jake "The Snake" Roberts, Ric Flair, Randy Orton, Edge and Triple H and Shawn Michaels two times each. Paul Molitor had to face pitchers such as Juan Guzman, Jack Lazorko, Mike Morgan, Bobby Witt, Bobby Thigpen, and Brett Saberhagen . There were some solid pitchers in the mix but as far as quality of openers it's Point: Undertaker.
Let's now examine how each streak came to an end. The Undertaker eventually lost at Wrestlemania to Brock Lesnar, who is indeed a beast. He's a former NCAA Wrestling Champion, former UFC Champion and multi time WWE champion. Molitor's hit streak was ended by Cleveland pitcher John Farrell , who was a rookie and ended his MLB career with 36 wins over eight seasons. Point: Lesnar
After my solid in-depth analysis, it would appear that The Undertaker had the more impressive streak over all. Here's the thing though, none of Paul Molitor's hits were pre determined, all of the Undertaker's matches were. So the winner of the streak vs streak challenge is "The Ignitor" Paul Molitor.
Please, no-one tell The Undertaker. 
Think you could write a story like this? Brewer Fanatic wants you to develop your voice, find an audience, and we'll pay you to do it. Just fill out this form.
MORE FROM BREWER FANATIC
— Latest Brewers coverage from our writers
— Recent Brewers discussion in our forums
— Follow Brewer Fanatic via Twitter, Facebook or email