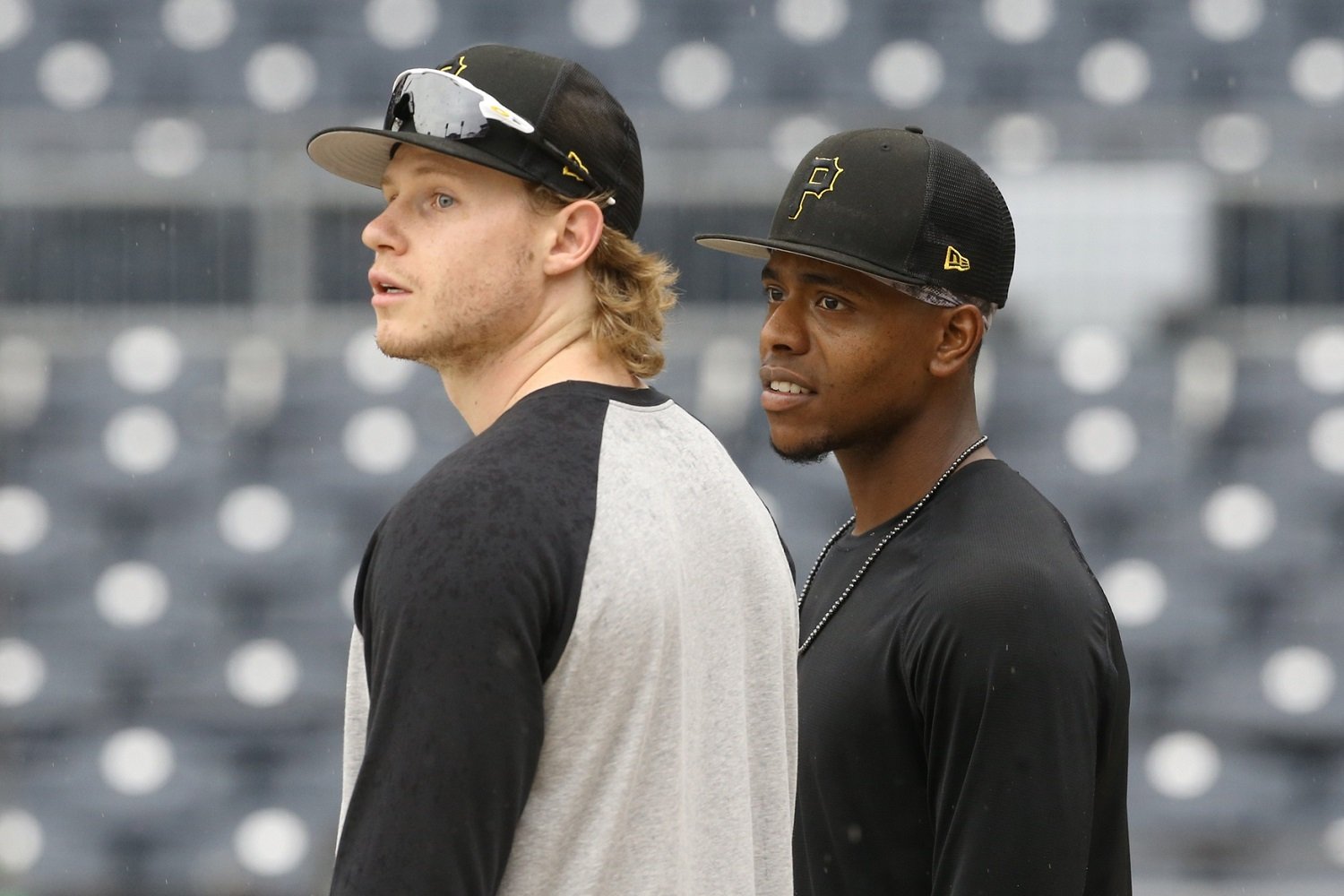 Image courtesy of © Charles LeClaire-USA TODAY Sports
There is a meaningful difference between being abyssal and being bad. The former is directionless, infinite feeling darkness no matter which direction you're going. When you're on an abyssal baseball team the harbingers are all there. An obligatory reliever with 0.1 WAR getting an All-Star nod, and the one or two halfway decent players are deflated and neutered by the pointlessness of a long season that moves as the crow flies straight toward defeat.
Then there is the bad that we are seeing being played in Pittsburgh. A 29-45 record that suggests the same abject slog toward an unceremonious end in September, but if you look a little closer you start to see the forest as well as the trees. This upstart Pirates team is saddled with a few sparks of legitimate, bright young talent. David Bednar has been nails in his second year with Pittsburgh after being traded from the Padres, archetype-shattering Oneil Cruz is making some of the funnest-to-watch plays at shortstop. Most impressive has been young 3rd baseman Ke'Bryan Hayes , who, if on the Brewers, would lead the team in WAR at 2.9 through June.
Does this make the Pirates a good team? Categorically and statistically speaking, no, but it makes them an enthusiastic and hopeful entity that the Brewers can't just unconsciously steamroll. Let's check out the match-ups!
Thursday June 30th
Adrian Houser (4-8 4.50 ERA)
JT Brubaker (1-7 4.14 ERA)
The higher the fall the harder the crash, and Adrian Houser 's crash is getting hard to watch. A miserable start against Toronto culminated in six straight hits, each with an exit velo over 97 MPH, with Matt Chapman 's 109 MPH three-run double doing the bulk of the damage. Credit to the sinkerballer who is reportedly working on his mechanics to right the ship.
Meanwhile, Bucs righty and opening day starter JT Brubaker will taking the mound with a deceptive record to this point. Seven losses are a little hard to figure into the analysis when you put up a 2.63 ERA over the course of a month. That was May, and he's looking to punctuate his June with nearly identical numbers against the Crew.
Friday July 1st
Corbin Burnes (6-4 2.41 ERA)
Roansy Contreras (2-1 2.76 ERA)
Corbin Burnes is just gliding through the opposition like a hot knife through butter. Even during the Brewers skid Burnes served as a reliable stopper, and in his last start he calmly pitched in to the eighth inning against a burly Toronto team. 
Roansy Contreras is yet another young and exciting player in a team stacked with high ceiling rookies. Contreras performed dutifully and picked up his second career win against the Cubs with one run over fiving innings, numbers that were reflected in his next start against the Rays. High ceiling and a few solid performances aside, there is some greasing of the wheels Contereras will need to accomplish if he is to truly thrive. The 4.00 BB/9 is hardly tenable, and the 2.76 ERA belies the 4.16 FIP. Still, he's worth keeping an eye on if for no reason than to see what to plan for in the future.
Saturday July 2nd
T.B.D.
T.B.D.
As of 10:15 P.M. on the 29th there is no account of who will be pitching this game on either team, but odds are that the Brewers will be turning to the sturdy Jason Alexander over Chi Chi Gonzalez who, after being claimed off of waivers from the Twins, promptly lost his start against the Cardinals. 
Sunday July 3rd
Brandon Woodruff (6-3 4.44 ERA)
Jose Quintana (1-4 3.43 ERA)
Brewers fans must be breathing a heavy sigh of relief after Brandon Woodruff 's performance against the Rays on Tuesday. Woody wasn't just good, he was the best he'd looked all season, against a good team playing on their turf no less. It feels worth mentioning that the reason for Woodruff's set back when he was on the IL wasn't a typical injury, but Raynaud's syndrome, a circular issue that affects the limbs. The syndrome wasn't detected in his pitching hand and certainly didn't hamper him in his last start.
It feels more than a little possible that Jose Quintana is wearing a different uniform before this start even takes place. The historic Brewers killer has been the most impressive reclamation project this year and after looking washed last year, has amassed far too much trade value this year to remain on the flailing Pirates. 
Players To Watch
Ke'Bryan Hayes: As mentioned above, Hayes is a stud. Between his glove, his bat and his 25 years of age, he's making the eight-year $70MM contract he signed on April 12th look like the bargain of the century.
Every Starter: Everyone of these games is a must watch from the perspective of watching pitching. It's worth watching Houser to see if he can turn it around, Woodruff to see if he can replicate Tuesday's dominance and Burnes because… well, because it's Corbin Burnes. On the flipside the two confirmed Pirates arms are likely to be building their repertoire at PNC for years to come, and getting to know the rival is valuable. As far as Quintana goes, it'll be interesting to see if he can still handle the Brewers the way he had in the past, and maybe jog the collective imagination about what he might look like in a Brewers uniform.
Predictions
Predicting a sweep doesn't ever feel satisfying, but the Brewers best arms are playing against an offense that, while promising, is still undeveloped. It's a four-game series, and I think the resurgent Crew can take three… but we remember what happened with the Nationals.
Think you could write a story like this? Brewer Fanatic wants you to develop your voice, find an audience, and we'll pay you to do it. Just fill out this form.
MORE FROM BREWER FANATIC
— Latest Brewers coverage from our writers
— Recent Brewers discussion in our forums
— Follow Brewer Fanatic via Twitter, Facebook or email