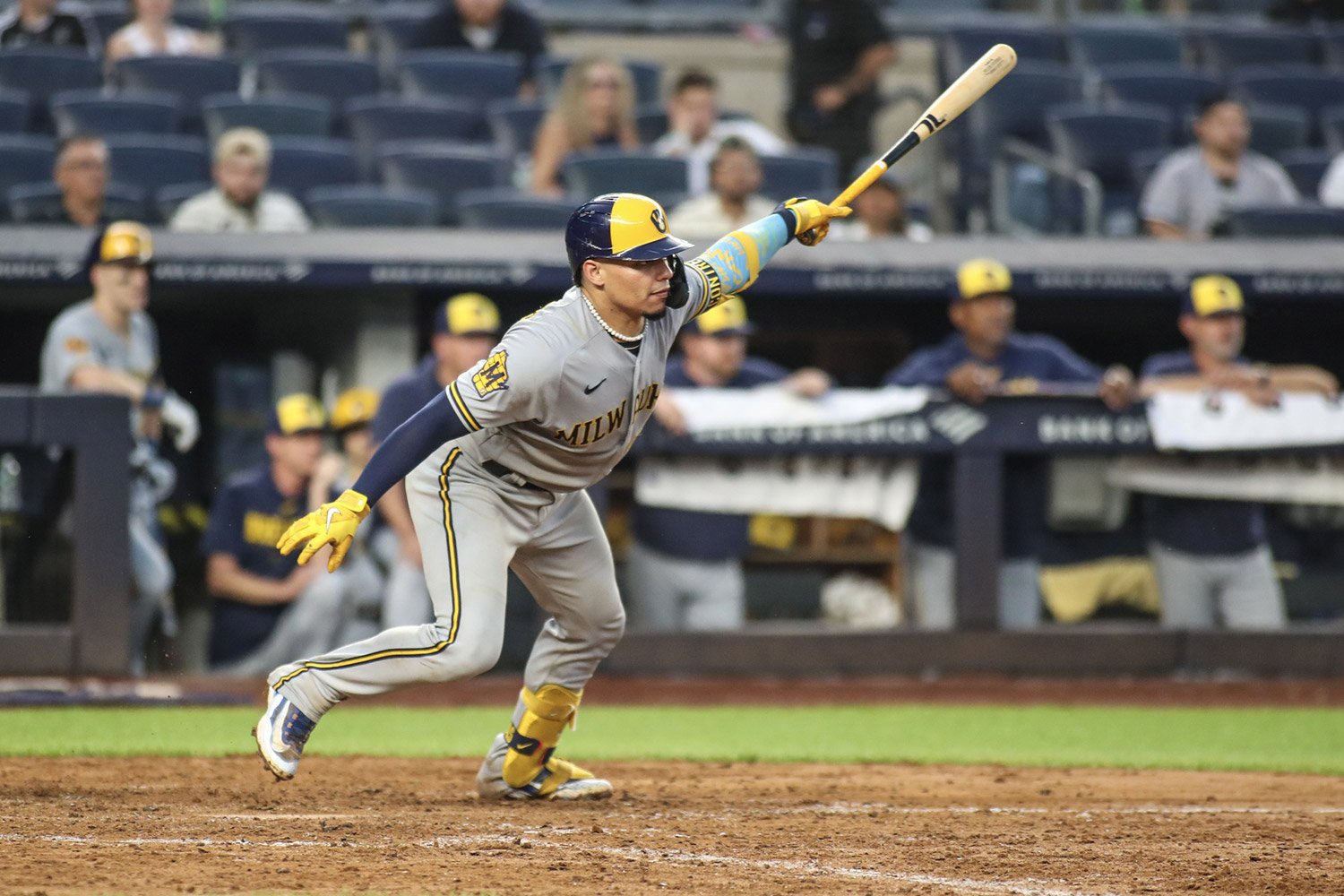 Image courtesy of © Wendell Cruz-USA TODAY Sports
In late August, the Milwaukee Brewers held a five-game margin in the NL Central over the second-place Chicago Cubs. Eight days later, that lead was cut to a mere one-and-one-half games over the Cubs. In that span, the Brewers won three of eight games, scoring 31 runs, an average of 3.8 runs/game. But more importantly, they scuffled for runs in the late innings (7th, 8th, 9th). In 22 'late' innings, the Brewers scored six runs, which equates to 2.4 runs/game.
After an off day on Thursday, Milwaukee started a three-game set at Yankee Stadium. And boy did things change…in a good way.
The Brewers beat up on New York on Friday, scoring three runs in both the 7th and 8th innings en route to an 8-2 victory. In the three 'late' innings, the Brewers were 10-for-19 (.526), including two hits each by Andruw Monasterio, William Contreras, and Brice Turang. 
Milwaukee went one better Saturday, clobbering New York 9-2. In those late-inning ABs, Brewers hitters collected seven hits in 15 at-bats (.467) and tacked on seven runs (three in the eighth and four in the ninth). The eighth inning featured five straight hits to lead off the frame, including Tyrone Taylor's sixth home run of the year. Taylor and Contreras each had a pair of hits in the last three innings.
The starting pitchers for Milwaukee had mixed results during the two games. Colin Rea went 4 2/3 in the first game, allowing three hits, two walks, and a pair of runs on Jasson Dominguez's two-run shot in the bottom of the third. After Rea got the first two outs in the fifth, manager Craig Counsell brought in Abner Uribe, who struck out Aaron Judge to end the inning.
Uribe, Trevor Megill, Bryse Wilson, and Thyago Vieira finished up, allowing only three walks in the final 4 1/3 innings striking out three batters.
In the second game, Wade Miley didn't allow any runs in the first three innings but ran his pitch count to 57 and was starting to run out of gas. That showed in the fourth when he gave up two runs on a single, two walks, and an error. After his 84th pitch and a 2-2 game, Miley came out, and Elvis Peguero came in to get the final out of the inning.
Peguero, Wilson, Joel Payamps, Megill, and Hoby Milner combined to pitch the final 5 1/3 innings, allowing only three hits and one walk while whiffing six Yankee batters. 
Game Three on Sunday showed a pitching duel like one seldom seen in Major League history. Milwaukee ace Corbin Burnes threw eight no-hit innings before being pulled by Counsell. Devin Williams and Abner Uribe each pitched a hitless inning, sending the game to the top of the 11th with the contest still knotted at zero. On the other side, Yankees ace Gerrit Cole allowed three hits in seven innings while striking out nine. Wandy Peralta, Clay Holmes, and Tommy Kahnle matched zeroes through the first ten innings with three hitless frames.
With the bogus 'runner on second' rule in extra innings, each team scored one run in the 11th and two markers in the 12th. The Brewers could not score in the thirteenth, but New York won the game when Kyle Higashioka doubled to score 'ghost-runner' Everson Pereira from second to close out a 4-3 win.
In this game, Milwaukee struggled against Cole, Peralta, Holmes, and Kahnle, going a combined 0-for-9 in the first three 'late' innings and 3-for-11 in the 'late' late innings.
Overall, the first two games against lesser pitchers were very productive, but Sunday's game showed that a quality hurler can cause the Brewers some harm. Two wins out of three is a good result, but a sweep would have been better.
With 20 games left to play and a three-game lead, Milwaukee will need their stud aces to keep performing at a high level but also need to have their hitters performing as well in the whole game, not just in the late innings.