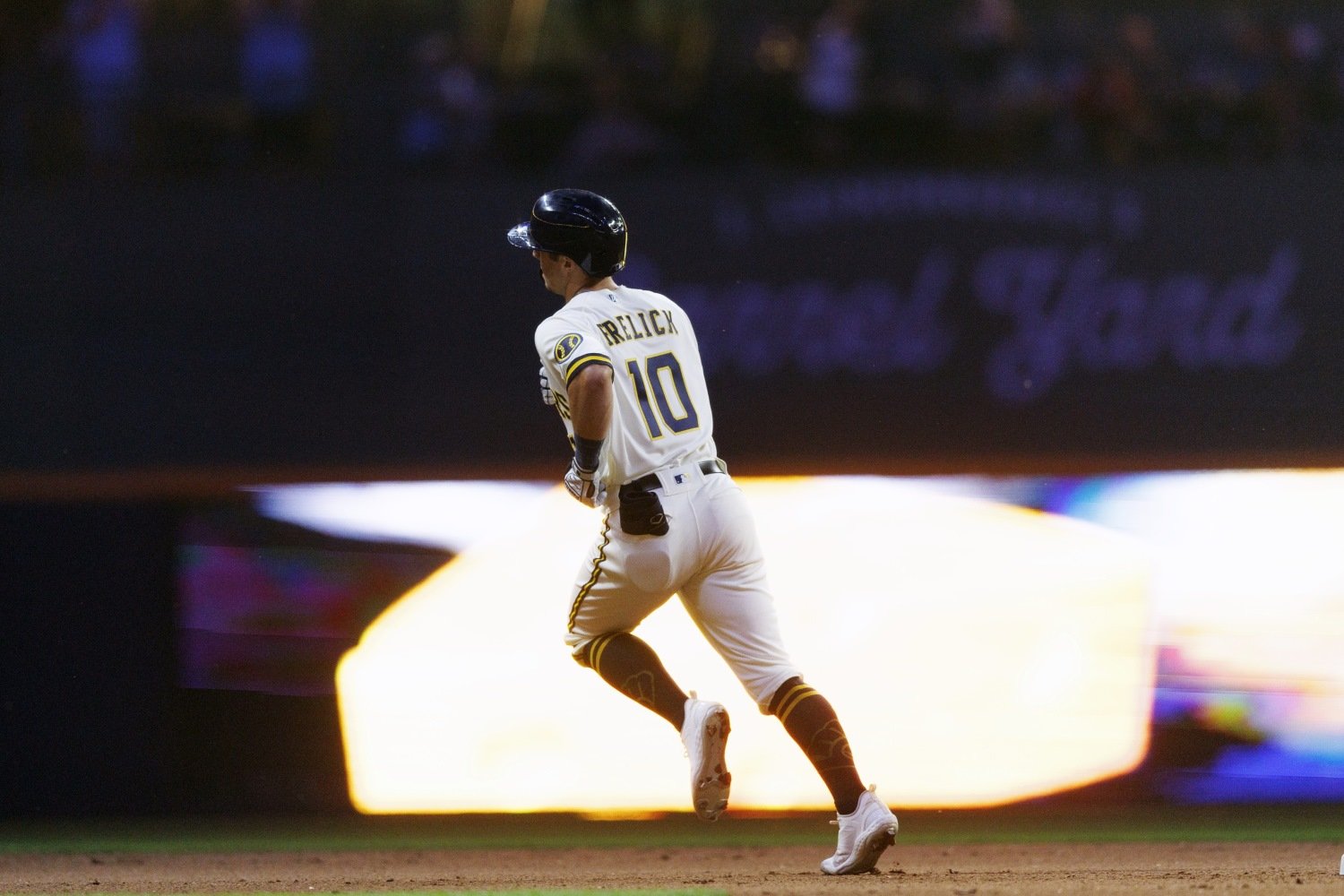 Image courtesy of © Jeff Hanisch-USA TODAY Sports
In his brief MLB tenure, Sal Frelick has batted sixth once, and cleanup twice in the three games he has played as of the morning of July 25. With his outstanding hit tool and speed, that just doesn't make sense. It's time to push him a little, and for the Brewers to tinker with the lineup a bit.
The big move should be to have Frelick batting leadoff. Yes, Christian Yelich has done well in that spot for the Brewers in 2022 and 2023, but Frelick's offensive skill set (as demonstrated through his pro career) screams LEADOFF HITTER.
Similar Players To Frelick Batted Leadoff
First, let's go back to the players that Frelick seemed to evoke based on his minor-league career. The comparisons were rather lofty: One was Ichiro Suziki, a surefire Hall of Famer who collected 3,089 hits in MLB after he notched 1,278 in Japan. Suzuki also offered lots of speed, stealing as many as 56 bases in a season, as he usually batted leadoff for the Mariners, Yankees, and Marlins in his career.
The other primary comparison was none other than Brewers legend Paul Molitor, who also mostly hit leadoff for the Crew. Like Frelick, Molitor hit for average, drew walks, and stole a lot of bases.
Other players we compared Frelick to, like Lorenzo Cain and Nori Aoki, also spent a lot of time in the leadoff slot for the Crew, and both were very similar to Frelick in being able to hit for average and steal bases.
The fact is, when you look at Frelick's excellent hit-for-average tool, his speed, and his ability to draw walks, Frelick is just the guy you want leading off, especially if Yelich looks reasonably likely to hit close to 30 home runs a season again.
Yelich Gets More RBIs
Yelich and his apparent offensive resurgence in 2023 makes the other part of the case for Frelick in the leadoff spot. If Frelick leads off, with Willy Adames and/or William Contreras batting second, it is quite likely Yelich will come to the plate with runners on base. Yelich hitting home runs is nice, but wouldn't it be nicer if the home runs came with runners on base?
This is more about making the most of Yelich's skills as well. Given that the Brewers have had some collective struggles scoring runs (four of the players in the July 25 lineup had an OPS+ below 100, and Andruw Monasterio's OPS+ was at 100 on the dot, while Frelick and Jahmai Jones have very small sample sizes), if Yelich is going to have plate appearances, it is best for them to come with runners on base, so that the Brewers can score more runs.
Yes, Yelich has done well in the leadoff spot, and the adage of not fixing what isn't broken is generally wise, but in this case, the Brewers offense has been broken for a bit. Moving Frelick to leadoff may be just the spark that is needed to improve the offense.
Think you could write a story like this? Brewer Fanatic wants you to develop your voice, find an audience, and we'll pay you to do it. Just fill out this form.
MORE FROM BREWER FANATIC
— Latest Brewers coverage from our writers
— Recent Brewers discussion in our forums
— Follow Brewer Fanatic via Twitter, Facebook or email