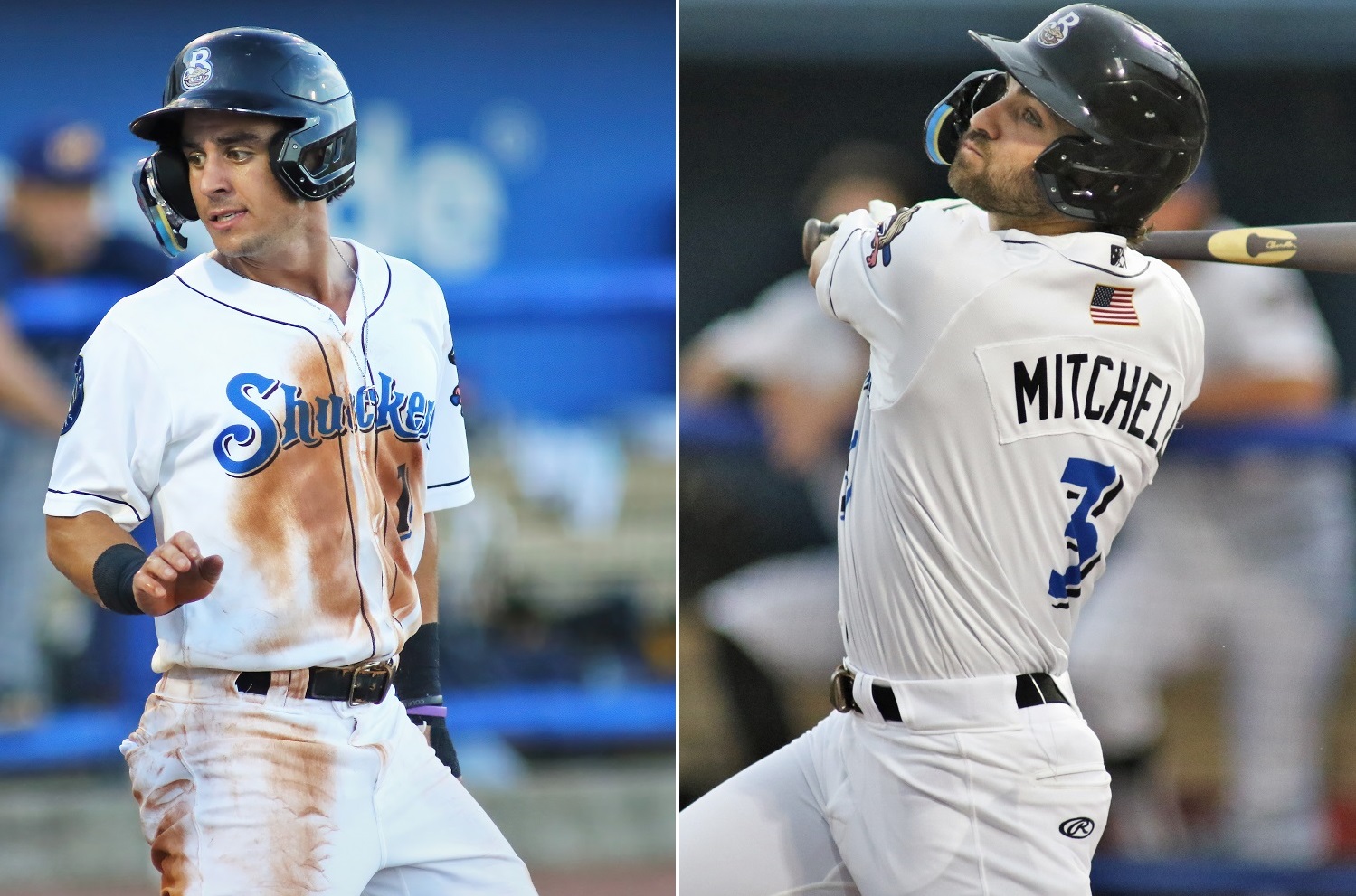 Image courtesy of Mike Krebs
Among the Milwaukee Brewers' high-end outfield prospects, Garrett Mitchell received the first call-up in 2022, and Sal Frelick looks poised to make his debut in 2023, but it isn't clear when that will happen. That is one significant decision the Brewers' front office will need to make, perhaps as soon as Opening Day. The choice might be based on the club's prioritization and how one player or the other fits into the overall team's 2023 plan.
Although Mitchell got the first crack at a big-league job last season, Frelick is ranked higher in various top-100 prospect rankings. Frelick sits at 30 for MLB Pipeline, 34 for Baseball America, and 41 on Keith Law's rankings. Mitchell didn't even appear on the MLB Pipeline or Keith Law lists, which is interesting. Of course, prospect rankings aren't about projecting success in the coming season. For example, Jackson Chourio is Milwaukee's clear-cut top farmhand and likely center fielder of the future. Still, he's probably a couple of years away from (hopefully) being a full-time Major Leaguer. 
For 2023, the Brewers will evaluate which young center fielder can contribute the most immediately. Positional value is the first question. Is Frelick able to handle center field? Most view him as a corner outfielder in the majors, but he did win ACC Defensive Player of the Year honors as a center fielder at Boston College. He possesses the speed needed to cover all that ground and appears to have quality instincts as well. But some question his jumps and routes to the ball, believing he will be better served in right or left field. There are varying thoughts on Frelick's ability to be an MLB center fielder, but some are trending toward believing in his continued development defensively.
Mitchell, however, will be the favorite if Milwaukee wants to put a premium on defense this season. He showed off his range and arm during his short stint with the Brewers, turning raw ability into defensive production. Mitchell fits the center field profile better and has more experience manning that spot. As a run prevention club, a plus-defender like Mitchell would have the inside track in Milwaukee. You can see in the Fangraphs prospect evaluation below why the Brewers called up Mitchell late last season with an emphasis on speed and defense.



The script flips if the Brewers believe Frelick can be serviceable in center and want to add to their offense. MLB Pipeline gives Frelick a 70-hit tool (on a 20-80 scale), naming him the top prospect in baseball by hit tool. Across multiple levels in two minor league seasons, Frelick displayed plate discipline and a high-level stick with a .331/.406/.477/.882 slash line. While minor league stats aren't necessarily predictive of MLB success, that's an excellent place to start. He hasn't shown the power yet, but 36 doubles, 13 home runs, and 36 stolen bases to go with his hitting and on-base skills are impressive and tantalizing. Can it translate to immediate value for the Brewers? Here's how Fangraphs breaks him down, rating him as Milwaukee's third-best prospect while Mitchell ranks sixth.



Mitchell comes with a set of question marks at the plate. He brings more raw power to the table and 70-speed (Frelick is 60), an intriguing power-speed combo. The concerns for Mitchell lie primarily in his approach and struggles to make consistent contact. Though clearly a small sample, he owned a frightening 41.2% strikeout percentage with the Brewers. So while his numbers looked good (.373 OBP, .832 OPS), there were concerns facing MLB pitching. If he can improve his contact rate and limit the strikeouts (28 strikeouts in 68 plate appearances), his speed can be put to great use.
Overall, center field has been a weaker position in MLB in recent years. You'll often find a team employing a defensive whiz in center who can't hit or squeeze a solid hitter with defensive deficiencies into the position and hope for the best. It's a similar situation for the Brewers in choosing between Mitchell and Frelick. How will Milwaukee make its decision? Spring Training "tryouts" don't always give you the information you're looking for in an evaluation, but it might be necessary to break the "tie." Do the Brewers trust their current evaluation or put additional stock in how the kids perform in Arizona?
Especially in today's game, I value the high on-base percentage potential and great hit tool from Frelick. It might hurt the Brewers at times in center field, but with so many strikeouts and the value of defensive positioning, I think it's less of an issue. The ability to consistently reach base and make contact is more rare in MLB at this point. That's just one man's opinion. Which guy would you like to see handed the center field reins on Opening Day and why?
Think you could write a story like this? Brewer Fanatic wants you to develop your voice, find an audience, and we'll pay you to do it. Just fill out this form.
MORE FROM BREWER FANATIC
— Latest Brewers coverage from our writers
— Recent Brewers discussion in our forums
— Follow Brewer Fanatic via Twitter, Facebook or email
1