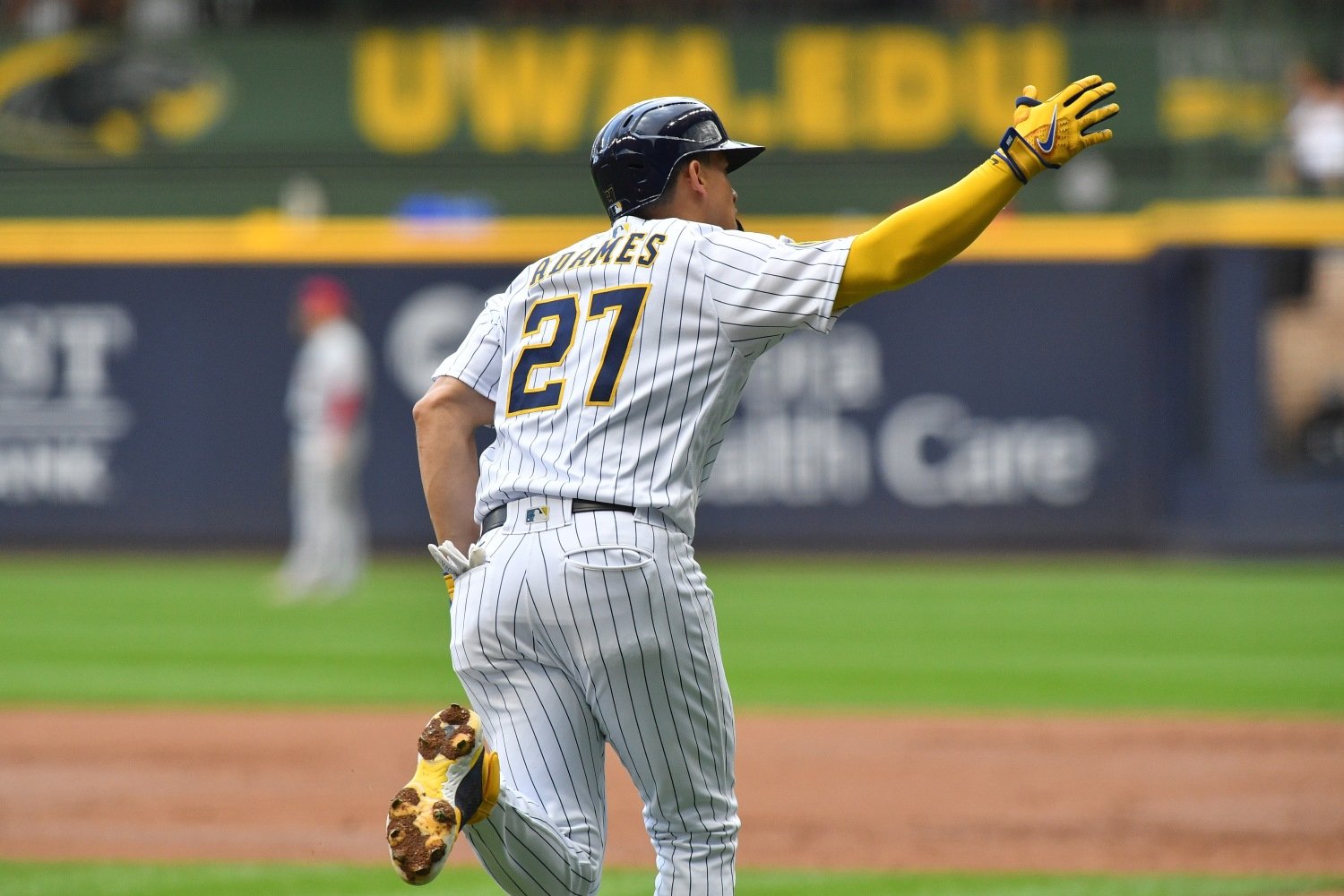 Image courtesy of © Michael McLoone-USA TODAY Sports
Christian Yelich - Outs Above Average
2023 OAA: 3 (85th percentile)
2022 OAA: -5 (12th percentile)
Christian Yelich isn't quite a defensive mastermind. He won his only Gold Glove with the Marlins back in 2014, and has made himself known for his abilities at the plate, not in the outfield. That being said, he's made significant improvements this year, jumping from bottom to top quartile in terms of outs above average. He's still got a ways to go defensively, posting -1 defensive run saved and a -0.4 dWAR, but it's trending in the right direction.
Yelich is showing signs of the bounce-back season we've all been waiting for, and it's not just as a hitter, but as a complete baseball player.
William Contreras - Catcher Framing Runs
2023 CFR: 5 (68th percentile)
2022 CFR: -3 (20th percentile)
When Contreras was acquired this offseason, he was valued more for his bat than his glove. Fortunately, the Brewers' catching lab quickly got to work, and we saw him develop (similar to his predecessor, Omar Narvaez) into a more well-rounded catcher. There are still some weak parts of the zone where his framing is below league-average, but he's made strides in his ability to frame low pitches, particularly.
In the same vein, Contreras currently boasts 6 blocks above average, a marked improvement over last year's figure of -1. 
Owen Miller - Outs Above Average
2023 OAA: 6 (95th percentile)
2022 OAA: 6 (91st percentile)
Owen Miller has been remarkably consistent over his brief three-year tenure in the major leagues. An extremely versatile player who has taken the field as pretty much every position, Miller's biggest contribution to the team has been his offense. While he's just as strong as he was last year, his defense at second base is much better than what Milwaukee had last year in Kolten Wong.
In 246 innings thus far, he's posted five outs above average at second base, compared with Wong's -10 outs above average in 2022. While he's currently signed to a short-term deal, he's proven to be a valuable member of the major-league roster thus far.
Willy Adames - Base on Balls %
2023 BB%: 9.7% (65th percentile)
2022 BB%: 7.9% (47th percentile)
Adames isn't having the greatest offensive season in 2023, posting a .710 OPS (93 OPS+), and while he's regressed in terms of batting average and power, his ability to draw walks has compensated for the dip. In 2022, he struggled with balls on the lower inside part of the zone, but he's become elite at drawing walks on all four corners of the zone in 2023.
While he is hitting the ball with less power and consistency than last year, at least he's still getting on base.
Brian Anderson - Arm Strength
2023 Max Throw Velocity: 101.9 mph (99th percentile)
2022 Max Throw Velocity: 97.7 mph (99th percentile)
Splitting time between the outfield and the hot corner, Brian Anderson has his work cut out before being considered elite in most traditional categories. However, he undoubtedly has one of the strongest throwing arms in the game. Ranked fifth of all position players for average throw velocity and sixth in maximum velocity, there's an alternate reality where he's a flame-throwing closer instead of a league-average hitter.
Joey Wiemer - Max Exit Velocity
2023 Max EV: 111.9 mph (78th percentile)
America's rookie hits the ball extremely hard and has a great hairdo. What more is there to say? Wiemer's power bat doesn't find the ball that often, but when it does, it usually leaves the stadium.
Rowdy Tellez - Whiff %
2023 Whiff %: 20.9% (73rd percentile)
2022 Whiff %: 23.8% (55th percentile)
For someone with one of the best max exit velocities in the sport (114.8 mph, 95th percentile), one might expect Tellez to have a chaotic swing, but he's better than most at swinging effectively. While he's not great against breaking balls (but who is?), his 9.9% whiff rate on fastballs is much better than last year's figure of 17.7%.
Interestingly enough, while he whiffs on the sinker just 6.2% of the time (the lowest of all pitches against him), it is also his worst pitch, posting a -6 run value for this season.
Brice Turang - Sprint Speed
2023 Sprint Speed: 29.5 feet/second (96th percentile)
Turang is speedier than most, making it from home to first base in just 4.18 seconds, just 0.04 seconds slower than speed demon and divisional rival Elly De La Cruz. While his speed hasn't quite been utilized for stealing bases, snagging just nine bags thus far, his natural ability may be enough to be a baserunning threat in the future.
Think you could write a story like this? Brewer Fanatic wants you to develop your voice, find an audience, and we'll pay you to do it. Just fill out this form.
MORE FROM BREWER FANATIC
— Latest Brewers coverage from our writers
— Recent Brewers discussion in our forums
— Follow Brewer Fanatic via Twitter, Facebook or email