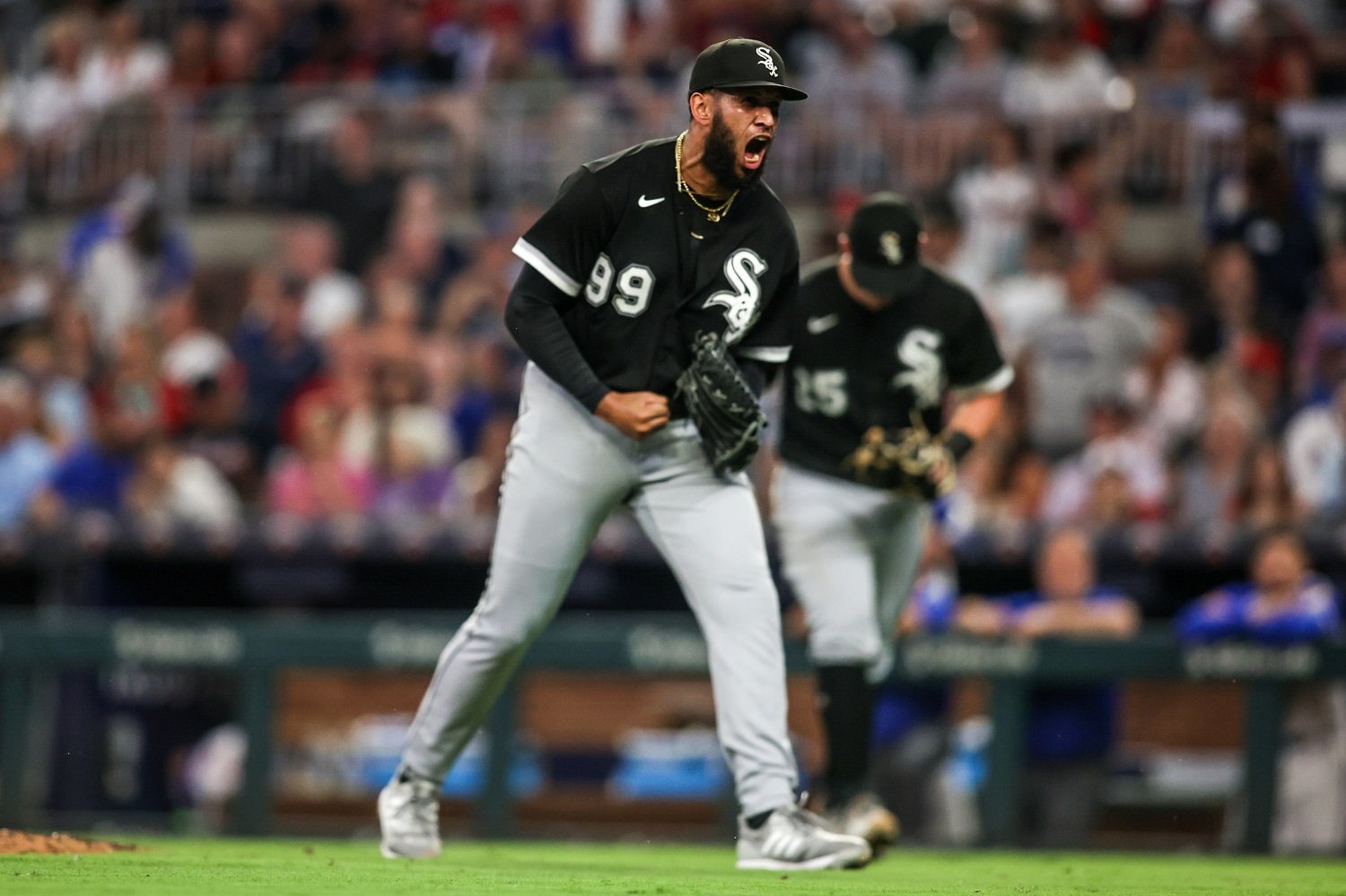 Image courtesy of © Brett Davis-USA TODAY Sports
Through acquisitions of outfielder Mark Canha and first baseman Carlos Santana, the Brewers have been making moves to address their issues in preparation for a postseason run. If they abandon their premium on defense, Canha could see more time in the outfield, but is likely cycling through reps at first and as the designated hitter, along with Santana, addressing a substantial need. However, to really solidify this team, there is more that could be done.
---
The Bullpen
Of late, the Brewers' primary seventh-inning man, Elvis Peguero, has shown signs of wear and tear, leading to a 6.39 ERA in July, with nine earned runs across 12.2 innings. Obviously, that culminated in his getting touched up in Monday night's loss to the Nationals. Hoby Milner's form may push him into that higher-leverage spot, but the bullpen has been so crucial to their recent success that upgrades may be needed.
One thing that could be added is an arm or two for the taxi squad--someone who can get outs at the big-league level, but also has options remaining. Peter Strzelecki may fit this mold, if he can show some of the form of last season. He has given up seven earned runs over his last eight innings with the Nashville Sounds, but did make four straight solid performances before being recalled. With relievers who have a track record of success, even a good stretch that brief can indicate that a guy is fixed.
They also have to factor in the ability for Aaron Ashby to return in a bullpen role, but relying on an arm that's been out for most of the season can be problematic (see: Justin Wilson).
The Brewers have bullpen arms that could get major-league outs in Nashville at the moment, with Clayton Andrews performing well; the potential to do the Brewers-y thing and ease Robert Gasser in with a long relief role; and Thyago Vieira teasing his potential, being so close at times and so far away at others.
In essence, the taxi squad role should be filled by these players, should they be needed, meaning an upgrade in the relief corps should be just that, an upgrade.
---
Some options are:
Keynan Middleton
 Middleton has produced a 3.96 ERA this season, with a 1.35 WHIP and 47 strikeouts through 36 innings. His most common pitch is the changeup, with only 27 percent of his offerings being fastballs this season, but the change in approach has worked well for him. On top of making his fastball dramatically more effective, he's getting exit velocities of just 86 mph and 84.1 mph on his changeup and slider, respectively. With a 95th-percentile whiff rate, 89th-percentile strikeout rate and 71st-percentile hard-hit rate, this is the type of reliever who would do very well in the Brewers' ranks, if he can avoid barrels. He's throwing a lot of first-pitch strikes, though he does walk hitters a little too often at times. A potentially valuable arm who's more under the radar than some names being bandied about.
 
He's a free agent at year's end, so he shouldn't come at a daunting cost, although that's also because he's more middle reliever than backend monster.
---
Adam Ottavino
 A bigger name with a better track record and a bigger salary ($2.5 million left at the deadline), Ottavino has a 3.35 ERA with a 1.16 WHIP so far this season. A master at avoiding the barrel of the bat, his expected batting average (xBA) is 88th-percentile, and his expected slugging average (xSLG) is 92nd-percentile. Much of that is thanks to a wipeout sweeper that plays off his sinker beautifully to garner a ton of outs. You know the quality you'll be getting: a player with a big-game temperament with a contract expiring at the end of the year with the Mets, who are in fire sale mode. He could do with shelving his cutter, which has been marmalized this year, but outside of that, you've got a late-inning reliever who can handle big games down the stretch.
 
The Brewers are very well-known to make a reliever acquisition most seasons, and may look to do so now in light of Wilson's injury, depending on his prognosis for the strain. Outside of this, the Brewers haven't got many options to improve, with minimal up-the-middle help that won't be overpriced, such as Tim Anderson. Jeimer Candelario is off the market to the Cubs as a third basemen, and they're unlikely to make a big addition to the outfield, in view of the quality of the defensive options they already have combined with their desire to keep true to the run prevention strategy.
They're unlikely to be able to keep an additional starting pitcher on the roster for long, unless they have an option, with Wade Miley returning tomorrow and Brandon Woodruff potentially next week. They could have Colin Rea and Julio Teheran fighting for a spot, with Gasser lurking in the wings at Triple A. In short, the Brewers have a big boost coming to their rotation, but they are already above-average in the bullpen and average offensively in most positions, meaning an upgrade would have to be a big one, and could cost a lot of prospect capital they're unlikely to want to part with.
If the Brewers made one more acquisition before the trade deadline, who would you want it to be?
Think you could write a story like this? Brewer Fanatic wants you to develop your voice, find an audience, and we'll pay you to do it. Just fill out this form.
MORE FROM BREWER FANATIC
— Latest Brewers coverage from our writers
— Recent Brewers discussion in our forums
— Follow Brewer Fanatic via Twitter, Facebook or email