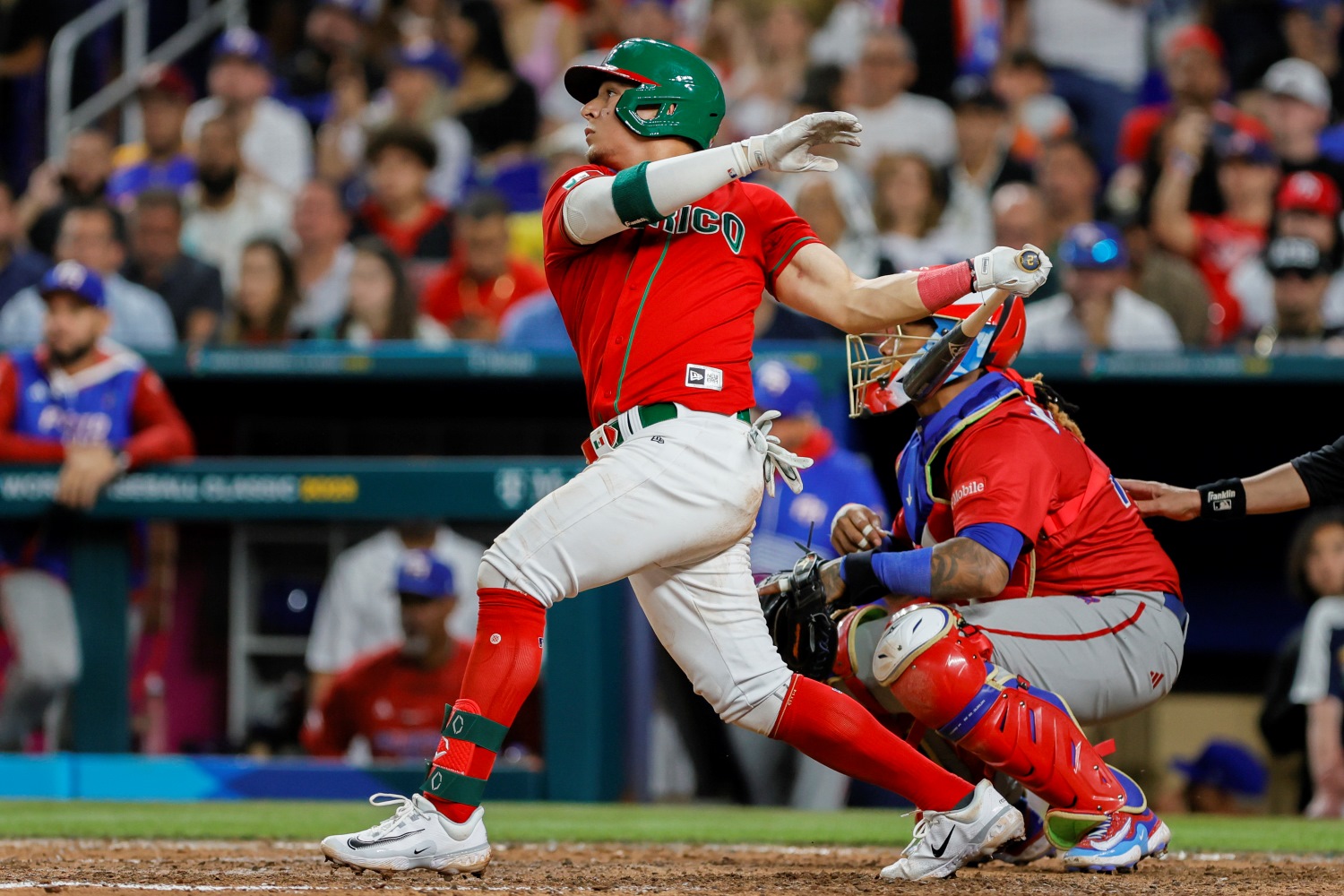 Image courtesy of © Sam Navarro-USA TODAY Sports
Just as Japan's national baseball team has a name--Samurai Japan, an indication of the seriousness and earnestness of their endeavor--they use in international competition, México uses Novena México--the México Nine. It's a reinforcement of the sense of teamwork and selflessness to which the club aspires, and that spirit has been on display throughout their improbable run to the final two days of this tournament. Luis Urías and Rowdy Tellez have been right in the middle of it all, and they get another chance to gel with their teammates and forge a miniature miracle on Monday night.
The Brewers couldn't hope for a better way to prepare these two for the regular season. Not only have they played in high-energy, high-stakes atmospheres, but they've had to grind out at-bats against tough same-handed pitchers with high-level stuff. Tonight, they'll see one of the most talented and electrifying pitchers on Earth, as Roki Sasaki toes the rubber for Japan. Sasaki, 21, has a fastball that can push past 100 miles per hour, and his splitter is one of the nastiest offspeed pitches in the world. Last season, he had 173 strikeouts and issued just 23 walks in 129 innings over 20 starts in NPB, with a 2.02 ERA. He also did this:
Today, Rōki Sasaki faces Mexico for Japan in the WBC.

In 2022, he pitched 17 consecutive perfect innings over 2 games with 33 Ks!

He was 20 years old & threw a perfect game against a team that became Japan Series champions.

He is absolute box office...pic.twitter.com/l2beuBH0uL

— Baseball Brit (@BaseballBrit) March 20, 2023
Tellez is the designated hitter for Novena México, and will hit cleanup for them, as he has throughout the tournament. Urías plays second and bats sixth.
💚💚⚪️⚪️❤️❤️️
💚💚⚪️⚪️❤️️❤️
💚💚⚪️⚪️❤️️❤️

"Ay, ay, ay, aaaaay
caaanta y no llores
porqueee cantandoooo se alegraaaan, cielito lindo, los corazones" 🎶

¡Vamos, #MéxicoDeMiSangre! 🇲🇽❤️‍🔥⚾️ ¡Por la gloria beisbolera 🙌🇲🇽⚾️

Este es el orden al bat de nuestro manager @Benji_Gil30: pic.twitter.com/7fdFAWgenb

— Novena México

🇲🇽

⚾

(@MexicoBeis) March 20, 2023
Every round of advancement a team achieves in the WBC is worth a mid-six-figure payment to the country's baseball federation. That means that, from a purely financial perspective, it has already been good for México to get this far into the competition for the first time. If they make it to the finals, they could end up with a total purse north of $2 million, but far more importantly, this run of success has already boosted the profile of the sport in México. Soccer still rules there, but baseball has always had a strong foothold, and this moment has deepened and broadened its popularity. 
Samurai Japan has to be the favorite. Even with impressive young Angels starter (and, perhaps, Shohei Ohtani- and Lars Nootbaar-neutralizing lefty) Patrick Sandoval on the mound, Novena México faces a tall task. The ace potential of Sasaki and the firepower of the Japanese lineup are both formidable. They've not only won every game they have played, but largely dominated. They've outscored their opponents 47-11. No one even expected México to get this far, and doing so required upsetting the United States in pool play and coming from behind to beat Puerto Rico in the quarterfinals.
Tellez and Urías were crucial in the winning rally that night. They have a chance to do something special again Monday night. In Catholic tradition, a novena is a series of special prayers and requests for intercession performed over nine days. Today is the 10th day since the start of this magical run by Novena México. Standing like David before a baseball Goliath, the team (led by Tellez and Urías) will hope to answer the prayers of a nation of baseball fans--one that extends far beyond the borders of the physical country. This tournament is an awesome thing for baseball, and tonight offers an opportunity for Brewers fans to put themselves in an October state of mind a week before the season even begins.
Think you could write a story like this? Brewer Fanatic wants you to develop your voice, find an audience, and we'll pay you to do it. Just fill out this form.
MORE FROM BREWER FANATIC
— Latest Brewers coverage from our writers
— Recent Brewers discussion in our forums
— Follow Brewer Fanatic via Twitter, Facebook or email
1