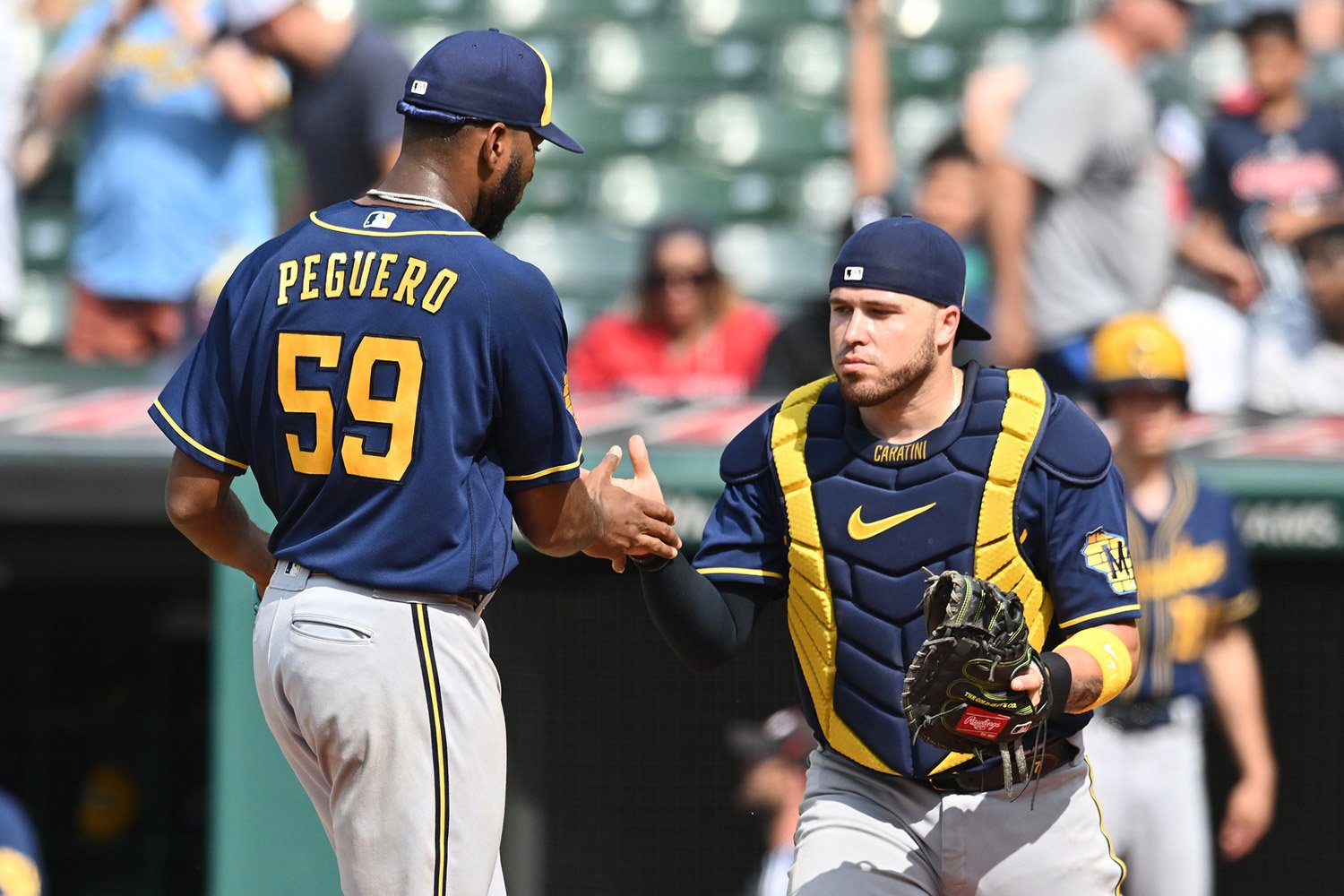 Image courtesy of © Ken Blaze-USA TODAY Sports
Weekly Snapshot
Record Last Week: 3-3 (40-37 overall)
Runs Scored: 23
Runs Surrendered: 28
Standing: 2nd in NL Central (0.5 GB)
***
Game 72 | AZ 9, MIL 1
Game 73 | MIL 7, AZ 5
Game 74 | AZ 5, MIL 1
Game 75 | MIL 7, CLE 1
Game 75 | CLE 4, MIL 2
Game 76 | MIL 5, CLE 4
NEWS AND NOTES
Between the sudden surge of the Cincinnati Reds and other big news floating around baseball, the Brewers had a week where they finally stayed healthy. In fact, the transaction list might be the shortest of the season. If you missed the couple of moves, here they are:
HIGHLIGHTS
The top performance of the week certainly belongs to Willy Adames when he collected four hits, batted in 5 runs, and hit two homers in the first game of the Guardians series. Adames has been looking to get going offensively since returning from the injured list, and his game against the Guardians might be the best single game offensive performance from a Brewer this season. 
https://twitter.com/Brewers/status/1672424207144083456
Elvis Peguero recorded his first major league save by shutting down the Guardians in the tenth inning of Sunday's contest. Pegueoro was impressive, notably striking out both Josh Naylor and Jose Ramirez before getting Myles Straw to fly out to complete the Brewers win.
Ramiel Tapia has been hitting into some poor luck early on into his Brewer tenure, but did manage to hit his first Brewers home run against Diamondbacks ace Zac Gallen earlier in the week. Even Jesse Winker (finally) got in on the home run fun, when he hit his first as a Brewer as well.
LOWLIGHTS
The Diamondbacks handled Corbin Burnes with ease during his start against them Monday, scoring seven times, including six runs in the first inning. It was the most runs Burnes has given up in a single start in his career, and matched a career high for most runs given up in a single inning.
The Brewers offense has continued to struggle to put runs on the board consistently, and they now rank in the bottom 5 in numerous major offensive categories. Players like Jesse Winker, Luis Urias, and Rowdy Tellez have struggled to find offensive consistency this season, and the Brewers have yet to get top tier production out of anyone not named Christain Yelich or Owen Miller. Last week, the Brewers less than four runs in all three of their losses, and the magic number of 4 continues to follow the Brewers.
TRENDING STORYLINE
The Cincinnati Reds rattled off twelve straight wins before losing the final two games of their series to the Atlanta Braves, and have captured the lead in the NL Central. The Pirates have struggled as of late, while the Cubs are beginning to get healthier, and are playing better baseball. The NL Central is looking more hotly contested than ever, and the Brewers are going to need to step up their game.
LOOKING AHEAD
MONDAY, 6/26: BREWERS @ METS: RHP Colin Rea vs. RHP Justin Verlander
TUESDAY, 6/27: BREWERS @ METS: RHP Julio Teheran vs. LHP David Peterson
WEDNESDAY, 6/28: BREWERS @ METS: TBD vs. RHP Kodai Senga
THURSDAY 6/29: BREWERS @ METS: TBD vs. RHP Max Scherzer
FRIDAY, 6/30: BREWERS @ PIRATES: TBD vs. TBD
SATURDAY, 7/01: BREWERS @ PIRATES: TBD vs. TBD
SUNDAY, 7/02: BREWERS @ PIRATES: TBD vs. TBD